We (C+C) have a new client with a loft in the heart of downtown LA that's she's looking to revamp. She's from Santa Cruz, surfs, and loves beachy interiors. Her space, however, sports exposed brick walls, industrial windows, concrete floors, and a modern kitchen. The pieces she's unwilling to part with are a vintage fish chart from her childhood, a large mermaid painting, and a 50's chrome and malachite veneer dining set. At first glance, the edge of downtown and the breeze of waterfront decor is an incongruent mix. To "make it work", we look to the latest sub-culture fashion trend, Seapunk, for inspiration.
ONE / TWO / THREE / FOUR / FIVE / SIX / SEVEN / EIGHT / NINE / TEN / ELEVEN / TWELVE
Seapunk has been catching our eye lately. What? You say you haven't heard of it? Think The Little Mermaid's teenage rebellion phase. The aesthetic has all those fun seaside colors and motifs, but under a blacklight. It's just the kind of unexpected vibe we love over at Caitlin & Caitlin. Seapunk isn't meant to be taken seriously, and it's the perfect summer trend to get a little creative with.
Here's how Seapunk hits the runway: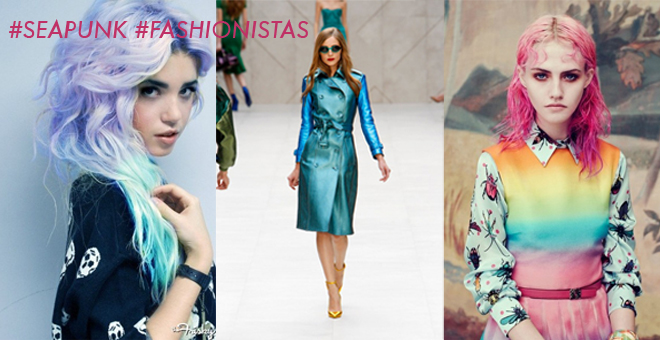 Original Image via Jonathan W Gooch