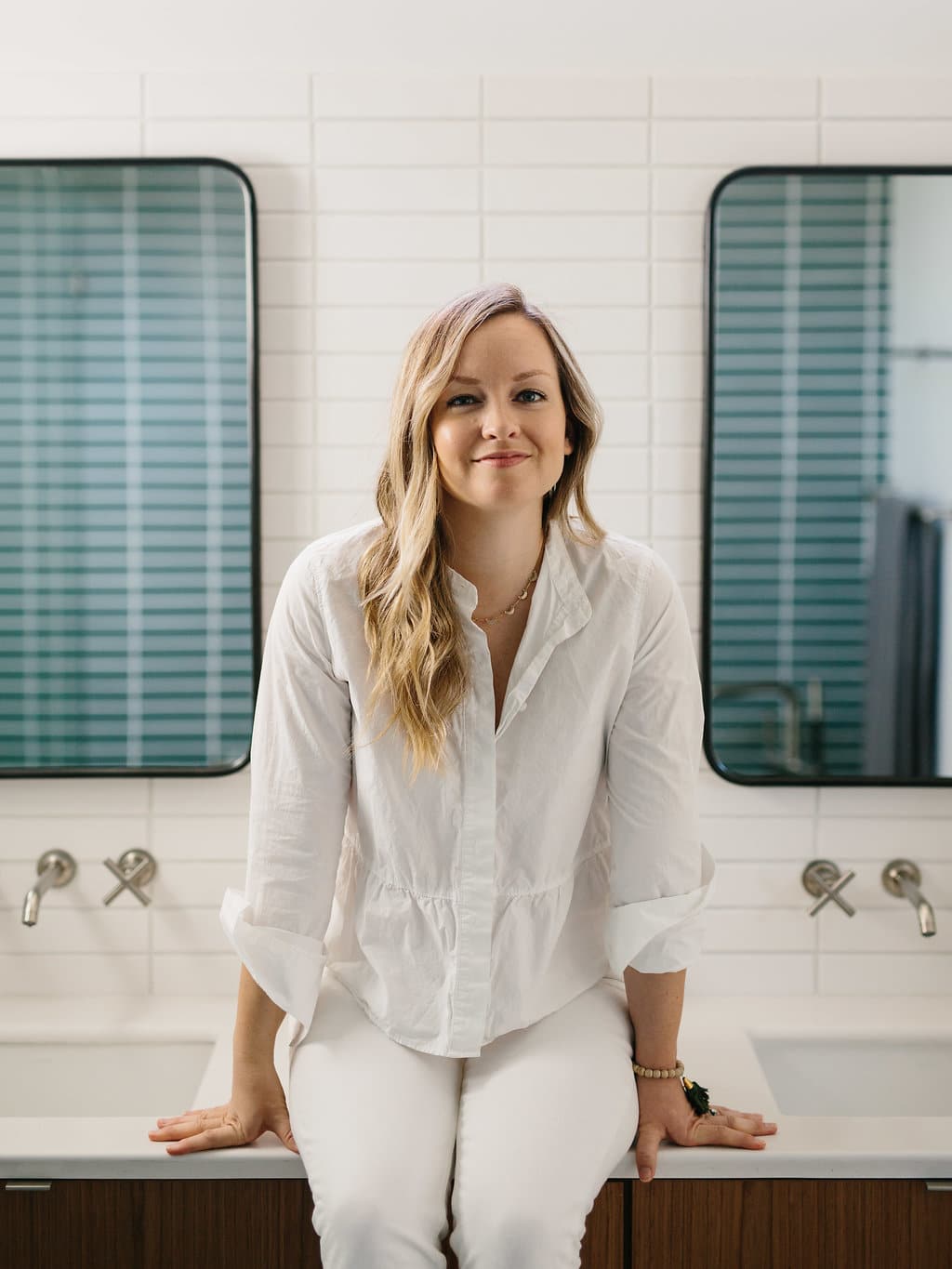 Thank you to Rodan + Fields for sponsoring this post. All thoughts and opinions are my own.
If variety is the spice of life, then my flavor profile would be something along the lines of zesty and bold. I nearly always tend towards trying something new over the familiar, experimenting rather than sticking to routine. Nowhere is there more evidence of this than in my skincare drawer in my bathroom. I accumulate samples and new products faster than my kids stockpile stuffed animals and often change my routine on a whim. When RODAN + FIELDS asked if I would be interested in trying their new and improved REDEFINE Regimen and Multi-Function Eye Cream for 6 weeks, though, it stoked my interest. Maybe some consistency and a true routine was exactly what my skin needed as we began to head into the winter?
There's no such thing as overnight success:
Looking for a quick fix skin routine? Stop. Today everyone wants instant and skincare is no exception. The truth is that skincare truly does take 4-8 weeks to work and show visible results, no matter which brand or product you are using. (RODAN + FIELDS has a 60-day back guarantee on all of their products for this very reason – even with empties.)
Customize your own routine:
No one knows your skin type better than you. I really appreciate the way that the RODAN + FIELDS REDEFINE Regimen is a choose-your-own-adventure experience. The regimen is a 3-step, dermatology-inspired routine that smooths the look of fine lines and deep wrinkles, while visibly tightening the pores, firming, lifting and sculpting. Which products you choose to use are up to you. For the morning, there are two different cleansers to choose from depending on if you are an oily skin type or dry skin type, followed by a pore refining toner and your choice of SPF moisturizing lotion or cream. The same is true for your evening skincare routine: choice of cleanser, toner, followed by your choice of moisturizers– one lighter weight than the other.
My RODAN + FIELDS REDEFINE regimen:
I chose to use the new REDEFINE Daily Foaming Cleanser in the morning as it felt a little gentler on my skin that really was already pretty clean. I really liked the consistency. It had a moisturizing quality to it that didn't feel sticky or leave a residue. A small amount of the daily foaming cleanser goes a long way, too. You really only need to use about a pea sized amount to get a good clean in the morning.
To be honest, I haven't used a toner consistently since high school before trying out REDEFINE! The toners I used in highs school felt really harsh and would leave my skin feeling super dry. The reformulated REDEFINE Pore Refining Toner isn't like that at all. My skin actually felt really soft after using it and I was surprised sometimes in the evening that I was still able to see impurities that were removed on the cotton ball, even after cleansing.
In the mornings after the toner, I used the REDEFINE Triple Defense Lotion Broad Spectrum SPF 30. It's really lightweight and absorbs into my skin easily. It felt moisturizing, but not greasy or overly heavy. I loved the weight and feel of this product! Of course, Daily moisturizer with SPF is a key ingredient to any anti-aging routine.
In the evenings, I used the REDEFINE Daily Clay Cleanser which has a gentle exfoliating property to it. It felt as if it was sloughing off any dead skin cells from the day and getting a really deep clean. I've always loved clay products but have found some to be messy. This wasn't like that at all. I felt like I was able to get all of the deep cleansing benefits of the clay in an easy-to-use formula that didn't leave my skin feeling overly dry.
After cleansing, I would repeat the toner and finish with the REDEFINE Overnight Restorative Cream. Both of the PM moisturizing options are great here, but I loved the heavier weight of this one before bed. As we age, collagen production slows down, making it important to integrate anti-aging skincare products into your routine. The exclusive peptide technology helps sculpt skin and lift it to minimize the appearance of fine lines and deep wrinkles while Bakuchiol, a plant-derived alternative to Retinol, which can be great for more sensitive skin types, and Glycolic Acid target fine lines and deep wrinkles for more sculpt, definition, and smoother-looking skin. I love the Multi-Med Therapy approach to this line. Both PM moisturizers also have Niacinamide, a B3 vitamin for evening the appearance of your skin tone and youthful, glowy skin.
The finishing touch of my PM routine is the Multi-Function Eye Cream. I started using eye cream for the first time for Dark Circles and Puffiness after Parker was born. The REDEFINE eye cream ingredients include Vitamin C, Vitamin F and antioxidants for minimizing wrinkles and fine lines that pop up around the thinner-skinned areas of the eye. Using one finger, I gently pat the moisturizer all around the bottom of my eye and out to my hairline on the side of my eye and repeat that process 2-3 times.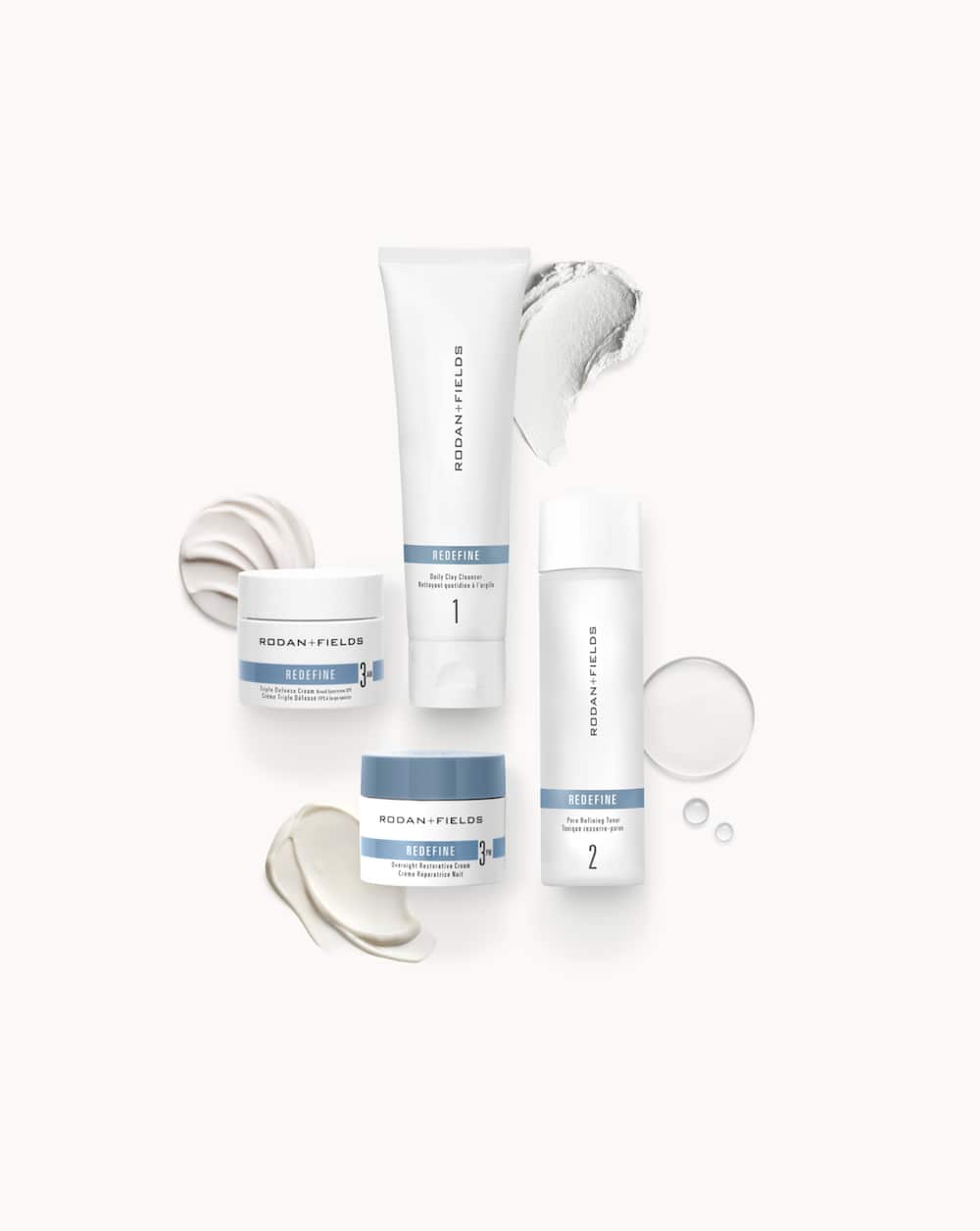 My RODAN + FIELDS REDEFINE Regimen results:
I decided to take notes at the 2-week mark, the 4-week mark and the 6-week mark of using this new skincare routine. I can say immediately after the first use that my feelings were that I loved the feel of all of the products. They were easy to use, I liked the consistency a lot and they left my skin feeling really good. They never felt overly drying or overly greasy and there was never a residue with the cleanser as there can be sometimes. (My pet peeve!)
At the 2-week mark I was still enjoying the products. My skin felt well hydrated, but I can't say that I noticed a dramatic difference in wrinkles necessarily. I did notice that my pores felt tighter and cleaner. I'm guessing this was a combination of the clay cleanser and the toner! I had much fewer clogged pores and blackheads.
One of the things I was really starting to notice around the 4-week mark was that my makeup went on easier. It didn't seem to sit into my forehead lines or pores the way it sometimes can. Is this the visible sign of diminishing fine lines? It seems to be. My skin still felt very hydrated and I was still experiencing almost no breakouts or clogged pores.
By the 6-week mark, it was really remarkable how well I had settled into this new routine. It was nice not to have to give any thought to what I was going to put on my skin in the morning or the evening. I was still noticing a reduced size in pores and what appeared to be diminishing fine lines. One new thing that I took note of for the first time around this point is how I wasn't experiencing as much redness or discoloration in my skin. Most days I wasn't even putting on makeup after my skincare routine except for brow gel, mascara and lip stain. My skin felt really healthy and full. It didn't feel damaged or dry as it so often does leaving the warmer months and heading into winter.
I've continued to stick with this routine and likely will more or less. I still experiment with new products from time to time, but I'm really happy with my experience with the RODAN + FIELDS REDEFINE Regimen.
Where to Buy RODAN + FIELDS REDEFINE Regimen and Multi-Function Eye Cream:
The RODAN + FIELDS REDEFINE Regimen and Multi-Function Eye Cream is available through Rodan + Fields Independent Consultants or at www.rodanandfields.com.
Any questions? Would you try a new skincare routine for 6o days? Remember there's a money-back guarantee so there's nothing to lose!