How much do you pay for clothes?  Is this something we can all talk about without judgement? I was chatting with one of my sisters a few weeks ago about what we wore and where we shopped in high school.  We laughed about Wet Seal "pleather" pants and my plaid 5.7.9. skirts.  I also told her how I still remember this one shirt that my good friend bought for back to school from Guess that cost $72.  I remember thinking it was such an exorbitant amount of money... so much so that I can recall exactly what it looked like and how much it cost 15 years later.  My sister responded that she still wouldn't pay $72 for a shirt, which kind of surprised me. Not because it isn't a lot of money, but because she has a great job, drives a nice car, and isn't frugal about much.  Clothing, though, is one of those things for her. I'm convinced that everyone has things they don't mind spending on and the things that they will always be frugal about, no matter how much money they make or how great their disposable income. For me, I will always spend a little more for healthy, organic food (my dad's jaw would drop if he knew how much I pay per pound for Organic Step 4 chicken from Whole Foods), but I despise paying for parking!  I love staying at boutique hotels when we travel, but I would never pay for a first class seat on a plane and hate paying baggage fees. It feels like such a waste of money, right?!  So how much do I pay for clothes?
I'm all over the map.  Last week I styled a two day photo shoot (third and final day happening today!).  On the first day I wore a long black t-shirt dress from Target that I adore. When someone complimented it I was so excited to say that it's from Target and such an affordable price. The next day I wore another favorite dress, this time from Apiece Apart.  It was definitely something that I thought about a lot before buying. I can wear it throughout my pregnancy because it's so voluminous and I can also breastfeed in it because of the three buttons in the front at the top.  It's also super lightweight which means I will get tons of use out of it during a Texas summer and the print is such that if it ends up with a ketchup smudge from my favorite three year old dirty fingers, all is not lost.  Plus, the founders and designers are actually from Texas and I love knowing that I'm supporting a small, local-ish brand.  Yet, it's a totally different price point and I felt like I had to justify it almost apologetically every time someone asked where it was from. Weird, right? So I'm curious, what do you pay for clothes? Do you only shop low or high? Or a mix? More for a special occasion? It's funny because I actually hate shelling out money for special occasions but will splurge for something that I know I can wear and feel great in every day for years to come. (Speaking of smaller designers, this necklace is from my friend Natalie, a mama who makes jewelry out of her home in San Diego and I just adore every piece.)
This particular look falls somewhere in the middle as far as price point goes. It's mostly from Madewell with these boots that I have from this Coach campaign that we did almost four years ago.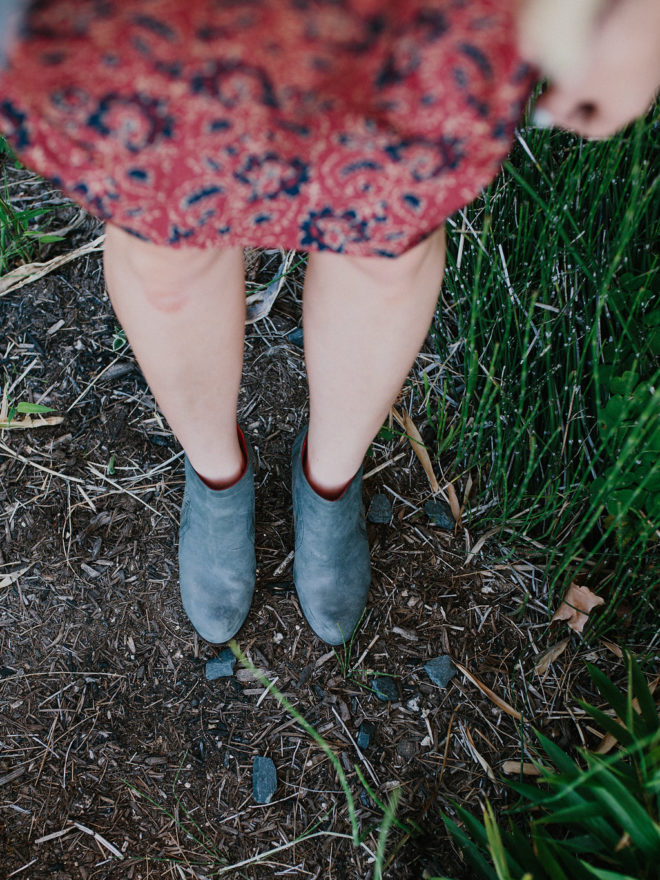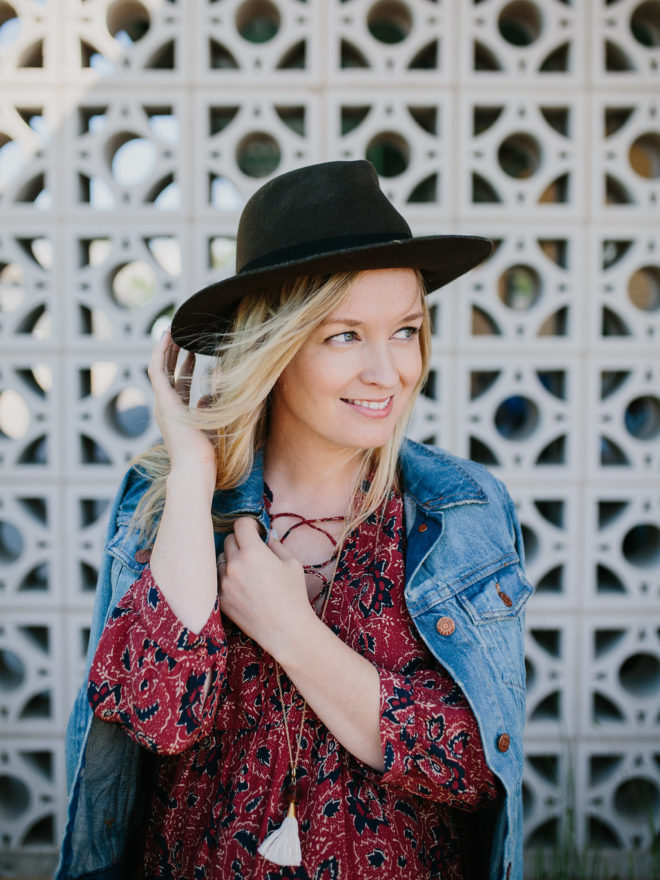 So... how much do you pay for clothes?
Photography by Katie Jameson
Dress, Madewell || Hat, Madewell (Similar + Similar) || Necklace, Natalie Borton || Jean Jacket, Madewell (Similar) || Boots, Coach (Similar)