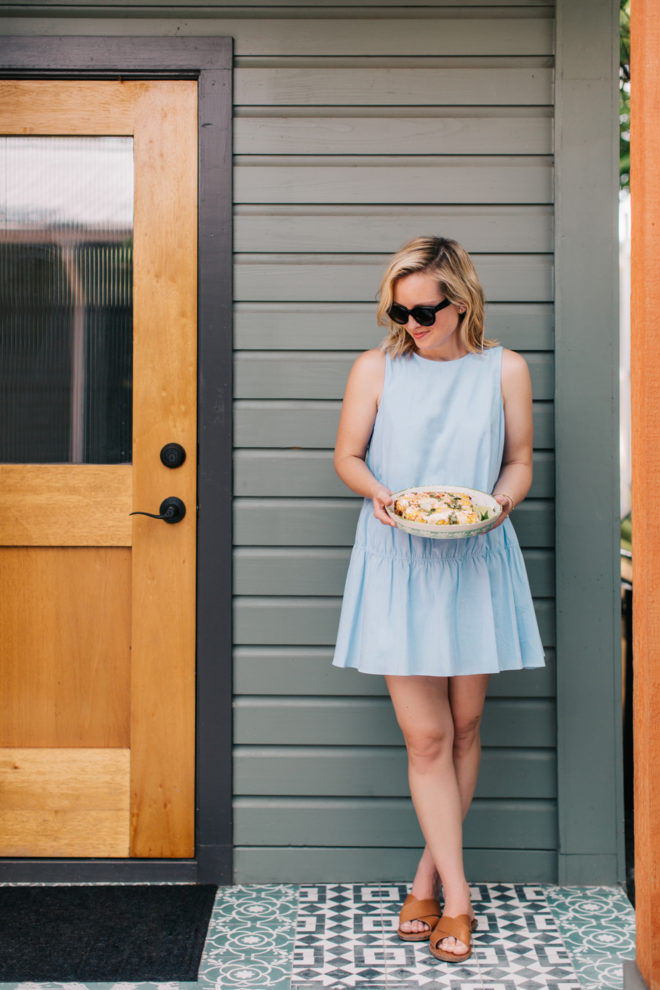 There's no better season for entertaining than summer!  The days are long allowing for plenty of time for friends to wine and dine around the table and the weather is warm making it ideal for some al fresco dining!  We teamed up with   to remix some of my favorite summertime recipes with their delicious line of olive oils.  One thing you may not know is that all olive oils aren't created equal! Extra virgin olive oil is cold pressed and works great for cold dishes like salad dressings and side salads. The Bertolli® 100% PURE Olive Oil has been refined so that it has a much higher smoke point and can withstand higher temperatures making it perfect for summer grilling.  Since nothing says summer quite like the smell of food cooking on the grill and a table set and ready for al fresco dining, we created a video to share the remix of my two favorite summer sides-- grilled Mexican street corn and Mediterranean pasta salad.  Check it out and then see below for the detailed summer grilling recipes and how we set the table...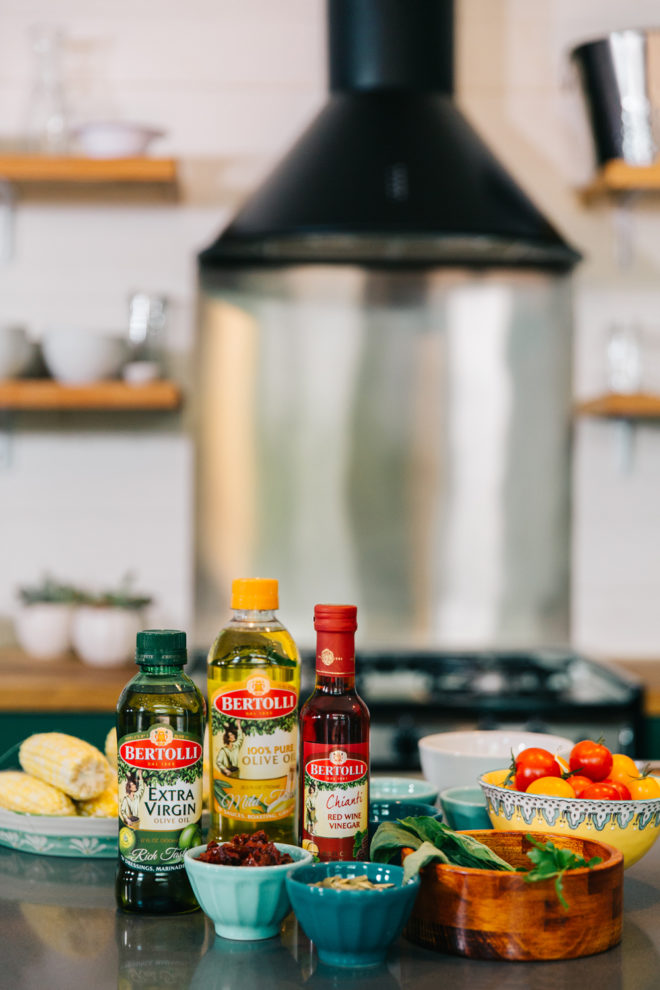 MEDITERRANEAN PASTA SALAD REMIX
(serves 6-8)
The best part about this pasta salad is how light and fresh it is compared to your typical summer pasta salad.  No dressing, no mayo, just lots of olive oil and farmers market fresh veggies, pepitas, and feta!
Ingredients:
16 oz. farfalle pasta, cooked
¼ c. Bertolli® Extra Virgin Olive Oil
2 Tbsp. Bertolli Chianti Red Wine Vinegar
½ c. feta cheese
¼ c. chopped sun dried tomatoes
¼ c. halved cherry tomatoes
1 c. baby kale or other greens
2 Tbsp. roasted pepitas
salt and pepper to taste
Method:
In a larger bowl, add the pasta, extra virgin olive oil, vinegar, feta cheese, and sun dried tomatoes. Mix well with your hands to combine. Top with cherry tomatoes, baby kale, and roasted pepitas. Add salt and pepper to taste.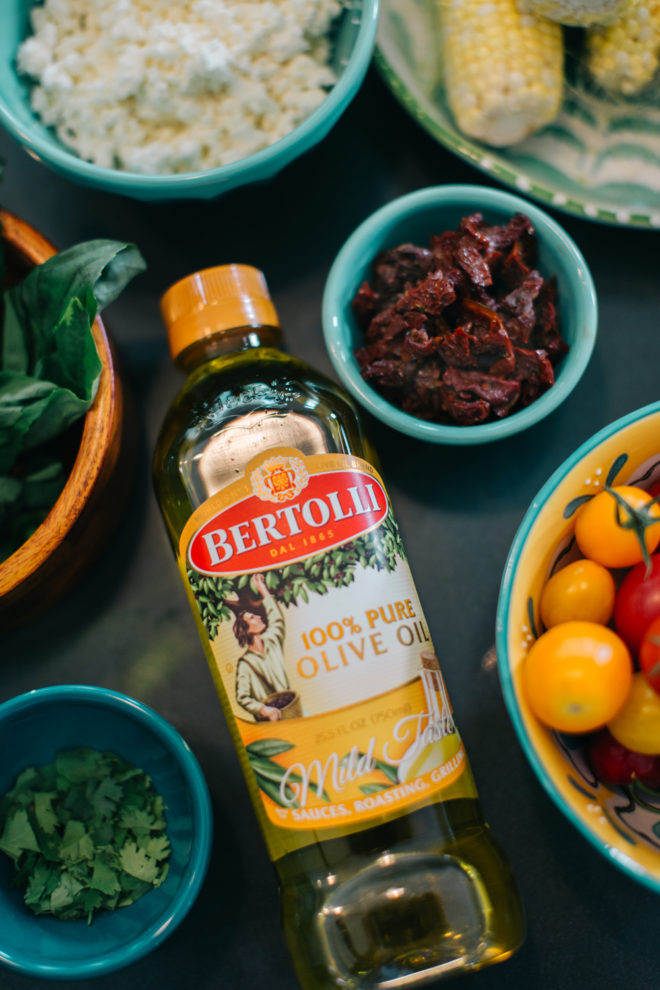 GRILLED MEXICAN STREET CORN with a TWIST
(serves 4)
This recipe is sure to knock your friend's socks off.  It's my version of the corn served at Cafe Habana in NYC, except that I use a greek yogurt/olive oil mix instead of butter making it a lot more flavorful and healthy!  (Whatever you do, just don't skimp on the cheese!)
Ingredients:
4 ears of corn, husks removed
1 c. greek yogurt
¼ c. + 2 Tbsp. Bertolli 100% pure olive oil
½ c. extra wide grated parmesan cheese
1 Tbsp. paprika
1 Tbsp. chopped cilantro
1 lime
salt and pepper to taste
Method:
Start your grill warming around medium-high heat. On a platter, pour 2 Tbsp. of olive oil onto the corn and spread generously using your hands to coat well. Sprinkle salt and pepper onto the corn and add each cob to the grill. Shut the lid and allow to cook for 3-5 minutes before rotating corn to the other side. Cook for 3-5 more minutes, then rotate once more for an additional 1-2 minutes on each side. Corn kernels should be plump and beginning to char.  (Summer grilling at it's finest!)
Remove from grill and allow to cool for 10 minutes. While the corn is cooling add ¼ c. olive oil to your greek yogurt and stir quickly to combine. Add the juice of half a lime and continue to stir until well combined. Using a spoon, add a long stripe of the green yogurt sauce to the top of each corn on the cob, then top with parmesan cheese, paprika, cilantro and salt and pepper. Cut the remaining lime half into small wedges and serve each cob with a lime wedge.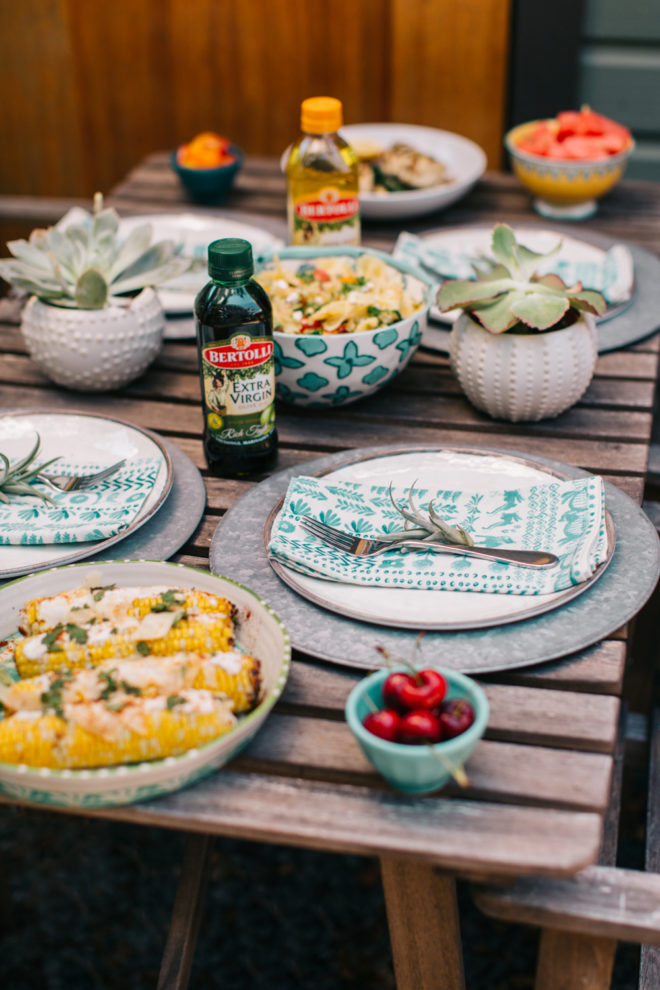 To me, the best part about dining al fresco in the summer is that it's totally unfussy.  There's no room for perfectly folded napkins or multiple forks!  I used these cotton linen printed napkins for a pop of color and added a simple little air plant that I found at Whole Foods while I was picking up groceries for something a little unexpected, but still totally in line with our effortless summertime vibe.  I love melamine plates in the summer!  They're so low maintenance, but look so much nicer than plastic.  I used these plates and these chargers.  Don't worry about having matching sets of serving dishes (or even plates for that matter!).  You can always mix and match patterns, just keep the color palette consistent.
Recipes by Jen Pinkston
Photos and Video by Aaron Pinkston
This Summer Grilling post was sponsored by Bertolli, a brand that can be regularly be found in my pantry!  Hope you enjoyed and thanks for supporting the brands that make this site possible!