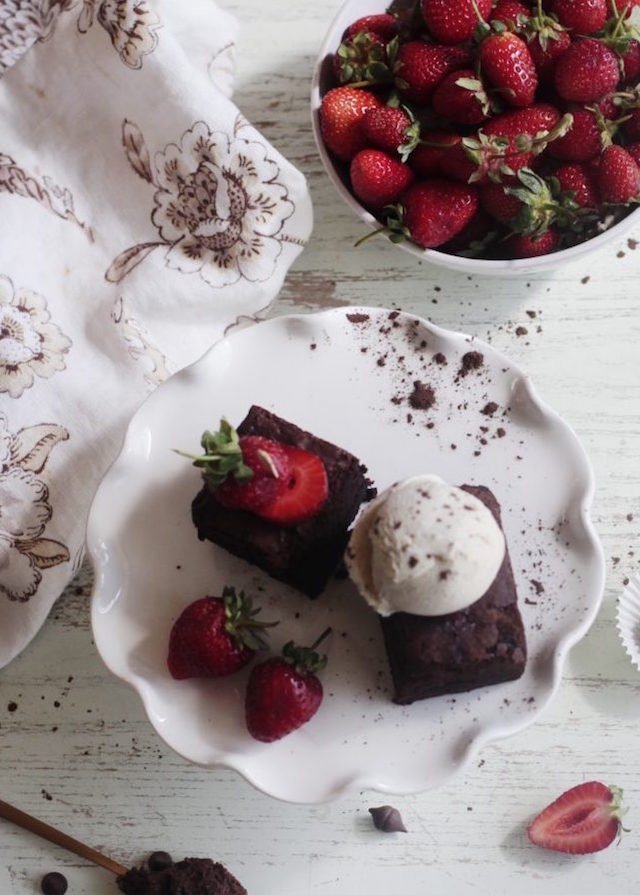 Brace yourselves, friends.  I've come to the conclusion that this here dessert recipe is the one that brings all of the different dessert lovers together.  Chocolate or fruity?  You don't have to choose!  Cake or ice cream?  Why would someone make you pick a favorite?  Today is the day that you can in fact have it all, and by all I mean all of the types of desserts rolled into one salty sweet brownie treat! Keep reading for the full Salted Brownie recipe from By Kara Elise and, don't forget, chocolate is a superfood, friends. (wink, wink!)
Salted Brownies
Ingredients:
1 cup unsalted butter
8 ounces bittersweet chocolate, coarsely chopped
1 ¼ c. all purpose flour
1 teaspoon baking powder
1 ½ Tbls. cocoa powder
¾ tsp. kosher salt
2 c. granulated sugar
4 large eggs, room temperature
2 tsp. vanilla extract
flaky sea salt
Method:
Preheat oven to 350 degrees and grease an 8 inch square baking pan. Then line the pan with parchment paper.
Melt your butter and chocolate in a medium heatproof bowl over a pan of simmering water, stirring until smooth. In a separate bowl, whisk together your flour, baking powder, and cocoa. In another large bowl, whisk your eggs, sugar, and vanilla, then pour into your chocolate mixture until well combined. Stir your flour mixture into your chocolate mixture.
Transfer the mixture to your baking pan and smooth out the brownie batter with a spatula. Sprinkle the whole mixture liberally with your flaky sea salt.
Bake the brownies for 45-50 minutes, or until the top is golden and shiny. Cool the brownies, then remove and cut into large squares. Serve your brownies with a massive scoop of vanilla bean ice cream, fresh berries, and a little extra sea salt!
Salted Brownie Recipe and Styling by Kara Elise