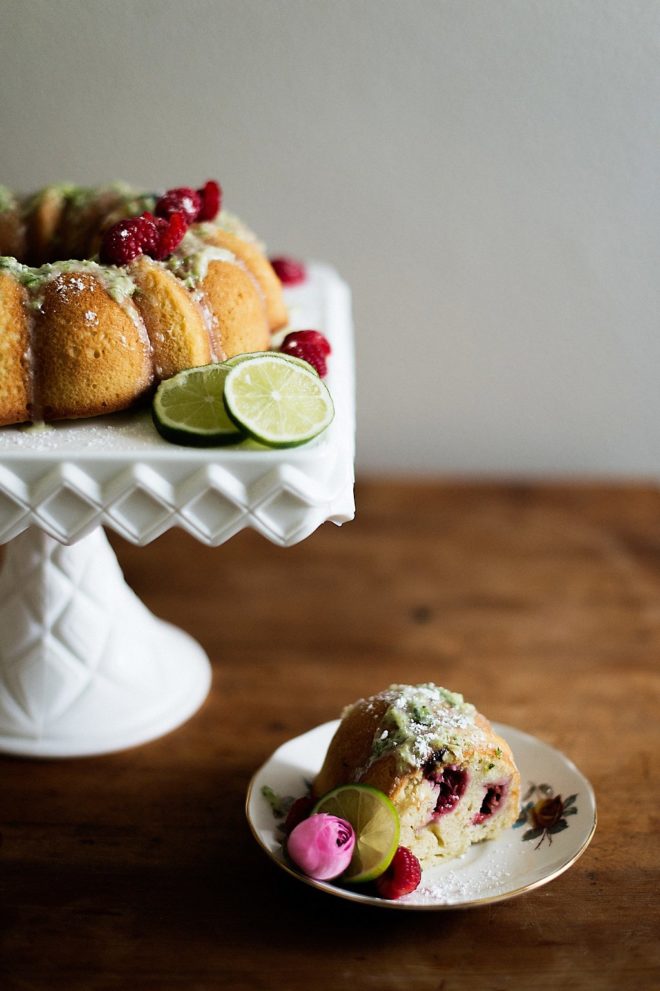 With less than 48 hours left here in Los Angeles, we are headed due south this morning with our eyes set on the happiest place on earth!  How can you not spend one of your very last days as a SoCal resident at Disneyland?  Rumor has it there's nothing like a churro and a trip to Ariel's Grotto to make all of the stress of relocation melt away and I'm hoping those rumors are true.  If a trip to the big D isn't on your list, I'm pretty sure the next best thing is cake.  When was the last time you baked a cake for no reason at all?  This one is chock full of raspberries and limes and basically summer, so it's a total crowd pleaser, should you decide to share.  And should you decide to keep all of this glorious cake for yourself?  No judgement here, sister.
Raspberry Lime Bundt cake
Ingredients:
3 cups all purpose flour
2 teaspoons baking soda
1 ½ teaspoons salt
2 teaspoon cinnamon
⅓ cup greek yogurt
¾ cup almond or coconut milk
14 tablespoons unsalted butter, at room temperature
Zest of 5 (medium sized) limes
2 cups sugar
1 teaspoon vanilla extract
4 large eggs, at room temperature
1 cup fresh raspberries, plus more for garnish
Method:
Preheat oven to 350 degrees (F). Spray a bundt pan with non-stick spray, then set aside.
In a large mixing bowl, stir together flour, baking soda, cinnamon and salt.
Stir together the greek yogurt and milk, and set aside for later use.
In a mixer, mix the sugar and the lime zest together. Then beat in the butter, vanilla, and eggs one at a time.
Once the batter is completely mixed, slowly add in the dry mixture and the yogurt and milk mixture.
Pour ⅔ of the batter into your prepared pan, then add the raspberries. Top with the remaining batter.
Bake for 60 minutes, or until cake is set and golden.
Let the cake rest for about 10 minutes, then transfer to a cooling rack.
Serve with a a bit of glaze, fresh berries, and lime zest.
** for the glaze, mix a tablespoon of butter, 2 cups powdered sugar together. Then slowly add almond milk, 1 tablespoon at a time, until glaze consistency.
Photography by Amanda Gallant
Recipe + Styling by Kara Elise