10/19/2015
I have been giving a lot of thought to my morning routine these past few months.  With the juggling of motherhood, styling and keeping up with this very special corner of the Internet here, every minute is precious and I feel the need to spend them intentionally.  The first change I made to my routine, was to wake up on purpose.  I had grown accustomed to soaking up every last minute of sleep that I could until Parker would wake, but it actually feels really energizing to set my alarm the night before and get the day going before she starts shouting, "Mama!" from her crib.  The next thing I did was get into a routine of exercise– something that I had fallen out of the habit of since pregnancy.  (You can read more about that here.)  And lastly, the little indulgence I look forward to the most, is the latte I make before heading out the door.  With fall right around the corner, I created this Pumpkin Spice Latte that you can make in one of these Comfort Cup® by Chinet® in less than 5 minutes (with no fancy espresso machine needed) and be on your way! Keep reading for the recipe…
The 5 Minute Pumpkin Spice Latte
(makes 2 lattes– perfect for sharing!)
Ingredients
1 cup espresso or extra strong dark coffee (if you don't have an espresso machine brew extra strong coarse ground coffee in a french press.  do this while you're getting ready so that it doesn't cut into the rest of your morning routine.)
2 2/3c. steamed and frothed almond milk (or other milk of your preference– if using almond milk, I really like the Whole Foods 365 brand in the red carton.  It froths up nice and thick– a necessity for a good latte!)
1/4c. pumpkin spice syrup (you can buy one pre-made or take the extra 15 minutes on a weekend and make it from scratch using this  it will keep in your refrigerator for  a month and tastes way better than the store bought stuff.)
two pinches of pumpkin pie spice for dusting.
milk frother.  i use this one from nespresso which steams, froths, and foams or you can simply buy this one for frothing and heat your milk on the stove top or microwave.
one package of Chinet Comfort Cups for taking on the go!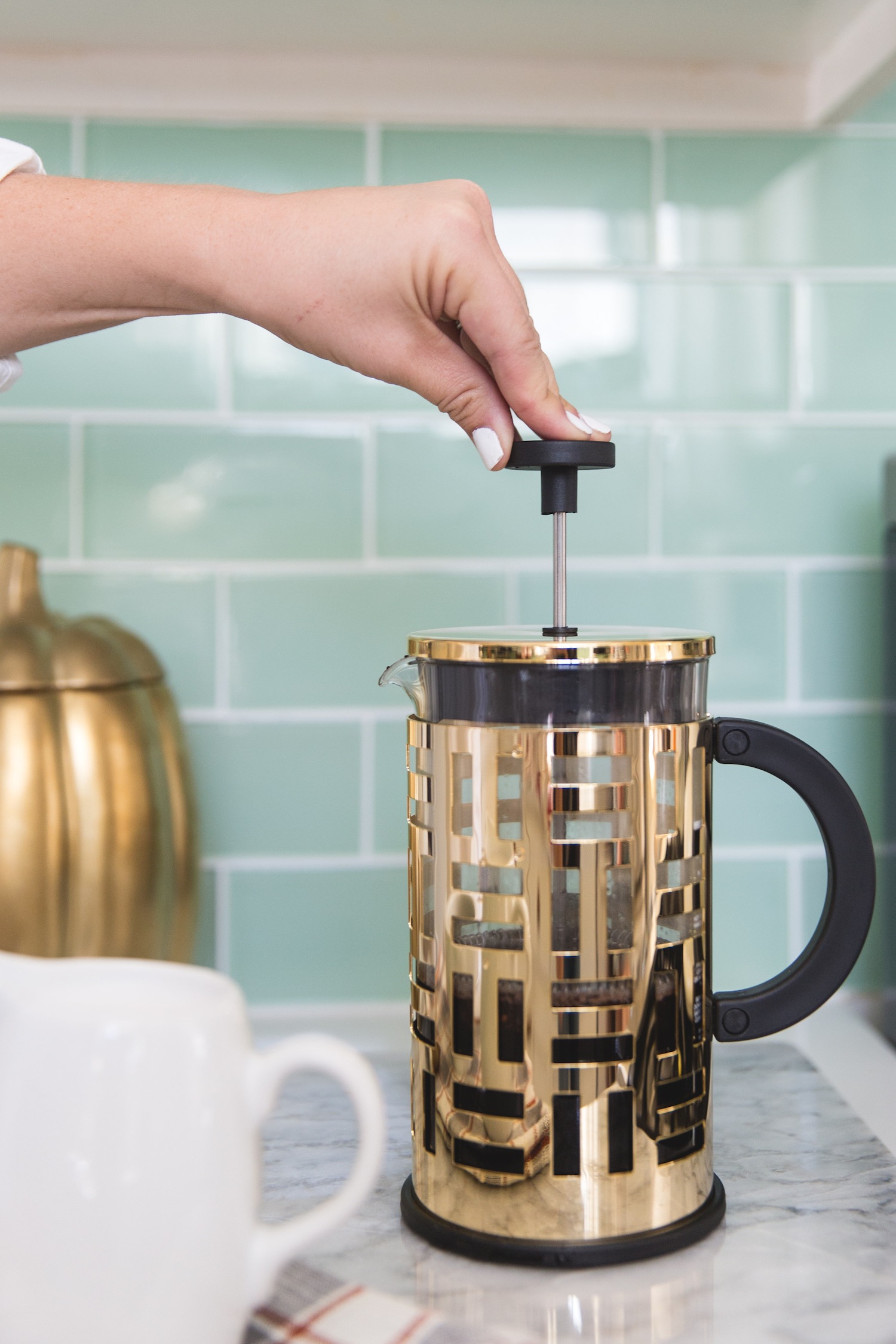 Instructions:
1. Add 1/2c. espresso or strong coffee to each Chinet Comfort Cup.  Next, add 2 tablespoons of pumpkin spice syrup to each cup, followed by 1 1/3c. steamed almond milk.
2. With a spoon, add remaining almond milk foam to each cup, followed by a pinch of pumpkin spice.
3. Share the second latte with a friend or co-worker and enjoy!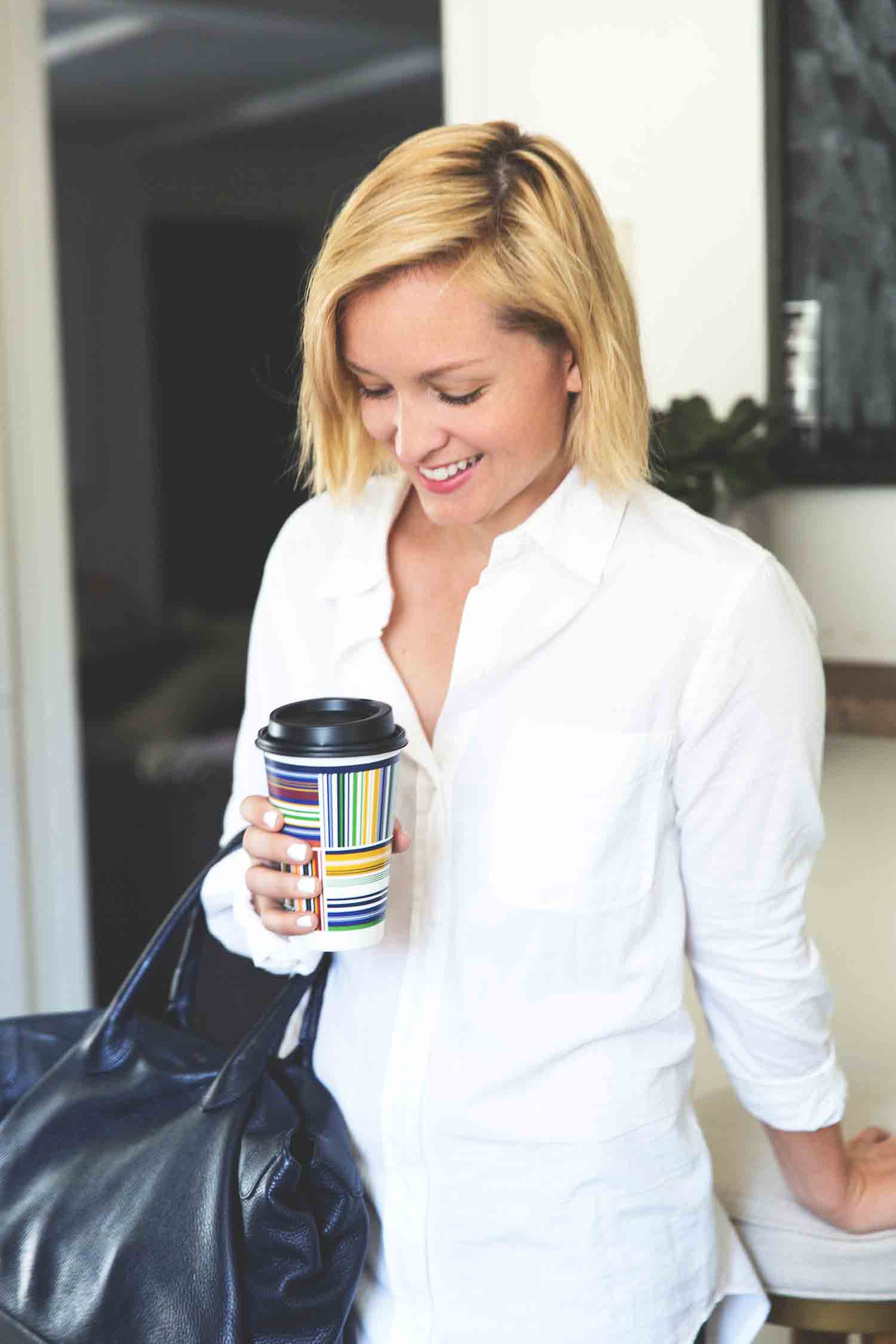 Someone please make this and tell me this isn't the easiest PSL recipe ever!  Plus, think of all of the money you're about to save from skipping the coffee shop!  Happy fall, friends! Here's to waking up on purpose!
(You can also view this post on Style Me Pretty Living!)
Photography by Emily Morgan
Compensation for this post was provided by Huhtamaki, Inc. via AOL Media. The opinions expressed herein are those of the author and are not indicative of the opinions or positions of Huhtamaki, Inc. or AOL.  Thanks for supporting the brands that allow to create new original content!