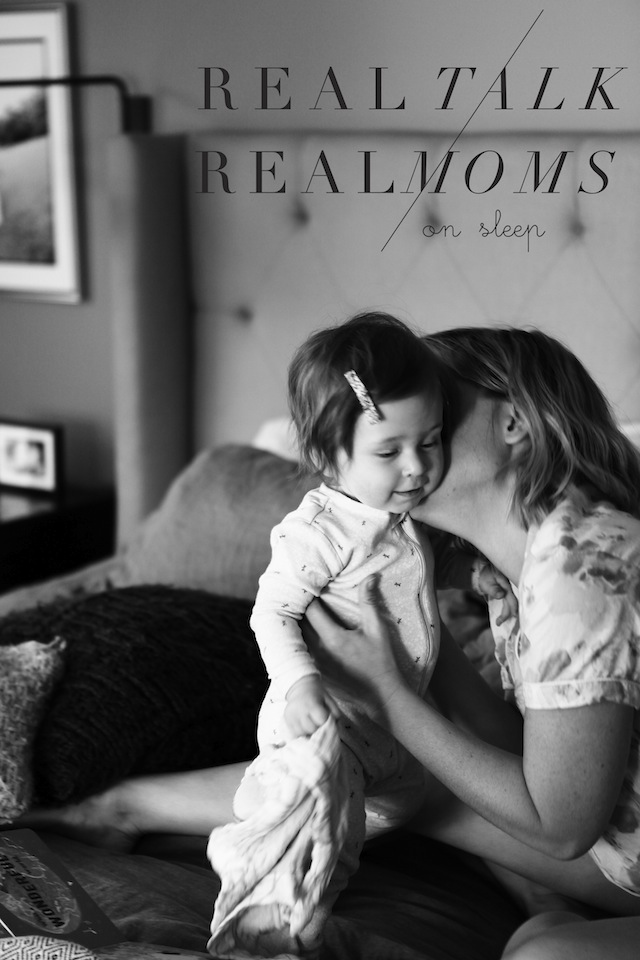 Is it just me or is a 'good sleeper' the holy grail of babies?  You can hope for a boy or girl, a head of hair or your husband's dimples, but if we're being totally honest here we'd likely trade it all for that urban legend of a baby who comes home from the hospital doing 12 hour stretches through the night.  (Has anyone actually met this baby?!) I remember when Parker was a few months old, I would be up in the middle of the night texting my friends from Mommy & Me to get the skinny on how their babies were sleeping and what genius solutions they were implementing to cure all of their sleeping ills.  It sounds cliche, but I've since learned in my 16 months of motherhood that every baby is so different and the journey you go on with them will inevitably be equally as unique.  However, there are definitely strategies and tips that did wonders for us on our sleep journey with Parker. That's kind of how the idea for this series came about.  I have so many friends with similar lifestyle sites who have recently embarked on this motherhood journey and I thought it would be so interesting to hear from each of them about what life with baby has been like.  Not just the cute clothes and glowing instagram photos, but the nitty gritty things like how do you get your baby to sleep and how was breastfeeding for you?  How did you decide what the best childcare arrangement was for this most precious being and do you suffer from mom guilt?  This post is going to be a little wordy, so if motherhood is the last thing on your mind, then apologies in advance and might I suggest this post or even this one?!  Otherwise, keep reading and I highly suggest hopping over to Sarah, Amy, Erin, Sam, Rebecca, Emily, Hilary, and Alex's sites today too!  Now about Miss Parker Pinkston and her beauty sleep...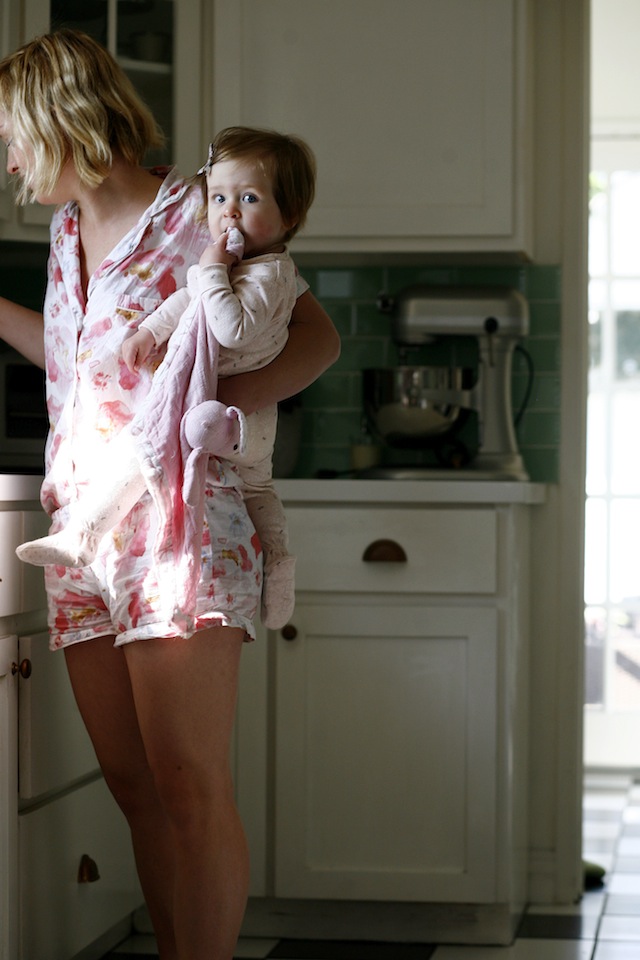 I vividly remember seeing the book titled 12 Hours by 12 Weeks and thinking, "Yep! Sign me up for that!".  I read through the first couple of chapters before she was born and it seemed like a fine plan.  I also had a friend recommend Healthy Sleep Habits, Healthy Child so I read that one also.   You guys, there is an entire publishing industry based on upon getting our babies to sleep through the night!  It's crazy! (By the way, once I met my baby and realized that this 9 pound piglet of a child would never go 4 hour stretches between meals, 12 Hours by 12 Weeks was out the window.) Full disclosure:  I love baby snuggles as much as the next person, but have always known about myself that I was not cut out for a long stint of co-sleeping and night feedings into toddler years.  It was important to me that at some point she be able to sleep independently and through the night.  On her second night home from the hospital, she was really hard to get to sleep in the middle of the night and I wasn't sure what exactly to do.  Having exhausted the 5 s strategy and being quite exhausted myself, I went into her room in the middle of the night with her all swaddled up and so small and laid her in her crib.  I was so nervous to leave her alone  that I slept on her floor.  That night she slept from 1am-5am, nursed and went back down until 8:30.  Needless to say she's been sleeping in her crib ever since.  I may have missed out on having her in our room in the adorable bassinet that came with the not so adorable price tag, but I'm glad to not have had to transition her to her crib.
Up until 7 weeks, her night sleep was definitely inconsistent.  But, I mean she was 7 weeks old, so I think that is kind of par for the course and to be expected.  I was happy if we had one 4 hour stretch a night.  The rest were usually 2.5-3 hours.  Around 4 weeks there would be the occasional 5 or 6 hour stretch which felt like a glimmer of hope!  She was typically really good about nursing and going straight back to sleep, which was good since Aaron started back to traveling when she was 3 weeks old.  If I was desperate after a rough night I would put her in the mamaroo in the living room with the white noise machine on and get a couple extra hours on the couch while she caught up on some zzz's as well.  I was always so afraid that letting her sleep in the mamaroo was going to ruin her for sleeping in her crib and that she would always need that feeling of motion to go to sleep.  In hindsight I really wished I hadn't worried so much about that as I don't think it really matters in the long run.  Speaking of sleep props, though, can we talk for a second about how many different types of swaddles and sacks and blankets and miracle blankets there are for children?  Oh and that suit that looks like a michelin man.  And then the loveys and the pacifiers and the white noise machines and the white noise machine built into a sheep and the white noise machine apps and the oh build your own version of white noise using the sounds of city busses and people at the mall app.  Oh and let us not forget this thing.  Baby sleep is like a million dollar industry and I'm not even judging because I was definitely doing my part during those early months to keep that industry in business.  Mama needs her beauty sleep, too.
At 7 weeks we started implementing a bedtime routine-- something we probably could have done even earlier!  We would give her a bath at 8:30, read 'Baby Bear, Baby Bear What Do You See', and Aaron would give her a bottle that I had pumped the night before.  Since he was back at work this was really his moment to spend some time with her.  I remember thinking she was so young for a routine, but she immediately latched onto it!  She started sleeping from 9pm to 3:30 or 4am, nursing, then going back to down until 7:30 or even 8 some times.  It felt like a totally manageable schedule and continued that way for awhile.
Naps on the other hand were kind of terrible.  At about the same time that she started stretching out her night sleep, her naps were consistently usually just 45 minutes along.  At that age many babies usually only stay awake for an hour and half or two hours so it felt like I was constantly putting her down for a nap which was a process in and of itself.  Her naps were also the only time I was getting work done and it was so hard to dive into a real project knowing she would be up in just 45 minutes.  At 17 weeks we decided to do sleep training to teach her to fall asleep on her own.  It was never about getting her to sleep longer or getting her to drop night feedings-- she did both of those things on her own.  It was about the struggle of getting her to go to sleep.  Sometimes we would be bouncing and shushing and holding her all swaddled in our arms and she would still be wailing.  That was when we decided to sleep train.  I know it is a hotly debated topic, but I really feel like it was the right move for our family and our baby and our situation.  She was already crying it out right in front of us while we held her and tried to soothe her.  It was time to teach her how to sleep on her own.  For us it went exactly like everyone said it would.  She cried for a long time the first time we did it and it was excruciating to hear, then she cried for a tiny fraction of the time the next time and by the third day, she was going down for her naps fully awake, on her own and without a peep.  Sometimes she would play in her bed for 45 minutes before actually falling asleep but she was happy and content the whole time. She would go for days without crying at all and then occasionally she would have a hard time going down for a nap.  It wasn't all forward progress all of the time, but it was a huge improvement.   She was happier and more rested and we were happier and more rested.  It was definitely a huge sleep milestone for us.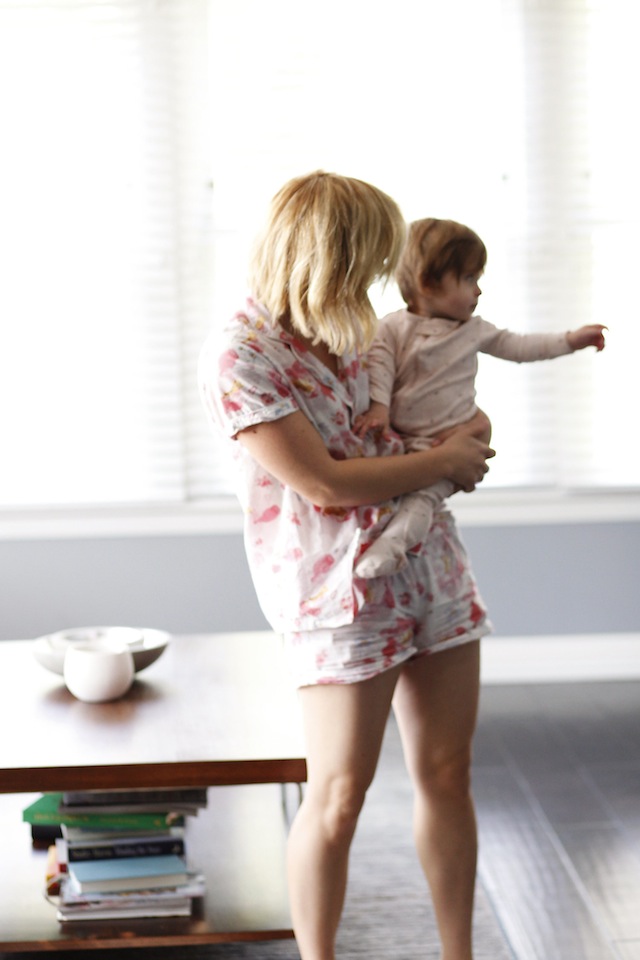 Meanwhile she continued to stretch out her night sleep-- going to bed earlier around 7:30 and sleeping until 4am or 5am and then eating and going back to sleep until 7 or 7:30.  She would have off nights from time to time, but was pretty consistent until she hit 6 months.  She turned 6 months old, I went back to work, she went to daycare and her sleep kind of went haywire.  She started waking up two and sometimes three times in the night.  Our doctor said that it could be that she was wanting to make up for the time we weren't together during the day.  I went with it and got up with her and nursed every time she woke. Her sleep would start to get better and then she would get sick-- the inevitable side effects of daycare.  When she's really sick her sleep is just terrible.  Poor baby could be up as often as every 45 minutes in the night.  Aaron and I would take turns sleeping on the couch with the monitor and getting up with her so that we could each get a four hour stretch of sleep.  At 10 months we took her out of daycare and hired a nanny.  At 11 months she got tubes in her ears to stop the cycle of ear infections and I kid you not, she slept through the night the next night and never looked back.  I don't know if it was all of the fluid in her ears keeping her up or just a timely coincidence, but it was a welcome surprise.  She still has her moments where she will wake up in the middle of the night.  At this age we usually let her cry for a few minutes and she goes back to sleep, but once in awhile we will still have to go in and rock her back to sleep.  For the most part though she is sleeping on her own from 7:30 to 6:30-7:30.
I think the biggest misconception I had about sleep was that it would always be forward progress-- and maybe for some babies it is.  That just wasn't our experience. She is sensitive to what's going on around her and lots of things affected her sleep-- being sick and sleeping in a new place to name a couple.  I think the most helpful things for us were a consistent bedtime routine and teaching her to go to sleep on her own through sleep training.  I also think with our next baby I will be more intentional about letting her (or him!) lie awake in the crib from an early age.  Do you have children?  What things did you find helpful in helping them sleep well?  Any strategies that didn't work for you?
(If you enjoyed this post, you're in luck!  All of us will be posting next month about feeding.)