This childcare topic is ironically timely.  Parker's school is on Spring Break this week, in addition to my sister and mom both being out of town for most of the week. (My mom came over this morning and watched her while we prepped for a shoot tomorrow which was so incredibly helpful.)  No big deal, though, right? Just schedule a babysitter. Which I did... until she came down with the world's most prolonged stomach bug.  I was literally walking out the door Monday night to a work party-- she had been fever and throw up free for like 60 hours!-- giving her a hug goodbye when she puked all over me.  Needless to say, I sent the babysitter home and the week's plans ended up looking a lot different. I'm absolutely speechless that we haven't already covered childcare as part of our Real Talk series. It has been such a huge part of my own motherhood journey, one best characterized by trial and error.  I actually talked about it a little here as part of our work topic, but that was over a year ago and things have continued to progress in this arena.  More than anything, I would love to hear from you guys. What childcare has worked best for you? Do you work? Have you chosen to stay home with your kiddos? What has your own journey looked like?  There are such a range of options from grandparents to full-time nannies, to nanny shares, traditional day cares, in-home daycares and beyond.  Here's what we have done so far and what has worked and what hasn't... and be sure to check out the other posts on this same topic from:
Alex || Caitlin || Leah || HeyMama || Cyd || Natalie || Rebecca || Catherine || Sarah || Erin
Parker was born the beginning of April. I stayed home with her for all of April and May and most of June.  I would check in on the blog and we actually published some sponsored content as well during that time. I shot this post like a crazy person 7 days after giving birth while my mom was home with her.
At this time I was still styling and doing the blog. Aaron was off for hiatus all of June and July, so childcare was not an issue and in mid-July I took my first styling job, knowing he would be home with her.  It was kind of a disaster. I borrowed a friend's battery operated pump to use while I was out prepping, but didn't realize I needed a totally different set of accessories to go with it. Set crews are so predominantly male and this one was particularly young so the whole "I need to go pump for twenty minutes" thing didn't fly well.  It was a bumpy start to say the least, but I was so glad that Aaron was home with Parker.  That was the silver lining. He's always been great about being able to take care of her when I'm away, even from the beginning.
Cue August and Aaron goes back to work. I've gotten used to being able to work a bit with him being home for the summer, so it's a little bit of a shock to lost the flexibility. I have babysitters come sporadically-- three hours here, four hours there to get work done on the blog.  I found these ladies through friend's recommendations, many of them went to the same church we went to and I paid them $14-$15 per hour. My mom flew out once during this time when I had a styling job come up.
Enter October 2014 (Parker is six months old) and full-time childcare…Here were the pros of our in-home daycare situation (which we found through a recommendation of a friend who also sent her little boy there):  It was incredibly affordable– $180 a week and she could have gone from 7am-6pm, 5 days a week.  (Though she was never there that long, it was still a really, really good deal– especially in Los Angeles.)  We really liked the woman who runs it and the other kids there.  I love that it felt "homey" and not like a "center" since she was still pretty young.  We loved that she was going to be around other kids for the socialization aspect, which would have played a bigger part when she was older.  Then there were the cons.  It was a 20-25 minute drive each way which amounted to an hour in the morning and an hour in the afternoon by the time I drove there, dropped her off, and drove home.  It wouldn't have been so bad if Aaron was able to do half of it, but with his travel schedule I was the one keeping the road hot.  She was also getting so sick.  This pretty much trumps every pro and any other con.  In theory I knew it would happen.  I expected it.  But the reality of a baby who was sick every other week and not sleeping because she was sick began weighing on us pretty quickly.  There are a lot of times when my job is flexible, but when I'm needed on set that's not the case.  I vividly remember one day being en route to Malibu for a 7am call time. She woke up after I left and when Aaron went in he discovered that she had a sky high fever and ear infection. If either of us had normal jobs it would have been no big deal, we would have just taken a sick day, but he was scheduled to fly out for a live shot that day and I was on set styling for a major commercial, so suddenly I'm driving down Topanga Canyon and scrambling for babysitters who can come in a moments notice.  I'm pretty sure that was the straw that broke the camels back.  The logistics of daycare plus a husband who travels a lot and a sick baby with parents who had inflexible work schedules were more than this mama could handle.
We lasted in daycare for four months and in February of 2015 when she was 10 months old we hired a nanny.  We found her through our neighbor across the street-- our nanny was a friend of her daughter's nanny.  She came over for an interview and I loved her immediately.  She had a lot of energy and was always super interactive with Parker, singing and reading constantly.  They did lots of fun little craft projects and would go on nature walks where parker would stuff her pockets with leaves and things she found along the way.  They made friends at the neighborhood park where they could walk, so they had regular play dates with four or five other kids.  She would make Parker yummy meals and keep the kitchen very clean and the house tidy which was always nice to come home to.  She was a godsend for our family. It was so sad to leave her behind when we moved here, but the silver lining of the timing of our move was that Parker really was ready for a preschool environment.  Our nanny was also very flexible. Some weeks if I was styling she was there 40+ hours and other weeks if things were lighter she would be there for just 15-20. I know it's so rare to find someone with this kind of flexibility, but it was ideal for my work situation.  While she was definitely on the more affordable end for nannies in LA, this expense, even at mostly part time was well over $1000/month.  Not cheap.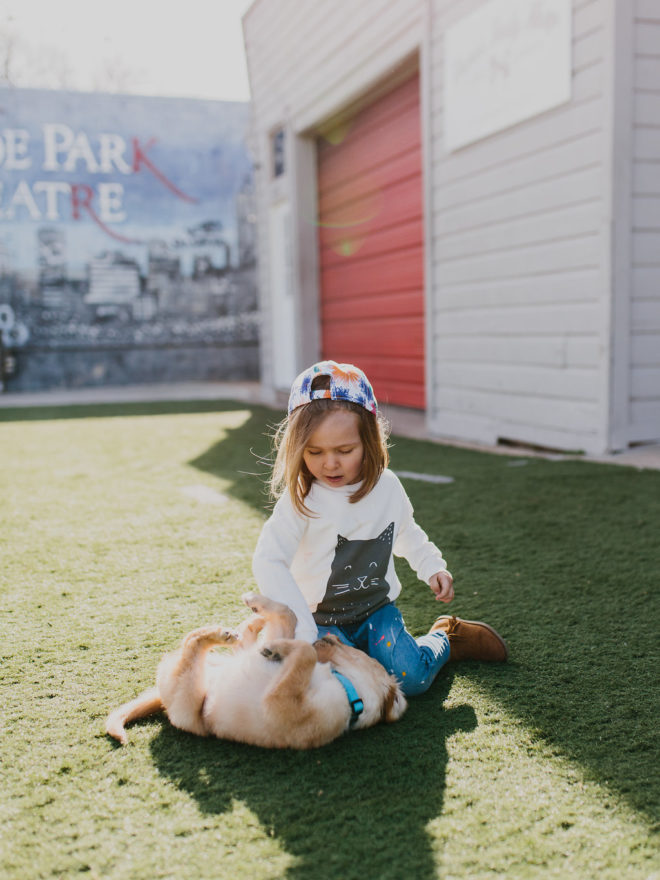 When we knew we were moving to Austin, I started looking into preschools. (You can read my process / thoughts on that here.)  We toured the school where she is at now and immediately fell in love. It fits her personality and love of animals and the outdoors. It was a pretty easy decision honestly, and they had a spot ready and waiting for her, which is so different than what we had experienced when we called preschools in LA.  (Once I called an LA preschool when she was 14 months old who told us they could likely get her into their pre-k program when she was 4.5. Would we like to leave a $500 deposit to hole her spot?) Her preschool now is $875/month for care from 8:30-3:30 and includes lunch and morning and afternoon snacks. They do have the option of going until 4:45 for an additional fee.  It's hard to imagine that this would work for everyone's schedule, I can't imagine that it would, but it does work for our schedules pretty perfectly, especially now that I'm not styling and keeping set hours and that we have family here in Austin to pick her up in a pinch if need be. It's also nice that we still have the whole afternoon and evening-- a good 5 hours-- together before she goes to bed each day.
Two childcare challenges on our plates right now: We have zero babysitters, besides the one we were trying out on Monday that she threw up in front of (please come back some day!) besides family. Parker became so used to our nanny in LA that it was hard for her to be left with other people and I kind of didn't force the issue. Once I'm gone she's fine but that initial separation is still hard for her. With Aaron traveling so much, too, we often times don't want to leave her on the weekends, so we rarely go out just the two of us.  I'm going to be making a conscious effort to change that, though, in the coming months because I know we are going to need help when baby girl number two arrives in August and I want to have some people that we are familiar with and trust at that point.
Oh and challenge number two? Trying to figure out the childcare plan for  baby number two. Since I blog pretty much full-time now, my schedule is very flexible, but it's still a time consuming process of responding to emails, coming up with creative for posts, coordinating posts, shooting posts, writing copy for posts and then marketing / social for posts once they're live, just to overly simplify the process.  I'm not feeling any sense of urgency to figure it out, though. I would love to be able to get by with part-time babysitters or a nanny share and family for the first year or so and then start preschool shortly after. We shall see!
Now spill the beans! What kind of childcare has worked best for your family? Where have you found these wonderful people that watch over and love our children while we work?
Photography by Katie Jameson