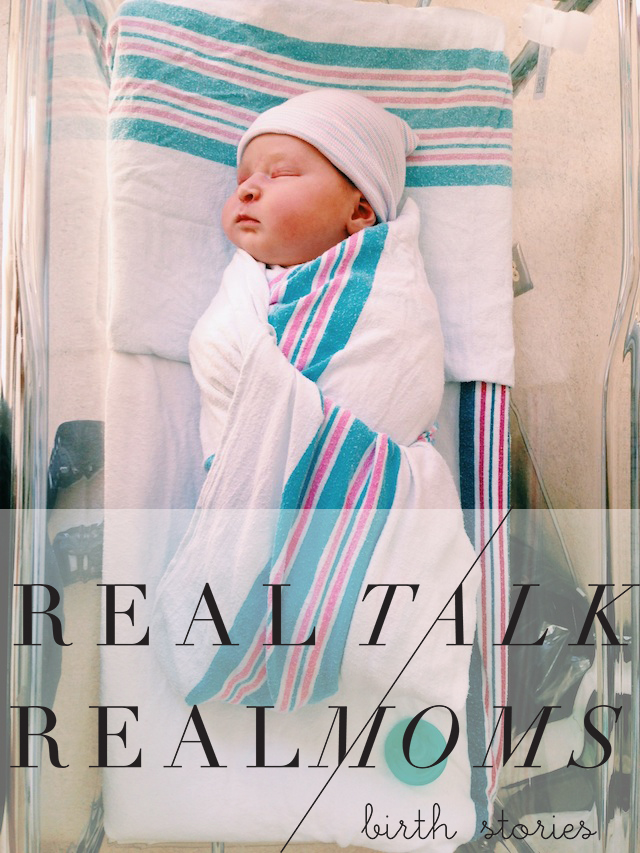 This seemed like a fitting topic this month with what we are about to celebrate this weekend and yet I almost skipped writing about it. Parker's birth is something that I never went super deep into here. I tend to keep things positive and upbeat around here and, well, this story, isn't really that, but I do feel like there might just be someone out there who can relate, so with that, here is Parker's birth story.  We all hope for pain-free and fancy-food-filled births as easy as Chrissy Tiegen's, but that's just not always how it goes down. So if your birth was less like Chrissy Tiegen's and some level of traumatic, than you might just be able to relate to the story below.  And guess what? Those crazy 38 and a half hours of labor with a half-failed epidural gave me the greatest gift I have ever known, so in the end? Completely worth it. (Disclaimer: if words like dilating or effacing make you squirm, you may do well to click over to another post... like one of these!) Otherwise, keep reading, and be sure to check out the birth stories from my fellow mamas: Rebecca || Natalie || Alex
So let's set this up first by saying that I had a really smooth pregnancy. I felt huge and of course uncomfortable at the end, but there were no scares, no tests that came back abnormal and I was still able to travel and go about my daily life. It felt altogether pretty breezy considering I was growing a human inside of me.
By 37 weeks, I found out that I was already dilating and effacing which felt like a pretty good sign.  Around 38 ½ weeks I had pretty strong, consistent contractions for about 3 hours that then went away.  When I went in at 39 weeks, though, I was already 3cm and 60% effaced.  Moving right along.  I was having lots or erratic contractions throughout the day for the final couple of weeks and all in all it looked like my body would do what pregnant bodies do.  Also, both of my sisters had already given birth and they were the quintessential in and out in less than 8 hours story. (One of my sisters actually delivered thirty minutes after stepping foot onto the labor and delivery floor!)
So at 39 weeks, with everything set in motion, my doctor told me should would be leaving town 2 days after my due date for a week, so hopefully the baby came before then. Hopefully?!  At the time, I hadn't even considered the option that my doctor who I had seen religiously for the last nine months wouldn't be there!  I did everything the following week to get myself to go into labor to no avail, but finally, the day before my due date, we decided to induce the following day so that my doctor could deliver me.  Here's how it went down:
Day 1: (Due date) 5am: Check in. Almost 4 cm dilated and almost completely effaced. Already having contractions on my own, just not consistently. How has this baby not come on her own yet?!
6am: Start Pitocin induction. I have an image of myself holding my baby in six hours. Bahahaha.
12pm: They check me. zero progress. spirits plummet. They increase the Pitocin by only 2. (Meanwhile, my sister back in Texas who was a L&D nurse at the time is fuming that they aren't bumping it up faster.)
6pm: Pretty much the same story. Maybe I had made it to 5 at this point? Still no epidural. I'm getting up and walking and changing positions constantly. I'm focused on doing whatever I can to get this baby out of me.
11pm: The contractions are intense. I'm still only at a 5. Bring on the epidural. My water is still intact and they are still increasing the Pit ever so slowly.
12am: 18 hours in, get the epidural. Getting the epidural was not so bad and actually seemed to help a lot at first. I sleep on and off for the next few hours.
6am: 24 hours later I have made it to a 6! This is taking forever. Still on Pitocin.  This is when I'm realizing that the epidural is only working on my right side. It must have slipped or something. If I lay on my left side the pain is totally excruciating.
10am: I'm a 7! And the nurse, finally after much pleading, breaks my water while checking me. Things are moving along, albeit painfully as the epidural is a total flop.
3pm: 10cm and get to start pushing. Finally. The epidural works less and less. I keep pushing that little hand pump button but it's just not working. It helps a little on my right side, but I feel everything on my left.
6:37pm: After more than three and a half hours of pushing, all nine pounds and three ounces of my baby girl is born.  I'm elated and exhausted... I thought I was starving, but suddenly not hungry at all.  They discovered that there was meconium in my water when it broke, so she was born to a room full pediatricians, NICU doctors and nurses and 2 OB-GYNs-- neither of which was my doctor, by the way, who had already left town.  She didn't cry at first and they immediately began sucking all of the meconium out of her system.
This is the first time I got to meet my girl! I'm not saying this in a figurative way, but in a very actually way: I will never forget this first stare. This sweet moment didn't last long. They whisked her away to NICU and I sent Aaron along with her.  I also vividly remember the moment when he called me from NICU and said, "You won't believe how much she weighs! Guess!".  She spent 24 hours in NICU away from me which felt very bizarre to have finally had her and yet she wasn't there.  The one side of my body was so epidural filled that I couldn't walk until the next morning. I tried to get up at 2am to go see her and feed her and nearly fainted just trying to get to the wheelchair.  So the next morning at 7am we went up and spent the next three hours like this:
Total bliss.  Also, that's an IV in her head because they couldn't find her tiny little veins anywhere else to give her the antibiotics for the meconium.  I don't know any other way to describe the whole thing other than feeling so traumatic. And I get it. She was fine and healthy in the end and I was fine and things could have been so much worse, so I feel terrible even using the adjective when I know people have been through things so much worse in birth. But that's how it felt, so it's the most real way I can recount it.  I cried just thinking about it for the first week.  Then, as time has a way of doing, it passed and didn't feel so raw. It just felt like our story.  The story of how I fought to bring this big, strong healthy baby girl into this world and I would do it all again tomorrow.
(She's like 4 days old here, by the way. I feel like she looks so old with all of that hair!)
Was your birth what you expected? Any tips for expecting mamas about to go through the delivery process?