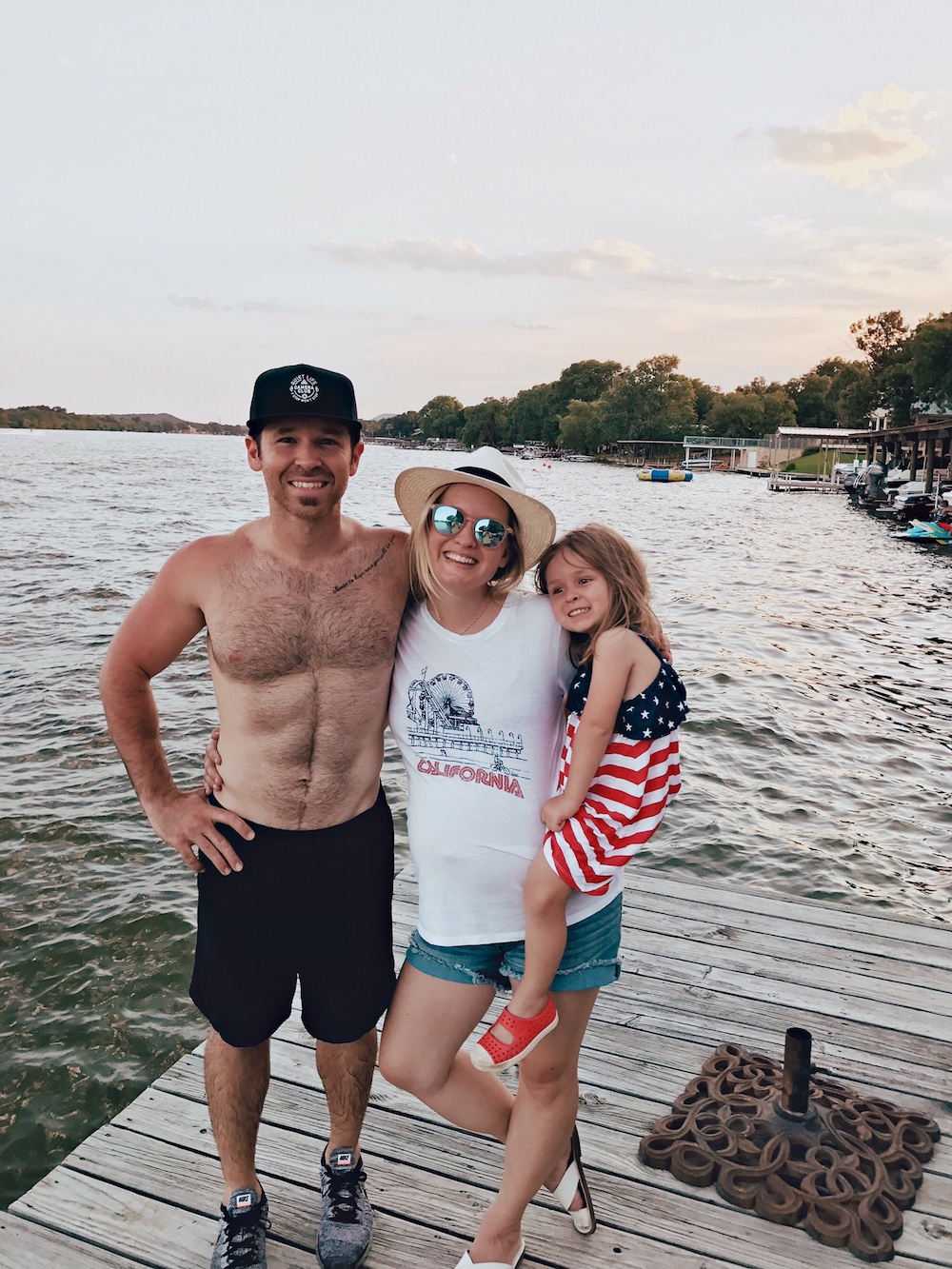 Is this something you think about?  It's something I've been thinking about a lot.  The more I talk to friend's about their family dynamics and the daily routine their family keeps (or doesn't), the more interested I am in what works for people.  Do people with young children mostly eat dinner as a family or do you put the little ones to sleep and then have an adults-only dinner?  What's the balance of family time versus making time for just you and your partner?  Do you vacation with your kids or is that adult-only time? Are kids involved in your friend dates? A recent British study found that the average family only spends 38 minutes together per day.  I'm not sure what the American equivalent is, but that seems staggeringly low, doesn't it?  Just in the mornings alone before preschool and work we definitely get in a solid hour if not a little more.  However, with elementary schools starting at 7:30a in a lot of places I can see how morning time could be cut short.  I also found this article really interesting about the value of spending time as a family.  (Although, it's riddled with ads and not with sources, the concepts all seem to intuitively make sense and give a good case for quality family time.)
Be sure to check out the other posts from Design for Mankind || The Life Styled || The Refined Woman || Sugar and Charm || and A Daily Something
Here's what our life looks like at the moment:
Meal Time:  I'm always secretly envious of those people who put their kids down (oh so easily) at 7pm on the dot and then enjoy a leisurely adults-only evening.  That is so not our story, though.  If we are being totally honest, Parker doesn't go down until close to 9pm most nights so having dinner afterwards wouldn't make sense.  I know that dropping her nap (she still naps for 2 hours a day at preschool and 3 hours a day at home on the weekends) would definitely move this time up and we may start to do that in the fall when she is 3.5.  Even still, though, despite the romance of the couples-only dinner, I'm such a fan of family dinners.  We actually like eating on the earlier side and I feel like it's a good habit to start while they're young since it's definitely something I would want to do as a family when they're school aged.
Going Out to Dinner:  We used to do a lot more date nights when Parker was younger-- like that first year-- and probably should make more time for them, but usually end up opting for family time on the weekends.  As for this summer, we went out in early June for our anniversary, did a day date of lunch and a movie one day while she was at preschool, and then had an impromptu date last week when my mom offered to pick Parker up from school.  She's at an easy and fun age to do things with together which makes the family time choice more enticing than it was when she was 6 months old.  With the craziness of newborn life nearly upon us again, though, we may need to keep a standing monthly date night in the fall!
Travel: I feel like I'm constantly giving unsolicited advice to the childless that they should travel as much as possible at this stage in their life because it's just so difficult once you have kids.  (At least young ones? Maybe this gets easier when they're older?)  You either travel without them which means you make plans for them to be taken care of the entire time you're gone which can either be a financial burden or make you feel like you're placing that burden on family plus there is the missing them, the worrying about them, and the intermittent and totally unfounded feelings of guilt that you're not with them. Or you can travel with them which is just a whole other experience since you're always going to be somewhat on their schedule or left to deal with overly-tired toddlers and limited to some of the things that you'll be able to do.  Lastly, if you're financially able, you can travel with help, but then there is this different dynamic of having a non-family member and probably more unfounded and unnecessary guilt feelings when you're not with your kids that you should be the one taking care of them or spending time with them and of course the added cost.  (Sorry for being soapbox-y. There's a chance that exactly zero other people feel this way-- ha!)  As for how we travel now, we did make it a point to go to Stockholm earlier this year just the two of us, knowing that an international trip would be a lot harder with a newborn on the way.  My mom and one of my sisters watched Parker while we were gone.  It was so nice to be on our own schedule-- to wake up when we wanted, have a leisurely breakfast, go crawl back in bed if we wanted, to make reservations at nicer restaurants and to stay up as late as pleased.  We also agreed that it just wasn't a city that was super conducive to young kids.  That being said, one of the most fun trips we've ever taken was when we took Parker to Hawaii when she was two.   It wouldn't have been as fun or as enjoyable for us without her. Same with our Fourth of July trip to the lake house.  We do a family trip with three other families to Palm Springs every year and always chat about how nice it would be to have kid-free time there to really be able to connect and catch up as adults, but we all agree that it's too much fun for them to leave them at home.  It's so fun to watch them play together as they grow over the years. I guess my answer to this one is that I want both family travel and time for Aaron and I to get away. I think both are really important for our own family dynamic.
Friendship: A lot of my adult-only friend dates happen over coffee or lunch while Parker is at school.  (Which actually makes it sound like they happen a lot-- ha! They don't.)  Only about once a month do I schedule something like book club or girls night in the evening. Typically, if I'm getting together with friends, the kids are involved and we make a play date out of it. I do think play dates can be kind of a conundrum, though.  It's hard to get too deep into an adult only conversation because the kids are usually coming over and needing something and then I feel like it definitely doesn't qualify as quality time with Parker since I'm usually trying to encourage her to play with the kids or independently.  I'm looking forward to setting up our new backyard in such a way that the kids can run and play independently while we watch from the patio and enjoy a little downtime.
How do things work in your family?  I'm especially curious to hear from parents of older kids about how this changes as they do get older and more independent. Is there anything you wish you would have started earlier or done more of when they were small?
(Photos from our Fourth of July weekend, mostly by Aaron Pinkston)