Growing up, I was somehow spared from the body issues that plague so many girls from a young age.  I had a mom that never really stressed what we looked like or what we ate, so I didn't develop any sort of self-consciousness about my body until college, when for the first time I found myself not in organized sports and gained somewhere in the neighborhood of ten pounds.  Then I made my way through college and into the great wide world of wardrobe styling.  One thing any stylist can tell you is that there is no such thing as a woman who doesn't have body issues.  I've watched as double zero waif-like actresses put on their spanx like a security blanket and listened as some of the most gorgeous women complain in earnest about the appearance of their elbows or knees.  I've listened as beautiful, successful women who juggle career and family and a multi-million dollar business say that their biggest struggle is still with their body.  The other day I was having a conversation with a friend who is 23, tall and so beautiful and she was telling me all of the things she can't wear.  Which isn't a bad thing, by the way-- to know the things that make you feel your best and avoid the things that don't.  I thought it would be fun to take a peek into the closets and style of real life women.  Women who have curves or don't, who have learned what they love about their body and what works for them, and want to spill their secrets. Meet Jocelyn Garrity, age 26, she's a stylist who works on Usher's styling team, lives in Brooklyn, and who just launched The On-Call Stylist, a service offering affordable personal styling for all from the convenience of your phone or computer.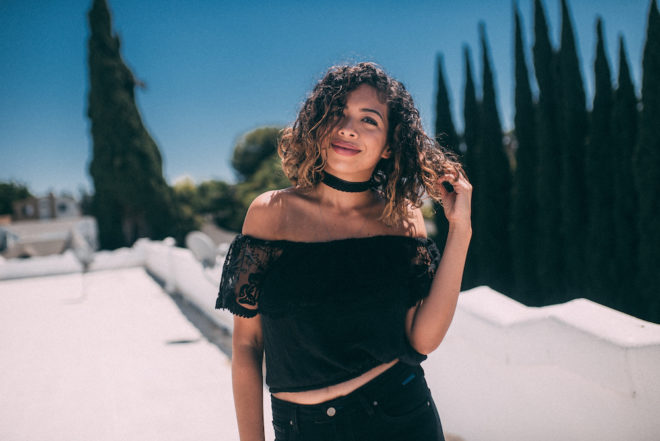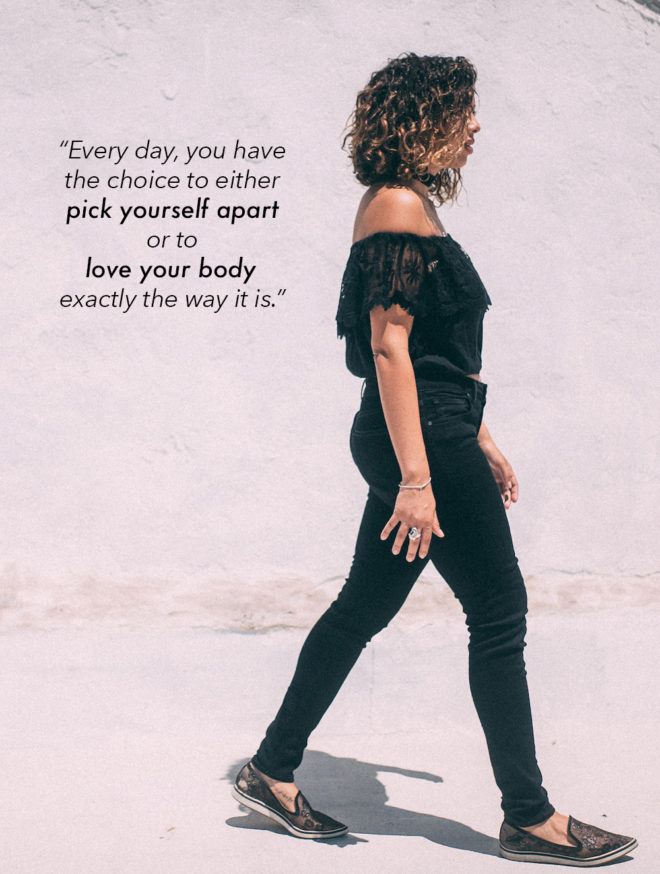 "Growing up I thought that if you weren't as thin as a model, you needed to change something.  I spent my adolescence styling all of my skinny friends in the trendy clothes and hiding my body under baggy clothes. A few years ago I realized that being curvy isn't about being fat, but being sexy. Maybe that's the one thing we can thank the Kardashians for. I have learned what my favorite parts of my body are and how to highlight them, as well as how to hide my "softer" sections. I have an hourglass shape, which means my waist is the smallest part of my body.  I love wearing clothes that highlight or cinch at my waist because it gives me a nice figure. I am also very busty, so I have to be careful when shopping because certain fabrics and silhouettes are flattering, while others make me look pregnant.  Most days I love how busty I am. "
"I prefer clothes that are form fitting, without being too tight. It is all about how fabrics lay on my body; they have to show that I have a shape. Helmut Lang is my favorite designer, I love how their fabrics drape and hug my curves. I wear something Helmut everyday. I also live in high rise leggings, James Perse dresses, and Iro tees. The tees lay well on me & the James Perse dresses look great on my shape. I avoid anything baggy. I look like a potato sack in clothes that just hang off my body. I have learned the hard way that oversized clothing, as comfy as they can be, look very frumpy on me.  I also avoid clothes that cinch at my lower waist, as that is the roundest part of my body (hello, love handles). Right underneath my bust is the tiniest part of my shape, so I will wear shirts or dresses that tie in at that point. Boyfriend jeans have been an impossible trend for me to pull off. They always make my legs look stumpy, which is unfortunate as it is such a cute look.
My absolute least favorite look is the mom jean. I avoid this for many reasons, but mainly because they make my behind look long and saggy. Not ideal."
Outfit 1:
"I only wear high-waisted jeans, mainly because they suck in my love handles. Ever since the term muffin top came out, I have avoided low-rise denim. I actually designed these jeans with a brand launching in September called One Denim. They are the "Jocelyn Jean," designed specifically for curvy girls. Plus, the only time you'll see me in any sort of crop top is with high-waisted bottoms. That trend is not only for the stick thin!"
Outfit 2:
"I always opt for clothes that wrap around my curves. That is why I love the look of this skirt by Helmut Lang, as opposed to wearing something like an a-line skirt. You have to show off your curves correctly!  I used to live in oversized tees and baggy skirts and as a result, I made myself look frumpy. Once you are comfortable accentuating your curves you will feel so much more confident. Learning how to dress for your body type is the most important key to creating your own style. Ever since I learned to dress myself, my confidence has sky rocketed. At this point in my life, I'd choose having curves any day. Besides, who wants to look like everyone else?"
Outfit 3:
"Every woman needs a killer LBD. I love this dress because it cinches and pulls in right at my side, which takes attention away from my least favorite curves. I dress this look up with heels, or down with sneakers and a jacket." -Jocelyn Garrity
Not sure how to dress for your body type?  Check out The On-Call Stylist and book a Facetime session with her for $20 for 20 minutes.
Shop Jocelyn's Looks + Similar Pieces She Loves:

Photography of Jocelyn Garrity by Sebastian Maldanado