10/29/2018
This Halloween costume for friends is simple and easy to make! If you desperately need a Halloween costume but don't have any time – look no further! Grab a friend and make this easy DIY costume – A Rainbow and The Sun.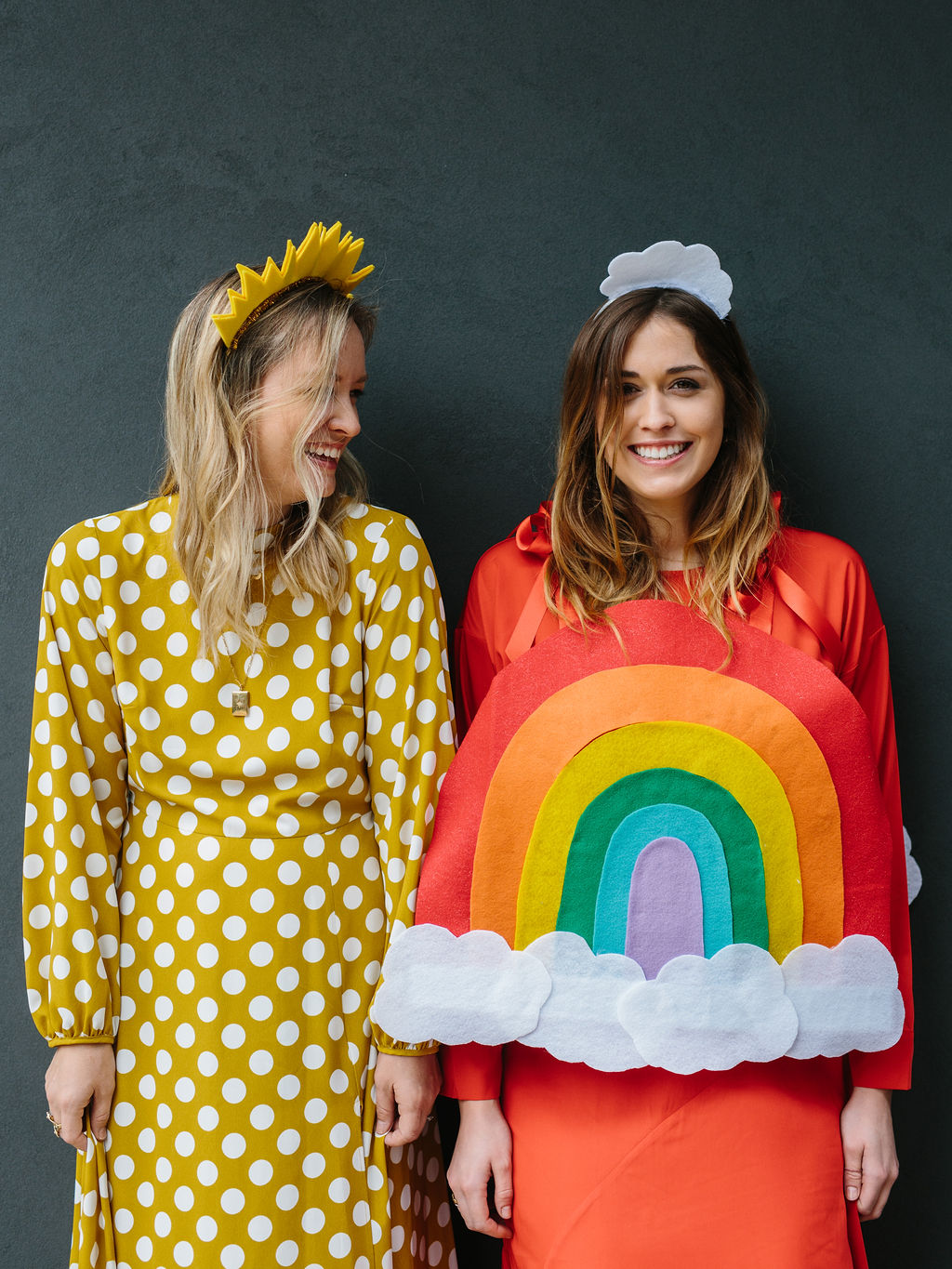 There's just two days to Halloween and I wish I could tell you that our family's costumes were lying out neatly in a closed off room somewhere, steamed to perfection with their coordinating accessories in close proximity. The reality is that there's a pile of cut cardboard on the office floor that at the moment resembles exactly nothing and a glue gun that is luckily never far from a slew of ready to use glue sticks. Do I wish it was done? Yes. Am I panicked? No way. I spent my mid-twenties pulling off last minute costume requests with the help of my trusty glue gun as an actual career so in some ways I live for Halloween procrastination and the memories it evokes. Should you find yourself in a similar boat, not to worry. Don't panic. There's almost nothing you can't pull off with a little imagination and a whole lot of hot glue, including this Rainbow Costume DIY and coordinating Sunshine Costume. Have a place to be? Have a bestie? Let's get to work!
(For more Halloween costume DIYs, Halloween recipes and Halloween party ideas, click here!)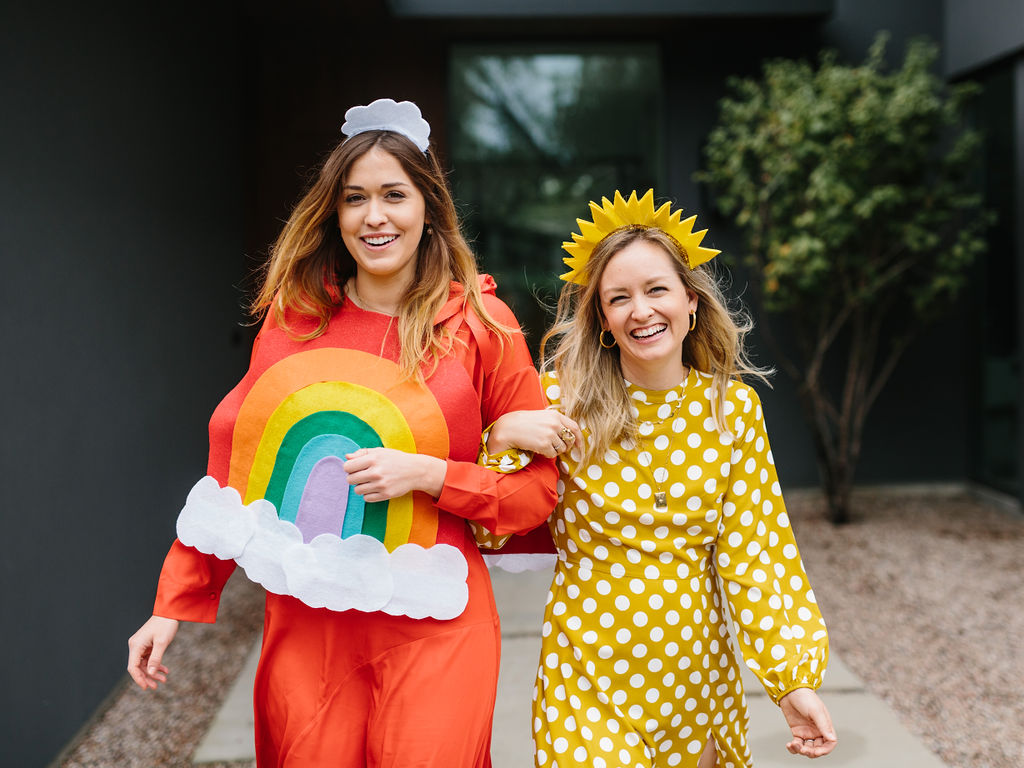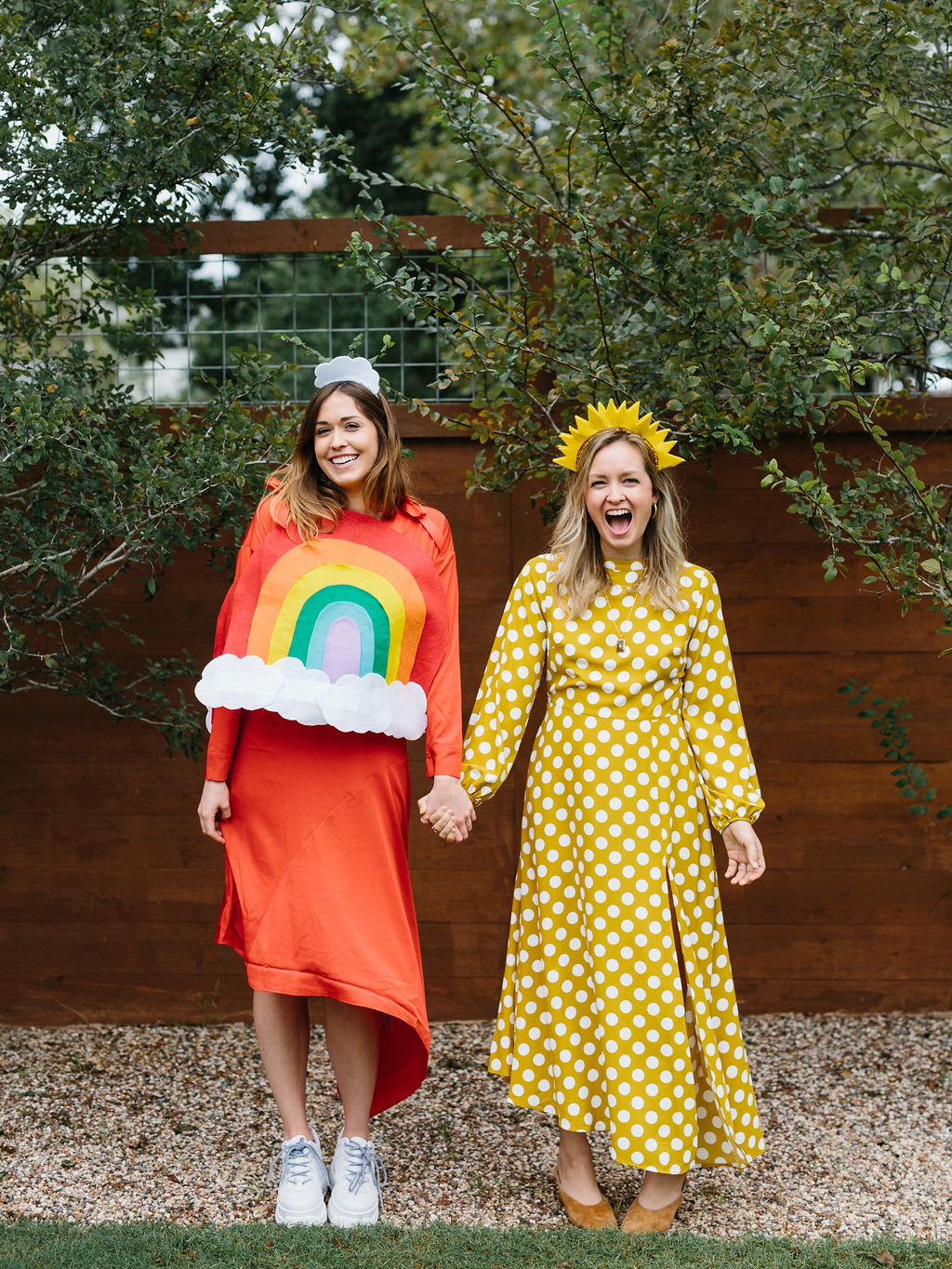 What You'll Need to make this DIY Halloween Costume For Friends
Scissors
White sticky peel off thick felt sheets
Red felt (1/2 yd), orange felt (1/2 yd), yellow felt (1/2 yd), green felt (1/4 yd), blue felt (1/4 yd), purple felt (1/8 yd), white felt (1/4 yd)
White and gold piped cleaners
Red grosgrain ribbon
Yellow/gold and white/silver headbands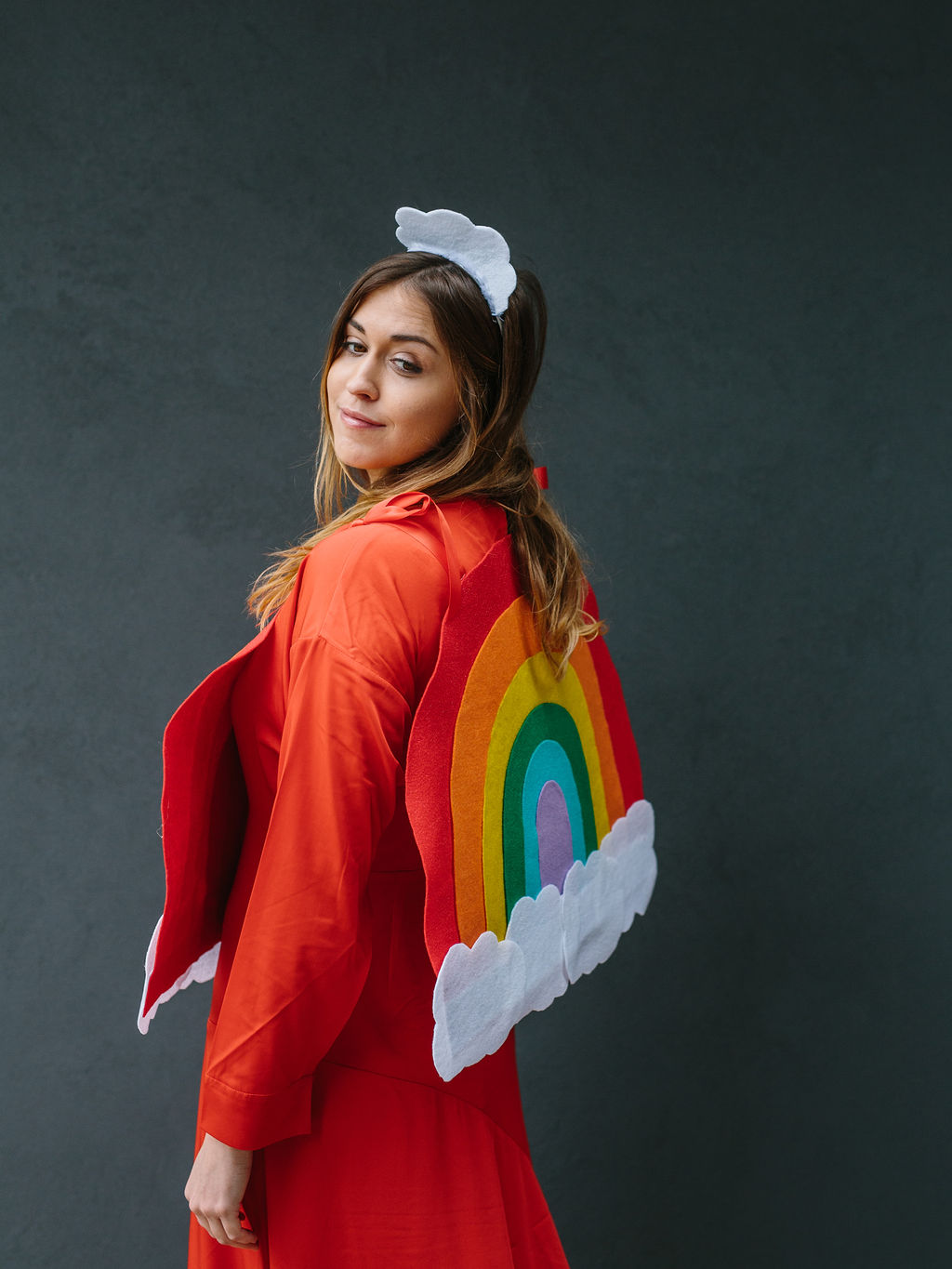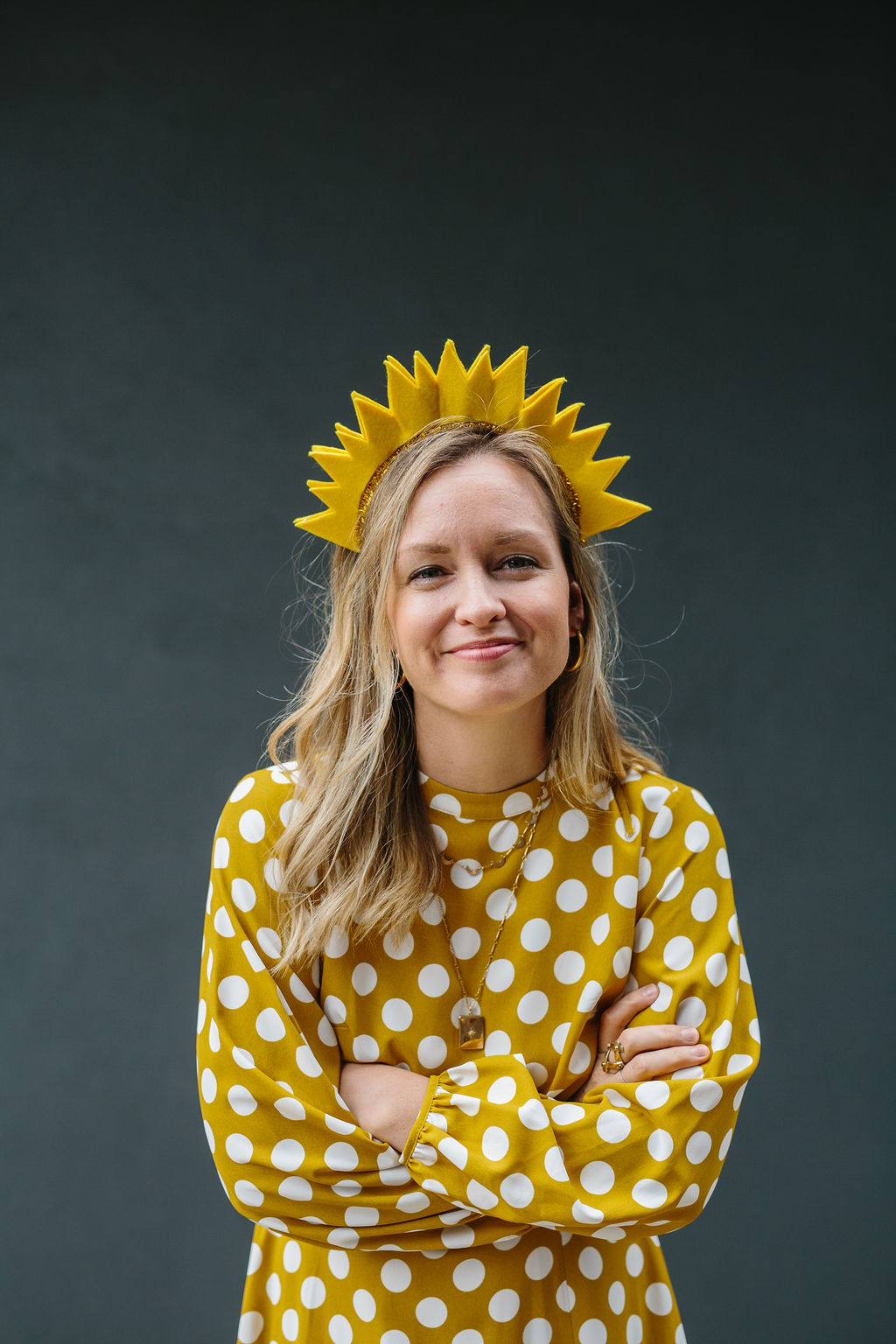 How to make the rainbow and sun Halloween costume for friends
Rainbow costume instructions:
Measure arm to arm for length of widest part of red
Measure base of neck to belly button for longest part of rainbow
Cut semi circle with guidelines of largest measurements out of red felt
Move 2" (1" for kids) in following semi circle shape from outer rim of each color to cut remaining orange, yellow, green, blue and purple felt
Use a hot glue gun to attach felts together- orange on red, yellow on orange, green on yellow etc.
Use thick one sided peel off sticky white felt to create a 1" border across bottom of rainbow
Stick white felt to rainbow
Cut out 4 cloud shapes (3 for kids) of white felt and use glue gun to glue to white border along bottom of rainbow
Use red grosgrain ribbon (cut 4 pieces; 2 for kids) to glue to inside of front and back tops or rainbows to fall on the shoulders
Cloud headband:
Cut out cloud shape traced along outside top of headband on thick sticky sided white felt. Trace shape onto regular white felt and place regular felt onto unpeeled sticky side of felt.
Use glue gun to attach white piped cleaner to bottom of cloud shape.
Glue piped cleaner lines bottom of cloud shape to top of headband
Sun headband:
Cut out sun shape traced along outside of headband on thick sticky sided white felt.
Trace shape onto thick yellow felt and place regular felt onto unpeeled sticky side of felt.
Trace another piece of thick yellow felt and use glue gun to place on other side of white felt
Use gold piped cleaner to glue to the bottom of the sun shape
Glue the piped cleaner lined side of sun shape to outside of headband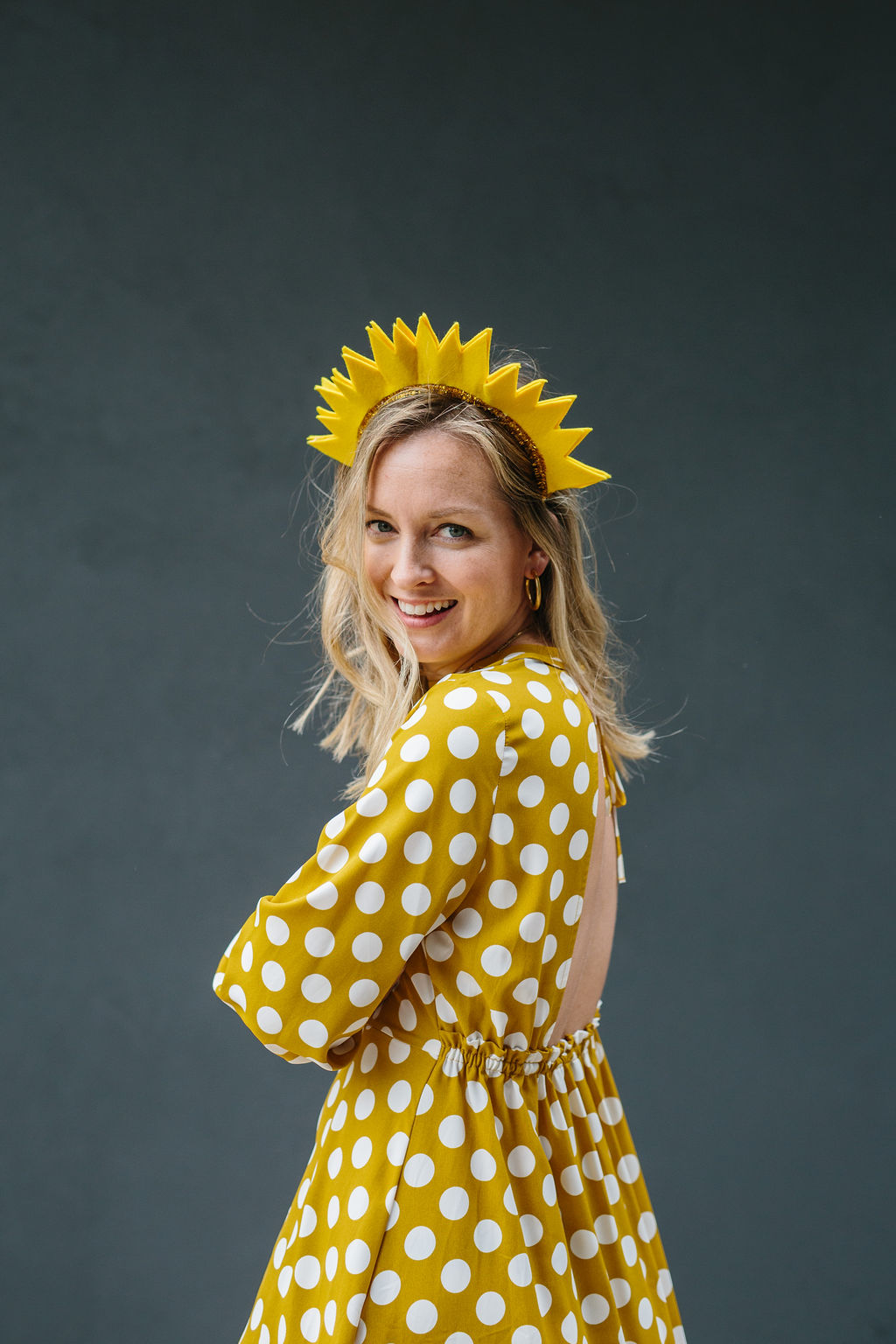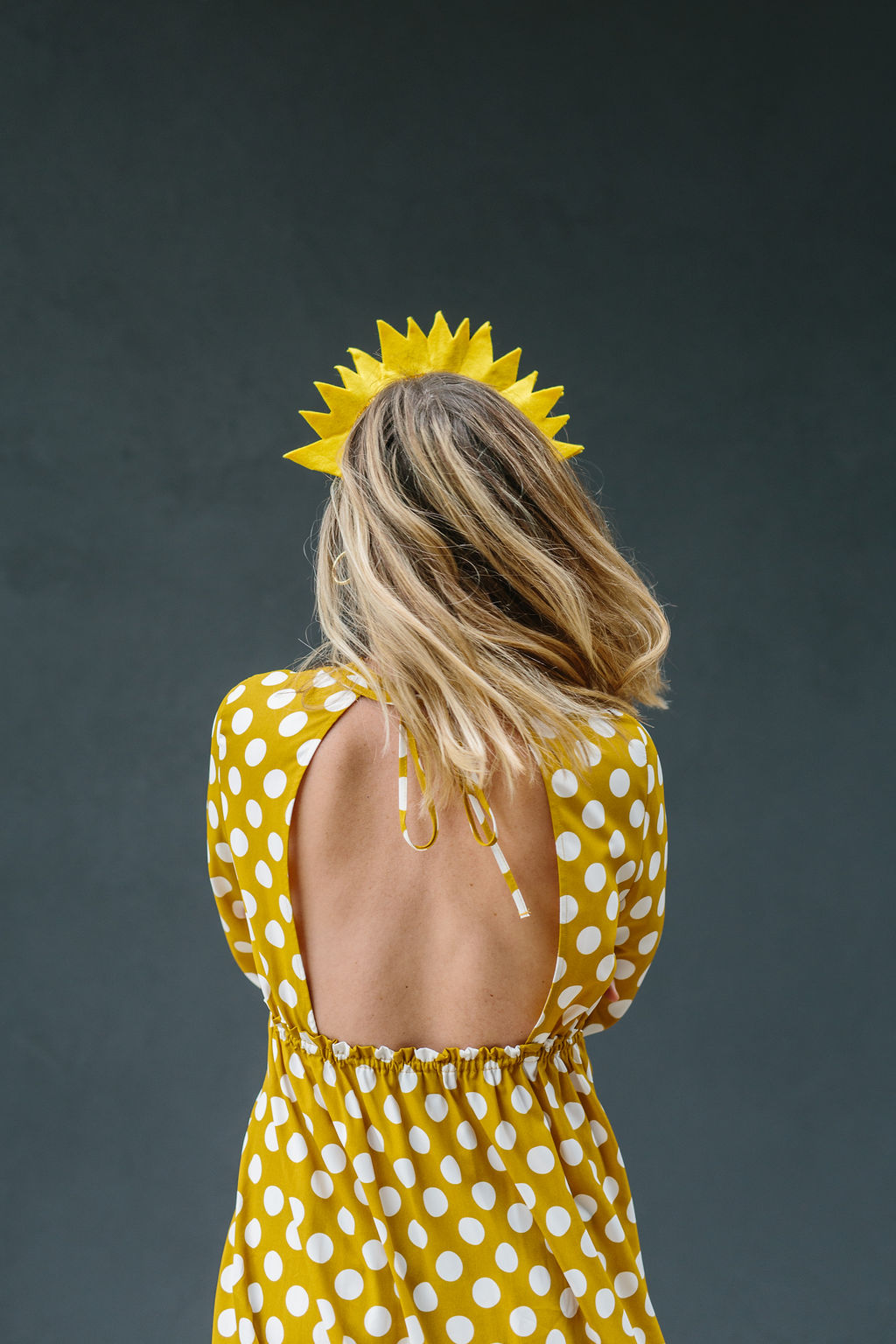 Duo Halloween Costumes
These are such fun costumes for you and your bestie to make together and hit the town! I love how bright and colorful they are! You're sure to stand out in a crowd! The best bit is that you get to keep the dresses after too!
Unique best friend costumes for Halloween
There are so many 'friends' or 'couples' costumes that you can buy off of the shelf, but lets face it, they often don't fit properly and you are bound to see someone else in the same thing! It's so easy to make your own unique costume – what are you waiting for – grab that glue gun!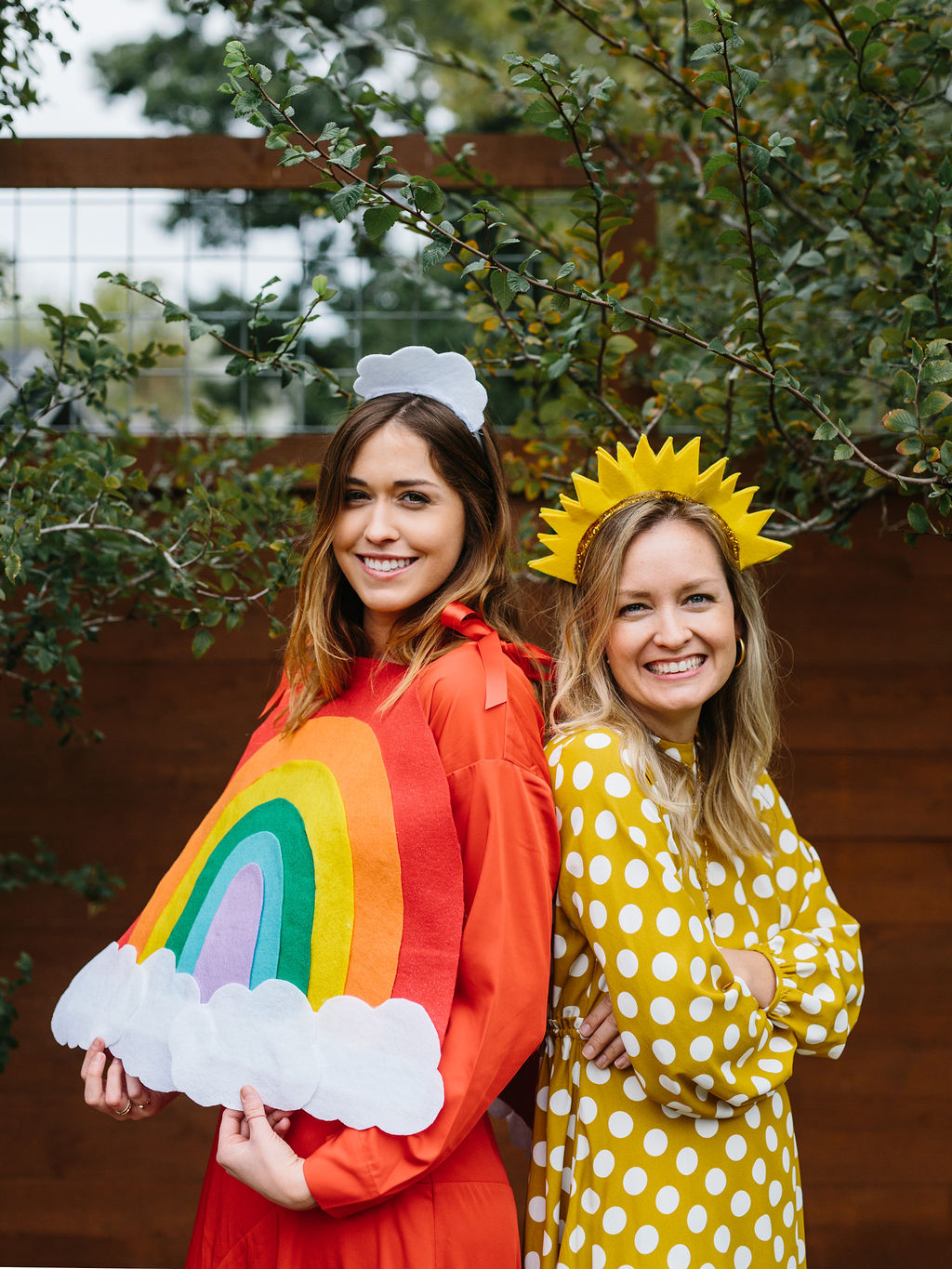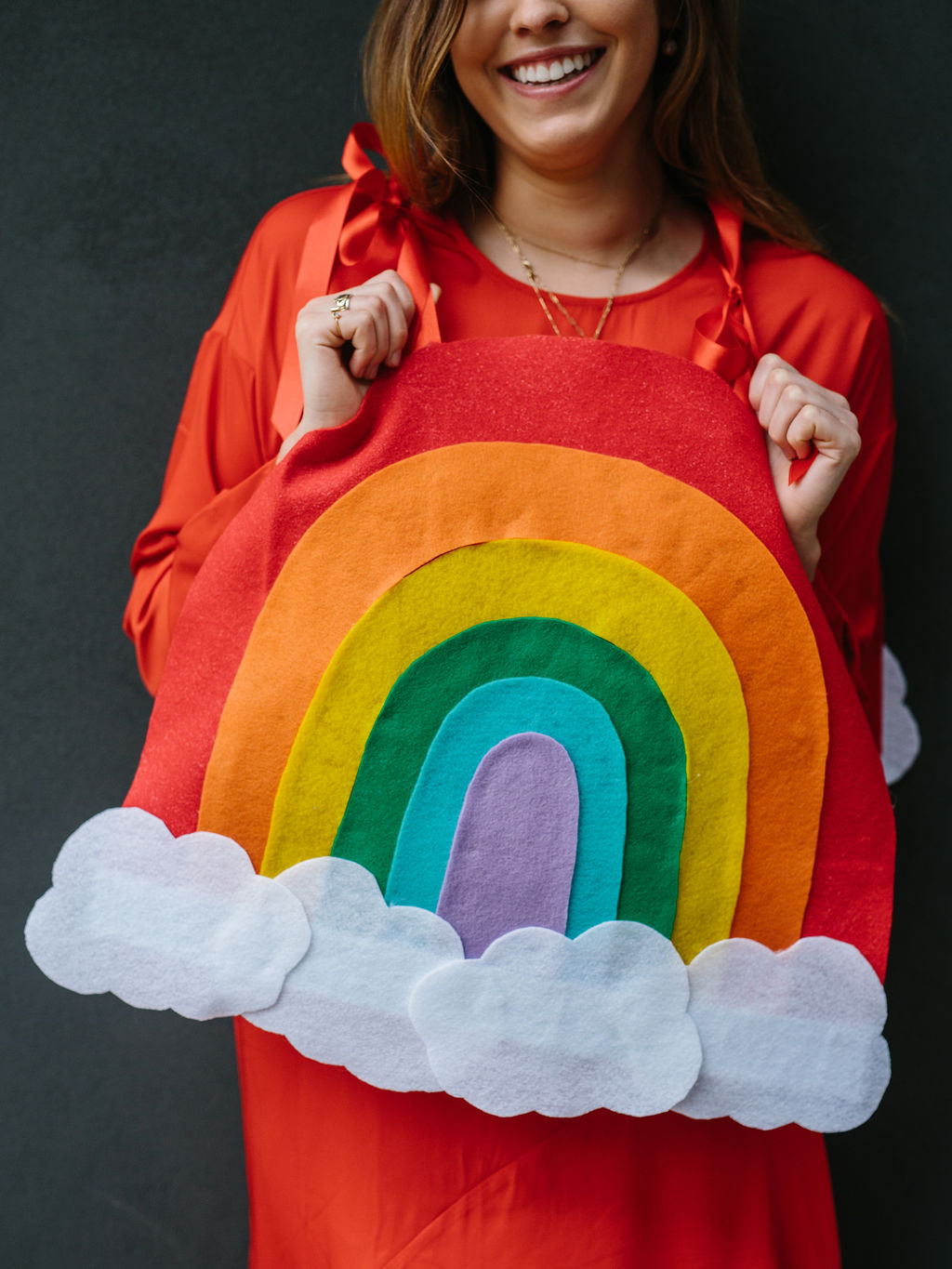 Last minute DIY Halloween costume for friends
I loved how easy and quick it is to make these fun costumes, and it's even easier if you get your bestie involved in the process! You only need a few cheap and easy to grab materials to make these costumes and they take no time at all to put together.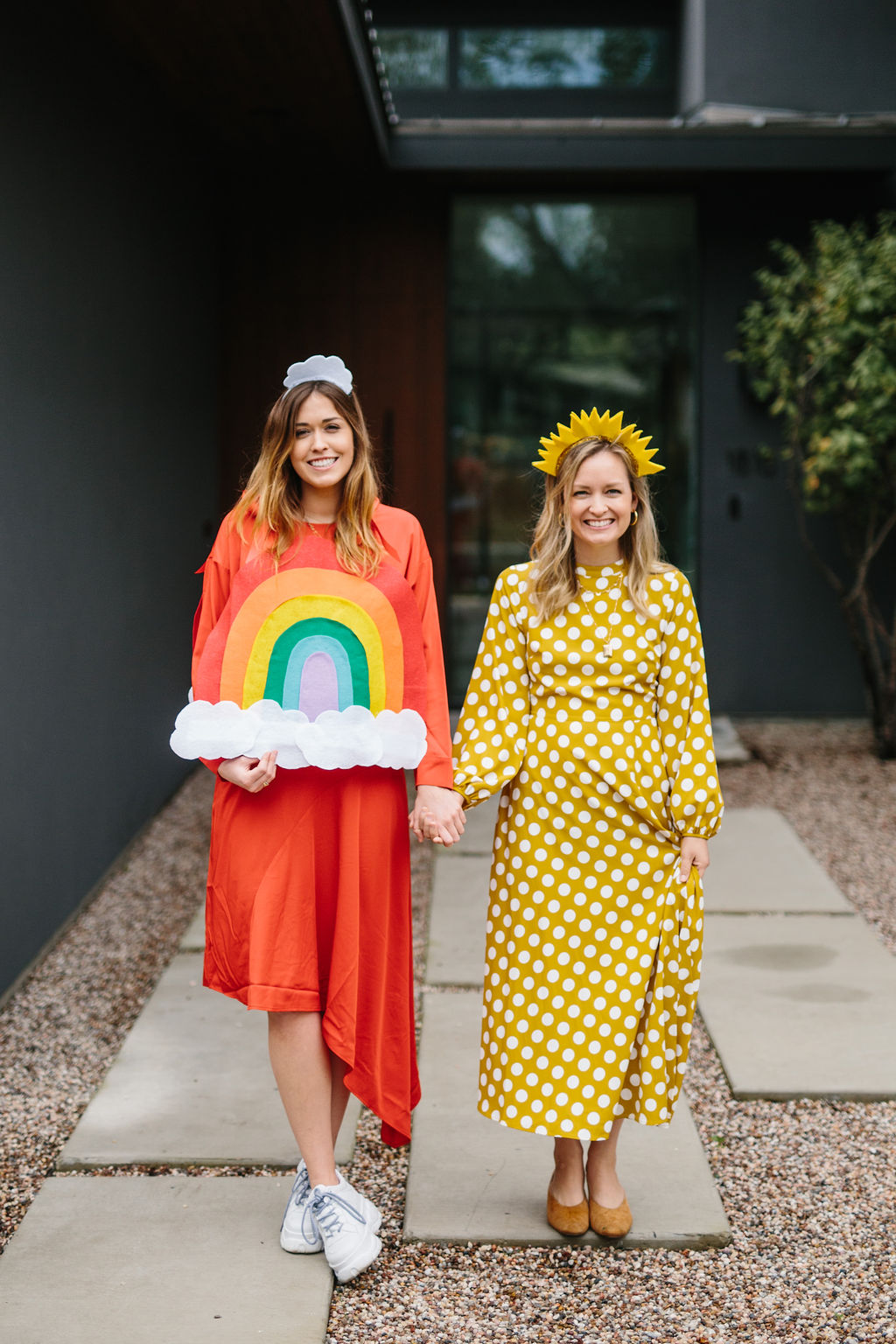 Britt's Dress, ASOS || Jen's Dress, Topshop
Photography by Katie Jameson
For more Halloween ideas, click here!
Be sure to check out these other fun DIY halloween costumes!
DIY Halloween || Mermaid + Merman Couples Costume
Miraculous Ladybug Costume DIY 
DIY || Dr. Seuss: The Lorax Costume
I would love to hear if you've made these fun halloween costumes for friends! Be sure to leave a comment below, I love hearing from you!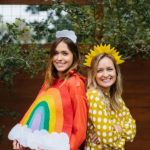 Print
The Easiest DIY Halloween Costume for Friends: A Rainbow and The Sun
Any easy Halloween costume for you and your bestie!
Materials
White sticky peel off thick felt sheets

Red felt (1/2 yd), orange felt (1/2 yd), yellow felt (1/2 yd), green felt (1/4 yd), blue felt (1/4 yd), purple felt (1/8 yd), white felt (1/4 yd)

White and gold piped cleaners

Red grosgrain ribbon

Yellow/gold and white/silver headbands
Instructions
Rainbow costume instructions:
Measure arm to arm for length of widest part of red

Measure base of neck to belly button for longest part of rainbow

Cut semi circle with guidelines of largest measurements out of red felt

Move 2" (1" for kidin following semi circle shape from outer rim of each color to cut remaining orange, yellow, green, blue and purple felt

Use a hot glue gun to attach felts together- orange on red, yellow on orange, green on yellow etc.

Use thick one sided peel off sticky white felt to create a 1" border across bottom of rainbow

Stick white felt to rainbow

Cut out 4 cloud shapes (3 for kidof white felt and use glue gun to glue to white border along bottom of rainbow

Use red grosgrain ribbon (cut 4 pieces; 2 for kidto glue to inside of front and back tops or rainbows to fall on the shoulders
Cloud headband:
Cut out cloud shape traced along outside top of headband on thick sticky sided white felt. Trace shape onto regular white felt and place regular felt onto unpeeled sticky side of felt.

Use glue gun to attach white piped cleaner to bottom of cloud shape.

Glue piped cleaner lines bottom of cloud shape to top of headband
Sun headband:
Cut out sun shape traced along outside of headband on thick sticky sided white felt.

Trace shape onto thick yellow felt and place regular felt onto unpeeled sticky side of felt.

Trace another piece of thick yellow felt and use glue gun to place on other side of white felt

Use gold piped cleaner to glue to the bottom of the sun shape

Glue the piped cleaner lined side of sun shape to outside of headband