12/18/2012
I don't know what your week looks like, but I do believe today will be my last day on set until the holidays.  I have Burke Williams on speed dial and have a pretty good feeling my night is going to end there with a much needed massage!  If you feel you have been to one too many holiday parties this season or indulged in one too many holiday treats, then Cassie's toasted walnut spinach salad might be just the thing to make this weekend!  Are you all familiar with Cassie's blog, Bake Your Day?  You must hop over and peruse her tasty arsenal of recipes!  In the meantime, here is how she will be celebrating next week…
Where will you be spending the holidays this year?
We will be spending the holidays in our home – my husband is employed by our church – in charge of all of the technical (sound, lights, graphics) of our worship services. Needless to say, Christmas is a busy time for us.  We spend Christmas Eve at church and then get together with a large group of church friends for fellowship and food.  We then spend the day at home on Christmas day.  This year I will be cooking a big meal, my parents will be visiting, and we'll be inviting some friends over for a relaxing day.
Who will be doing most of the cooking?
I usually cook but my husband is a huge help in the kitchen.  If he doesn't cook, he usually helps clean up and when I do want a night off, he graciously steps in and always cooks an amazing meal!  Around the holidays, Thanksgiving is definitely a team effort.  Christmas we keep a little more low-key.  I think I'll be doing a big pot of homemade chicken and noodles, and serving it with mashed potatoes.  Classic comfort! 
 Do you enjoy cooking for large groups? Do you have any tips to make it less stressful?
I love cooking for large groups.  I'm a huge snack person so I especially love preparing a huge spread of appetizers and snack food.  I love to prepare as much ahead of time as possible and I try to work backward, starting with what takes the most amount of time and ending with the fastest recipe.
Are there any holiday traditions or games among your friends or family members?
 My family has always had an ornament exchange tradition that started (I think) when I was born and has continued…we have continued it with my nephews.  We always give each other ornaments that are relevant to current life happenings, current interests, hobbies, or jobs.  I can say without a doubt that my ornament collection is one of my most prized possessions.  I can literally tell my whole life story by laying out my ornaments.
What's your go-to meal that you will be making this year?
My go-to recipe happens to be a salad.  I don't believe I'll serve it on Christmas, but it's been a weekly staple in our house this holiday season.  It's healthy, quick to pull together and so good.  It has quinoa, walnuts, spinach and various other veggies.  I am a big fan of quinoa and a healthy salad definitely won't hurt me next to all of the treats that the holidays seem to bring!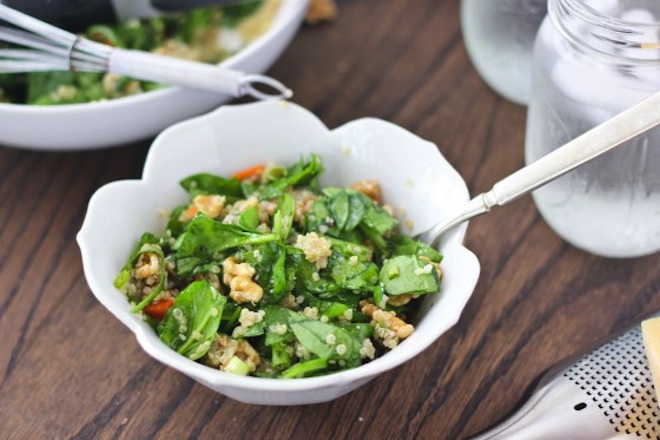 (yields 2 entree salads or 4 side salads)
By Cassie Laemmli