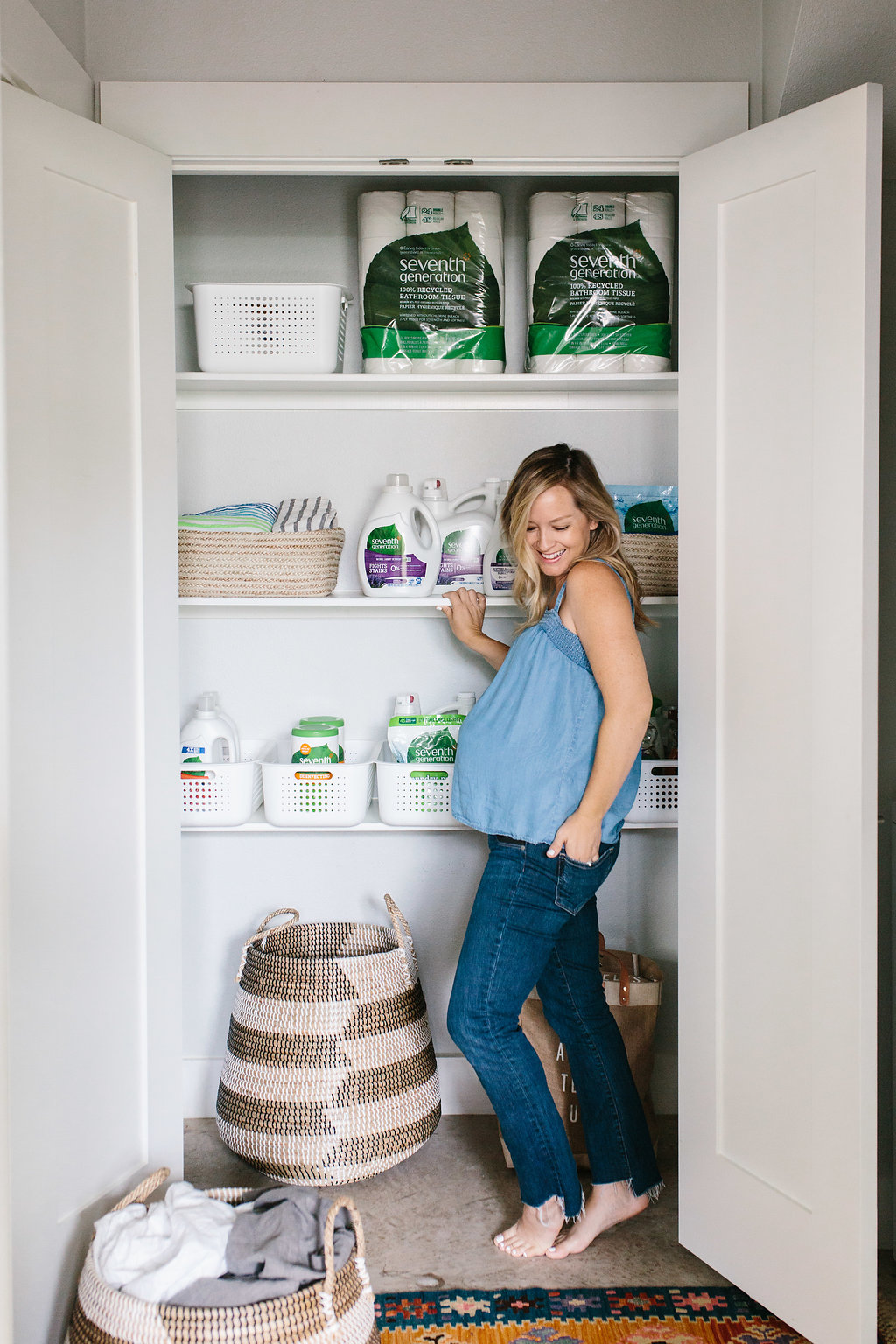 The pregnancy nesting bug is not only very real, but very necessary!  Somewhere around the third trimester you realize that another human is moving in soon and suddenly the organizing, cleaning and preparing gets kicked into high gear!  We are currently in a rental with limited space, so I was adamant on everything having a place and being well stocked and organized before baby's arrival.  In particular, I wanted our laundry room in tip top shape before the big day which meant stocking up on all of the essentials so that I didn't have to run out for them with a newborn, as well as finding products and a detergent that worked for our whole family.  I wanted something tough on stains, but that also smelled really good without any harsh chemicals. (Ridding our lives of harsh chemicals feels like it's always on the top of my priority list.)  I was thrilled to partner with Seventh Generation in support of their new Fresh Lavender Natural Laundry Detergent.  The Fresh Lavender detergent is scented with high quality essential oils and botanical extracts, and is made with plant-based ingredients. (It's also USDA Certified Biobased 97%.) Keep reading for a few tips on doing laundry for a whole family and how we organized this space…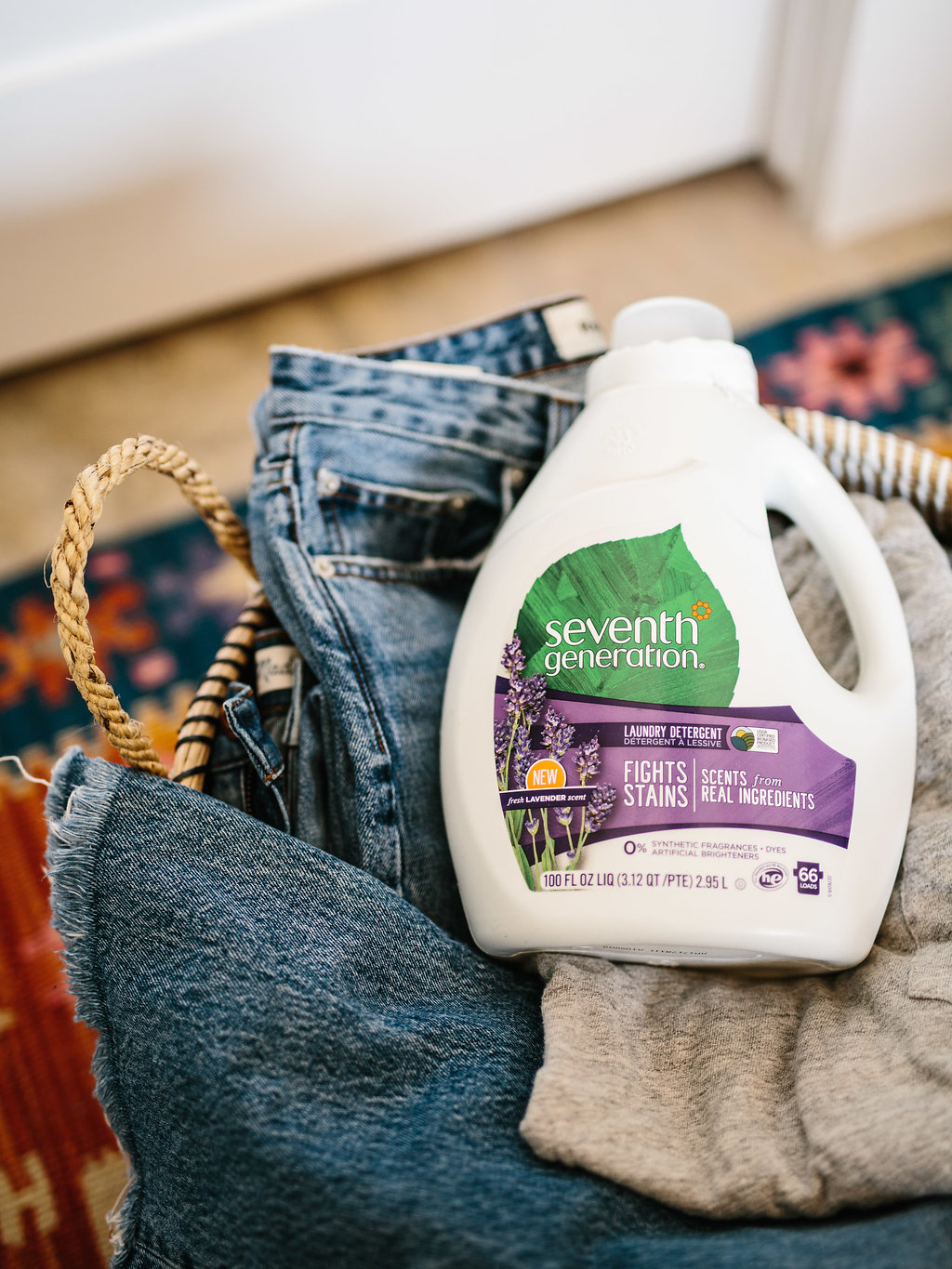 First I measured this space and figured out which size baskets and bins would work before doing a mega purchase at the Container Store. I always overbuy with the intention of returning what doesn't work. (Something I picked up early as a wardrobe stylist!)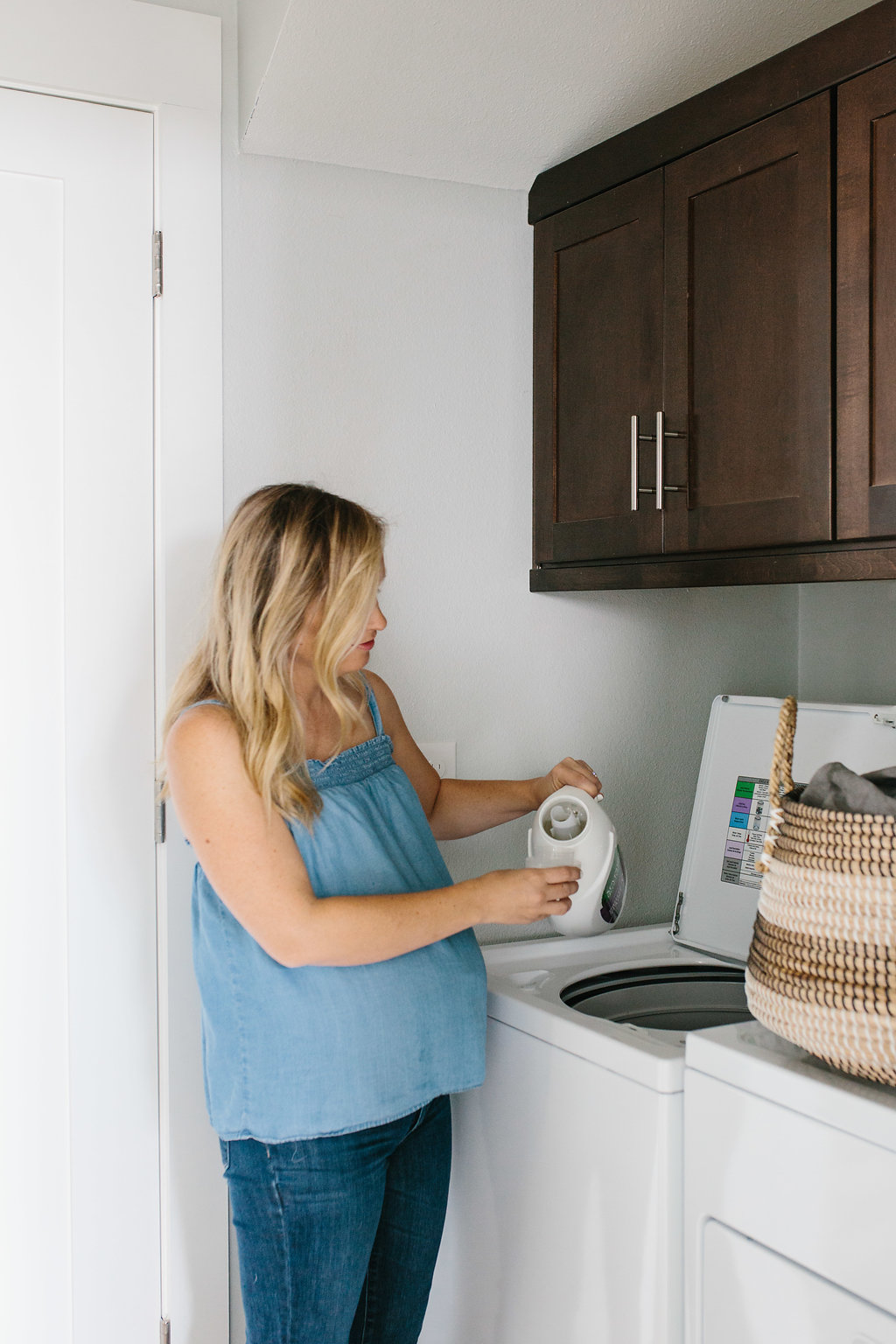 Any time I organize a space, I always start by removing everything. You can't piecemeal good organization and I'm always shocked at the odds and ends that have ended up somewhere totally random.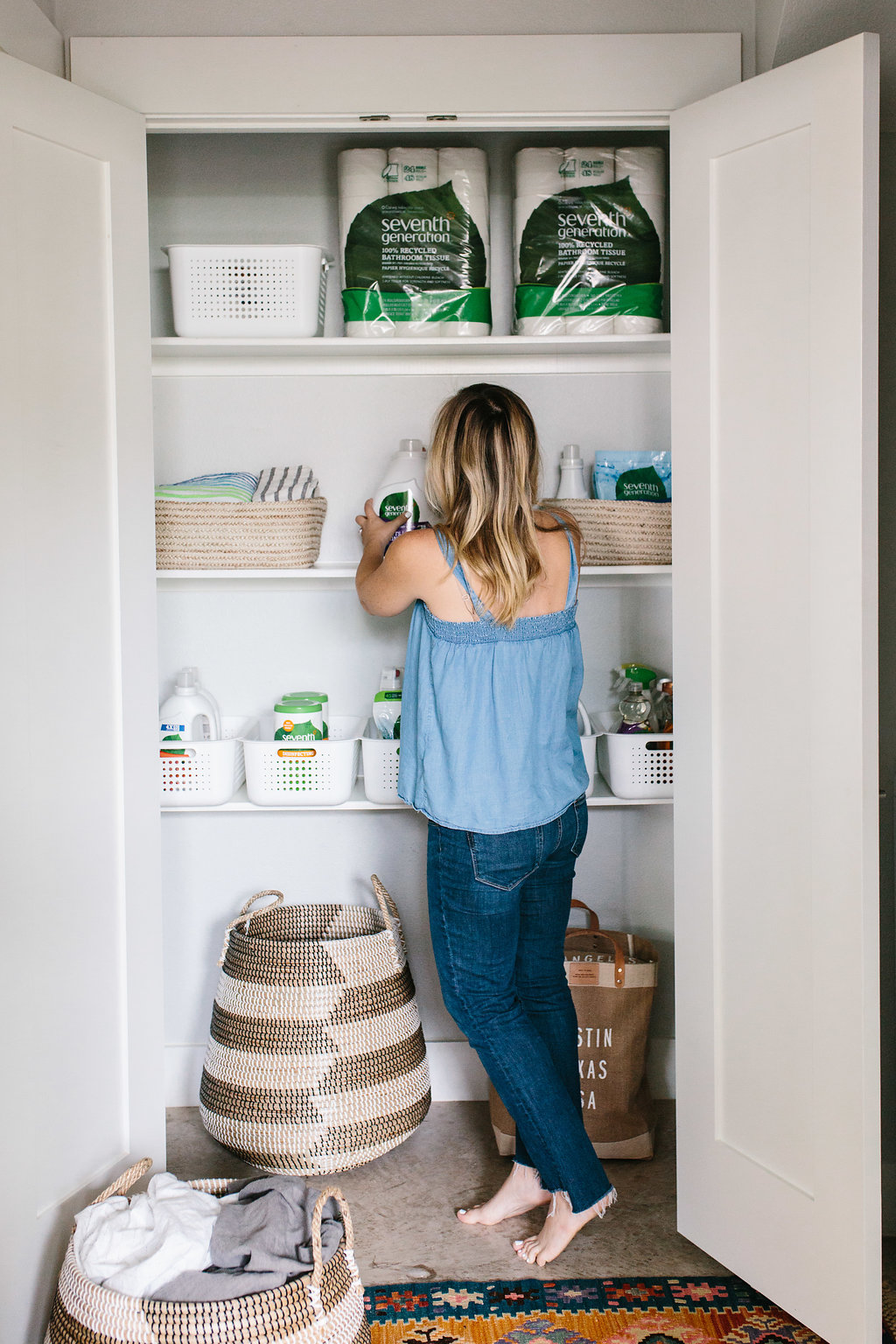 I actually put the baskets in first and then determined which products made the most sense in which baskets, with an empty basket up top. I always leave a space for things that I don't have time to organize in the moment. If it put all of the random things in one place, it makes it easier to go and organize them once a month or so rather than having all of those random things scatter throughout the closet.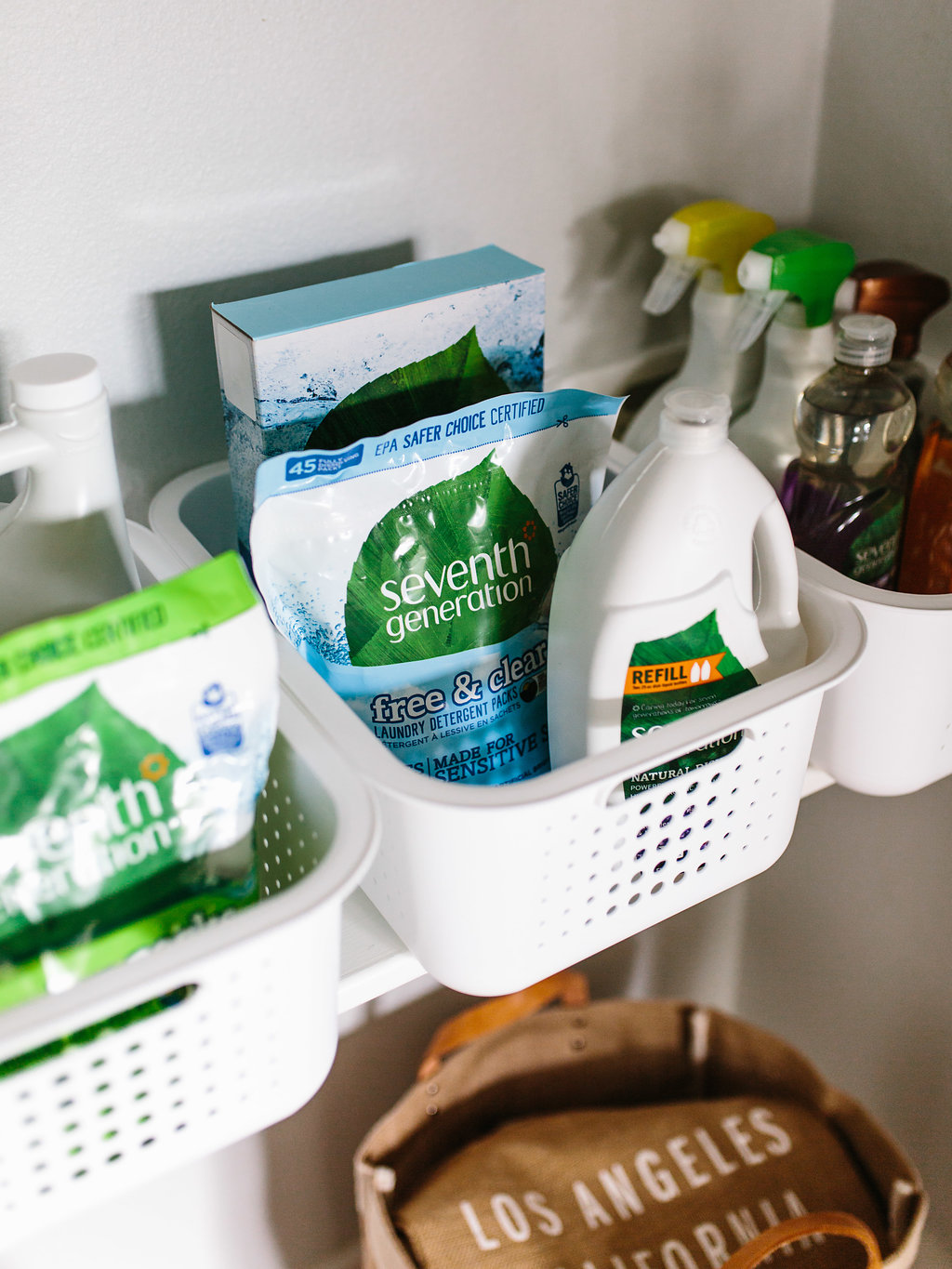 Laundry detergent goes front and center because it's the thing I use the most often!
There's an empty laundry basket at the bottom of the closet where I can place clean clothes out of site while I wait for another load to dry and then fold them all at once.
Always, pre-treat stains! It makes the biggest difference!
Rather than buying separate gentle detergent for baby clothes and doing a dozen different loads of laundry, choose a laundry detergent like Seventh Generation that doesn't use synthetic dyes, fragrances or brighteners. Ever has super sensitive skin and it's worked great for her.  Not only does it not break out her skin, but it's really great at getting out stains so we can pass these cute little baby clothes onto future cousins!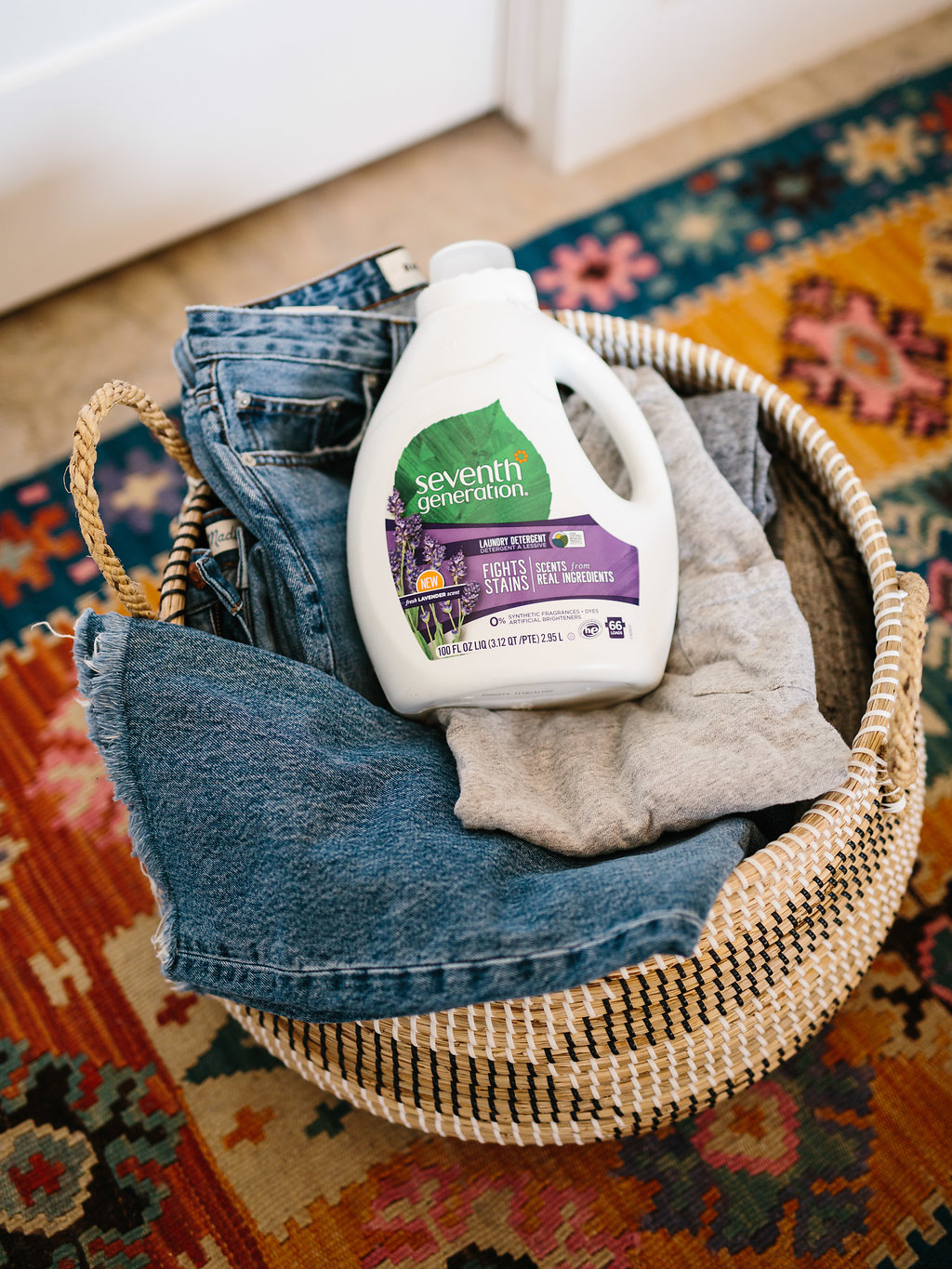 Photography by Katie Jameson
This post was sponsored by Seventh Generation, a brand we love and use every single day in our home. Promise.