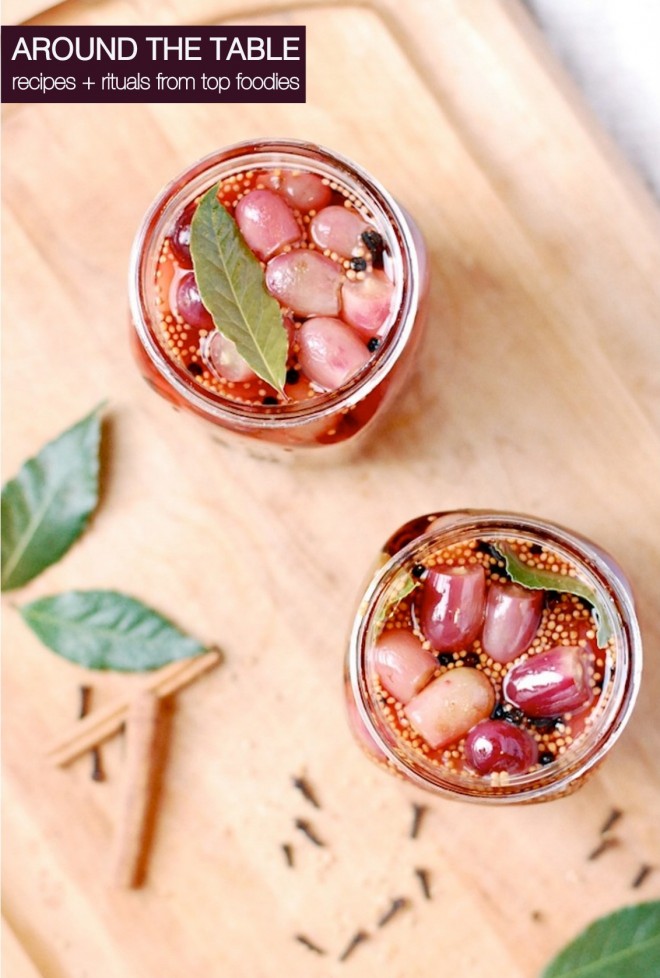 Considering that Christmas is just two weeks away (!) it seems fitting that we pick up today where we left off with our Around The Table series.  Today's gem of a recipe is brought to you by Elizabeth over at Brooklyn Supper.  If you aren't familiar with Elizabeth's handiwork, you should know that her blog oozes all things delicious and seasonal!  Her images are beautiful and her recipes are easy to follow along. This particular recipe would be perfect to give as a gift to neighbors or set out as part of an appetizer spread for a holiday party.  Here is a little more from Elizabeth... be sure to check out what else she is cooking up this holiday season over at Brooklyn Supper!
Where will you be spending the holidays this year?

My husband Brian and I will spend Christmas morning at home in Brooklyn with our two young daughters, Christmas afternoon sitting in traffic on I-95 south, and Christmas evening and beyond visiting our respective families in Virginia.
Who cooks? Is it a group effort? Does one person always do it?
On Christmas Eve we cook a special dinner to enjoy with the kids. Brian and I share the cooking pretty equally, and we each have our specialties. Predictably, he deals with most of the meat and I make almost all of the cakes. Vegetables are anyone's game.
Do you enjoy cooking for large groups of people? Do you have any tips to make it less stressful?

I love cooking for parties almost as much as I love planning party menus, but in the moment, it can get a little overwhelming. I've found that the best way to keep things fun is to do as much ahead of time as possible.
Are there any holiday traditions or games among your friends or family members?

My husband's family has a tradition that if you correctly guess what an unopened gift is before Christmas, it gets returned. We plan to keep this up since it keeps the kids on their toes.
What's your go-to meal that you will be making this year?
This is only our second year having Christmas at our own house and our traditions are evolving, so we don't yet have a meal that means "Christmas." However, we do have a holiday party every year, and we have a few trusted dishes for that. I like to start with something light, but unexpected, so an easy appetizer like quick pickles always make an appearance. This year it's definitely going to be these quick-pickled grapes. The sweetness of the grapes take on the tang of vinegar beautifully, and I just love how their usual, savory sweet flavor keeps you guessing.
Pickled Grapes (adapted from Molly Wizenberg's recipe here)
makes 2 quarts
2 pounds seedless red grapes washed
3 cups red wine vinegar
2 ¼ cups sugar
1 tablespoon black peppercorns
1 tablespoon yellow mustard
1 teaspoon sea salt
1 teaspoon cumin seed
15 whole cloves
8 bay leaves
4 sticks cinnamon
Wash and stem the grapes. Using a sharp knife, cut off the very tip of the grape, right where the stem meets it.
Place prepared grapes into two clean quart jars.
Meanwhile, heat the vinegar and all the remaining ingredients over medium heat for about 10 minutes. Stir occasionally to make sure the sugar has fully dissolved.
Pour the hot liquid, and all of the whole spices, into the grape-filled jars. Use your fingers to shove the cinnamon sticks and bay leaves down into the jar. Set aside, uncovered, while the pickling liquid cools, for about an hour. Screw on lids, turn jars upside-down a few times to distribute the spices, and place in the fridge overnight to cure.
The grapes will take on more and more flavor as they continue to steep. I like them best 24 hours later when the flavor to firmness ratio is just about perfect, though they should keep well for four or five days.