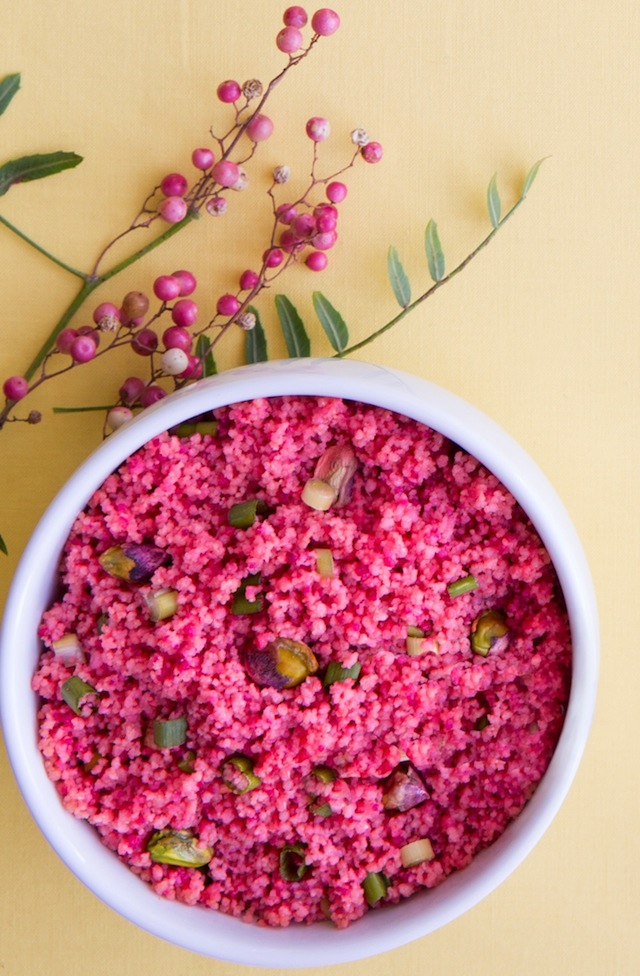 My mostly Whole 30 eating ways have been put on the shelf all week while we are in Hawaii, enjoying the 4pm happy hour Mai Tais at the hotel and binging on delicious crunchy seafood concoctions of all sorts!  You know that feeling when you are on vacation, eating whatever you want, and suddenly find yourself craving like a simple green salad?  That's the moment I had when I opened up Ruby Roth's new plant-based vegan cookbook, The Help Yourself Cookbook for Kids.  I found myself wanting each thing on every page, so it's hardly just for kids, and those happen to be my favorite kind of recipes!  Ruby was kind enough to share her Pink Cous Cous recipe with us today and I can personally attest to it's yumminess!  (By the end of the meal, Parker ditched her fork and was just eating with both hands-- she could not finish it fast enough!)
Pink Cous Cous by Ruby Roth
Ingredients:
½ c. whole wheat cous cous
2 thick slices of red beet
3 inch piece of green onion, chopped
1 teaspoon olive oil
1 light teaspoon dried herb mix (like italian seasoning or herbs de provence)
¼ tsp. sea salt
a small empty bowl and some tongs
Directions:
Measure the cous cous and set aside.  Put the beets in a small pot with ¾ c. water.  Bring the water to a boil, then turn off heat.  Quickly use tongs to remove the beets an save them in the little bowl (you'll use them again), then pour the couscous into the pot of BEET-RED water, gently shimmying the pot to distribute it evenly.  Cover the pot and lit it sit for 5 whole minutes (No peeking!).
Ready for magic?  Lift the lid and... POOF! Gently fluff the puffy couscous with a fork, then tumble it into a medium bowl and add the rest of the ingredients.  To make it even pinker, chop up the beet slices and add them too, along with any drops of beet juice from the little bowl.  Stir to spread the color.  Taste and add salt or more herbs if needed.  Eat warm or cold.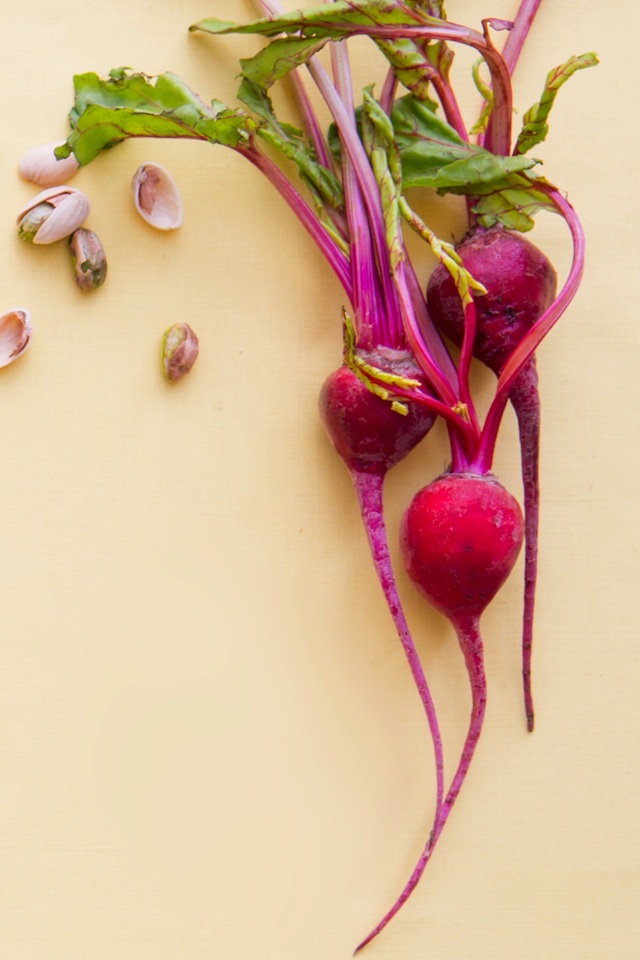 Recipe and Photographs by Ruby Roth for The Help Yourself Cookbook for Kids!