Confession time:  We are in a major dinnertime rut over here.  Our two year old who used to eat everything and would even settle for frozen peas instead of ice cream has suddenly become a lot pickier when it comes to mealtime.  Is it just this age?  Is it preschool? She is constantly requesting quesadillas and I fear we have hit our maximum capacity of tortillas that can be consumed by a toddler.  When Deepika sent over this recipe for pasta salad I felt instantly inspired.  No more bland capellini noodles with red sauce! We tried this out over the weekend and the tanginess of the pickles mixed with the sweetness of the apples is actually perfect and officially picky-toddler approved! Keep reading for the recipe and PLEASE leave any dinnertime ideas in the comments!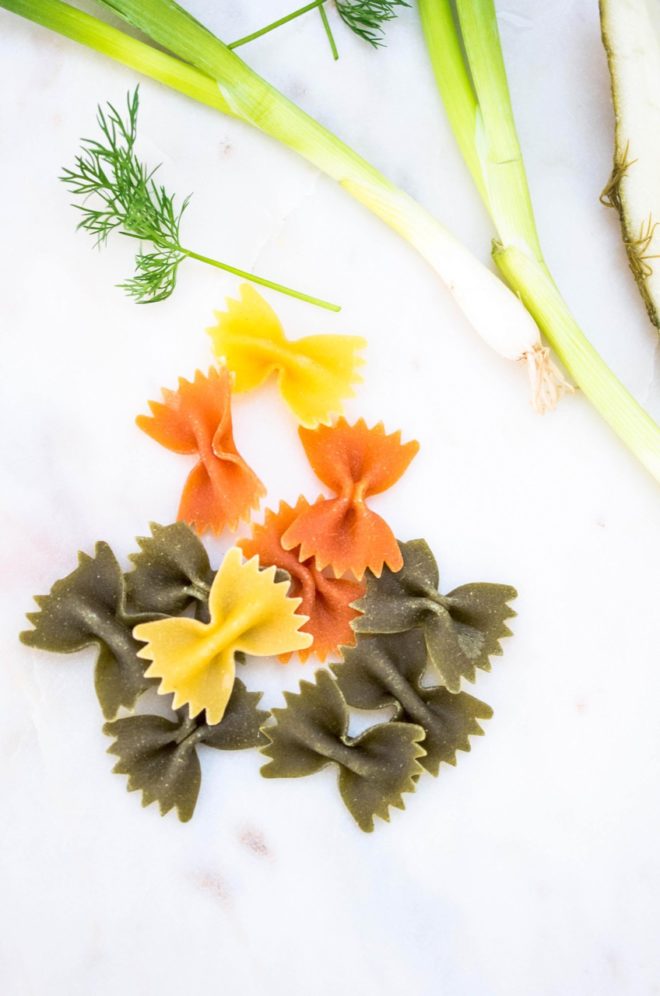 Cucumber Pasta Salad
Ingredients:
1 c. bow tie pasta
1 c. chopped pickles
1 Apple
2-3 Garlic Cloves
For Dressing:
½ c. vegan mayonnaise
¼ c. chopped chives
1 Tbsp. dill chopped
1 Tbsp. pickle juice
pinch of garlic powder
salt and pepper to taste
Method:
Bring garlic cloves and water to a boil for the pasta.  Continue cooking the pasta according to the package instructions.
For the Dressing: In a mixing bowl, combine all dressing ingredients until everything is mixed well.  Spice to taste then transfer this to an airtight container and keep it in a refrigerator.
In a large bowl, add the cooked pasta, chopped apple and pickled cucumber slices. Add the prepared dressing and mix everything well. Garnish these with some more dill and freshly ground black pepper.
Voila!  Ready for the whole family to enjoy!
Photos and Recipe by Deepika of Easy Baby Meals for The Effortless Chic