Hi, friends!  Deepika here!  Thank you for having me back and for the overwhelming response to our first post!  I'm so grateful you liked it.  I hope you enjoy today's recipe just as much!  As parents, we are constantly in search of food that is nutritious as well as flavorful for our children. I remember when I tasted my baby's jar food and store bought baby snacks, I promised myself I would never buy those for her again. The best part was even she didn't like them, which made my job much easier.  I used to give her cut fruits, dry fruits, organic cheese etc as snacks. As she grew, her curiosity for trying new foods has increased and her taste for trying grown up snacks, as well.
I decided to make these Homemade Crackers, which are full of flavor and nutrition. These are great for little ones and grown-ups too. A great alternative to store bought crackers. In the following recipe, I have used wheat flour as a base for the crackers, along with some organic all purpose flour. These are flavored with fresh oregano leaves and roasted cumin seeds. Roasting cumin seeds give them a warm nutty flavor. You can add some sharp cheddar to these too or ground flaxseed for a different flavor. These are great to snack with fruits or with a savory dip. (Spinach artichoke dip would be delicious!)  You can experiment by adding your own combinations of herbs and spices. If you are making these for little ones, make sure they are little bits sized to avoid any choking hazard. This can be a fun weekend cooking project for kids as well.   Now without any future ado, let's go through the recipe...
Homemade Herb Crackers
Prep time: 30mins | Cook time: 10 mins | Serves: 3 -4
Ingredients:
1 cup Whole Wheat Flour
½ cup Organic All Purpose Flour
1 tablespoon fresh Oregano leaves (chopped roughly)
1 tbs Vegetable oil
2 teaspoon Roasted Cumin
2 teaspoon Black Sesame Seeds (optional)
1 teaspoon Garlic Powder
A pinch of Baking Soda
Salt and Black pepper to taste
Water as needed for kneading (little more than ¾ cup)
Method:
Start by adding all the ingredients in a food processor, except water and oil. Pulse the dry ingredients and spices well.
Start adding oil and water, knead it into a dough.
Cover this dough with a plastic wrap, and keep it aside at room temperature for 20 to 30 mins.
Preheat oven to 350*F. After 30 minutes, knead the dough again with hand and cut approximately inch balls. Roll these into a thin sheet with a rolling pin.  Make sure they are not extremely thin.
With a cookie cutter or pizza cutter, cut small shapes. Place them on a cookie sheet with parchment paper or a silicon sheet and bake for 10 minutes.
Keep a close eye on these since small cracker pieces will cook faster.
Once baked, transfer them to a cooling rack.
Serve with fruits or savory dip.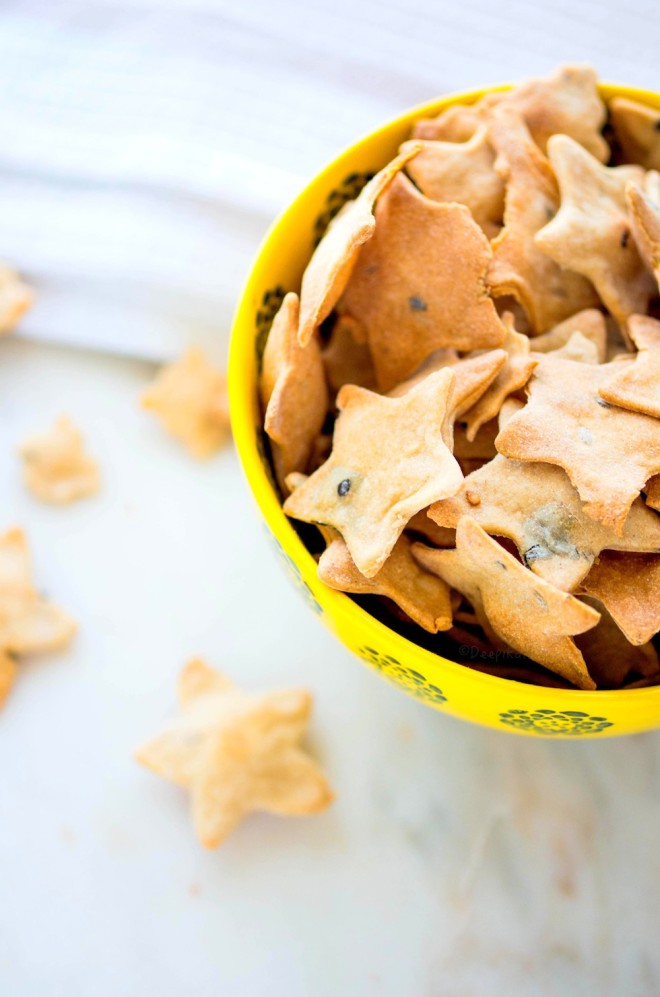 Photography and Recipe by Deepika of EasyBabyMeals.com