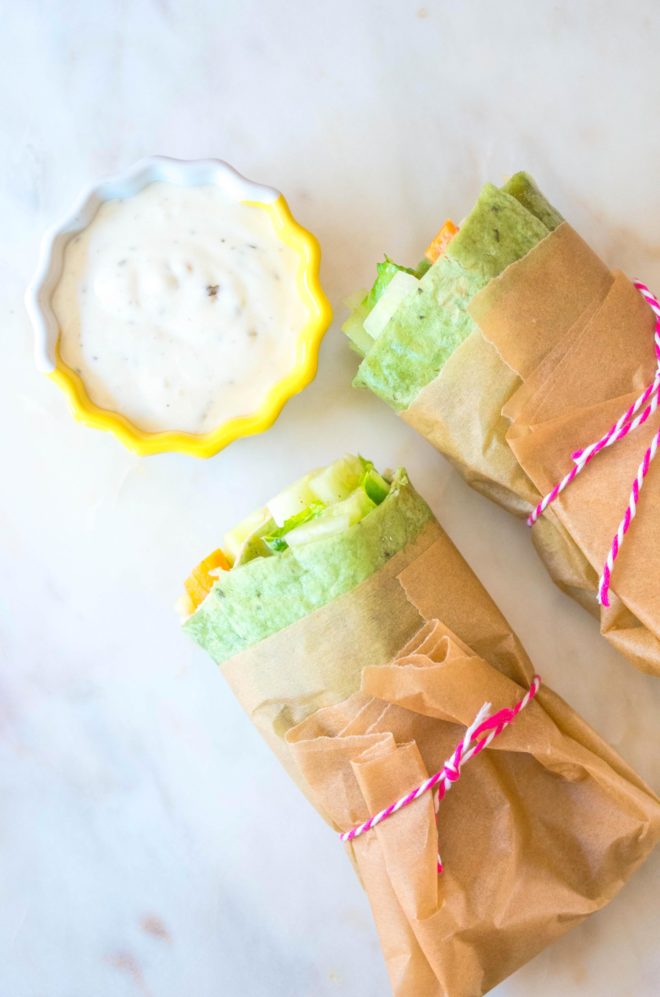 Let's talk about lunch shall we?  Breakfast to me is easy. Oatmeal? Eggs? Toast with Almond Butter?  Dinner I find to be pretty easy to plan for ahead of time making it pretty stress-free.  Lunch on the other hand stumps me every time.  I'm always looking for that magical trifecta in the center of the Vin Diagram where inexpensive, healthy, and fast line up and it's usually a pretty elusive thing to pinpoint.  When Deepika sent over the recipe for a toddler chicken veggie wrap, I felt immediately inspired and knew I'd be making it my own!  By keeping a few extra spinach wraps on hand, last night's leftovers suddenly became today's lunch and I wouldn't have to sacrifice precious working hours to make it.  Keep reading for her full recipe and be sure to hop over here for more of her kid-friendly ideas!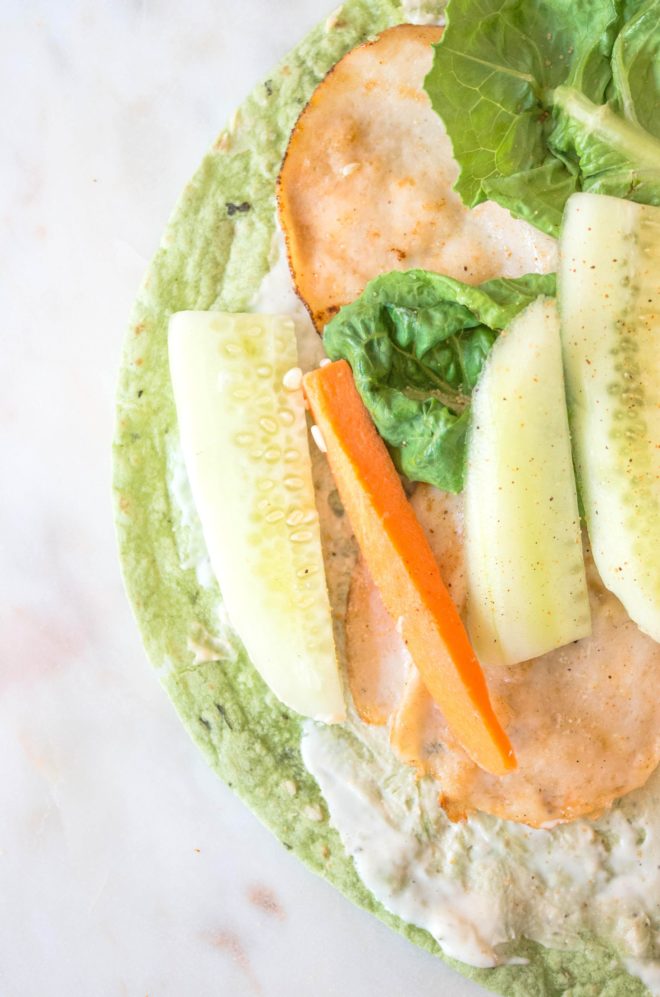 From Deepika: "Schools have begun and so has the early morning rush to pack lunch boxes! Mornings are hectic and at times there is absolutely no time to make a decent healthy lunch to- go. Rather than packing up something less than healthy or the same ol' boring sandwich,  this no-work lunch box chicken veggie wrap can be prepared at night and packed for the next day. Here I have used all store bought organic ingredients, which makes it super easy.
Chicken Veggie Wraps
Ingredients:
1 big spinach tortilla.
4 to 5 chicken slices (cooked lunch meat)
4 to 5 carrot slices
3 to 4 cucumber slices
3 lettuce leaves
1tbs garlic hummus
2 teaspoon ranch
dash of cajun seasoning or salts
salt and black pepper to taste
Method:
Start with roasting the spinach tortilla on a pan for few minutes. Keep it aside.
Then in the same pan heat the lunch meat for few minutes. ( I usually do this, I like to heat meat, before consuming even if it is cooked). Keep it aside.
For assembly, spread a layer of garlic hummus evenly on the spinach tortilla. Follow that with ranch.
Now layer this with lettuce leaves, chicken slices, carrots, and cucumber. Season it with cajun seasoning, black pepper, and salt.
Roll this carefully and cut in the center. You can cover these wraps in silver foil or parchment paper for ease of eating.  Refrigerate until ready to pack up in a lunch box or eat on the run!
Chicken Veggie Wrap Recipe and Photos by Deepika of EasyBabyMeals.com