Have I made my love for Cinco de Mayo clear enough?  You guys, I looooooove this holiday!  It certainly stems from the fact that margaritas and tex-mex are my favorite food group-- last supper stuff, you know-- but it's compounded by the fact that it's also a low maintenance holiday with the central them being hanging outside with your friends and enjoying adult beverages and naughty food.  We thought we would let the toddlers in on the fun this year and in lieu of a baby margarita we bring you these super delicious Chicken Quesadillas with Mango Strawberry Salsa courtesy of Deepika from Easy Baby Meals!  Take it away, Deepika...!
Let's get this Cinco de Mayo party started, shall we?  These quick and easy quesadillas are filled with the Mexican flavors which will tingle the taste buds of the young and old, so make plenty to share!  In the following recipe, I have cooked chicken in organic tomato salsa. Made some fajitas and filled the quesadilla with chicken, fajitas and lots of cheese. I paired this with fresh Mango and strawberry salsa. This fruity savory dip is lip smacking for kids as well as for grown-ups. Since I made this recipe keeping kids in mind, I have used small size tortillas to make it kids friendly. But for grown-ups, you can use bigger ones too and adjust the remaining ingredients.  You can add some green chiles while cooking the chicken as well as some paprika while marinating the chicken. This gives a nice chili aroma and adds some heat. Serve this quesadilla with some homemade guacamole and sour cream. And don't forget the margaritas!
Chicken Quesadillas with Mango Strawberry Salsa
Prep Time: 15 mins
Cook Time: 20 mins
Serves: 4
Ingredients:
8 White Tortillas ( small size)
2 Chicken Breast
4 Garlic Cloves (shredded)
½ inch Ginger  (shredded)
1 cup Mexican Cheese
2 tbs Organic Tomato Salsa
1 tbs Coriander leaves (chopped)
1 tbs Oil
For Chicken Rub/ Marinate:
½ teaspoon Salt
½ teaspoon Cumin Powder
½ teaspoon Cajun Spice
¼ teaspoon Black Pepper Powder
¼ teaspoon Oregano Powder
Paprika as needed (if making it for grown-ups)
For Fajitas:
1 ½ cup Onions (cut length-wise)
6 to 7 Sweet Peppers (cut lengthwise)
1 tbs Oil
¼ teaspoon Oregano
Salt and Black pepper powder to taste
For

Mango

Strawberry Salsa:
1 cup

Mango

(chopped)
6 to 7 Strawberries (cut lengthwise)
1 tablespoon Coriander (chopped)
⅓ teaspoon Oregano
Green Chiles as needed (if making it for grown-ups) (optional)
Method:
Start by washing the chicken breast well and cutting it into bite size pieces.
In a mixing bowl, add the chicken pieces, garlic, ginger, and ingredients of chicken rub/marinate. Mix everything well. Cover it and keep it in a refrigerator till it's time to use.
In a pan heat oil and add all the ingredients of fajitas. Cook onions and sweet peppers till they have charred marks. Transfer these to a bowl and keep it aside.
In a mixing bowl, add the Mango Strawberry Salsa ingredients. Mixing everything well. Keep in covered in a refrigerator until use.
In the same pan, where you made fajitas. Heat oil, and add one sweet pepper. Here we are infusing the oil with chili aroma. Follow that with marinated chicken. Add tomato salsa and cook uncovered till chicken is thoroughly cooked. Finally, add chopped coriander leaves.
For the assembly, heat one tortilla in a pan on a low to medium flame. Add chicken, fajitas, cheese and coriander leave. Cover that with another tortilla. Cook till the cheese is melted and tortillas get crispy. Carefully flip it once or twice.
Once cooked, cut these into pieces. Serve this with Mango Strawberry Salsa, and sour cream.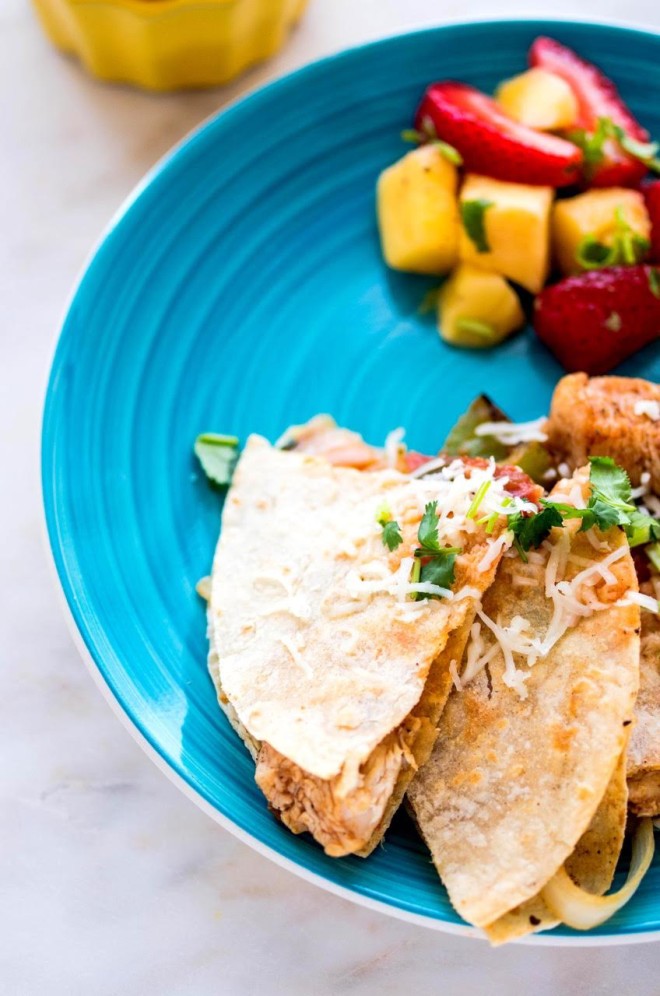 Recipe and Photos by Deepika of Easy Baby Meals for The Effortless Chic