Last month we talked about the necessity of a pared down beauty routine in the summer.  Most of that make up is going to be sweating off, after all!  I asked Blair, our resident editorial assistant who just so happens to have the most perfect, beachy ombréd California girl hair that you have ever laid eyes on, to help us with our 3 best summer hair looks.  The requirements?  It has to take less than 10 minutes, transition easily from sandy shore to seaside lunch and look completely effortless chic!
How to get the MESSY BUN look:
Begin by pull your hair up into a high ponytail and secure it with an elastic (they come in all colors, so whatever matches your hair best!) Place the donut around the base of your ponytail.  Now, before beginning your bun, put on your headscarf or headband of choice to give the look a beachy bohemian feel.  I love this one from Anthropologie!  Next, starting at the front, smooth your hair over the donut, tucking the ends underneath as you go. Repeat this step as you slowly roll down the donut.  Once at the base of your ponytail, secure the donut with another hair elastic or bobby pins.  Run your fingertips from front to back on your scalp to loosen the hair and give it a messy look.  Likewise, carefully pull down a few strands in the front as well.  Spray hairspray over the hair.
How to get perfect BEACH WAVES:
After a blow dry or letting your hair air dry, completely brush all the tangles out of your hair.  (This is pretty much the cutest brush ever.  Way to go, Drybar!)  Divide the hair into sections using the amazing duck bill clips. This way you can focus on a small area at one time, rather than attempting all the hair at once!  I usually spray a little bit of hairspray ( like this one from Kevin Murphy) on the pieces that I am going to curl first.  Then, wrap the wand around a section of hair... make sure to wrap away from your face. To get the natural beachy look, I wrap the piece of hair starting a couple inches away from the scalp. I then make sure to only wrap the piece of hair around the wand about two times, making sure to leave the bottoms straight. This way, it doesn't look like you have tight curls, but more relaxed and beachy!  It is important to randomly do different amounts of hair in each section. Again, this makes the final look appear way more natural, and way less structured!  Finally, I usually spray some argan hair mist and scrunch the waves a bit. You now look like you are heading home from the beach... and people won't even know it actually took you 10 minutes to look that way!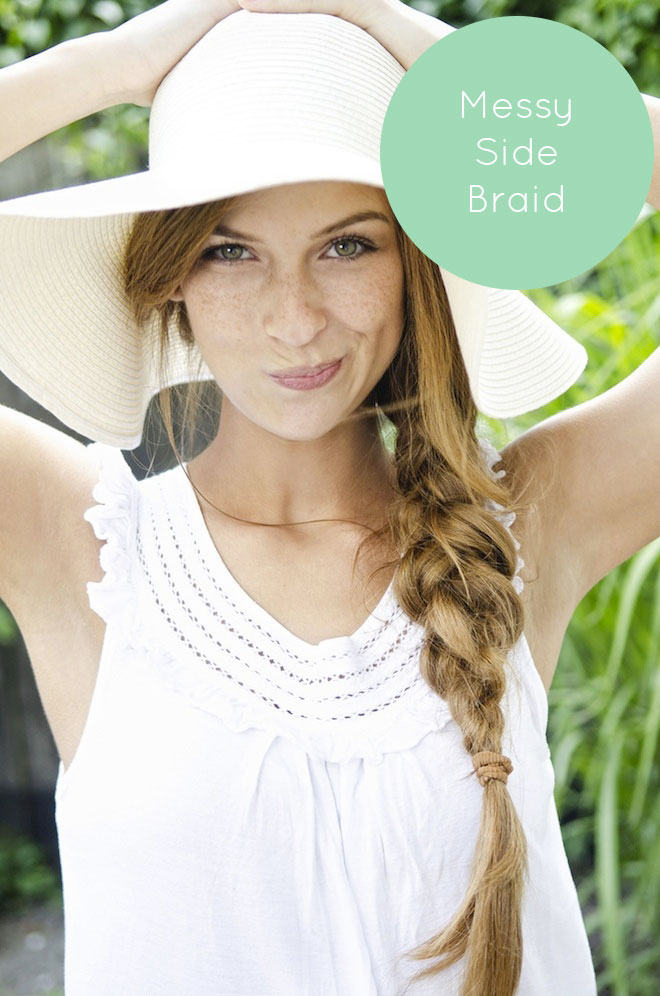 How to do a MESSY SIDE BRAID:
This one is so easy!  Especially if you have gone for a dip and have super messy hair, this is a great quick fix!  If you have fine or normal hair, apply a texturing or thickening spray throughout dry hair to give your hair some thickness and texture. If your hair is thick or frizzy, apply a light, shine-enhancing frizz control spray.  Sweep your hair to one side, separate it into three sections and braid loosely. Don't worry about the pieces that stick out (it will happen a lot if your hair is layered!).   Secure the ends with a metal-free hair tie and add a few bobby pins wherever the style needs it.  Lightly shake out some of the pieces near your face.  Spray your braid with a nonstick lightweight hairspray that will allow for movement.
(PS. If you're in LA and looking for someone new to take care of your locks, my hair stylist Addie is currently taking new clients for the first time in years!  Email her at [email protected] to set up an appointment! xo, Jen)
Images via
Chi HagiHara
,
I Have A Degree In This
, and 
Style Me Pretty