In the middle of your own home renovation or just want to update a space with new lighting? We asked some of the industries most sought after designers about their favorite pendant lighting and this is what they had to say...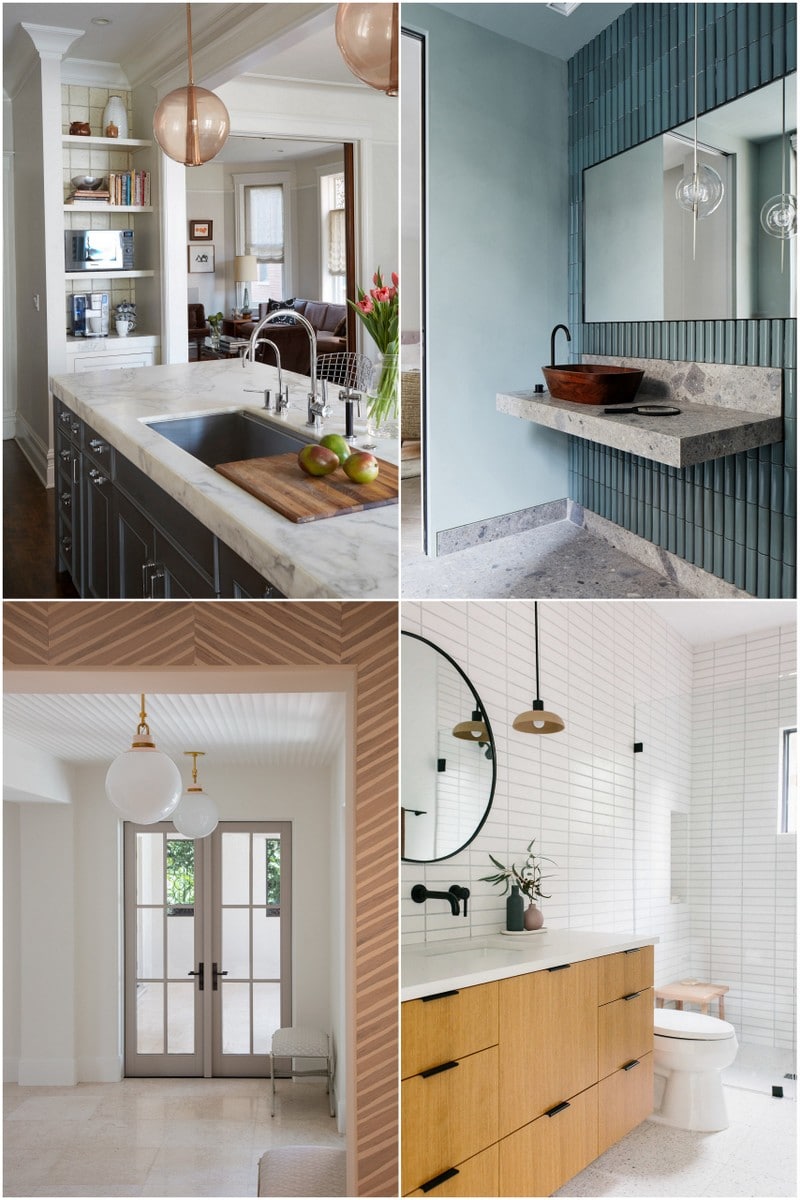 If you're building from scratch or in the middle of a major kitchen or bath renovation, it can feel like years go by before it's time to select light fixtures! After months of more mundane updates that involve drywall and electrical walk-throughs, getting to pick out your favorite pendant lights and imagine them in your new dream space is quite the treat! If you're stuck trying to make a decision, keep reading for these interior designers' favorite pendant lighting!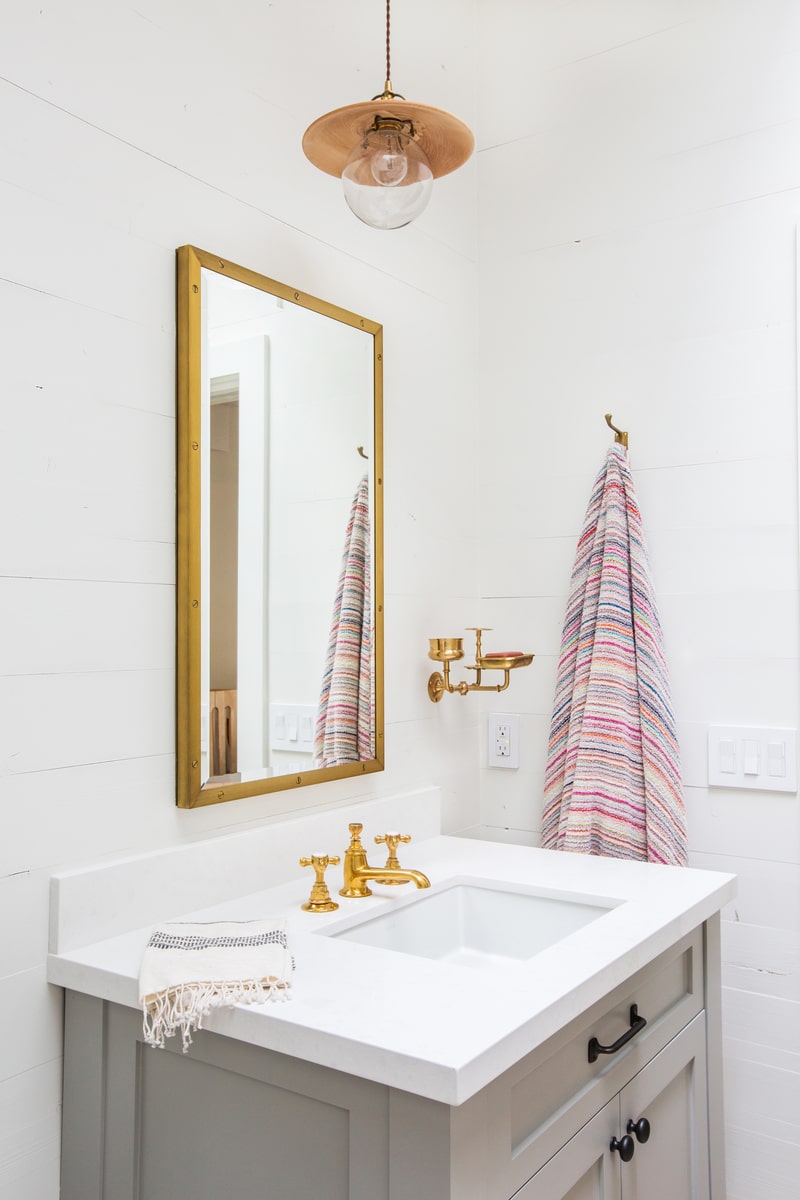 (image + design via Amber Interiors)
Julia Miller of J Miller Interiors:
Ah, let me count the ways I adore lighting! Lighting has the ability to make a space go from ho-hum to amazing. Pendant lighting is often an easy way to update a space. In my work I try to source from as many small businesses or local makers as possible and there is no shortage of amazing options when it comes to lighting. I have sourced time and time again from Lostine, I swear their Edmund pendant goes with anything and everything! The wood shade combined with the clear glass globe is so transitional and they offer a few sizes!  The glass globe diffuses light so it's perfect over a workspace or island. The best part, they are locally made in Philadelphia and are on on a cord that can be cut to length - so no worrying about ordering the wrong drop down length! If you're looking for more directional light you can't go wrong with a handmade pendant by Victoria Morris. She offers pendants with various sizes and shapes, my favorite is her matte pendant with a stripe! I hope to sneak her work into a few projects this year, how cool is it that you can tell your guests about the person who made your lighting?!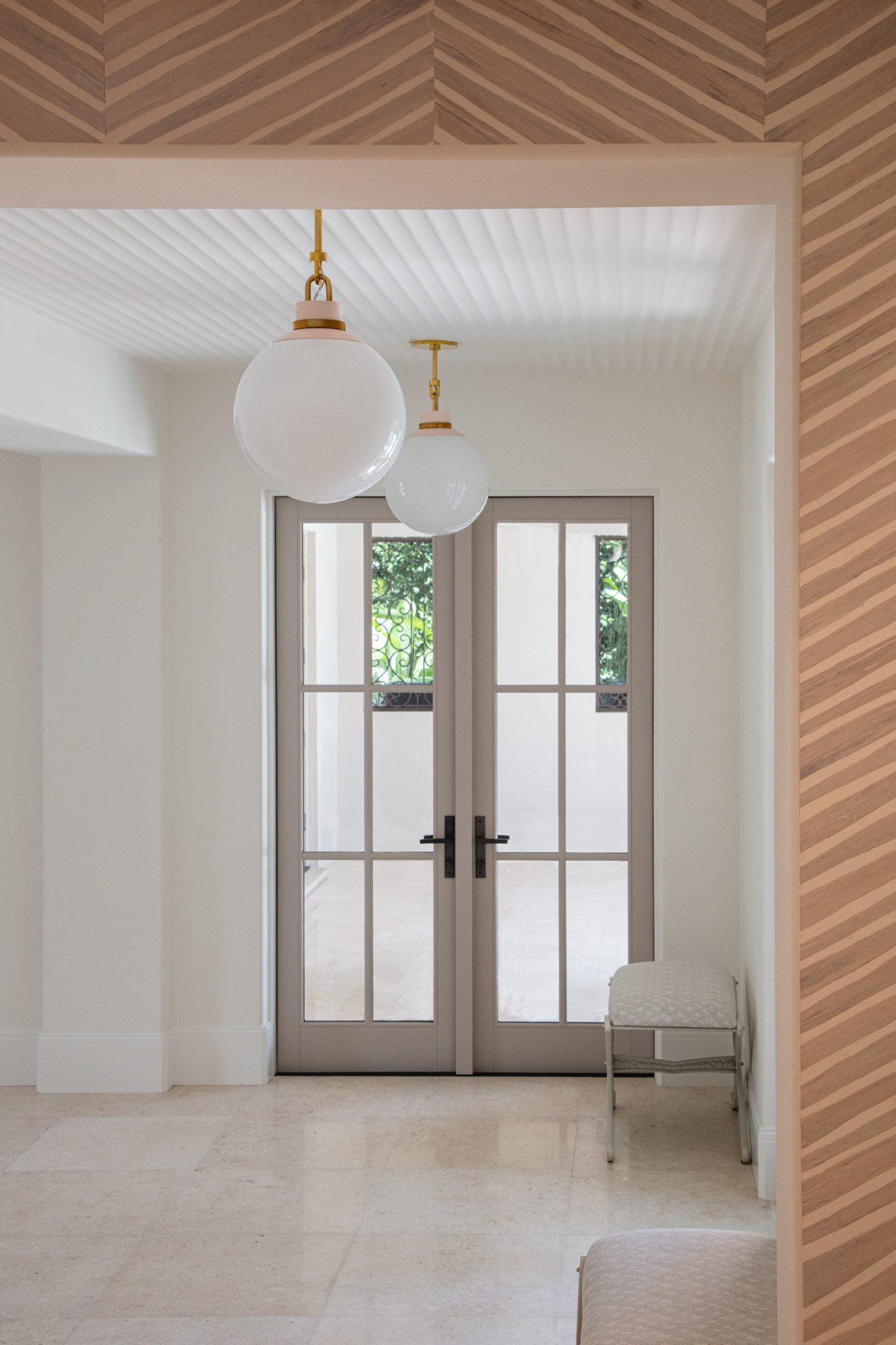 (image via Urban Electric)
Annie Downing, Annie Downing Interiors
Urban Electric's Harper Pendant is my favorite. You can customize the finish and the color. It's a modern take on the classic bistro pendant.  The details are spot on.
For the price Visual Comfort's Hicks Pendant is a great one.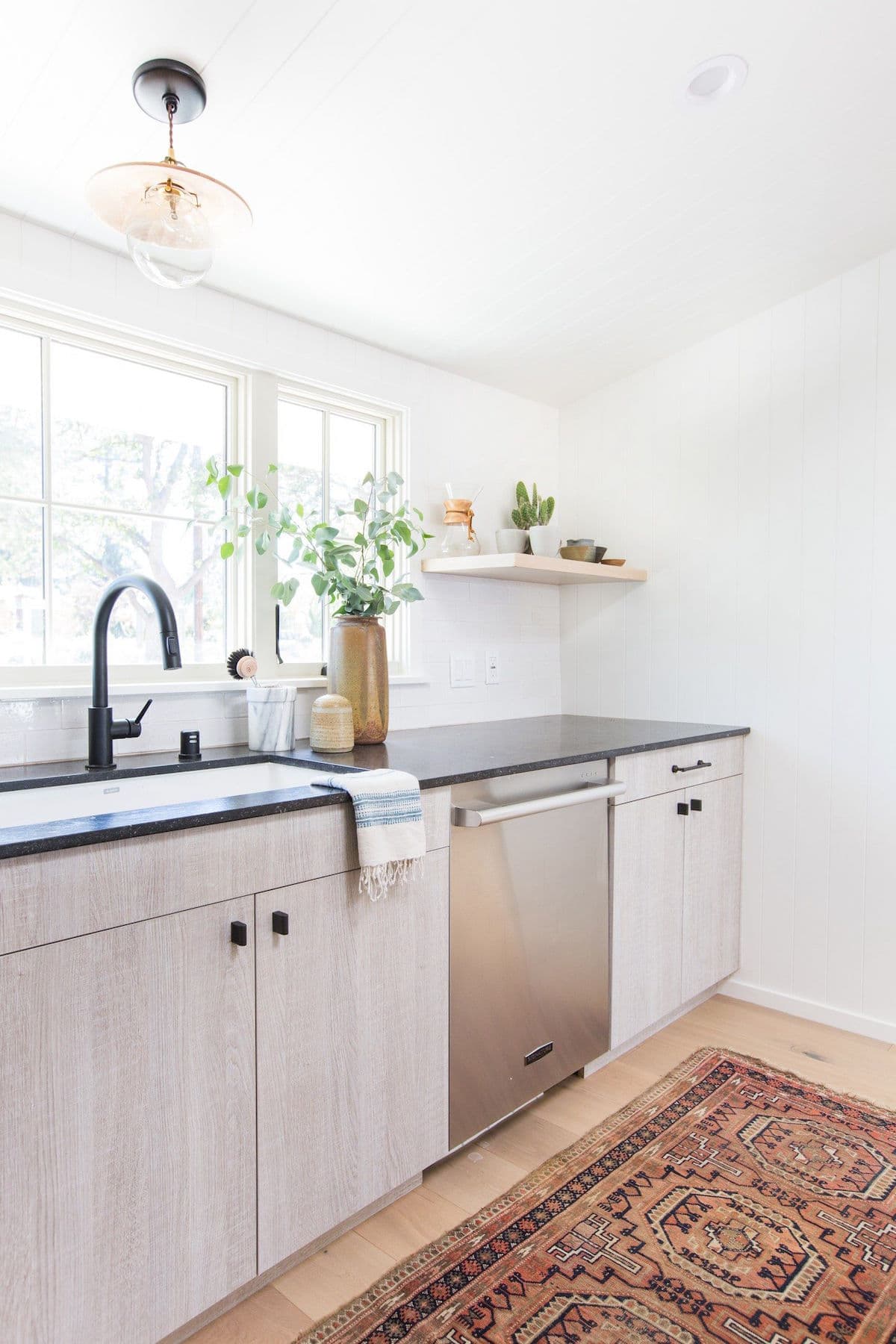 (image via Lostine)
Heidi Caillier of Heidi Caillier Design
Lostine Edmund Pendant. I love the scale and the wood brings in a nice touch of warmth. It's not for everywhere but we come back to it time and again.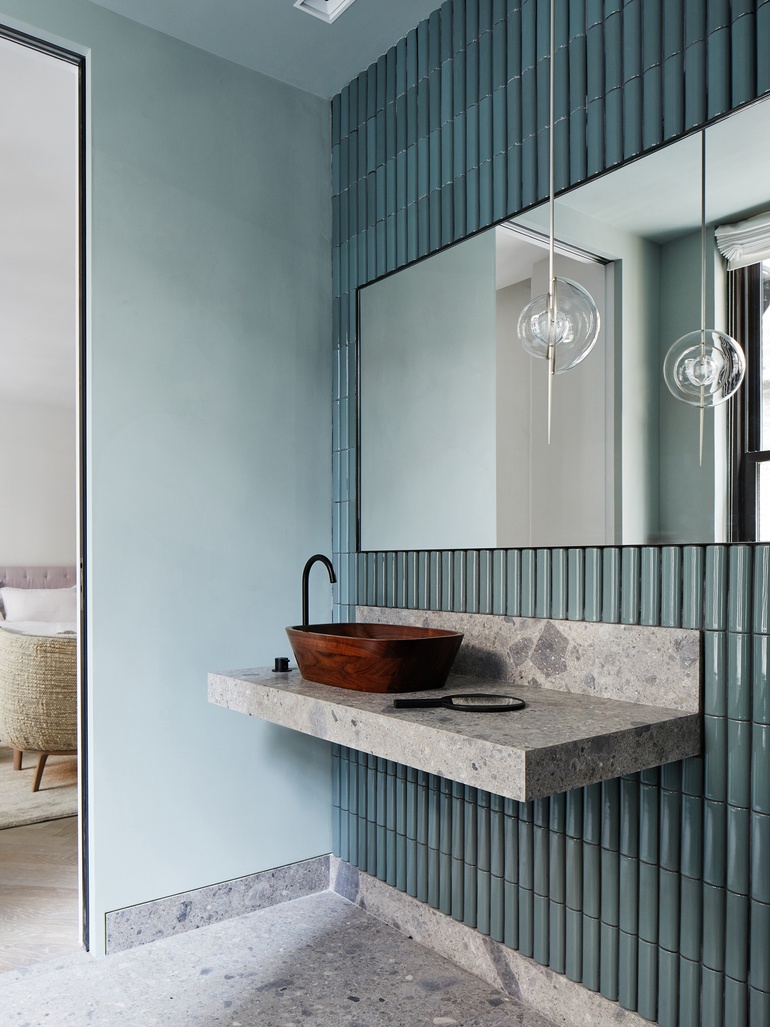 (photography by Alice Gao via Interior Design)
Killy Scheer of Scheer & Co.
Michael Anastassiades is designing some of the most beautiful, uncomplicated (in appearance, not in construction) light fixtures on the market. My favorite is the Mobile Chandeliers collection, especially this one and this one.  They are gravity-defying yet minimal and airy and feature an exploration of geometry and negative space with implied forms that capture the essence of objects with an illustrative swoop of metal. He's kind of the Al Hirschfeld of lighting, whereby an entire image is realized out of (seemingly) simple lines.
(image via Heidi Caillier Design)
Sara Barney of Bandd Design:
The bigger the lighting the better. I love the idea of using this large pendant over a kitchen island or dining room table.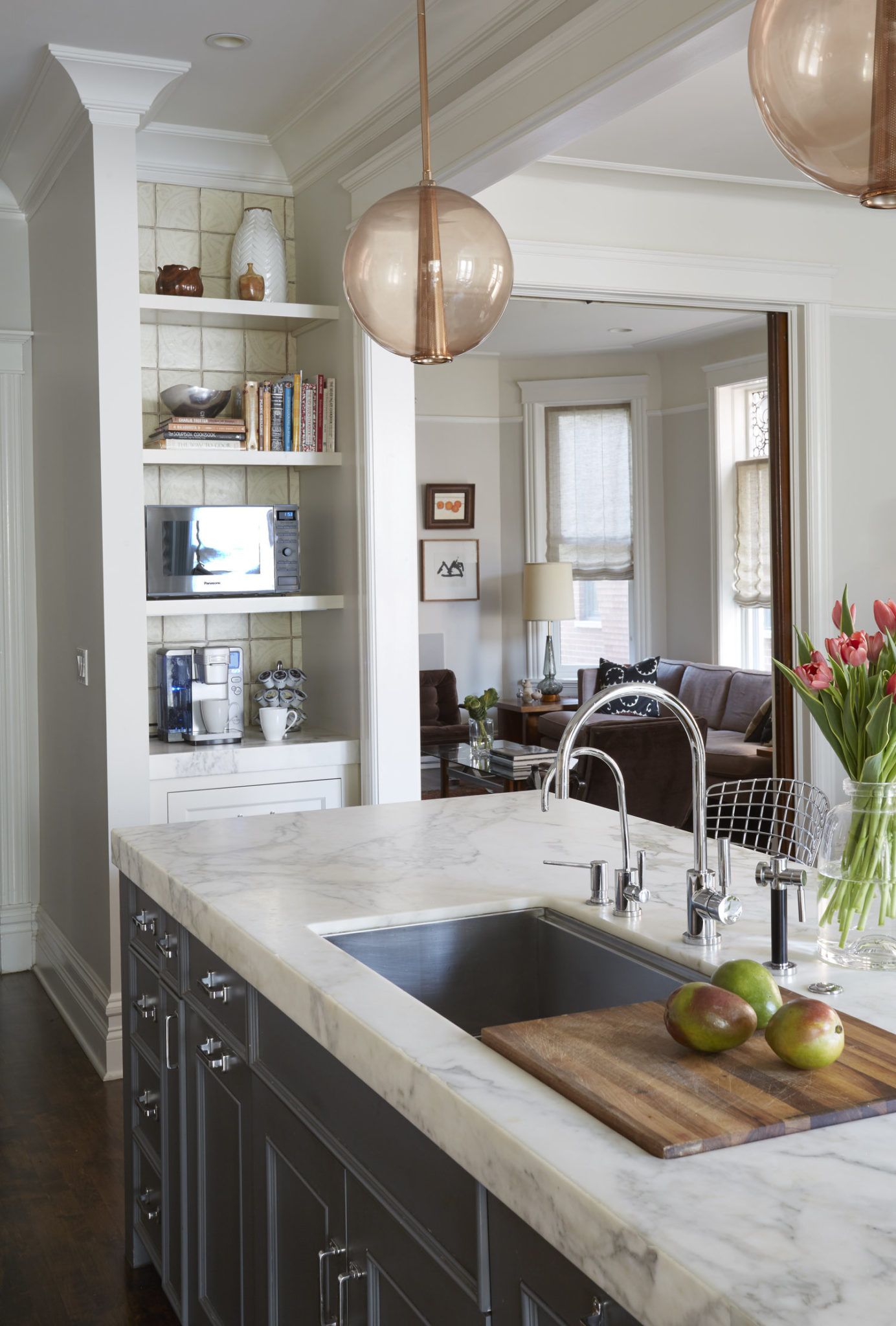 (image via KitchenLab Interiors)
Christina and Barette of Widell Boschetti
Arteriors Caviar pendant is great go-to as its sleek, timeless and sophisticated.  They are great in bathrooms and smaller kitchen islands.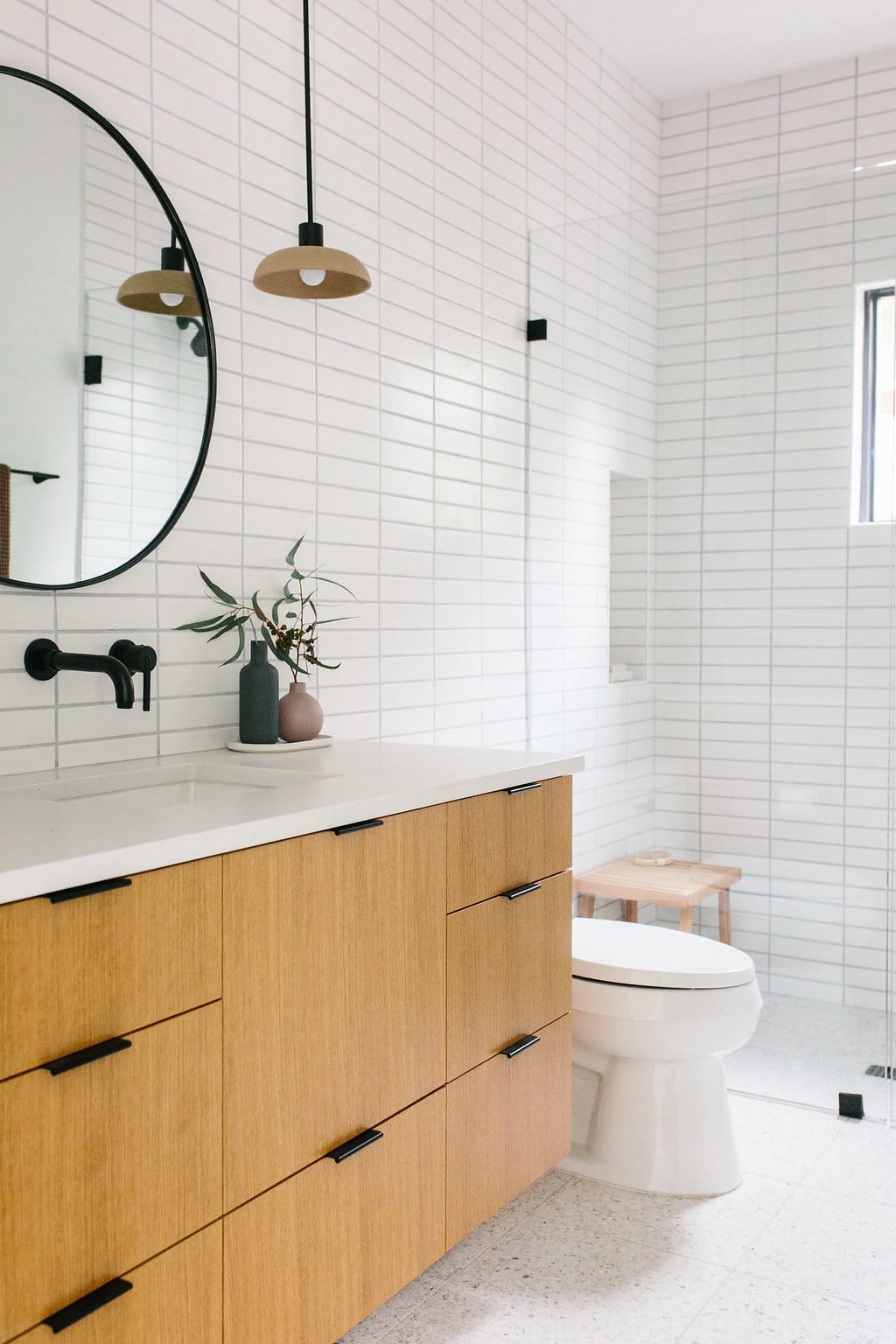 Sally Lopez of Sally Lopez Design
100% no question the Terra Pendant by Cedar and Moss is my favorite. The natural brass rod and the ceramic shade in bone-you cannot get a more classic and natural than that.
FAQ on Pendant Lighting:
What type of light bulb is closest to natural light?
Color temperatures refer to how blue or how yellow a light is. Natural light falls right in the middle of the spectrum at 5500 degrees. More blue lights have a higher color temperature-- 8000 to 10,000 --while more yellow lights have lower color temperatures-- 2000-4000. These Philips 60-Watt daylight bulbs are my favorite.
How low should pendant lights hang?
There are no hard and fast rules here. The environment where a light is situated can change the height at which the fixture should hang. Typically, though, you want between 30" and 36" of clearance between the bottom of the pendant light and the surface below if it's hanging over a table, sink or island.
One way to test out the light fixture height is to hang a balloon from the ceiling at that height. Live with it for a day or two and see how it feels to you.
How many pendant lights should hang over an island?
You will want at least 24" of space between pendants so the number of pendant lights hanging over your island will depend on the size of your island.
What is the best lighting for a kitchen?
I like a mix of recessed lights on a dimmer, pendant lights over an island or bar and a chandelier or over-sized pendant over a breakfast or eating nook area. It all depends on the kitchen, though, but this feels like a very good general rule.
What are the best pendant lights for farmhouse style homes?
I love all of the pendant lights from Schoolhouse for this style, but especially this one and this one. Rejuvenation also has great affordable lighting. I have been a fan of this one forever!
For More on Pendants and Lighting, See Here:
1970's Kitchen Remodel Before and After