I must confess, I (Lauren) love hosting. Some people may dread the idea, but if that could be something you do for a living I would totally take on the professional title of 'Hostess with the Mostest'.  Preparing food, having drinks, desserts and cozy conversation in our home is truly one of my favorite things.  Instead of a traditional baby shower here in Austin, Chase and I opted for hosting a low key "Baby-Q" with friends and family. I did my best to make it easy on myself since I am 33 weeks pregnant and it's blazing hot outside. My fabulous in-laws took care of the meat and I made two of my favorite (easiest) dips for the party.
Now when it comes to parties I think it's safe to say your diet needs to be put on hold. Most finger foods aren't exactly healthy. BUT, I do always like to offer a healthier option so when you dig into the not so healthy items, you at least feel like you've balanced it out. Moderation right? That's why I love hummus, healthy and yet so yummy. Served with veggies and crackers, it is always a hit. This recipe makes a large amount of hummus, perfect for an event or potluck. The bowl got licked clean at our party and I hid a little in the fridge for myself for snacking this week.
Homemade Hummus
Party size, serves 20-30 people
Ingredients:
3 cups of cooked chickpeas (about 1.5 15 oz cans)

1 - 15 oz can white beans

4 garlic cloves

6 tablespoon tahini

5 tablespoon lemon juice

¼ c olive oil (or avacado oil)

1 tablespoon cumin

½ tablespoon garlic salt

½ tablespoon paprika

1 cup chickpea water (or you can use the liquid from the canned chickpeas)

Salt and pepper to taste (a good amount will be necessary, I'd say at least a ½ tablespoon of each to start)

2 tablespoon fresh parsley
Additional for top:
Olive oil

Parsley

Red pepper flakes

Garlic salt
Directions:
I use fresh chickpeas rather than canned because I think it really adds to the taste. To cook chickpeas I like to soak them for 1-2 hours in water (throw out any that float, they're no good). Then drain and rinse.

Bring water to boil in a large pot and add chickpeas and turn to low/simmer for about 3 hours, until tender. Drain but keep 1 ½  cups of the water for this recipe! You can totally use canned chickpeas for this though.

Add cooked chickpeas, beans and tahini to your food processor (or a powerful blender) and begin blending.

After 2 minutes, scrape the sides and add all of the remaining ingredients and 1 cup of chickpea water.

Blend for around 5 minutes, stopping it occasionally to scrape the sides. If it seems too thick, simply add small amounts of water until you get the desired texture.

Add salt and pepper as necessary.

To finish, drizzle with olive and top with fresh parsley, garlic salt, and red pepper flakes. Serve with cold veggies and crackers.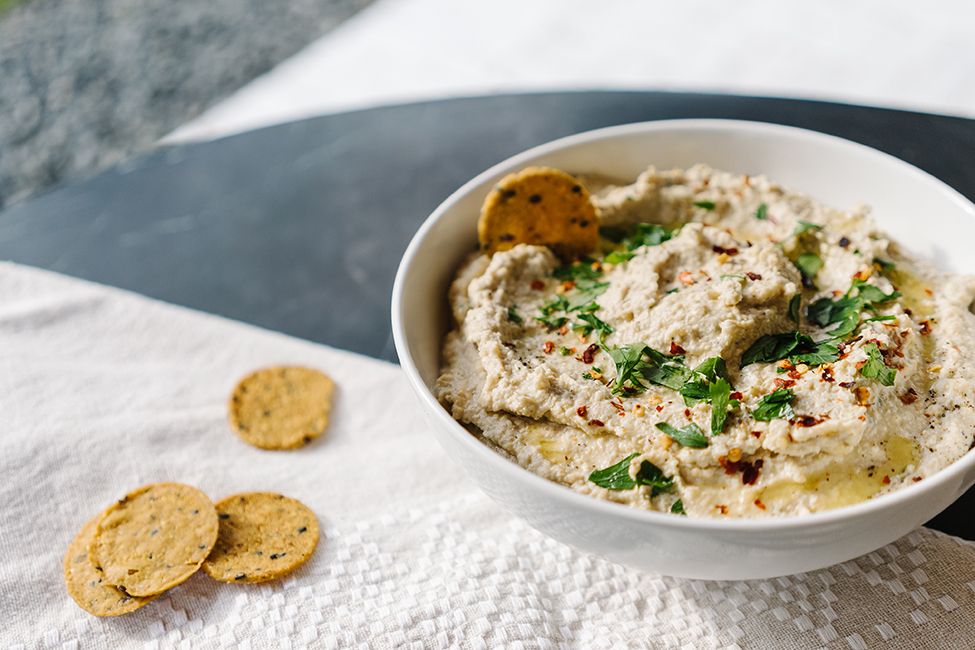 I started with the healthy one so that you wouldn't judge the next recipe too harshly. It has fresh spinach in it so that counts for something, right? Spinach dip is one of those indulgences that is totally acceptable to overeat at a party. I love this recipe so much because it's easy and so ridiculously good. It's perfect for your next potluck (Did I mention football season is approaching? This will disappear if you make it on game day.)
Crockpot Spinach Dip
Party size, Serves 20-30
Ingredients:
8 c fresh chopped spinach

2 - 15 oz cans of artichokes (chopped)

2 - 8 oz bricks of cream cheese cut into cubes

2 c greek yogurt

1 ½ c shredded mozzarella cheese

1 c shredded gouda

½ c parmesan cheese

1 c chopped onions

8 chopped garlic cloves

Salt and pepper to taste
Directions:
Place all ingredients into the crockpot on low for 4 hours, stirring every 45 minutes or so. Or on high for 2 hours, just be sure to stir it regularly so it doesn't stick or burn on the bottom.

To serve I usually just unplug the crock pot and place it on the table. It'll keep the dip nice and warm for quite a while! My favorite ways to serve are with tortilla chips, carrots, and gluten free pretzels.
Note: Not looking for serve this to so many people? Cut the recipes in half to still make a good amount but not quite such large portions.
Photography by Chase Daniel