Something I've found interesting about motherhood is that the things that you never dream would be hard can turn out to be the most challenging and other things that you dread end up being ridiculously simple.  Transitioning Parker's nursery to a toddler room and her crib to a big girl bed happened to be one of the things that fell into the latter category.  I'm not sure why I was so unjustifiably afraid of removing those trusty crib bars that kept my toddler confined through the night, but I drug my feet long after she started to show signs that she was ready.  I always thought that if they weren't climbing out of the crib you were supposed to leave them in.  Makes perfectly good sense, after all, but after weeks of her taking short naps, waking in the middle of the night inexplicably and just as I was about to spend a lot of money on a sleep consultant, I began making a bed for her on the floor and thought I would just see what would happen.  Suddenly, our child who had never really been a great napper (I won't bore you with the details, but you can read them here if you like) starting taking 3 hour naps every single day... on the floor!  Then we started putting her to bed on her little floor bed and it seemed to solve most of her night wakings.  Finally after a couple months of this, we caved and bought her a big girl bed... And it wasn't at all the nightmare that I thought it would be. Basically I would say that the biggest sign that she was ready to transition out of the crib, was how hard she was fighting going down in it. She was used to going down in it on her own for months and suddenly sleep was just getting so hard. After ruling everything else out, the big girl bed was kind of our last resort... and now I wish I had done it so much sooner!
(You can see her nursery here.)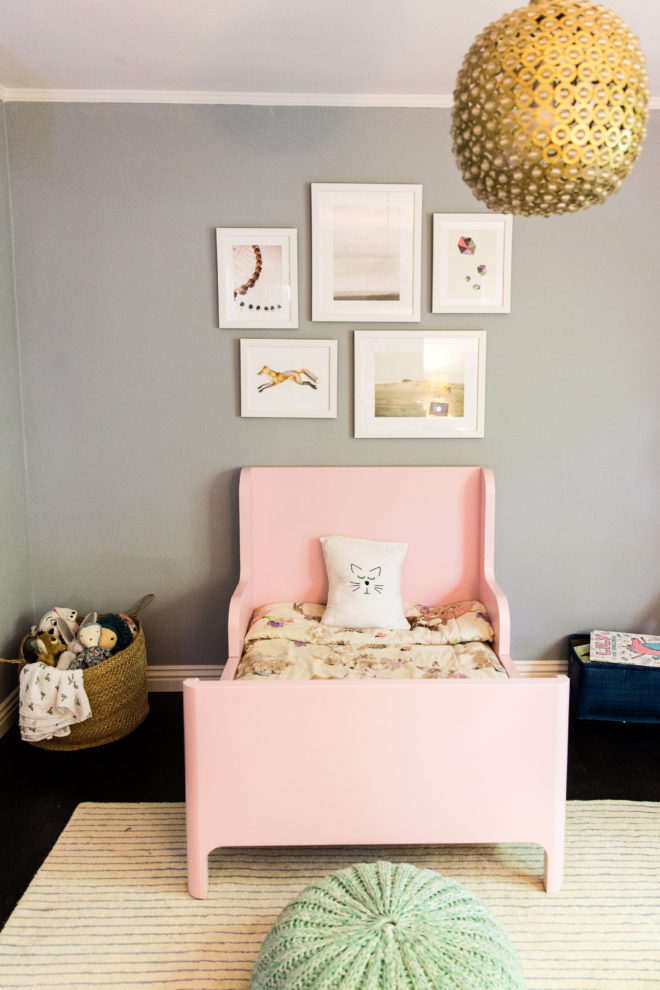 The Bed we Chose:
We went with this bed from Ikea.  It's the width of a twin bed, so you can lay down next to them if you like, but the length adjusts so it doesn't feel overwhelmingly large coming from a crib.  (It can grow to a true twin bed.)  It's also low to the ground and has these clever little side details that making falling out almost impossible. (So far it hasn't happened yet.)  What we like to call 'the cat lady' comforter was actually my sister-in-law's bedding as a child about 25 years ago.  Her mom had preserved it perfectly and they gave it to Parker for Christmas, kind of as a joke, but Parker fell in love with it immediately, so we had it cut down to fit this bed.  Her sheets and pom pom throw are from Pottery Barn Kids and that little cat pillow is from Elephant Landing.
The Transition:
She actually didn't miss or ask for her crib once.  She watched us dismantling it and had nothing but enthusiasm for her new big bed to come.  We were really thoughtful about the routine we wanted to create around it.  I wanted her to be able to fall asleep on her own in there, so that she wouldn't be startled if she awoke in the middle of the night.  Our routine goes a little something like this:  We rock in her glider and read three books that she picks out.  Once they're done I lay her down in her bed, cover her up, tell her how much we love her and kiss her on the forehead.  Most nights she will ask for me to lay down so I will say, "Okay, mama will lay down for one minute." Once the minute is up I get up and go and she goes to sleep after.  For the most part it has been a really easy transition, which is crazy because sleep hasn't always been easy with her-- far from it sometimes.  I think she was really ready, though.  Since the transition, we have never had trouble with her getting up immediately after putting her down or with her being upset when we leave, but we did go through a rough 2 weeks where she was waking about every other night in the middle of the night, totally inconsolable.  It seemed to be a phase, though, that passed on it's own.  All of this to say, I think every kid is totally different and will handle this transition differently, but it was interesting to me that something I was so afraid of, ended up being pretty simple.  It was a good and much needed reminder that they're usually showing us what they're capable of or wanting long before we might be ready to make the transition ourselves.
And on a side note, this post really makes me miss our little LA home and that brass light fixture!
Photos by Emily Morgan
Rug, Serena and Lily || Art, Minted || White Rattan Chair, Pottery Barn Kids || Heart Pillow, Pottery Barn Kids || Bed, Ikea || Light Fixture, Serena and Lily || Bedding, vintage || Sheets, Pottery Barn Kids || Pom Pom Throw, Pottery Barn Kids