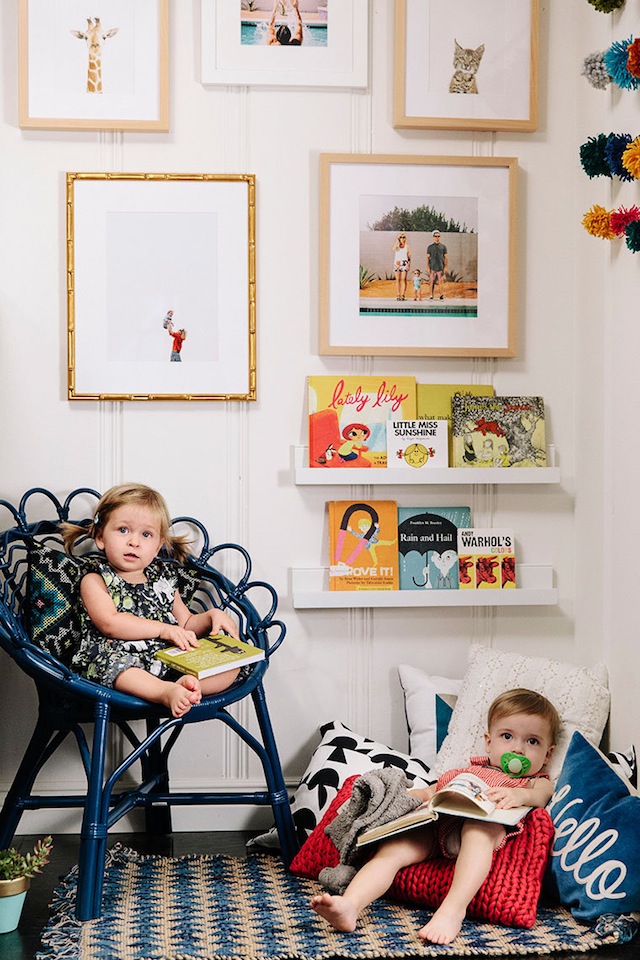 There is this universal phenomenon that happens when you have a child that no one warns you about during your nine months of pregnancy.  Your phone, no matter how large, is destined to run out of storage.  Mine is currently filled to the brim with photos of Parker in her pajamas, Parker at the park, Parker and Aaron at Disneyland, and the list goes on and on.  If she makes a new face, wears a new outfit, or visits a new place you better believe it's getting documented and likely not just once.  There are entire photo sequences of basically the exact same photo with a slight variation, but don't even make me choose between her cheese and zoolander face.  What we haven't been doing, though, is printing any of those precious little photo gems.  It has always felt like such a big task to not just find a place to print them where the colors and contrast would feel professional, but then to frame them as well.  In the past this whole process would have been time consuming and expensive, but we partnered with Framebridge to create this reading nook for Parker and they exceeded my every expectation.  From their selection of cool, modern and retro frames to the ease of the ordering process and the final cost (you can get your favorite Instagram photos printed and framed for $39!), I am a new convert.  However, I'm getting ahead of myself.  Let's start with what this space looked like before:
A pretty plain and simple nook that didn't really serve any real purpose and had absolutely zero personality.  Parker was always dragging her toys over there to play which made me a little nervous around that bookcase, so I decided to get rid of it all together and turn the space into a cozy little reading nook for her.
When we decided to build the space around a gallery wall, I was so excited to finally have an excuse to print and frame some of the photos I've been hoarding the last 16 months!  We chose three photos and two animal art prints, each with a lot of significance.  The family photo in Palm Springs is from our annual trip that we take with some of our closest friends and so is the photo of her and Aaron in the pool.  They both feel so fun and totally fit with the slightly retro vibe we were going for here.  The photo of Parker and me is from wine night at Barnsdall Art Park-- one of our favorite things to do in the summer here in LA!  P is totally obsessed with all animals, but namely a rogue neighborhood cat that she named Paul, so we thought she might have a penchant for the baby bobcat in this photo.  Turns out she does!  Giraffes are her favorite to visit at the zoo so that rounded out the selection.  To print and frame the photos, all you have to do is upload them from your computer onto the Framebridge site (keep reading for a discount code!).  To have the art prints framed, I selected the frames from their website and they mailed a pre-paid envelope to our house, so that we could send them off.  It seriously couldn't have been easier.
We actually also printed this print below-- I love the color so much!-- but it was just too big for the space sadly.
A lot of the furniture pieces in Parker's nursery are from The Land of Nod, so it was the first place I went a-searching when I needed a chair for her nook.  I can't stop obsessing over this chair!  Have you ever seen a cuter piece of mini furniture in your whole life?!  Parker and her friend Scout were fans!
Who wants to come play?!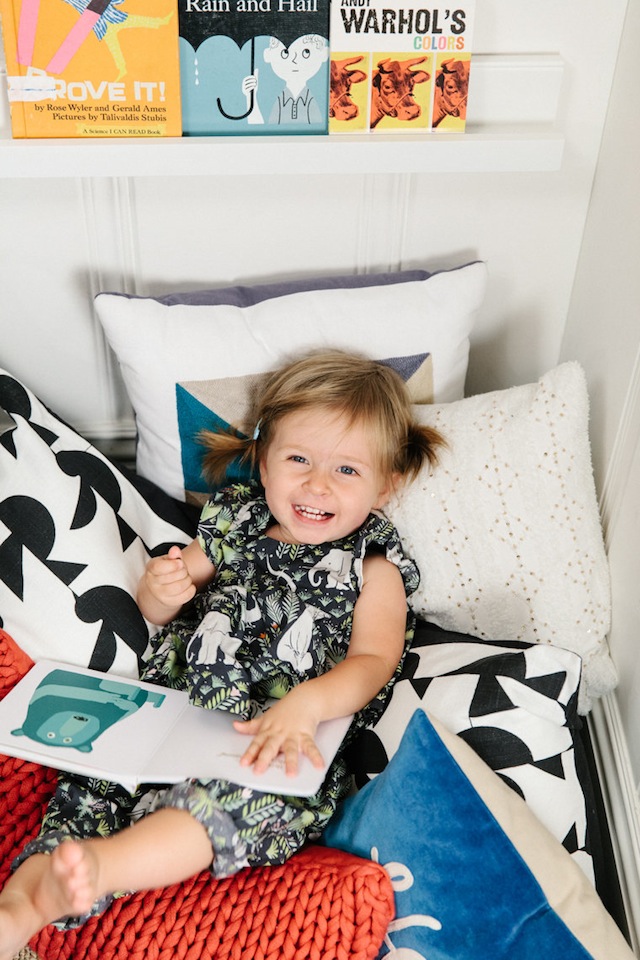 Want to try Framebridge for youself? Use the code THEEFFORTLESSCHIC20 to save 20% on your first order of $59 or more!
Photography: Jess Koehler
Prop Styling: Corrie Sullivan
All Framing by Framebridge // Chair, The Land of Nod // Book Ledges, The Land of Nod // Lately Lily, Little Miss Sunshine, and Andy Warhol's Colors, The Land of Nod // Other books, Vintage