Somewhere in the archives here, there is a post that's nearly writing itself titled 10 ways we splurged on our house and 10 ways we saved.  It's something we thought about so much as we were building.  Anytime we had a choice to make we had to think about whether that was a space or a feature that was really important to us or if we would rather put the money we could save there somewhere else. (Like, you know, in our bank account.)  The windows fell into the former category.  We designed the house with the hope of having as much natural light as possible and as many vantage points to the outdoors as this one house could hold. However, one place you don't want light at all hours are the bedrooms.  I knew immediately we would need draperies for Ever and Parker's rooms (especially Ever's since she still naps during the day) and ordered them online within a week of moving into the house.  If only it were that simple!  There were so many pitfalls!  A few weeks later we worked with Calico on creating our custom master bedroom draperies and I knew that we had to do the same thing in Parker's room.  There was just no comparison to what I had purchased online. I have learned so much about the differences between custom and store bought in the process that I decided it needed it's own post!  Here's what to know when considering draperies and the mistakes I made the first time around...
Where to even begin, right?!  For starters, store bought curtains typically are limited in colors and patterns, especially if you're wanting blackout which we were, so we went with a very conservative tan linen which is a little blah.  Was it totally terrible? Not really. Did it add anything at all to the room? Definitely not.  Also, most curtain panels are 48"- 50" per panel.  This is great for a lot of windows but it barely covered this window.  Originally when we ordered curtains here, the fabric was pulled completely straight with no bend or pleat and there was still a couple inches open in the middle so I had to return those panels and ordered these from Restoration Hardware, one of the only places I could find 100" wide panels.  Also, see how low the bar is hung? Store bought curtains come in 84" or 96" length.  In hindsight if we were really going to have committed to these, I should have ordered 96" and taken them to a seamstress.  Here's where the hardware should have really gone: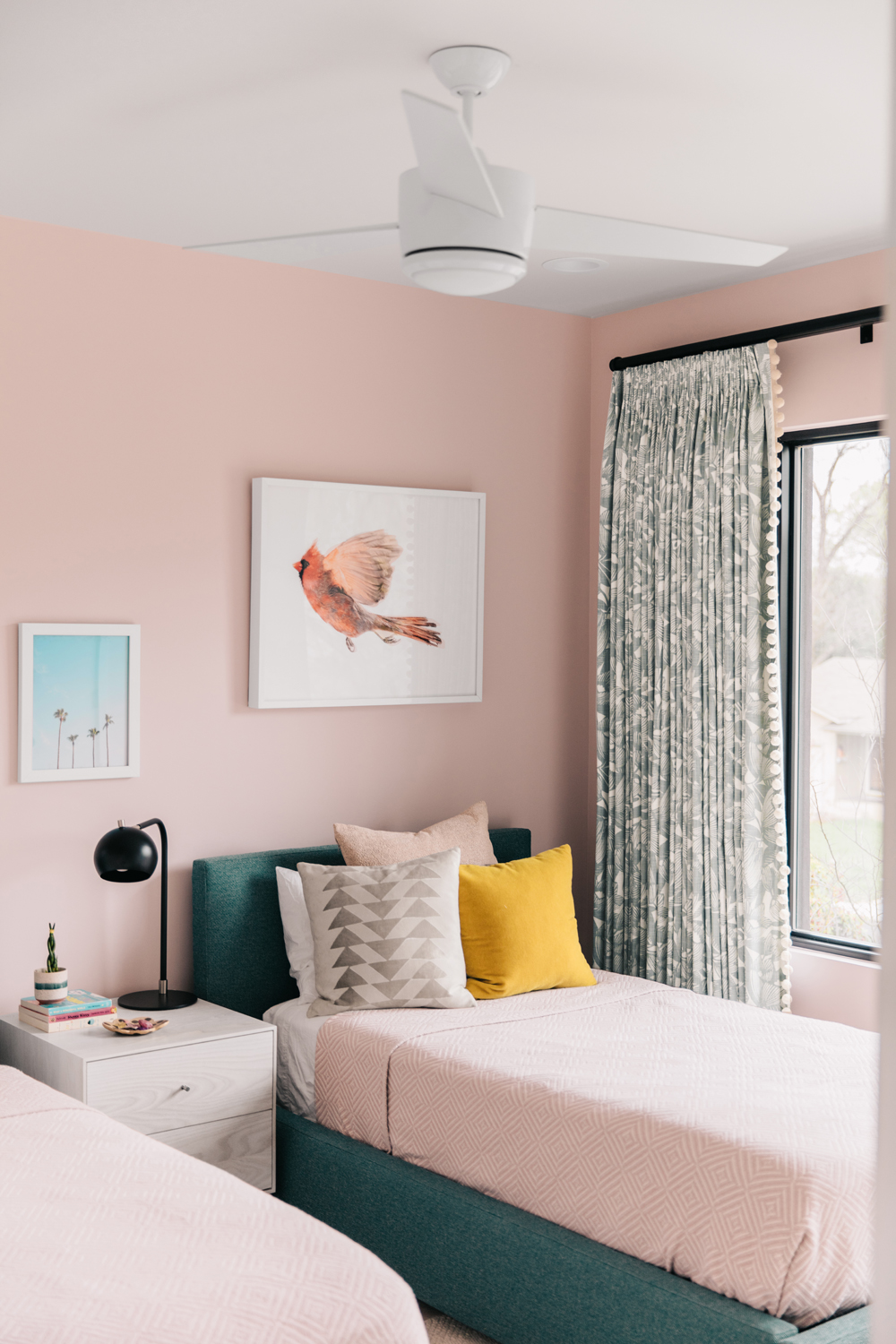 Even hung as low as possible on the window, they're a good inch and a half short, at least.  Also they need to be steamed and I probably could have gotten another ¼-1/2" by doing that, but it wouldn't have changed the fact that the curtain rod is still too low.  Aaron kept assuring me that it wasn't that bad, but the length of these curtains and height of that rod was literally all I could see in this room!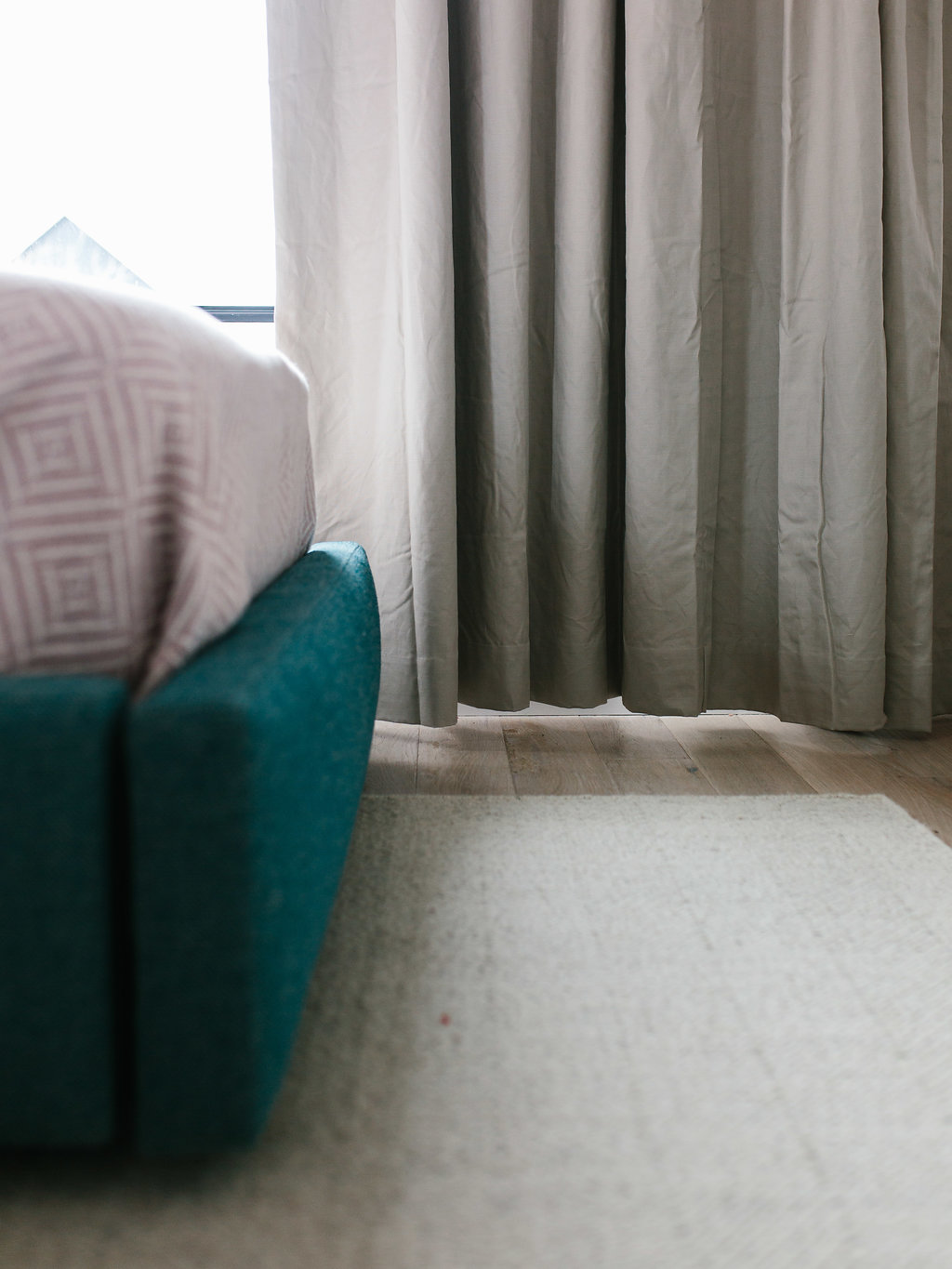 On the flip side, here's what you get when you do custom draperies with Calico and why I now swear by them:
Tens of thousands of fabric options, dozens of hardware options, and even options on how you would like your curtain to lay or pleat.  (We were actually able to do one long panel instead of two panels that pulls almost all the way off the window to the left so that more of the window is fully revealed when the drape is open.  When you look at the side by side comparison, look how much of the window is blocked by the store bought drapes.)
You can narrow down your fabric options in the store and bring the remaining books of fabric you're considering home to compare the colors and patterns in the actual space.  (Greg from the Austin store did this for us.  I seriously can't recommend him enough!  If you're here in town, stop by and say hi! He's the best!)
You get the expertise of someone like Greg who has designed and installed thousands of windows to bounce ideas off of. He steered me clear of more than one pitfall in the process.
You can add trims to personalize the look like we did with the pom poms.
Someone from Calico comes to measure your window so that they're the exact length and width that you need and it's a perfect fit.
They get expertly installed by their team.   They even repaired the holes left in the wall from my store bought curtain debacle.  It's the most incredible service.
Do custom draperies cost more than store bought? Of course, but the difference might not be as large as you expect. By the time I purchased the hardware, the two 100" blackout lined curtains, and paid someone to install them because of the weight of all of that fabric, I was close to $1000 and they still weren't right.  I should have ordered the longer ones and then would have had to pay a seamstress to get them to the perfect length, banking on my own measurements.  That still doesn't even take into account the smaller window in her room that needed the roller or roman shade.
The store bought curtains did the job: they blocked the light and gave her privacy when needed, but they also blocked a ton of the window and constantly bothered me with their imperfections.  The custom Calico draperies MAKE this room!
Before photos by Katie Jameson, After photos by Aaron Pinkston
You can see the full room reveal here, along with all of the sources!