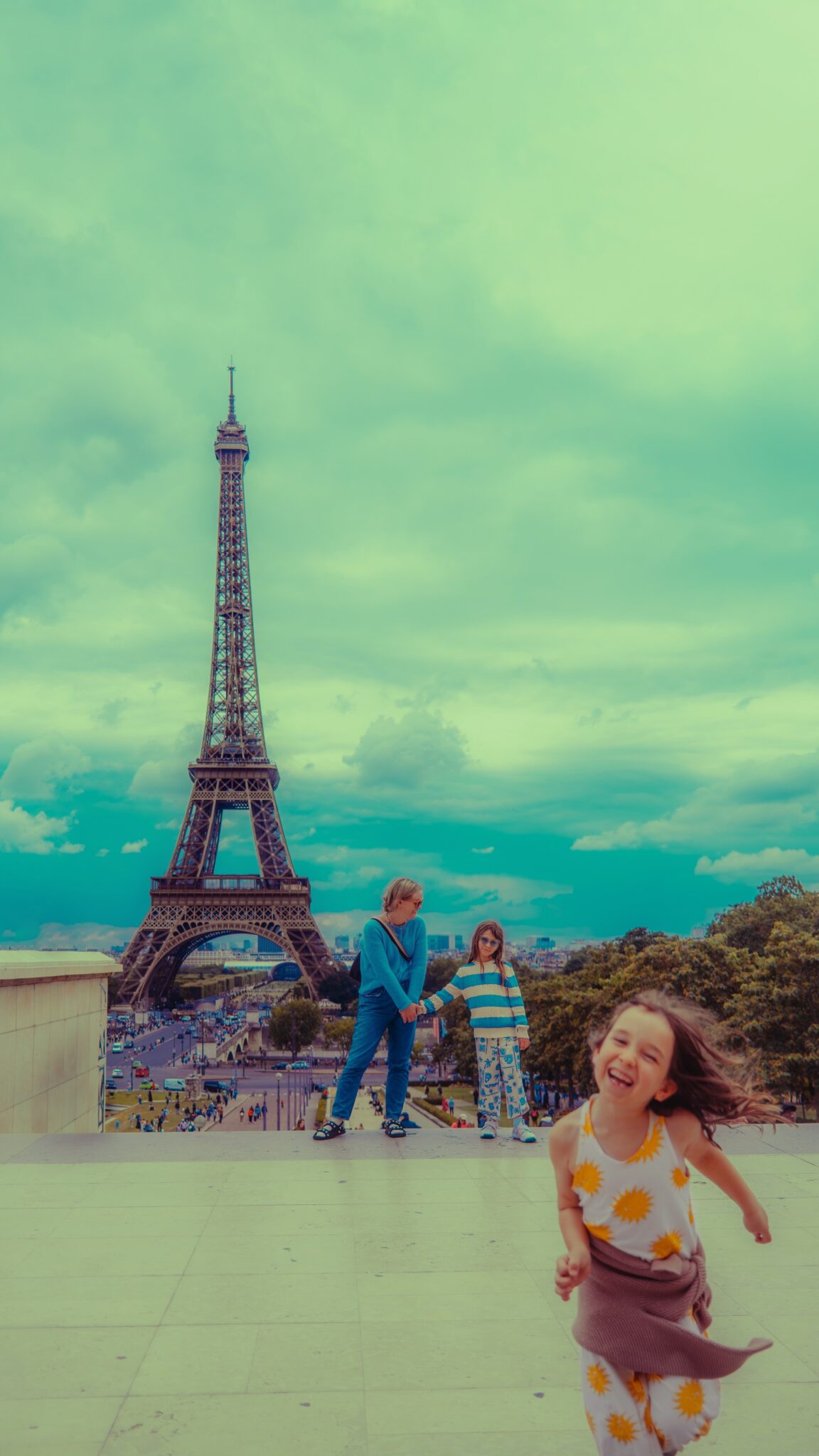 We were on some meandering cobblestone street in Montmartre when I found myself typing Paris into the search bar of my own site. What was the name of that restaurant we loved? And then again the next day as I internally inquired about the oat milk latte I had last spring around the corner from our hotel. As someone who doesn't frequently blog anymore, I appreciated in these moments all of the diligent keeping of details over the past decade that allowed my favorite places to be found with just a few clicks. I knew at some point I would have to document this trip, too– the first time we took the kids abroad, the first stamp in their passport, and our first time in Paris with kids!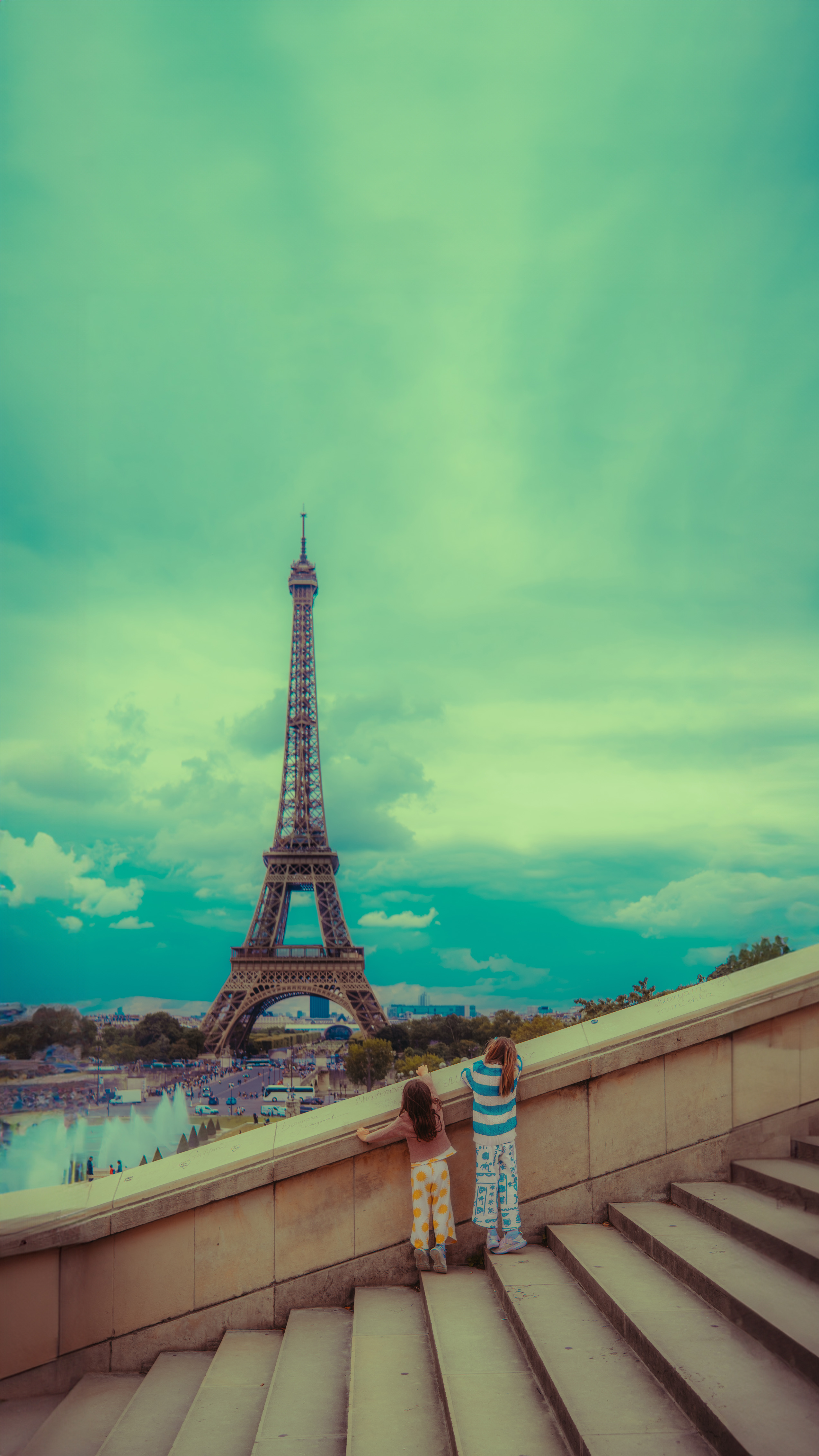 Our Paris with Kids Itinerary:
Day 1: Travel from Austin to Dallas then Dallas to Paris
Day 2: Arrive in Paris at 9:25a
Day 3: Paris
Day 4: Paris
Day 5: Travel by train to Marmande, a little town outside of Bordeaux
Day 6: Marmande
Day 7: Marmande
Day 8: Marmande
Day 9: Travel back to Paris
Day 10: Paris
Day 11: Paris to Dallas, Dallas to Austin
We broke up our time in Paris with a trip to the countryside to visit friends. It was a place where they could run around, swim, jump on a trampoline and be true free range kids. It was a nice break from the busy streets of Paris and felt so refreshing. Our kids were five and nine at the time of this trip.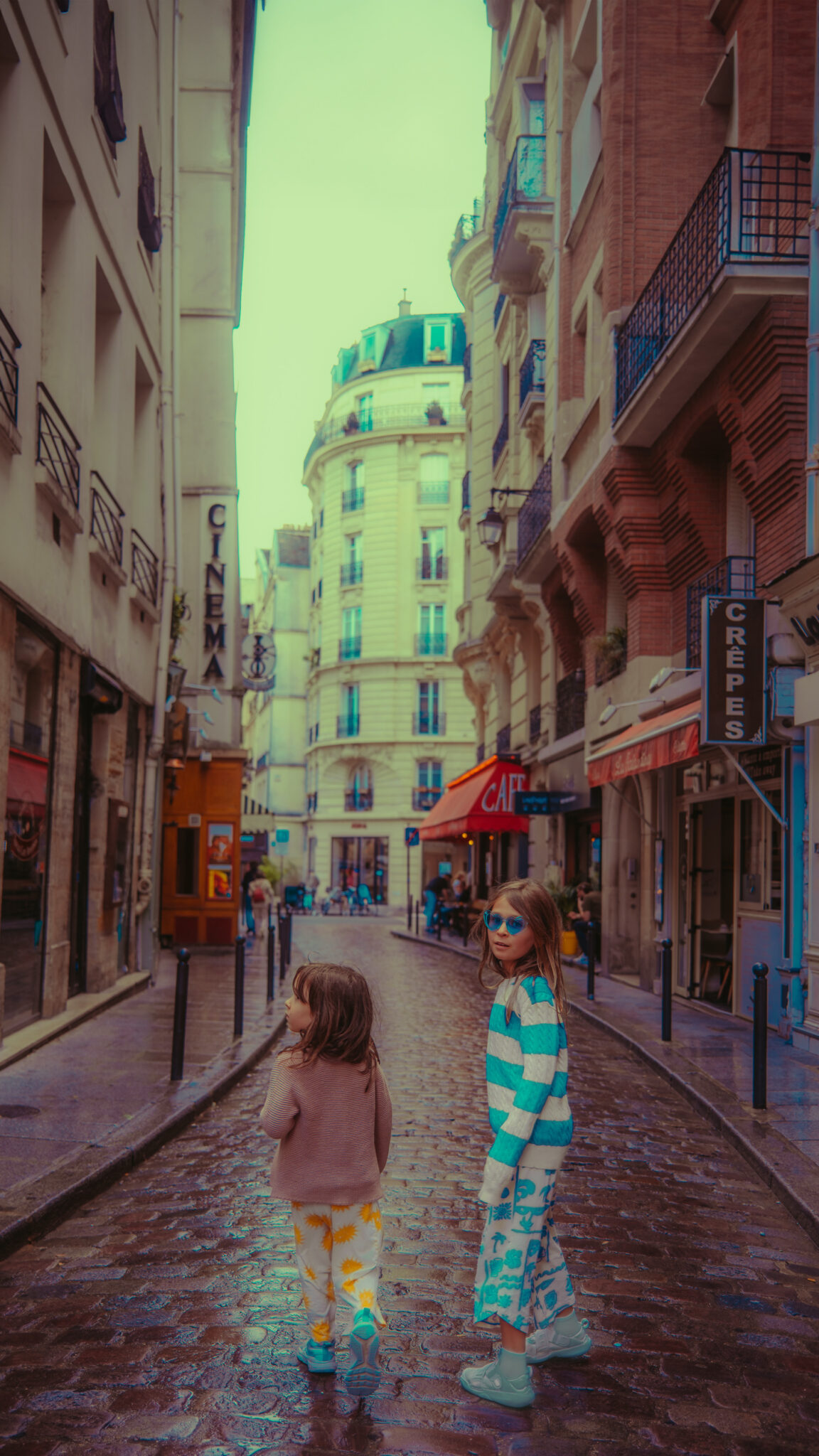 HOTELS:
Back in the spring of last year (2022) we stayed in the 6th (Saint Germain) and loved it so much. It's quaint, although lively and bustling at all hours, and filled with charming shops and restaurants, historic buildings with big colorful doors and cobblestone streets.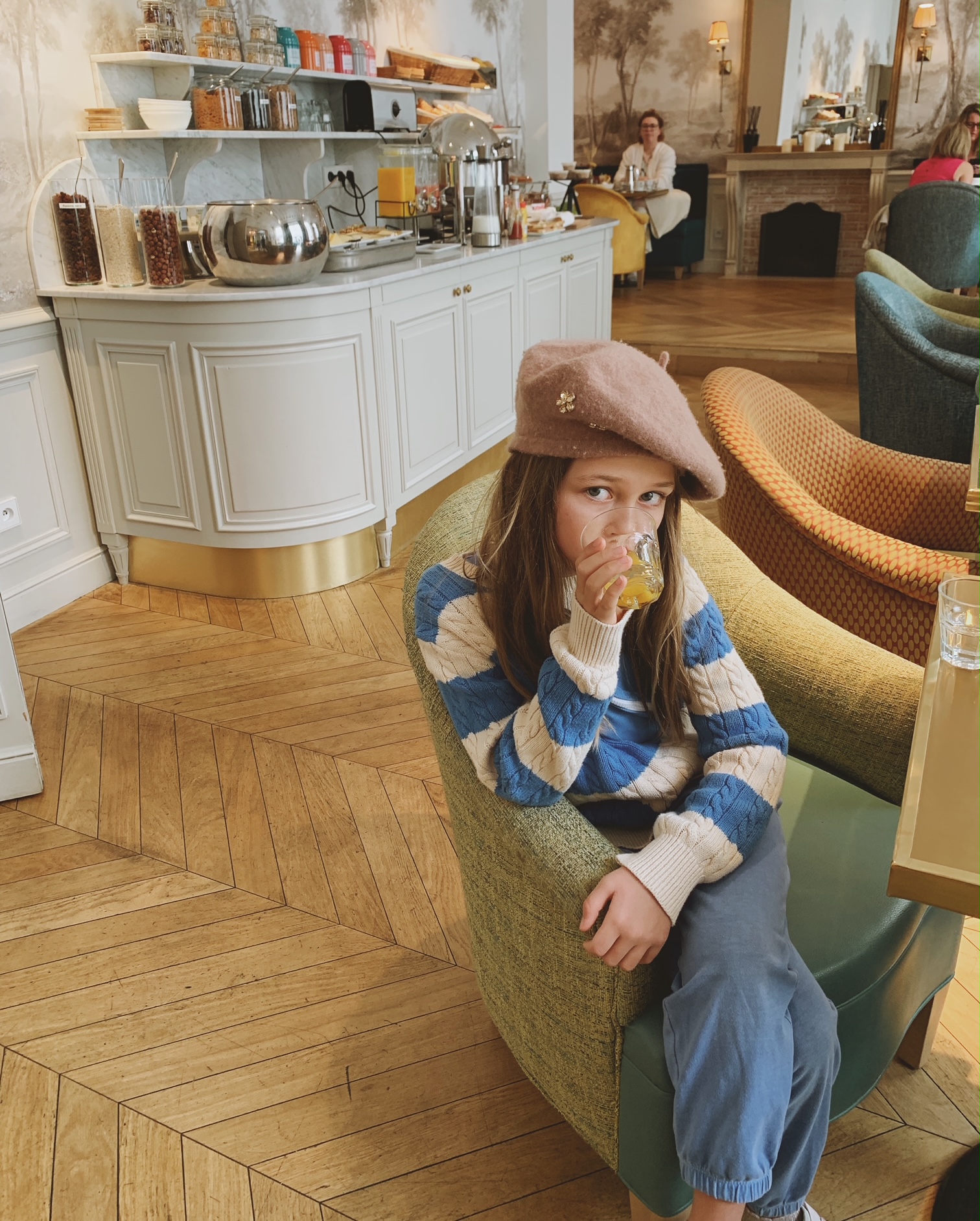 Most European hotels do not allow more than two people in one hotel room, so we knew we would need to book adjoining rooms or a family suite. I found a spot in a great location and booked a Family Room that said it was two rooms and would accommodate four people at Hotel Odeon (the lobby is pictured above). It turns out it was just two separate rooms, not adjoining, so something to be mindful of when you're booking a hotel room in Paris. This is where we stayed the first part of the trip. Besides the room situation, I would recommend this place. The location was wonderfully walkable and on a street that dead ended at the Odeon Theatre. It was full of quaint bookstores and across the street from the delicious Le Comptoir du Relais.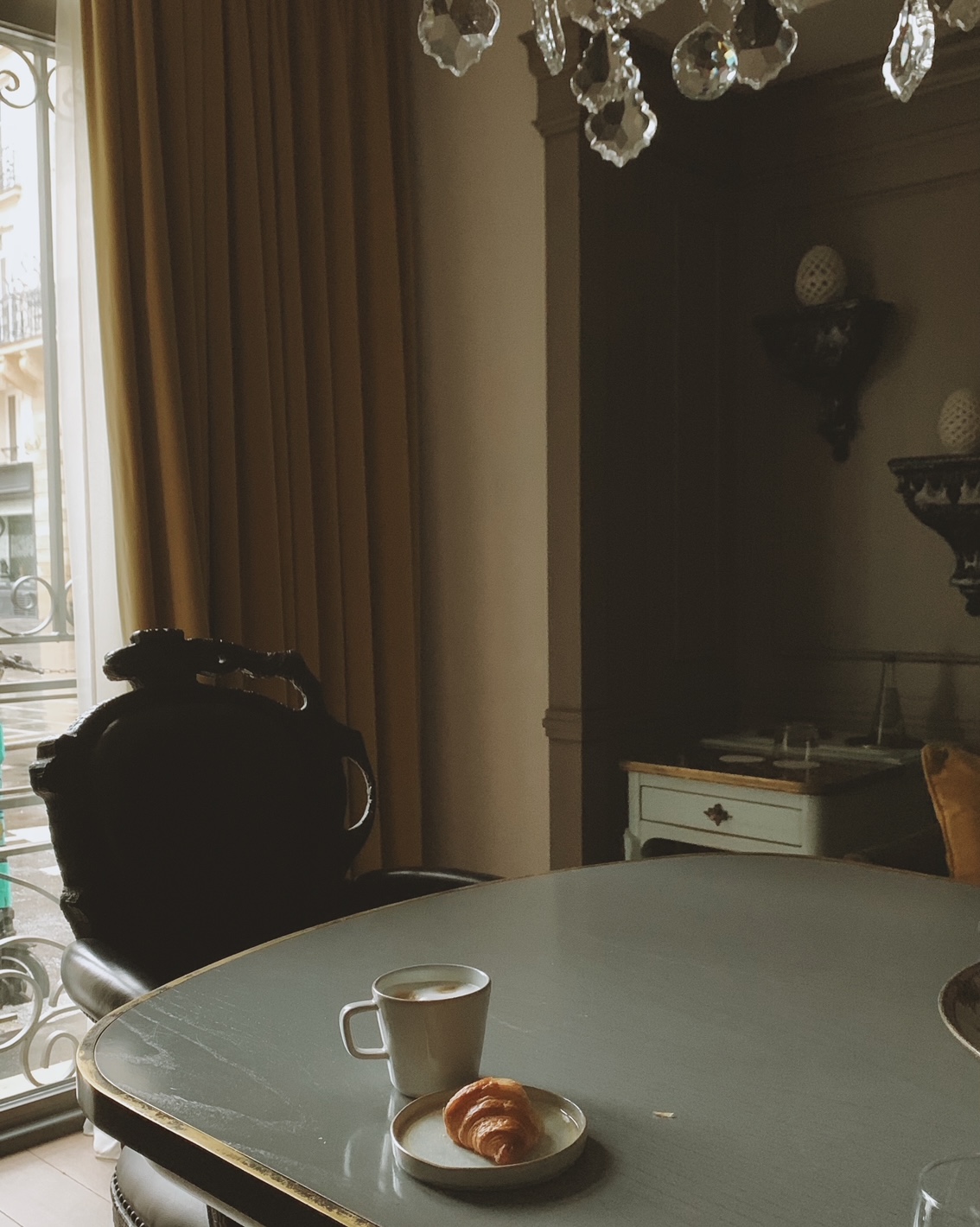 La Maison Favart
Our hotel (pictured above) when we arrived back in Paris for our last two nights, Maison Favart, was the opposite scenario! We had the most amazing two bedroom apartment complete with two bath tubs, a living room and a full dining table. It felt so luxurious and was in the 2nd arrondissement which felt very quiet and local. As much as we love hanging out in the 6th, there was something we really loved about this quieter neighborhood that was more central to everything on the Right Bank. Special thanks to Claire from Where Next Adventures for finding this perfect spot for our return to Paris!
I said when we left Paris last time that if we came back with the kids I would book an AirBNB, but gosh I do love hotels. That said, it's much more affordable to book an AidBNB as a family as opposed to two hotel rooms. Just be aware that many places do not have air conditioning if you're traveling in late summer.
Much to the delight of these Texans, we had wonderfully cool weather and found ourselves in sweaters most days.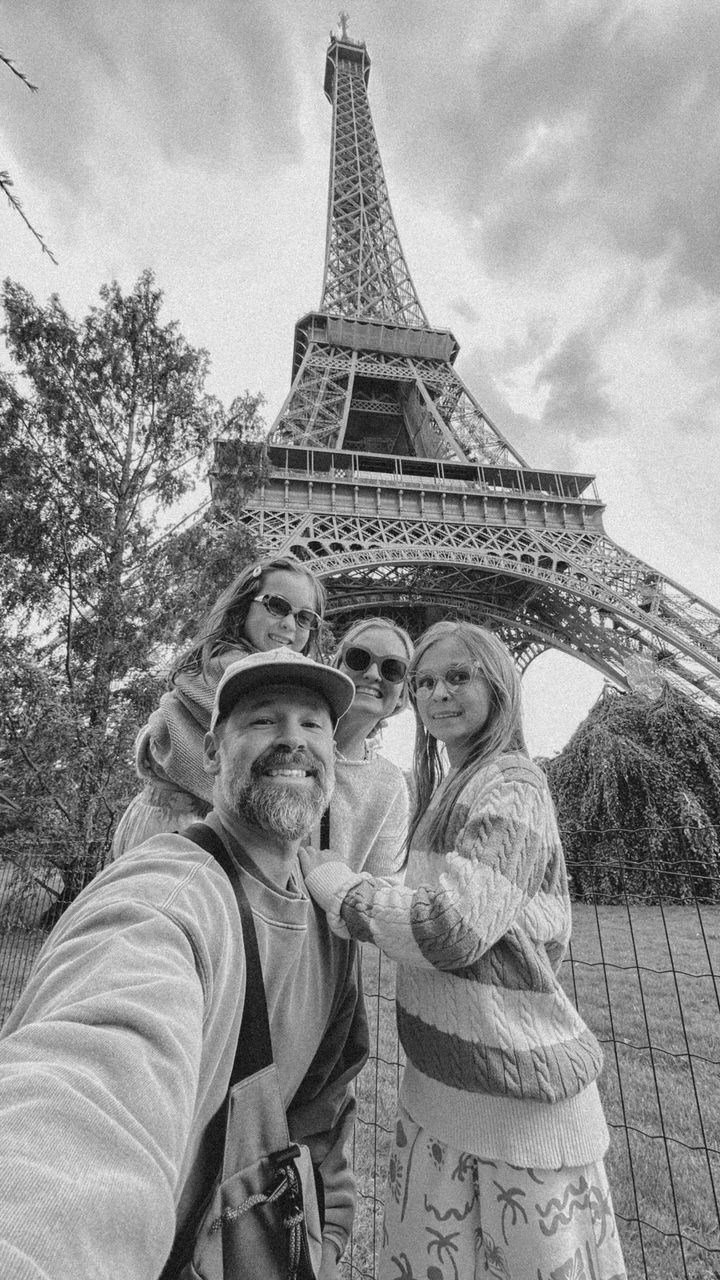 ACTIVITIES:
The two things the kids were most excited about were the Eiffel Tower and the Louvre. You should book tickets in advance for the Eiffel Tower otherwise you'll have to wait in line for hours. You can book those skip-the-line tours, but they're pricey and not necessary if you just book in advance.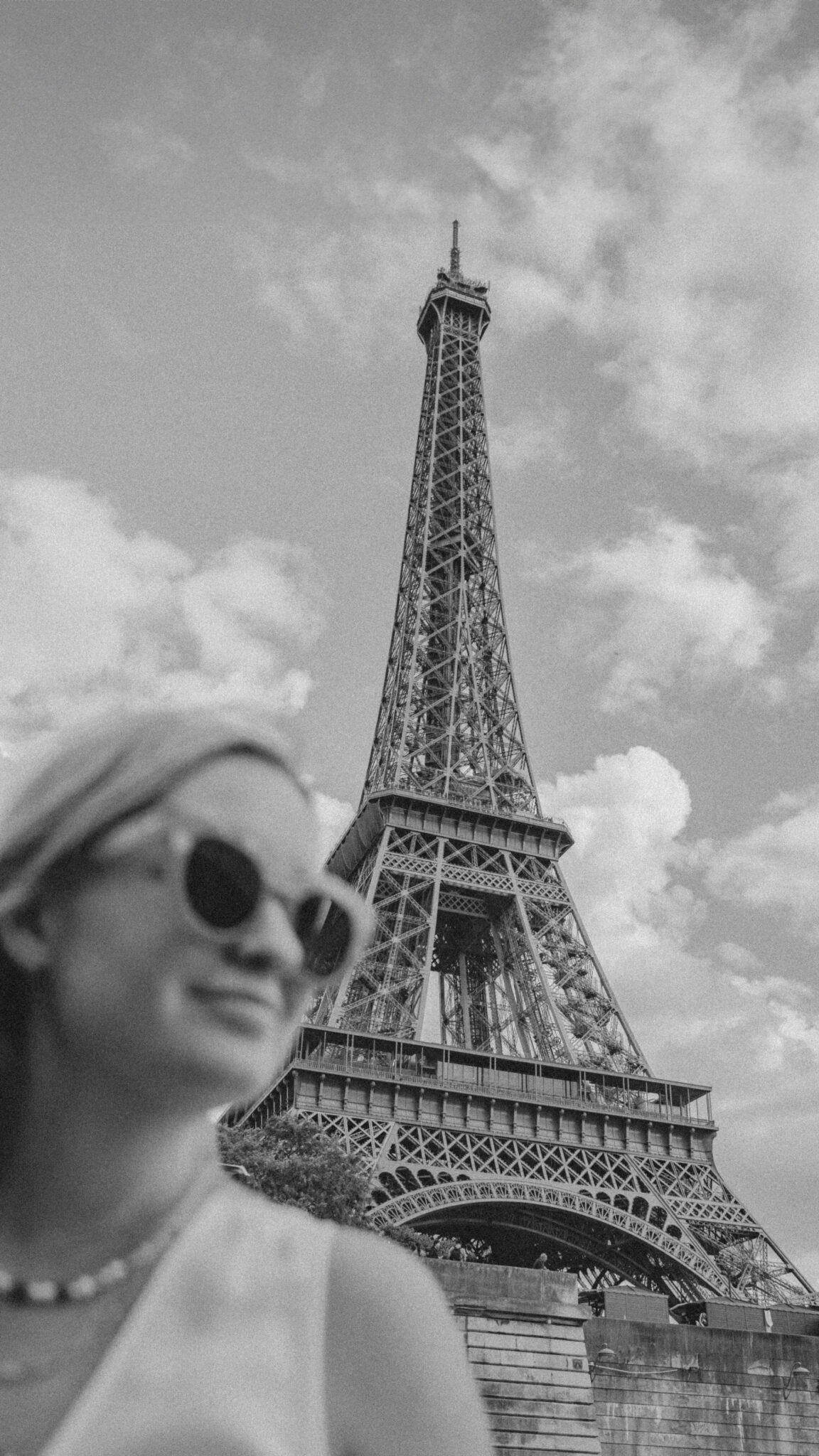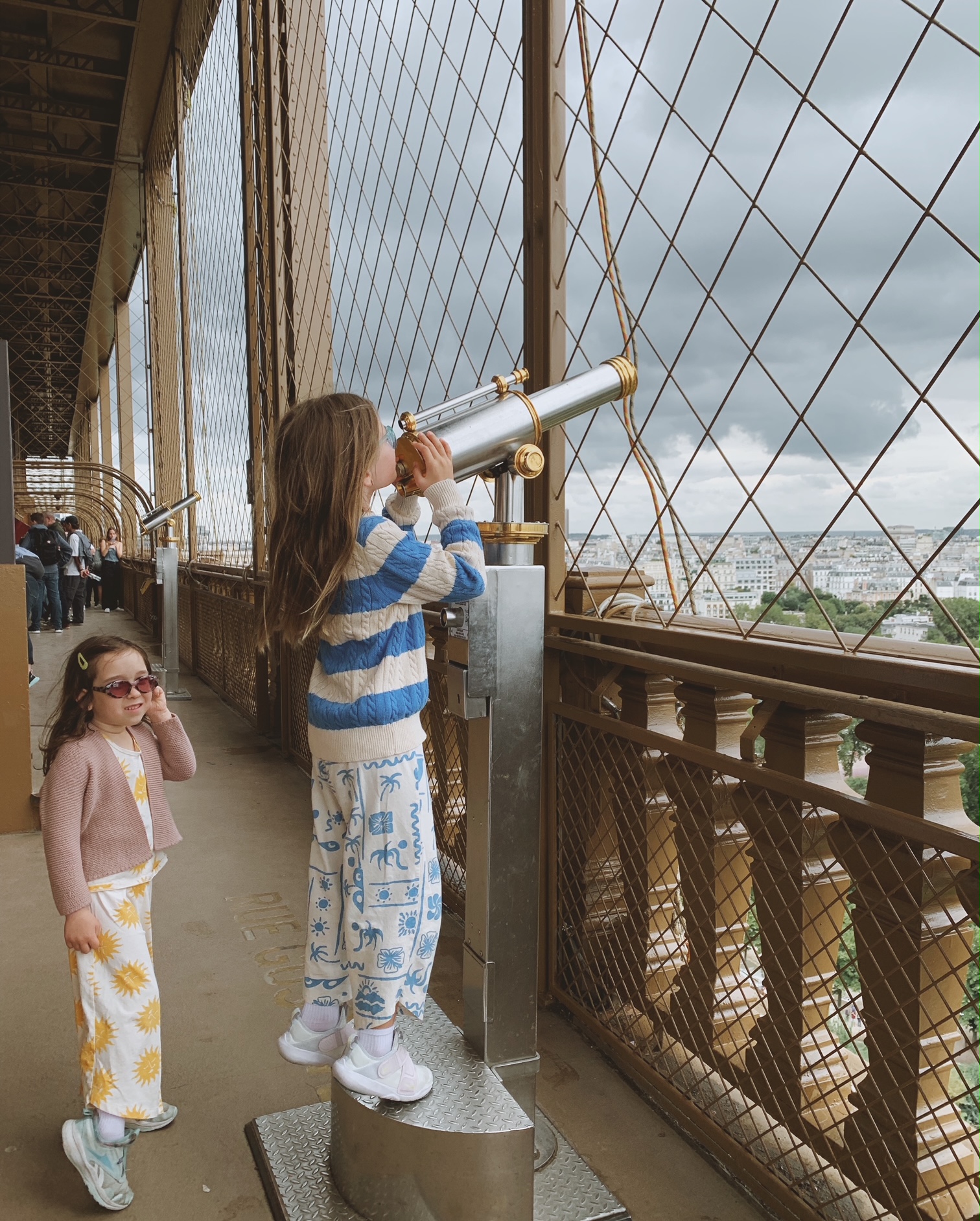 Our First Day in Paris with Kids
We did the Eiffel Tower first thing after we landed. Well, we dropped our bags off at the hotel and had lobster rolls at Homer Lobster. Not very Parisian at all, but they're delicious– we had them last time– and they're quick and convenient. For the Eiffel Tower we had stair tickets so we climbed a million stairs and my calves were sore for days! Ha! After, we rode the carousel right there at the Pont d'lena and then crossed over the bridge and played at a small park there for a minute. It's the Jardin d'enfants at Trocadero Garden. Afterwards we walked to Carette at Place du Trocadero for their famous hot chocolate with whipped cream– not to be missed! Afterwards, we walked back to Saint Germain, had dinner at Le Comptoir du Relais and were asleep by 7p. I was armed with melatonin gummies on my nightstand should a child have awoken wide-eyed at midnight, but much to our delight we all slept 12+ hours and awoke the next morning.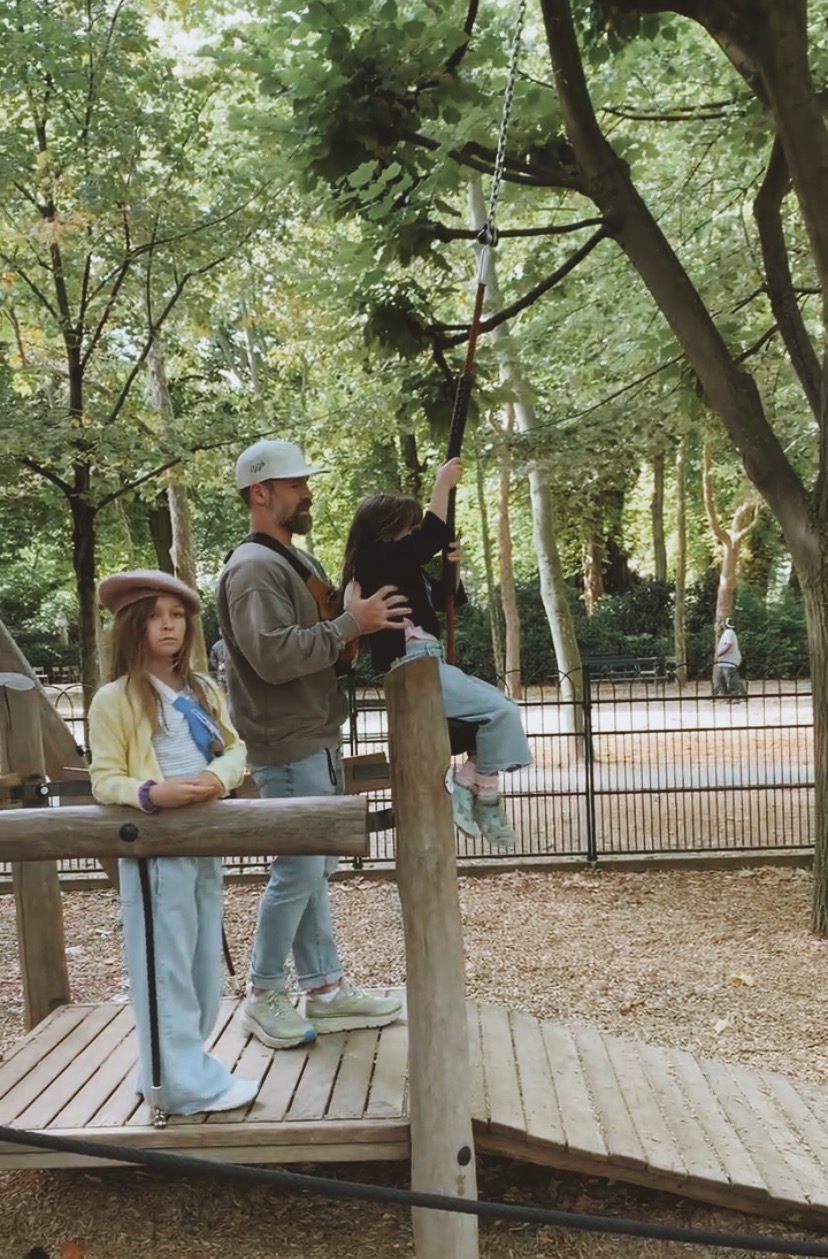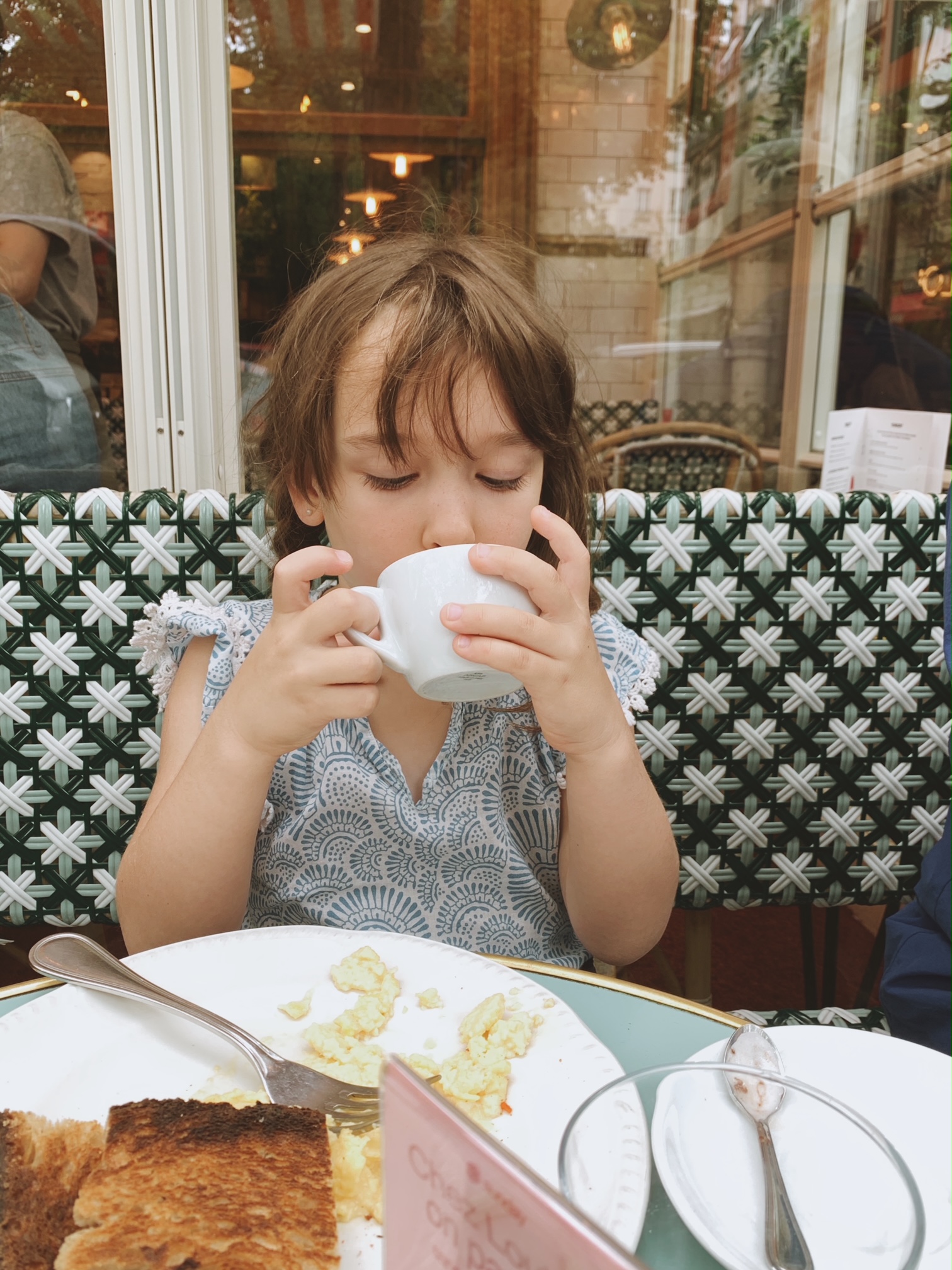 Day 2: Paris with Kids
We started the next day with coffee and croissants from Cafe Malongo and then a walk to the Luxembourg Garden to play at the playground which did not disappoint. It costs a couple of euros and they're not open all hours, just two things to be aware of if you're planning a trip. The girls particularly loved the zip line! After, we picked up new art supplies from Rougier & Plé– colored pencils, leather pencil bags and small journals that all fit into their fanny packs. They were so useful to have at restaurants over the course of the trip! Next we had breakfast at Loulou's– 10/10 recommend for charm and delicious breakfast and coffee.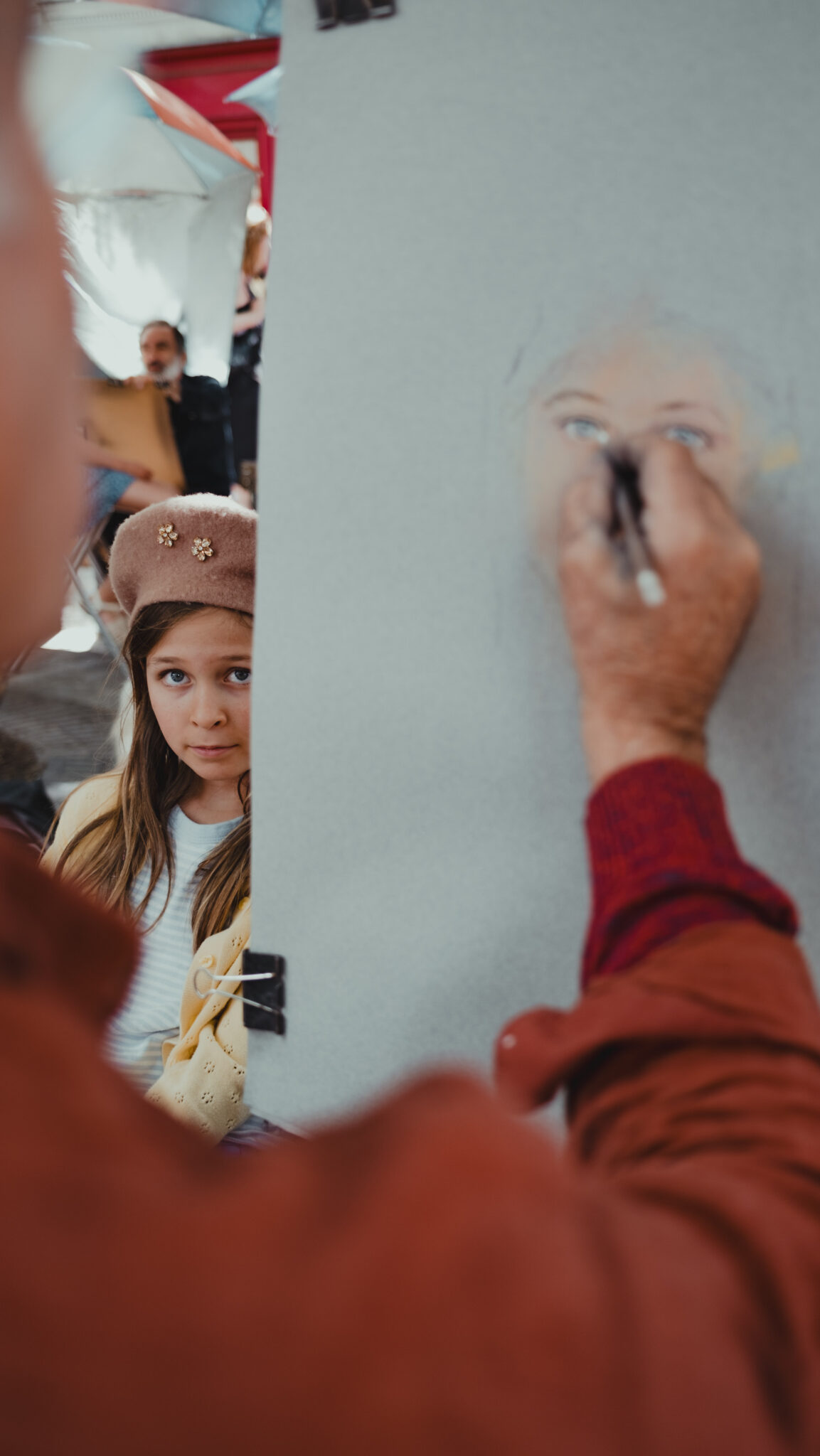 Visiting Montmartre
After that we took an Uber to Montmartre and started on the walking tour that I downloaded from Zoe at The Petite Guide. Our time in Montmartre was some of the best and most memorable of the entire trip! We didn't plan to have the kids portraits done there, but we did and it was such an experience. Each girl chose their artist– there are so many different styles and mediums on display– so their portraits are very different, which I love! They run between 80-100 euros.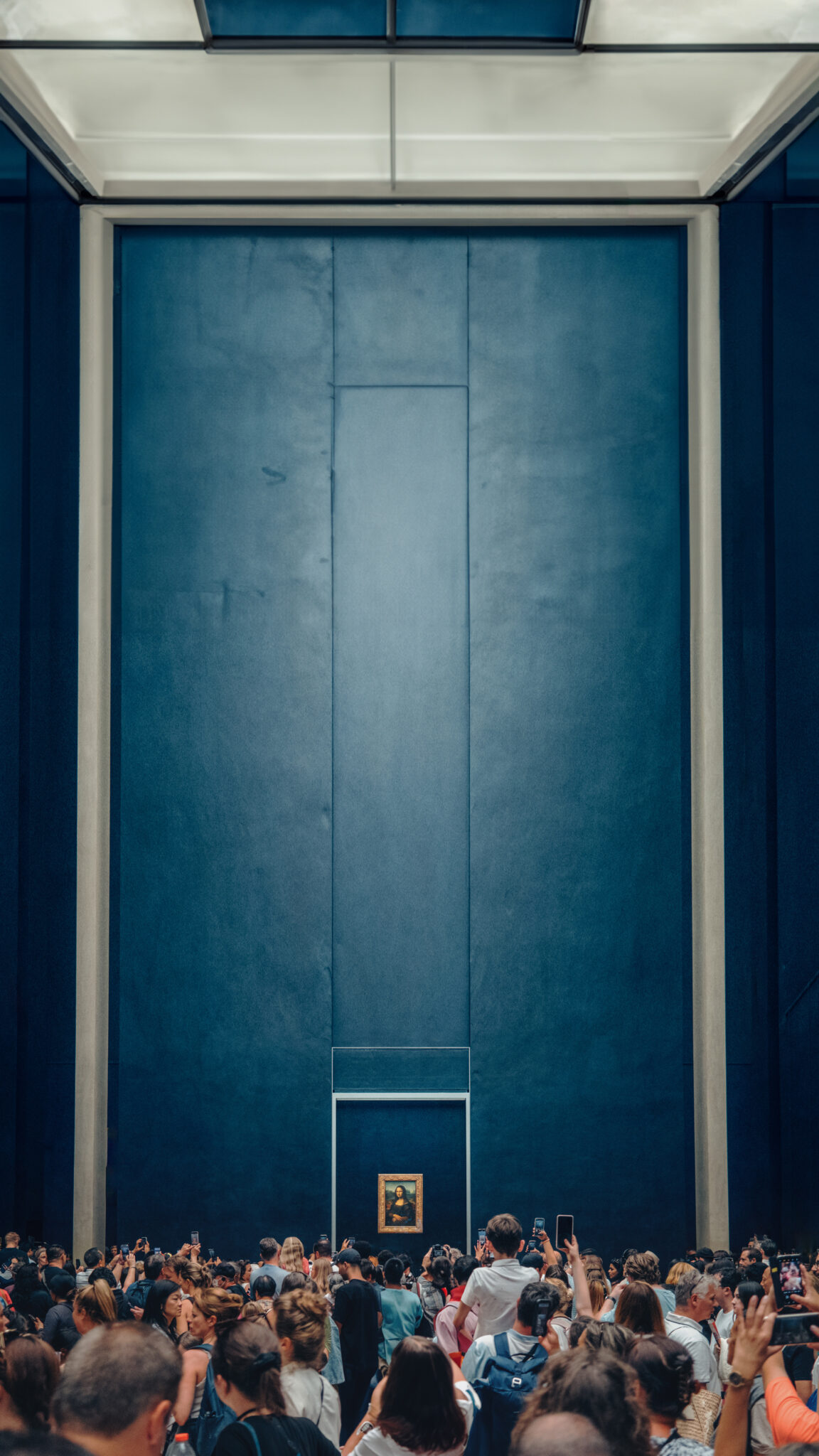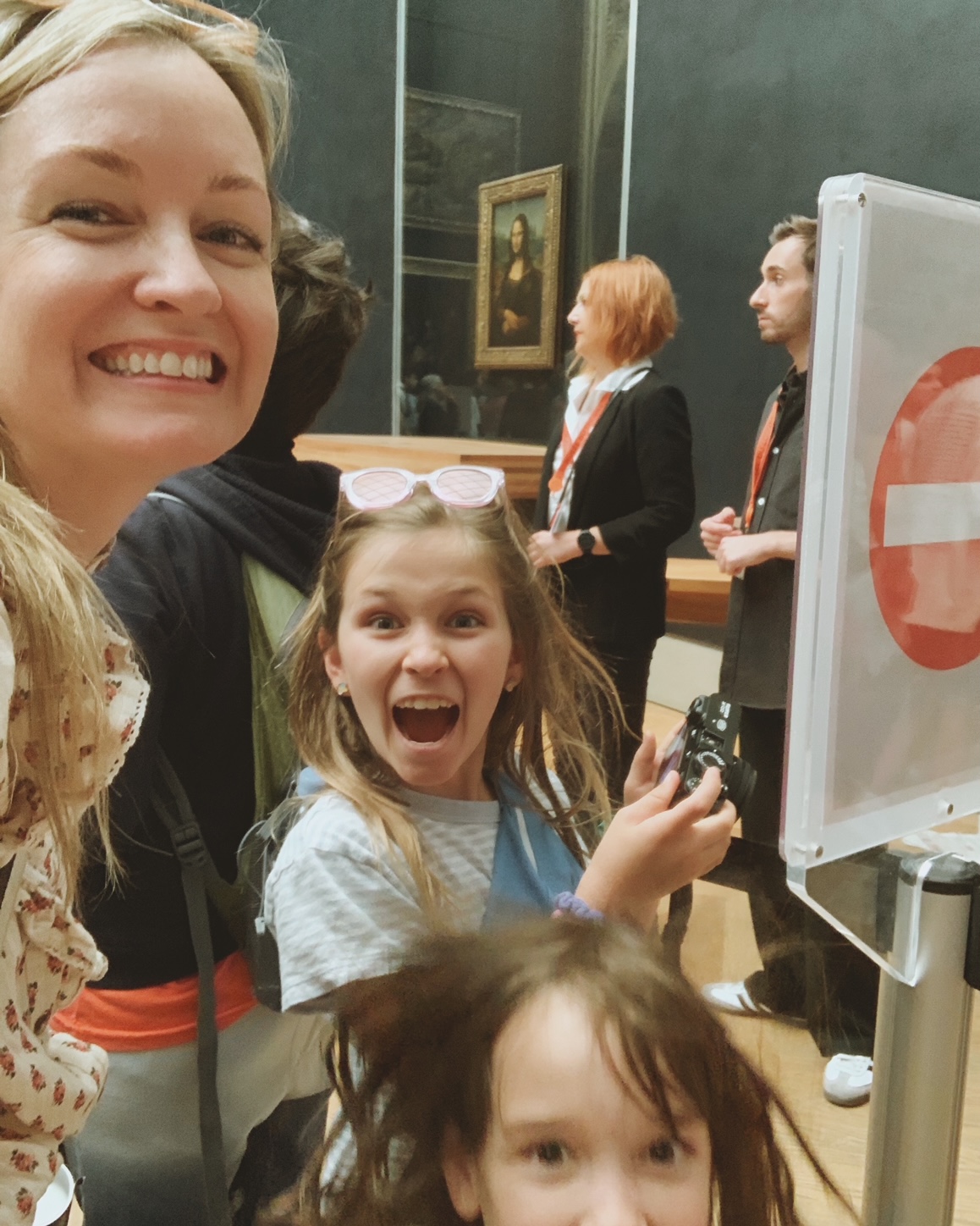 Visiting the Louvre and the only Louvre Entrance You Need to Know About
Next, we headed to the Louvre. I still don't exactly understand what happened to us at the Louvre but it was magic! We went to the Carousel entrance which we heard was better than the pyramid entrance but the line was still many hours long, even with having pre-purchased our tickets with an assigned entrance time. In the moment, we decided it wasn't worth it and that we just wouldn't get to it this trip. We were leaving the tuilleries and stumbled upon the Port des Lions entrance. It almost seemed like an employee entrance? You can't enter with a large bag or helmet as there are no lockers and you must have pre-purchased your ticket, but there was not a single other person in line. It kept feeling too good to be true but we turned a corner and there was the Mona Lisa!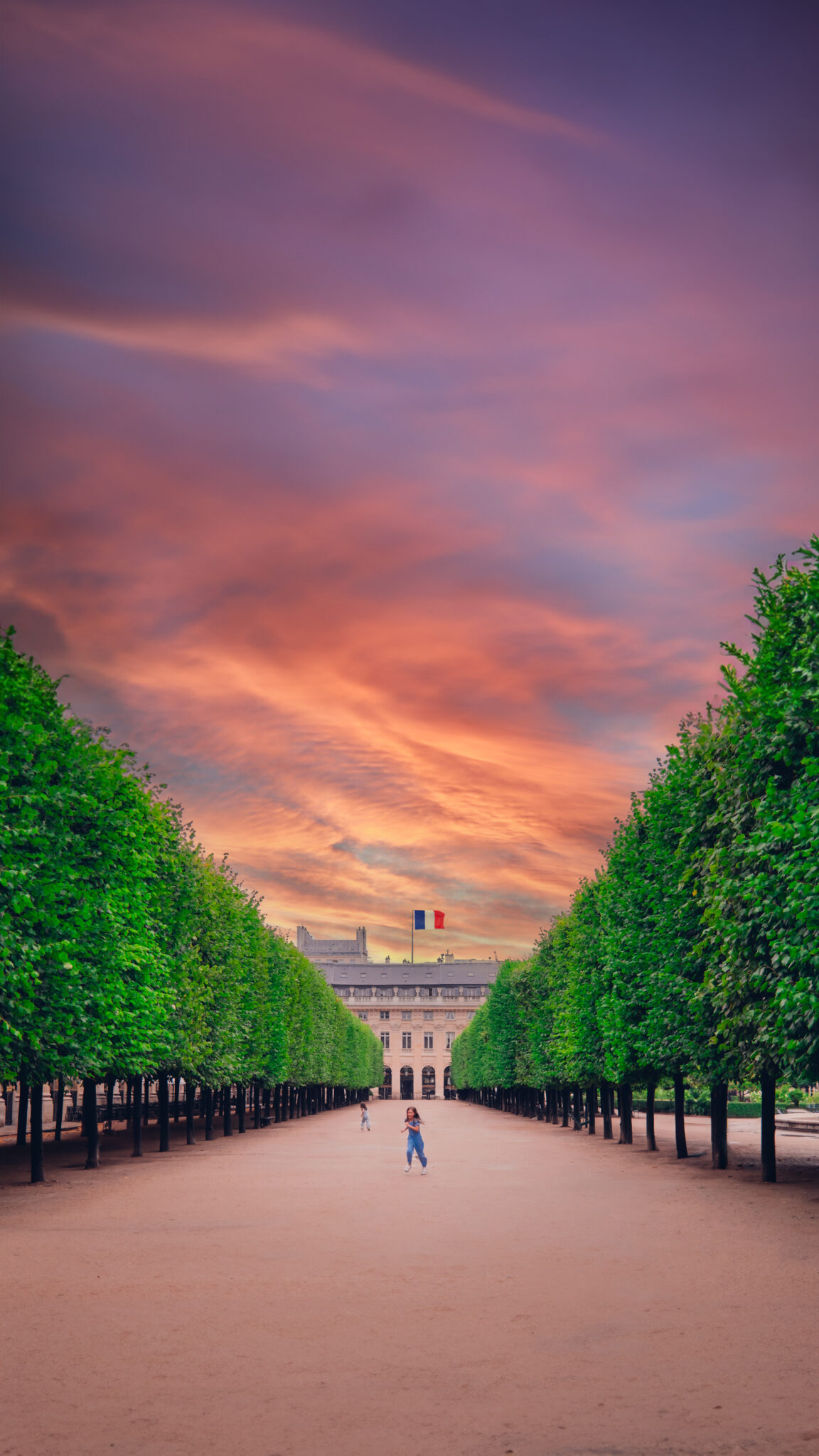 We grabbed Cafe Kitsune for coffee afterwards and meandered through the Palais Royale. It was a spectacular day!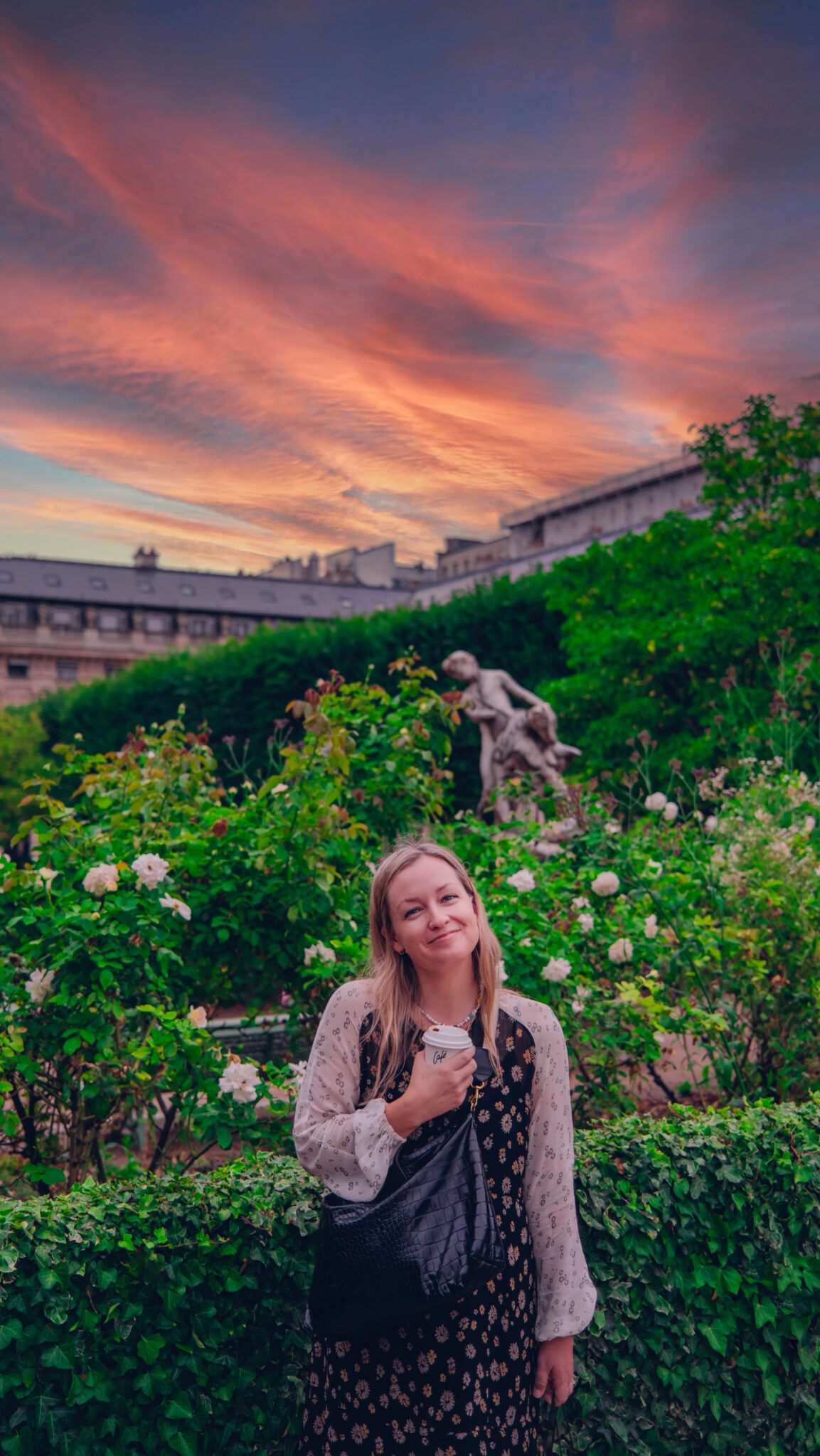 I start to lose track of my days and itineraries here, but here are a few other things that we did and loved:
Paris Art Museums with Kids
I called this trip the Greatest Hits Art Tour of Paris. We didn't stop on every floor or bother with the audio guides. We found the most recognizable and iconic pieces and plotted our path between them. One morning we started at the Musée de l'Orangerie 15 minutes before they opened. They open an hour before the D'Orsay– just a 10 minute walk away through the Tuileries– so we were among the first people inside the l'Orangerie to see Monet's inspired water lily paintings in the two expansive rooms. It is such a must-see if you can get there before the crowds! It was raining so our dreamy walk through the Tuileries became an Uber ride between museums. Once in the D'Orsay, we went straight to the 5th floor for more Monet, Manet, Cezanne, Dega and, most importantly for our budding artist, Van Gogh's Starry Night. We were able to do both museums in less than an hour and a half.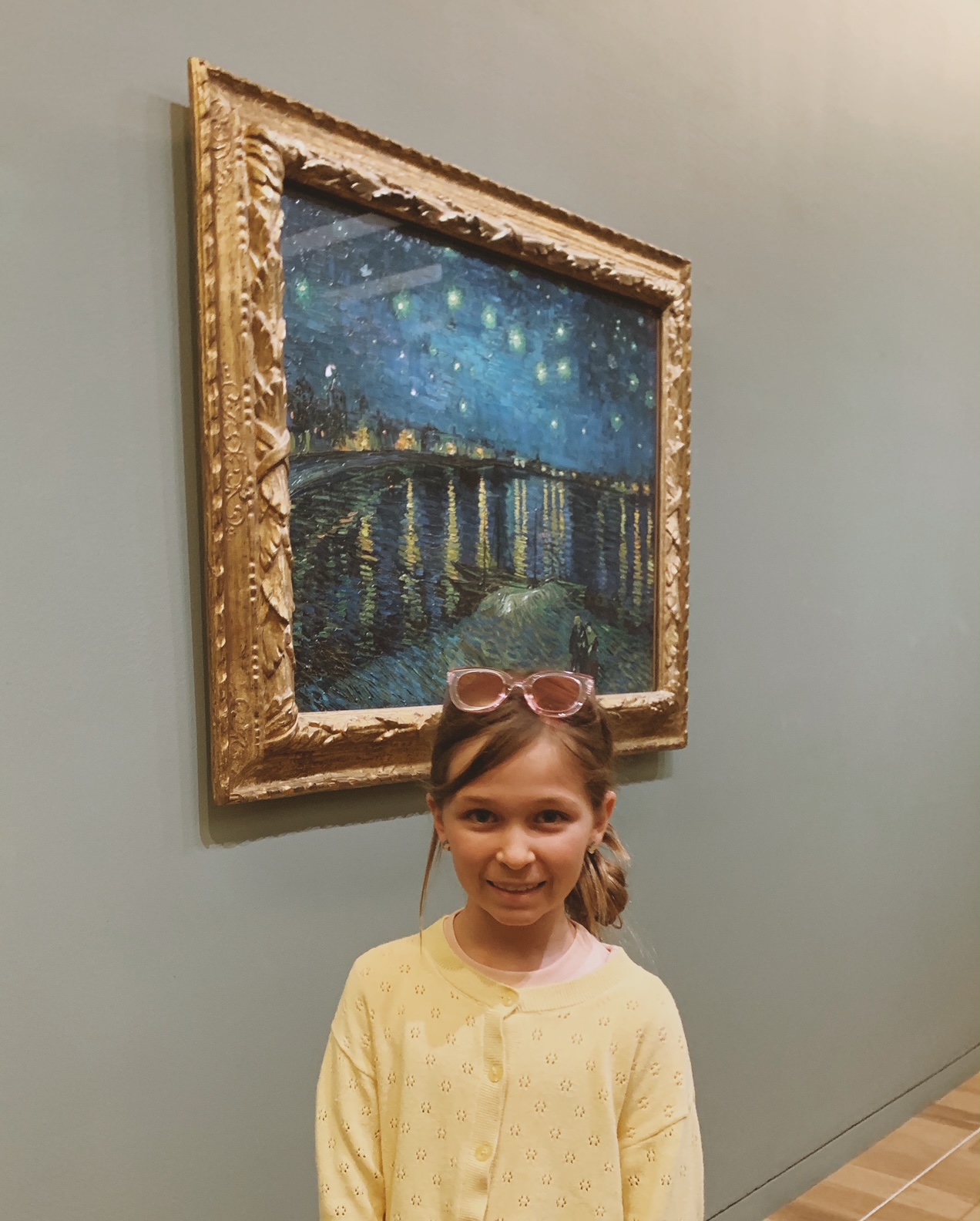 Centre Pompidou and the Children's Exhibit
On a separate day we did Centre Pompidou where Parker saw her first Frida Kahlo in person, among incredible other works. There is a children's exhibition on the second floor where kids could manipulate these foam pieces into their own structures. The exhibition changes every six months and was very cool and fun for them. There's a small chapel next door that we wandered into while we were waiting for our entrance time at Centre Pompidou and it was very beautiful. To note, you really have to have tickets and entrance times for almost everything right now in Paris. Centre Pompidou was the only place that really enforced the entrance time. We were early, not sure if it would have mattered if we had been late.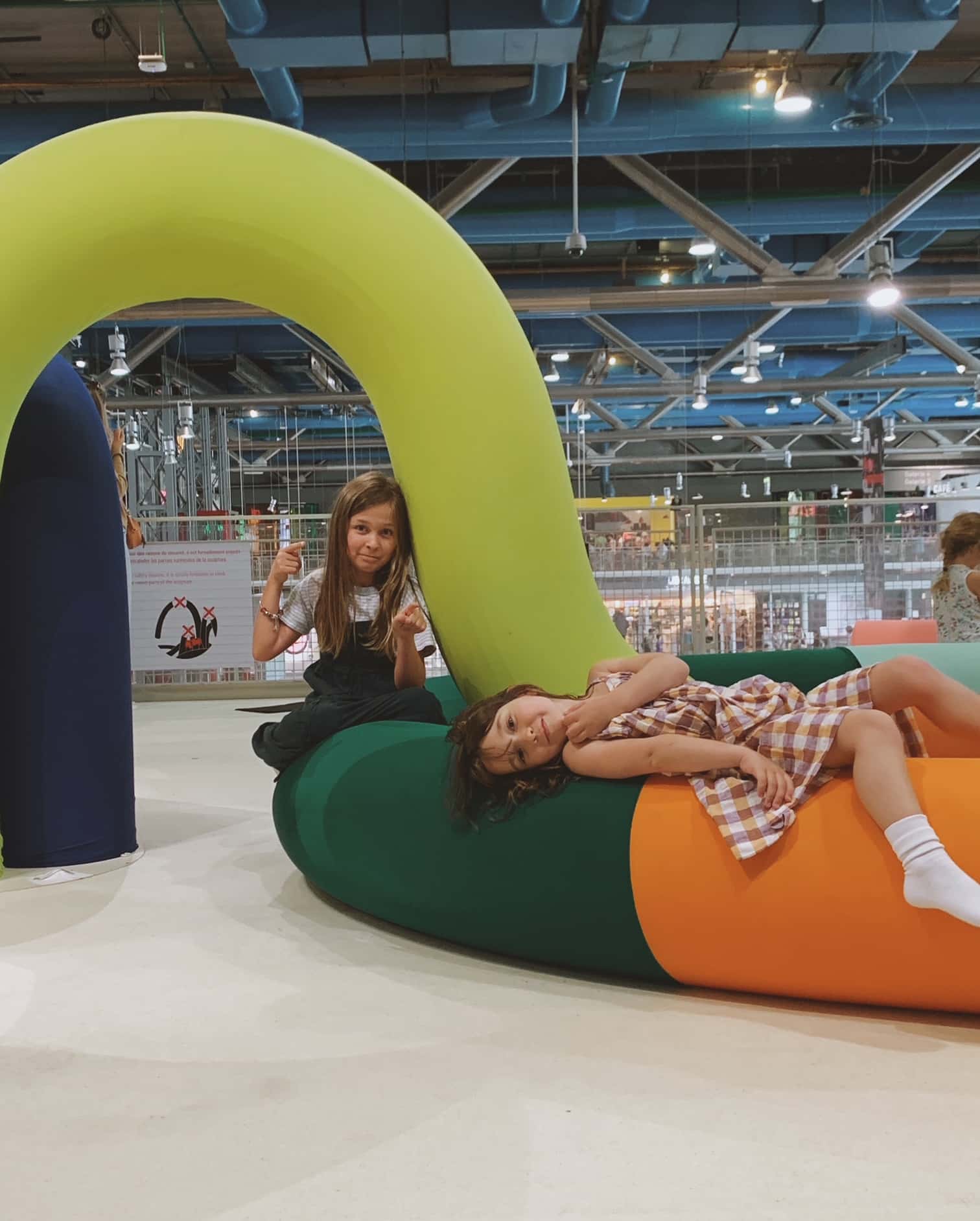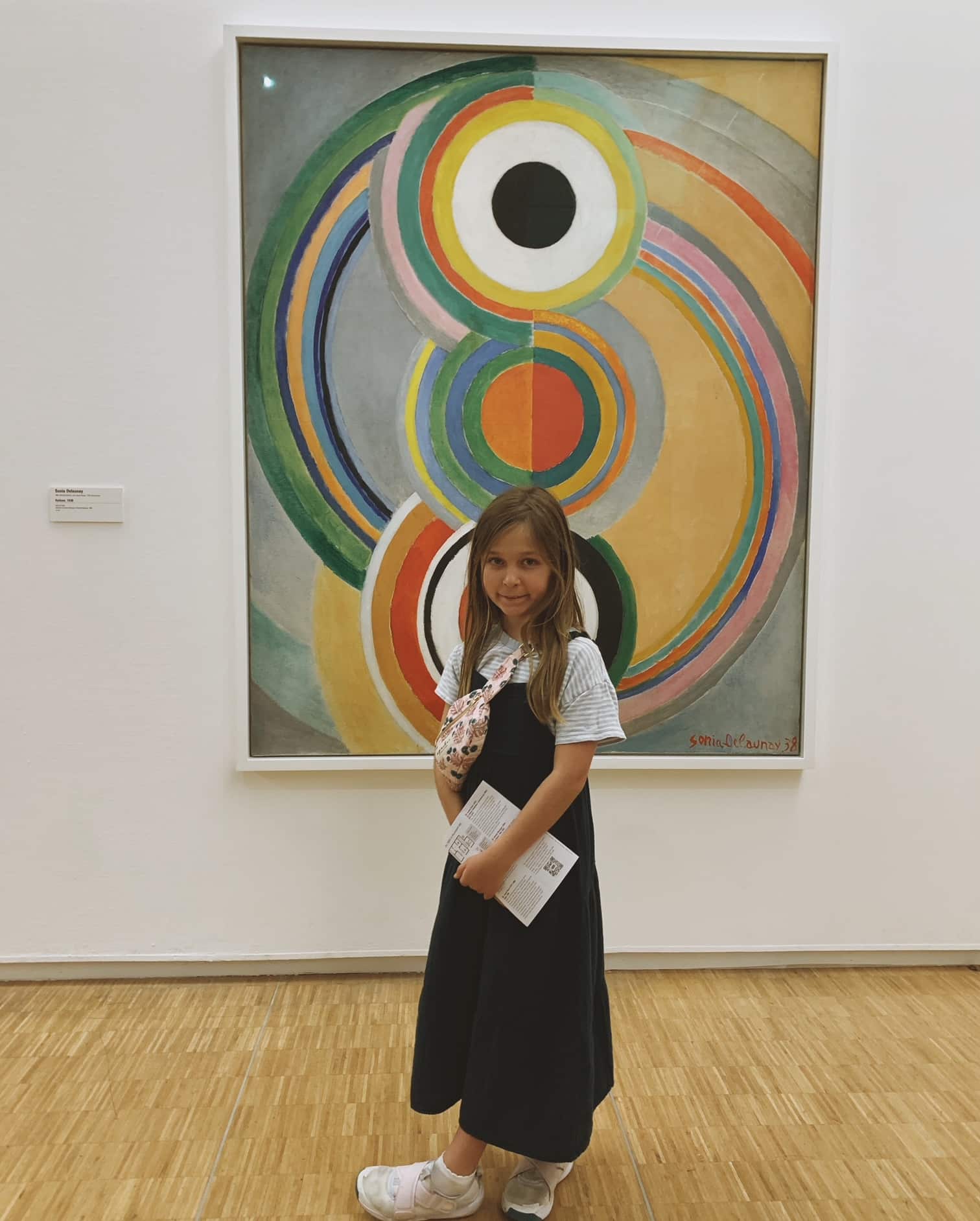 We spent a couple of hours one evening at the carnival in the Tuilleries doing everything from riding the ferris wheel to playing classic arcade games and letting the girls ride this little mini roller coaster. Aaron and the girls went through one of those fun house/maze type things and had the best time! The girls had cotton candy and so much fun!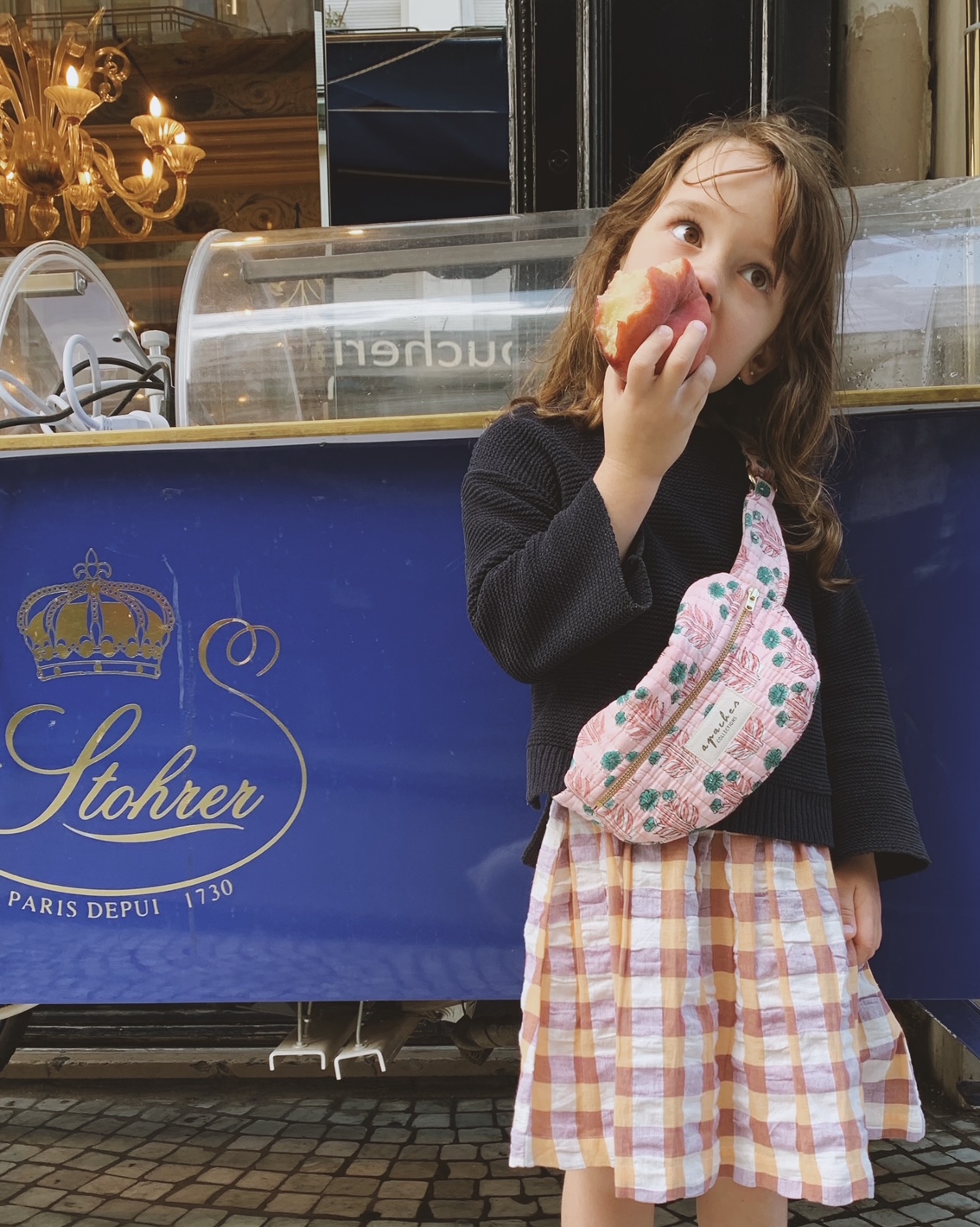 Don't Miss Rue Montorgueil
One morning, on our way to Centre Pompidou, we just happened to pass by Rue Montorgueil. Once we started down the cobblestone street, I realized that I knew this rue from past recommendations. It was a paradise of food shops and market stands. The girls picked out the juiciest peaches and we marveled at all of the offerings. There was an entire shop devoted to tinned fish. The street was a special sight to behold and would totally recommend making it by here. It's nearby Parisian Cafe Artisanal which was a great spot for hanging out and had delicious coffee and pastries. (Aaron voted this his favorite coffee in Paris, which is high praise for this discerning man!)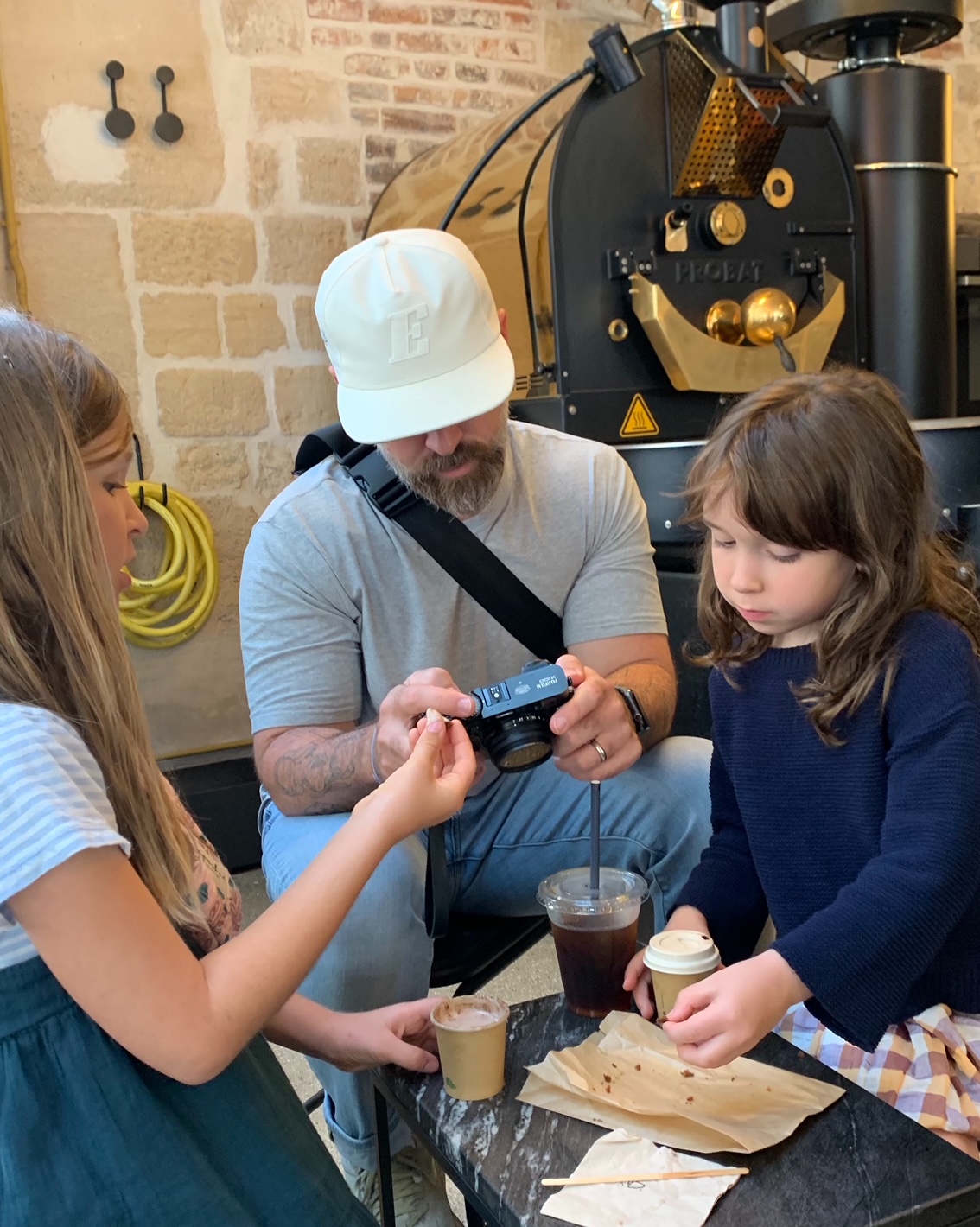 RESTAURANTS WITH A VIEW IN PARIS
There's no shortage of restaurants with a view in Paris. Most of the lists will include some combination of :
Monsieur Bleu
Coco
L'Oiseau Blanc
Girafe
Les Ombres
Le Ciel de Paris
Jules Verne in the Eiffel Tower
Kong
Calife
Georges
New York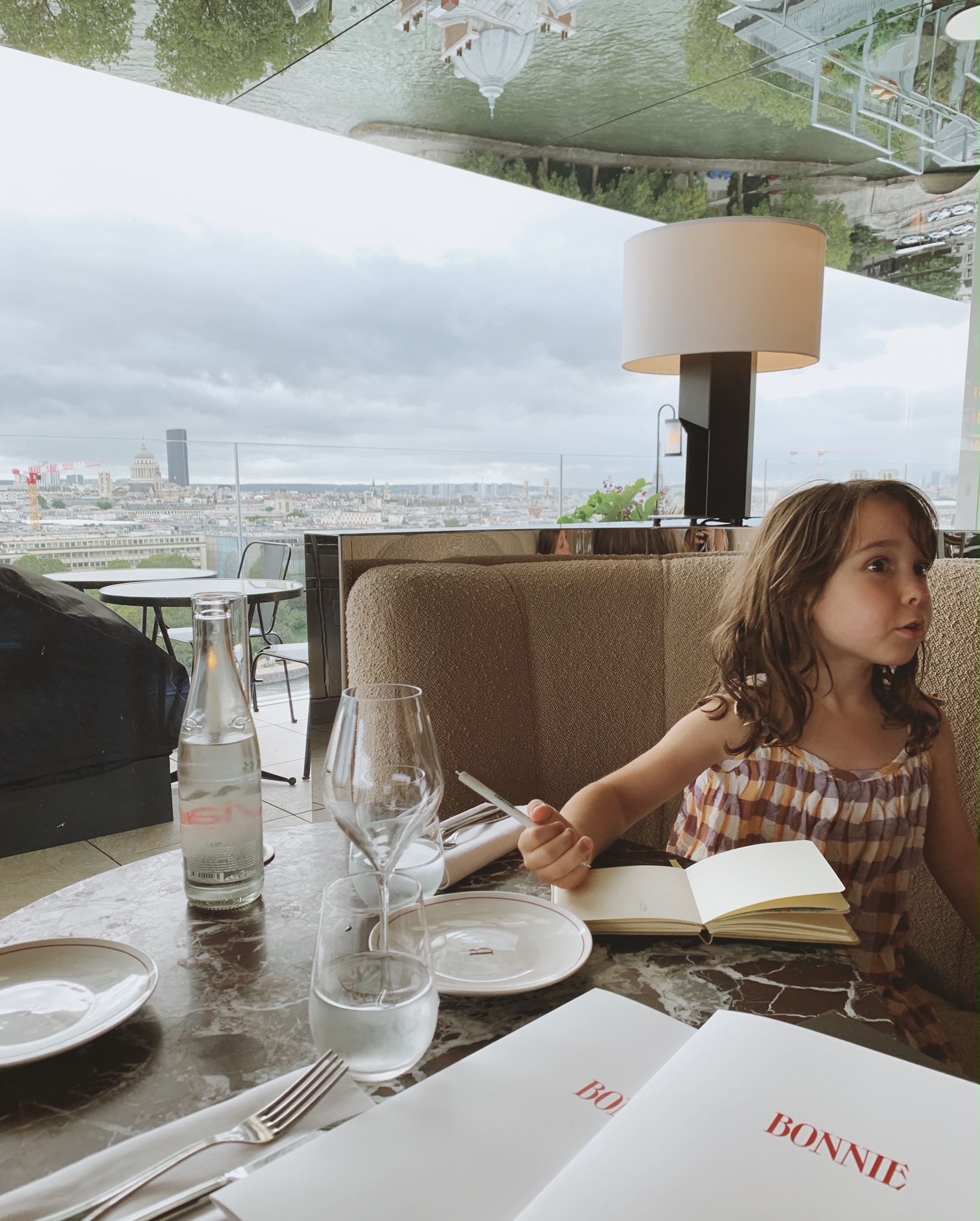 Somehow Bonnie never seems to make the list, but we had the best experience AND the best view! Ever's birthday was just a couple of weeks away and they sang Happy Birthday to her and delivered their take on a frozen snickers bar with a sparkling candle. It was such a core memory! They also served mac and cheese and had boneless fried chicken on the menu. After ten days of steak frites and burgers, it was the perfect last meal.
FANCIEST BATHROOMS IN PARIS
Being in Paris with kids means that you will inevitably see every bathroom in Paris. The good news is some are total showstoppers! I highly recommend using the bathrooms at Le Maurice (robots!) and Hotel Costes (gold swans!). We never had an issue finding a toilet. Even restaurants where we weren't dining would gladly point us in the right direction when I inquired, "où sont les toilettes?"
WALKING WITH KIDS
We tried to walk most places. It's just the most gorgeous city and the best way to take in all of the special details is with a stroll. When the kids would get tired we would either stop and take a break at a nearby cafe, coffee shop or even just a curb (pictured below) or hop in an Uber if we still had a considerable distance to go or were on a timeline. These girls walked between 5-9 miles every day that we were in Paris and were such good sports about it! Pack sneakers!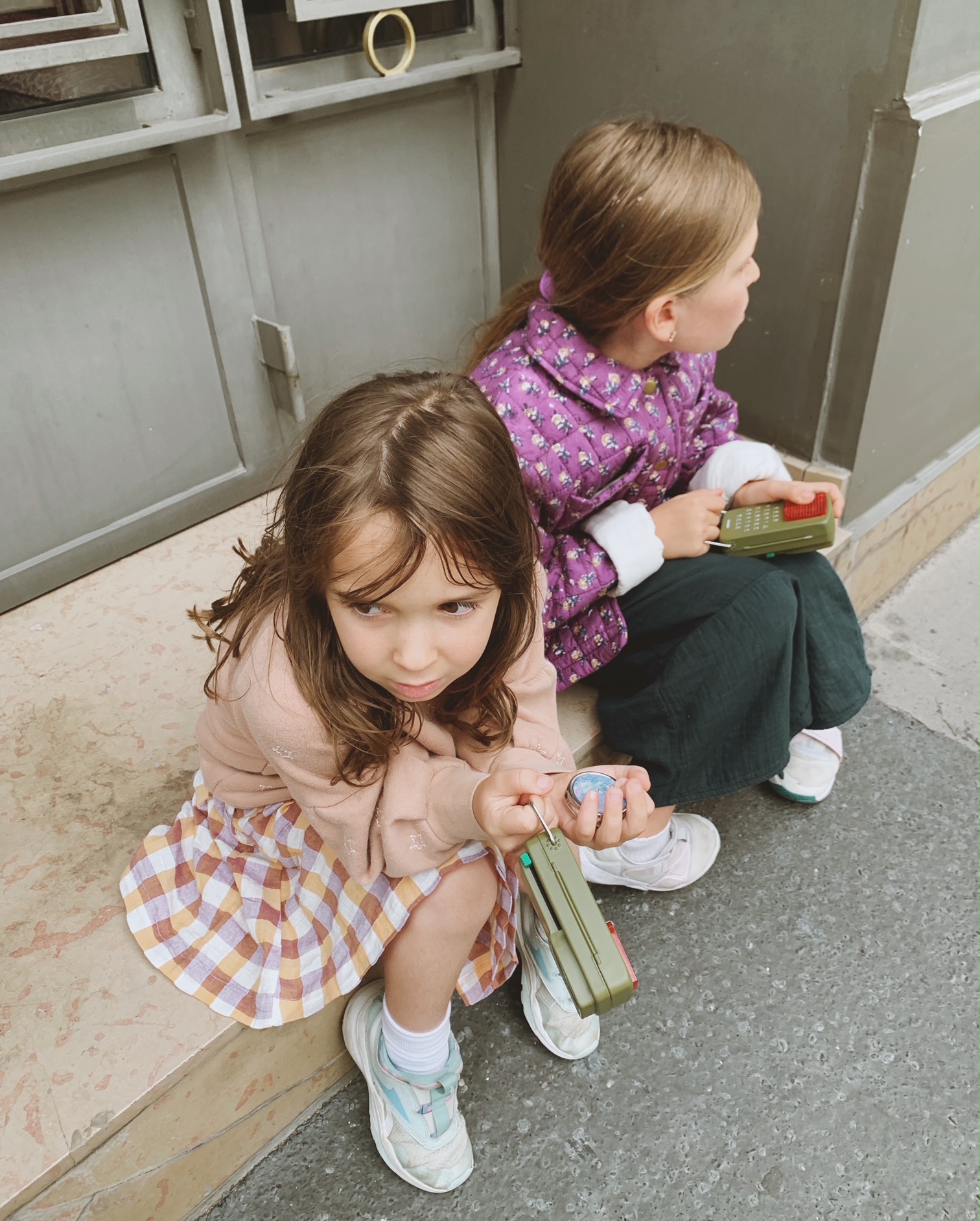 FOOD FOR KIDS IN PARIS
Our kids are typical American eaters, one more adventurous than the other. The great thing about Paris is that you can always find them a cheeseburger and fries! There was one afternoon where we had reservations for a pre-fixe lunch at Les Foodies and I just knew they were not going to be in the mood for a long and lingering lunch so we hopped across the street to Eataly instead. It felt like a betrayal to eat at an American Italian establishment in Paris, but honestly it was great and the kids were so happy. We ended with gelato and took a million pictures in the upstairs photo booth that are now some of my favorite souvenirs.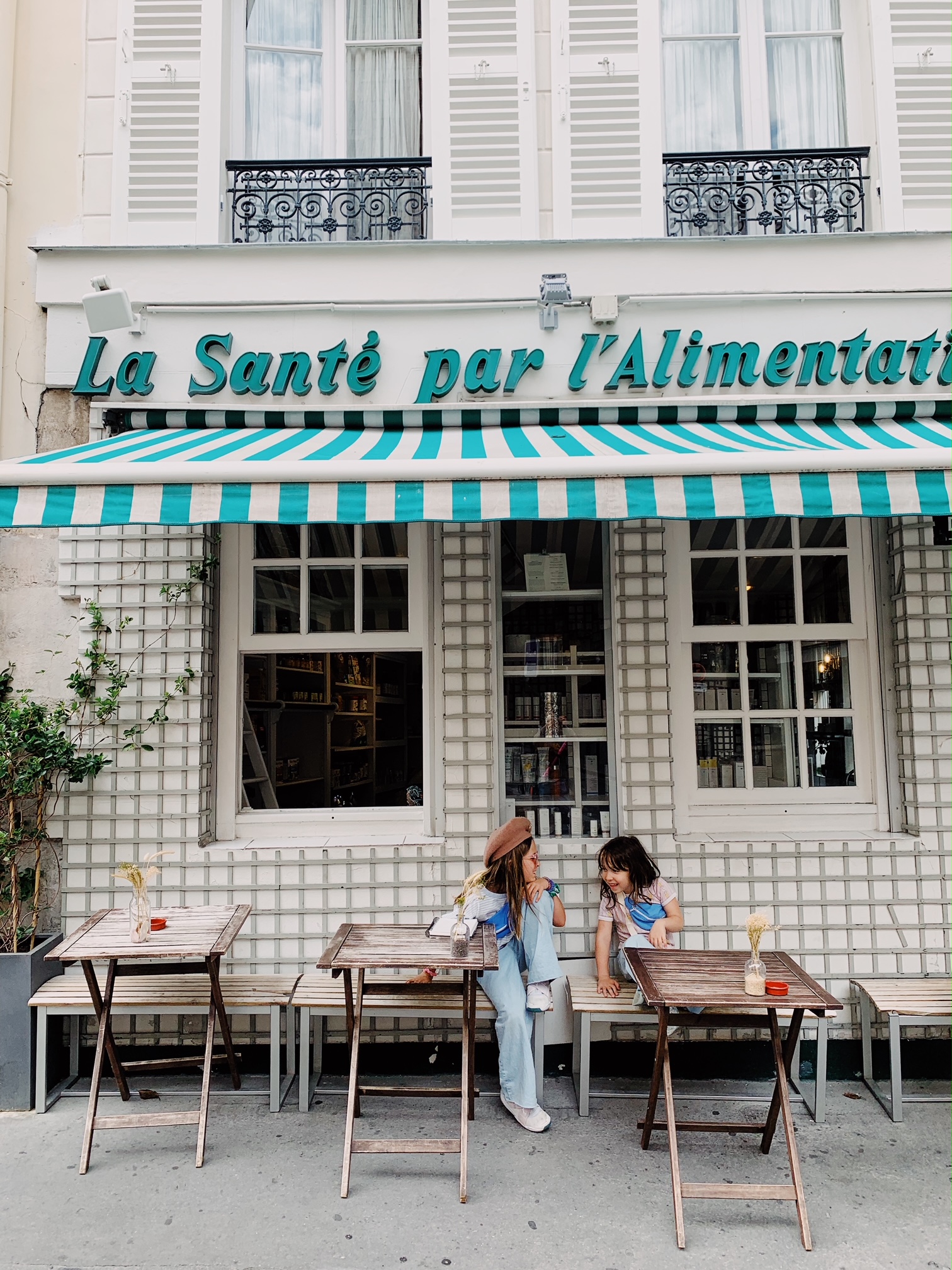 What to See in Paris with Kids:
Eiffel Tower
The Louvre
Luxembourg Garden
Centre Pompidou
Musée de l'Orangerie
Musée d'Orsay
Saint Ouen Flea Market
Montmartre and Sacre Couer
Jardin de Tuileries and the Carnival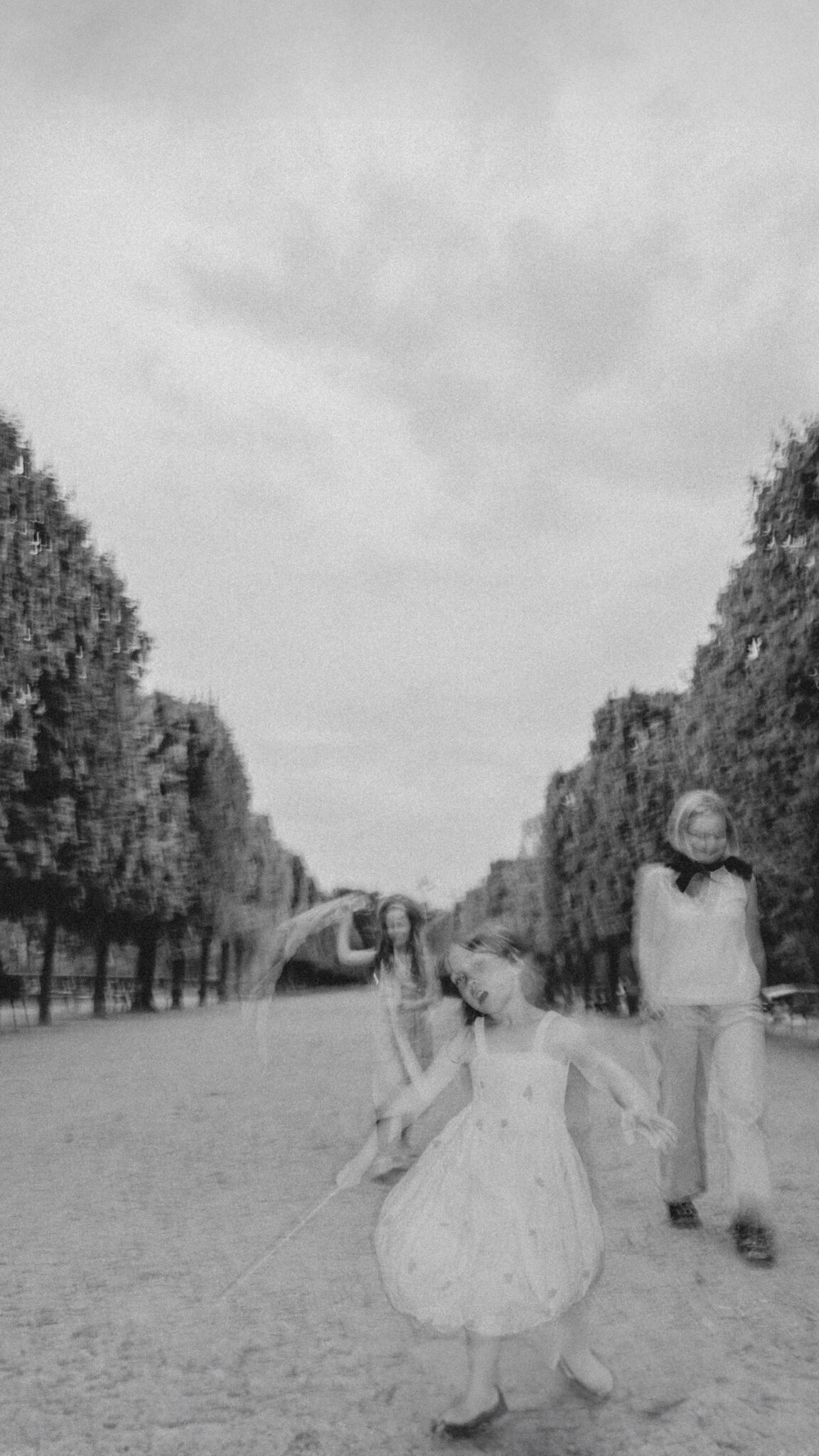 The Best Restaurants and Cafes in Paris:
Square Trousseau
Le Comptoir du Relais
Chez Julien (pictured below)
Kubri or Liza for mediterranean
Mokonuts
Hot Chocolate at Carette
Bonnie
Les foodies
Eataly
Le Bon George
Cafe Francouer
Pain Pain
Breizh Cafe
Pizza Chic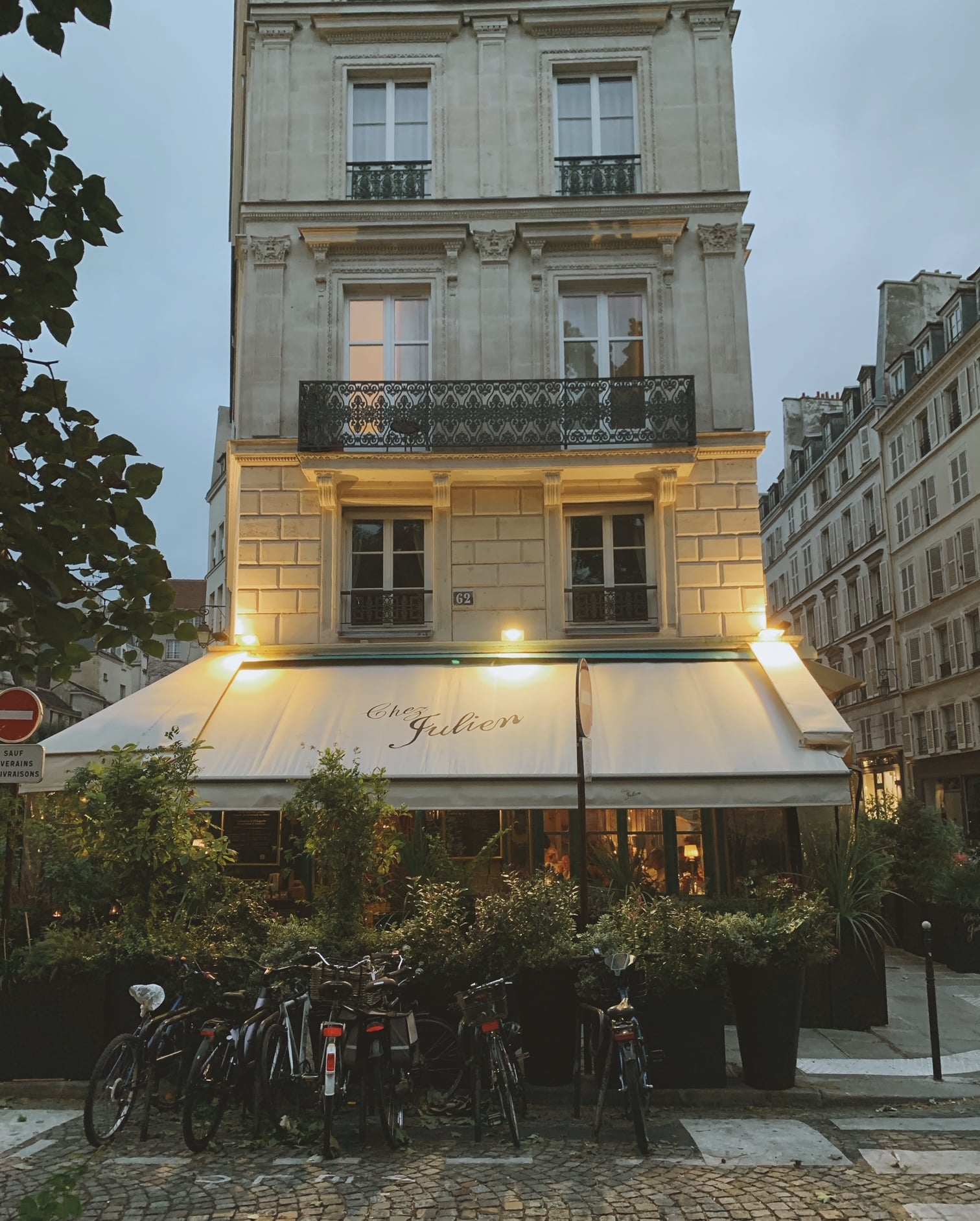 Our Favorite Coffee Shops in Paris
Dear Jane (Pictured below)
Boot Cafe in the Marais
Partisan Cafe Artisanal- Aaron's favorite!
Cafe Malongo
Cafe Kitsune
Strada Cafe
Fringe Coffee
Saint Pearl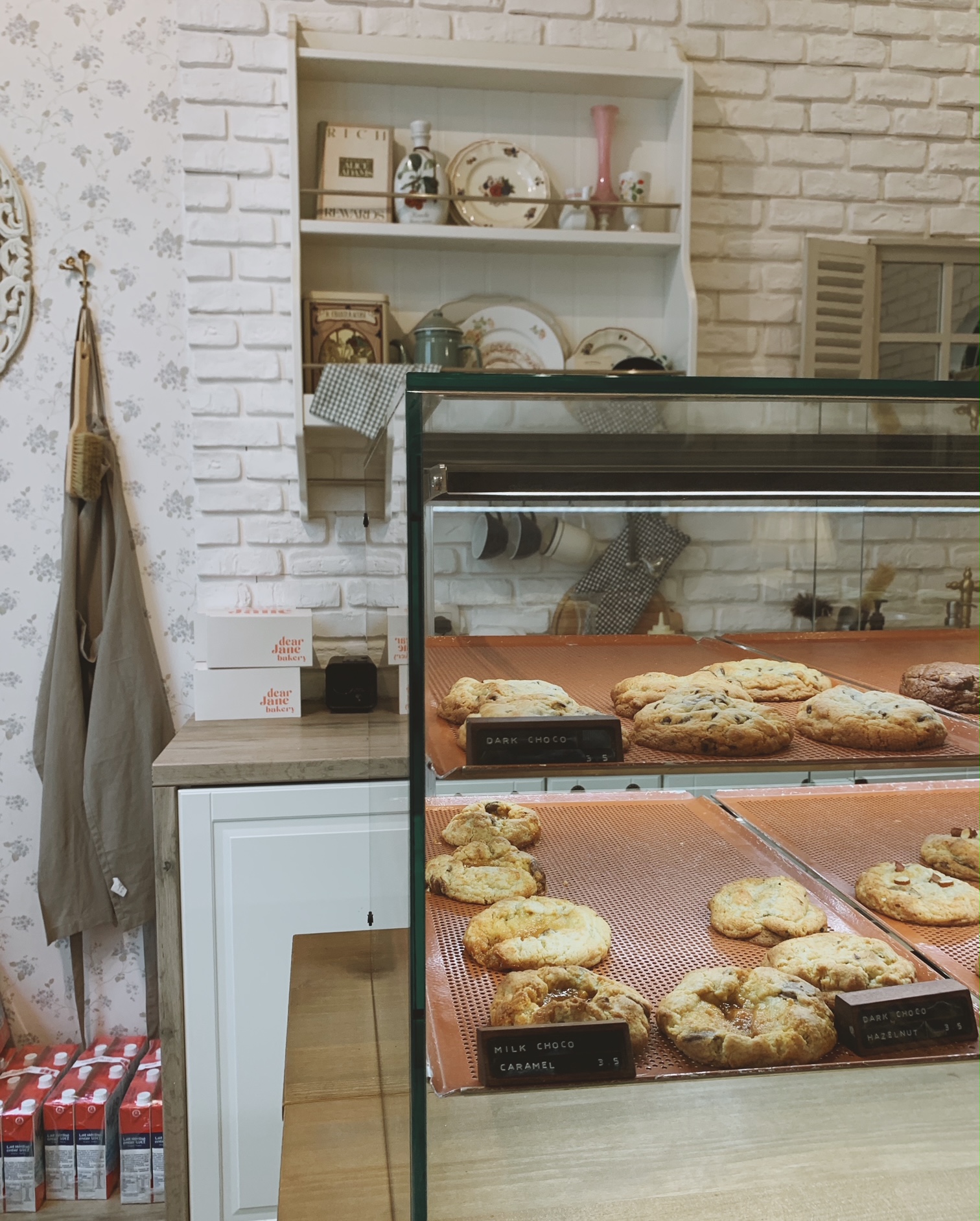 Best Shopping in Paris with Kids
Art supplies at Rougier & Plé
Poudre Organics Children's Shop
Shakespeare and Company
Thanx God I'm a VIP
BHV Marais
Galleries Lafayette
Bonton
Le Bon Marche
Tea Shop at Hotel Costes
Merci
Papier Tiger
Frankie Shop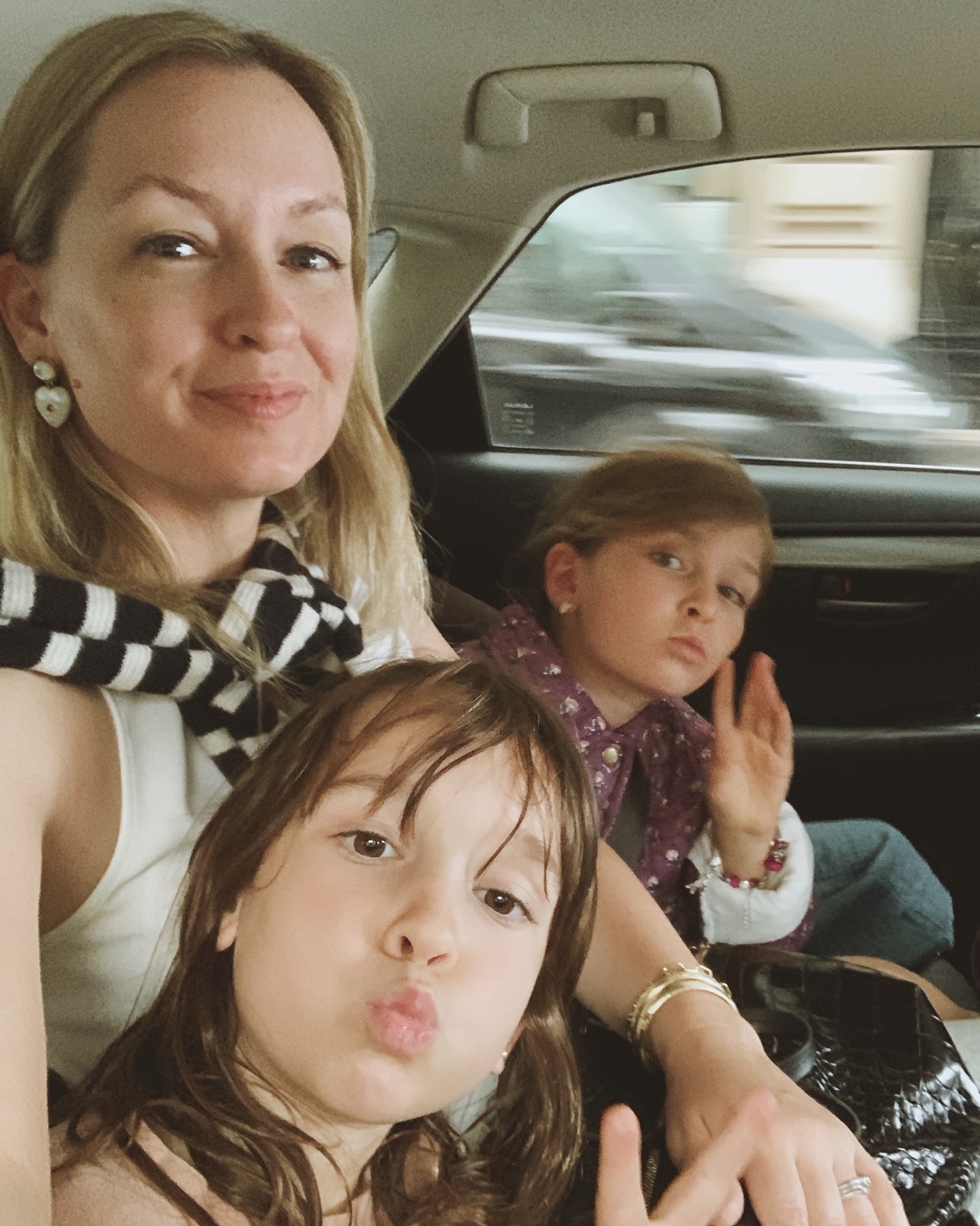 We had been home just a few days before I started a new Google doc. Spain, I decidedly typed into the title. Over the days and weeks and months since, I occasionally add to it: a small town on the Costa Brava here, a favorite AirBNB of a Conde Nast editor there. Jury is still out on whether or not we will head there this summer… decisions, decisions. One thing I learned this summer was to take the trip. At almost six and nine I had so many worries about the overnight flight, the jet lag, the walking, the list goes on, but it was truly a dream and I'm ready for our next adventure abroad!