03/07/2018
Hard day? Long week? Missing home? These recipes are for you, friend. They will fill your belly and warm your heart every single time. These are my comfiest meals that will have you going back for seconds and yet still often times leave enough leftover to cover lunch the next day.  If you're just tuning in, be sure to go back and checkout the Capsule Pantry introduction and download the printable list. Here's the cliffs notes version:  A thoughtful collection of ingredients to have on hand at all times from which you can make a myriad of meals at a moments notice.  We've decided to break up twenty of the capsule pantry recipes into categories and this week I'm giving you 5 different recipes for my favorite comfort food recipes, beginning with this Shepherd's Pie.
You'll notice that these meals are not overly complicated and they do not contain a million ingredients. Remember, my goal with this Capsule and these recipes is to make the process of throwing together a meal so easy, you can't say no. I promise despite coming from your pantry, they have a ton of flavor and may even become a household favorite. First up, and the one we shot, is my favorite comfort food and the epitome of a homey meal, Shepherd's Pie. I showed how I like to change this recipe up by using sweet potatoes but it's incredible with russet too. The remaining recipes will bring you to that cozy place too with chili, corn chowder, bunless burgers, and tostadas. All of these have dairy free, gluten free, and vegetarian options within the recipe.
Before we dive in, I want to touch on spices, something I didn't address in the Pantry Capsule intro. I know spices can add up and they go bad with time, so you don't want them sitting on your shelf for months and months. If you don't want to invest in a multitude of individual spices, I would suggest going for some classic blends like: Italian, Chili Powder, Garlic Herb, Herbs de Provence, and an All Purpose. These are perfect for covering many bases and will add lots of flavor to your dishes.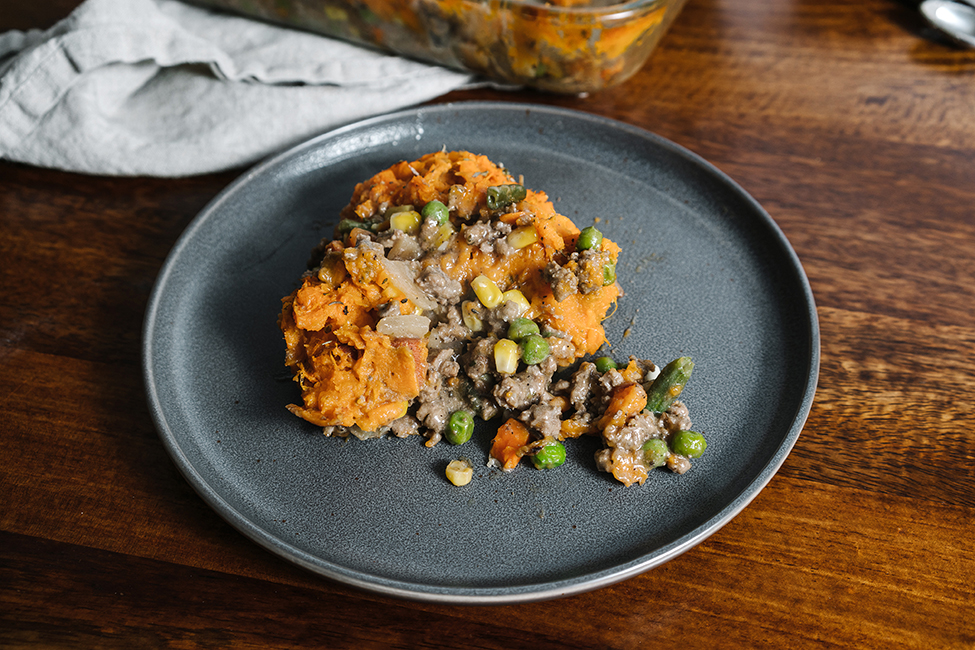 Now here are five more recipes for your capsule pantry dining pleasure!
SaveSave
SaveSave