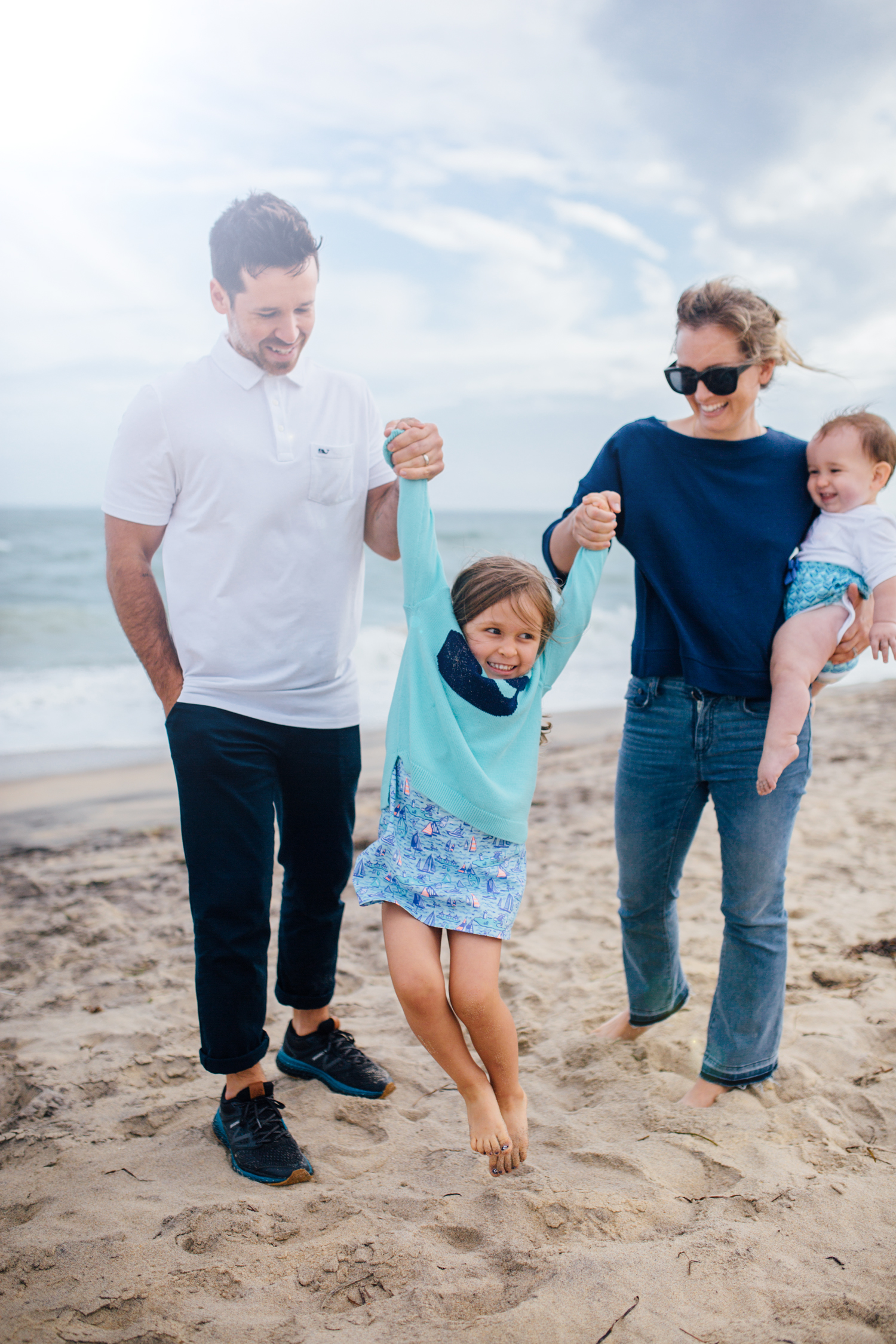 (This post is sponsored by Vineyard Vines and the Winnetu Resort, two brands we feel so lucky to have gotten to know so much about this summer and highly recommend you check out!)
We land into Martha's Vineyard by late morning.  As I look out the window, baby asleep in my lap, I can't imagine a more stark contrast than that of leaving JFK in New York to arrive 45 minutes later at quaint Martha's Vineyard. The frenetic pace of the former, followed by the instant calm of the latter. The airport is shuttered like the charming homes that adorn its coastline and the size of the facility more closely resembles your neighborhood post office than any kind of transportation hub.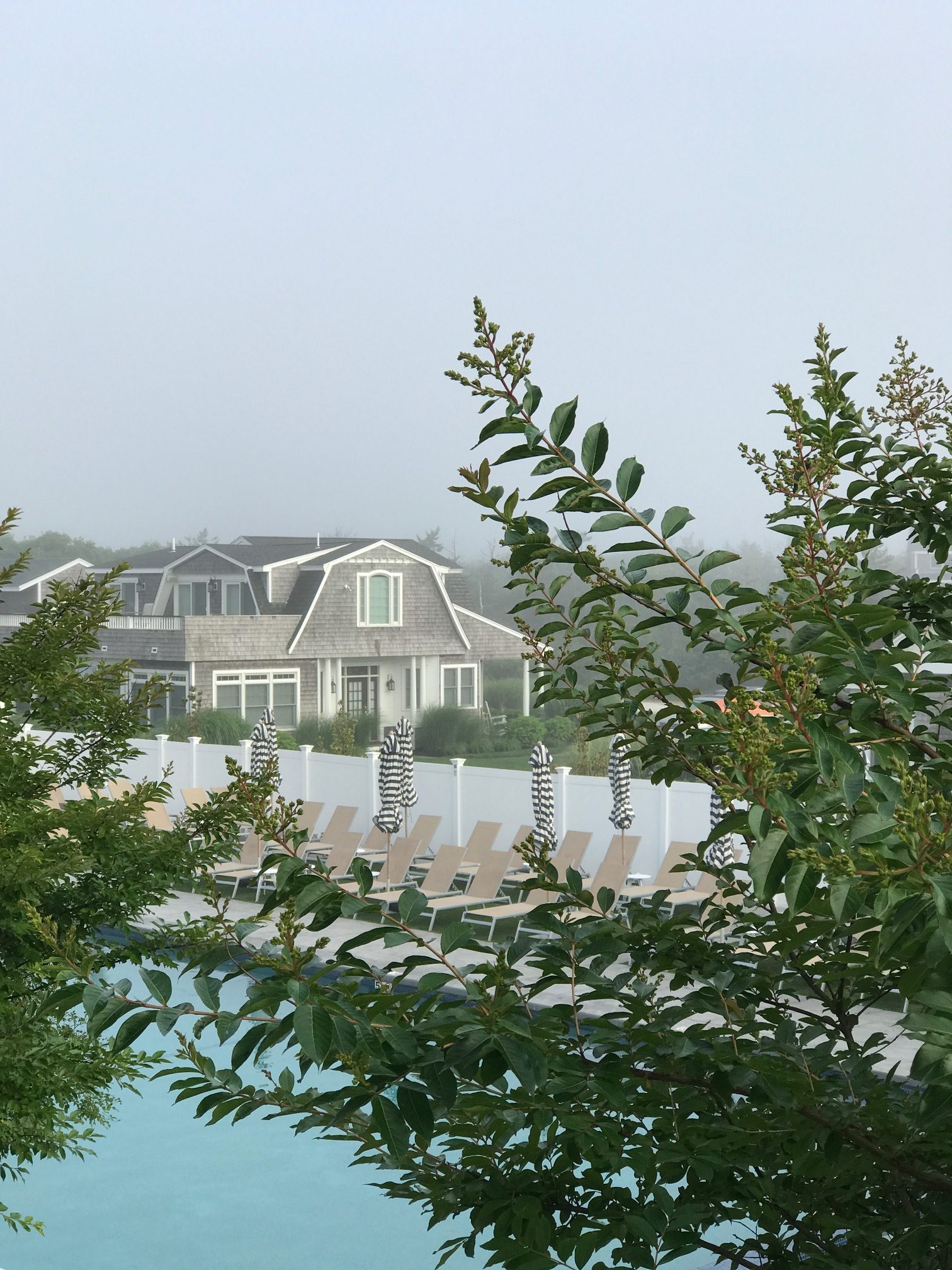 We are picked up by the hotel shuttle and taken to the Winnetu Resort, our home for the next two days and check into our room. As some of you probably already know, when you're traveling with kids, the hotel room set up can make or break your stay, especially with a baby under one. We open the door to our room on the second floor of the main building (there are also stand alone cottages on the property) to find what every jet setting parent dreams of: Not one, but two separate bedrooms followed by not one, but two king beds (Enjoy, Parker!), and in keeping with the trends of pairs, not one, but two bathrooms. There is a separate living room where a pack and play is already set up and awaiting Ever's arrival and a kitchen, as if everything else wasn't enough to win us over already. We immediately open the patio door to reveal a sprawling wood deck that looks out over the back lawn where games of bocce ball are being played and beach goers are making their way towards the short and meandering path that leads to the ocean, woven bags filled with towels and shovels in hand. I make a mental note to enjoy my morning coffee while lounging in one of the patio's rustic wood Adirondack chairs.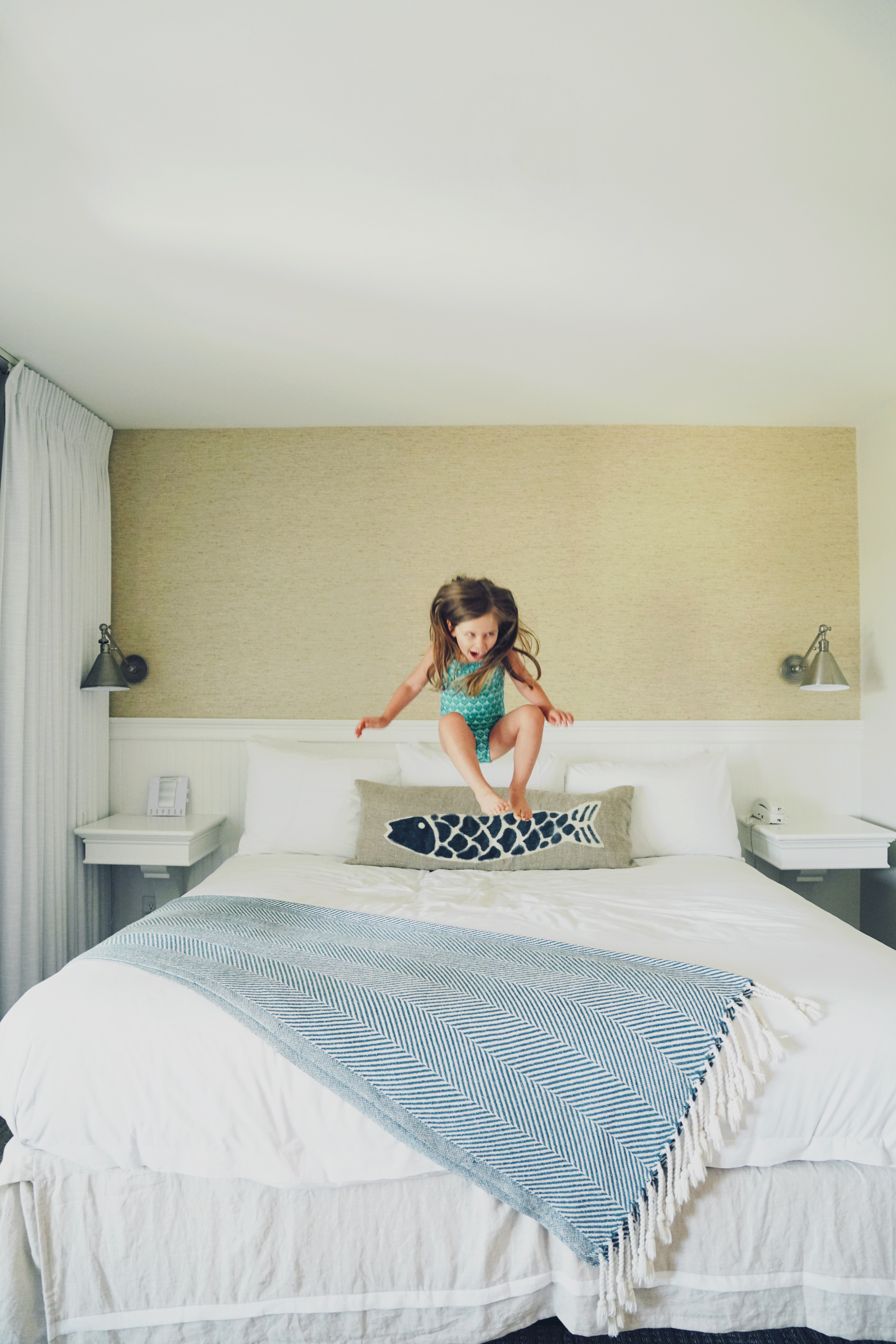 We all change into our bathing suits and head towards the recently remodeled pool where we set up shop in a cabana with new friends, Kelly and Carmen and their families. We promptly order lunch and begin lathering sunscreen on baby skin as the smell of coconut begins to fill the salty sea air. A quick dip and lots of splashing in the kid's pool later, we reluctantly make our way back to the room. Time has flown by and it's already time to head to dinner at Home Port Restaurant in Chilmark.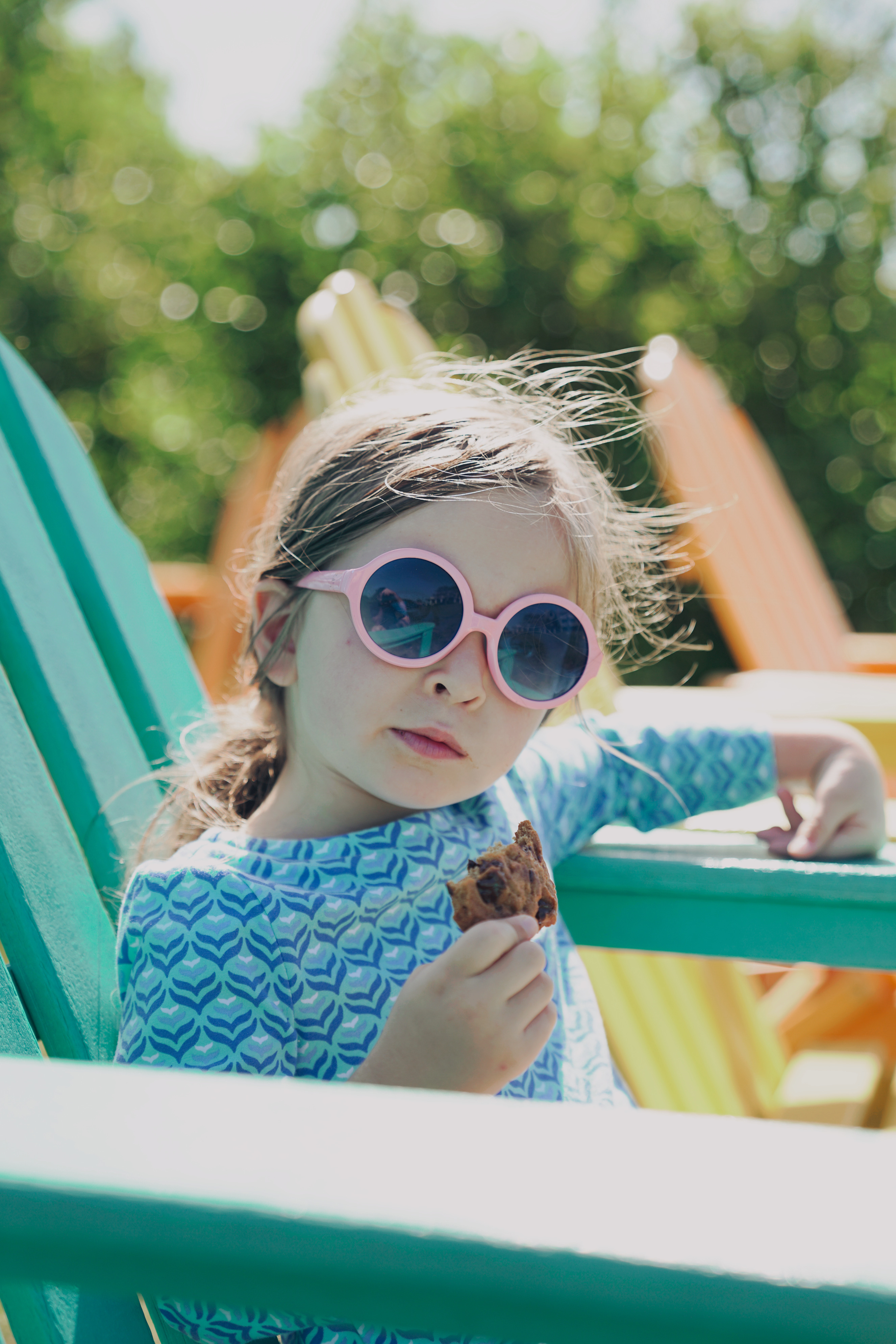 If in Rome you order pizza, then in Martha's Vineyard it seems like you order lobster and I was not one to argue with this status quo. It turns out, I was right not to. We eat dinner and then take the girls outside to witness what is one of the most beautiful sunsets on the east coast. We walk along the water past tiny fishing boat after tiny fishing boat in our until the once orange sky is dark and we begin our drive back towards Katama Bay by way of meandering tree lined roads.
While eager to get into town the next day, we first make our way to the breakfast at the Winnetu and Peter indulges us with the most delicious omelettes that I proceed to recreate for the first few days after returning home. Like the island itself, the Winnetu and its staff are not short on charm.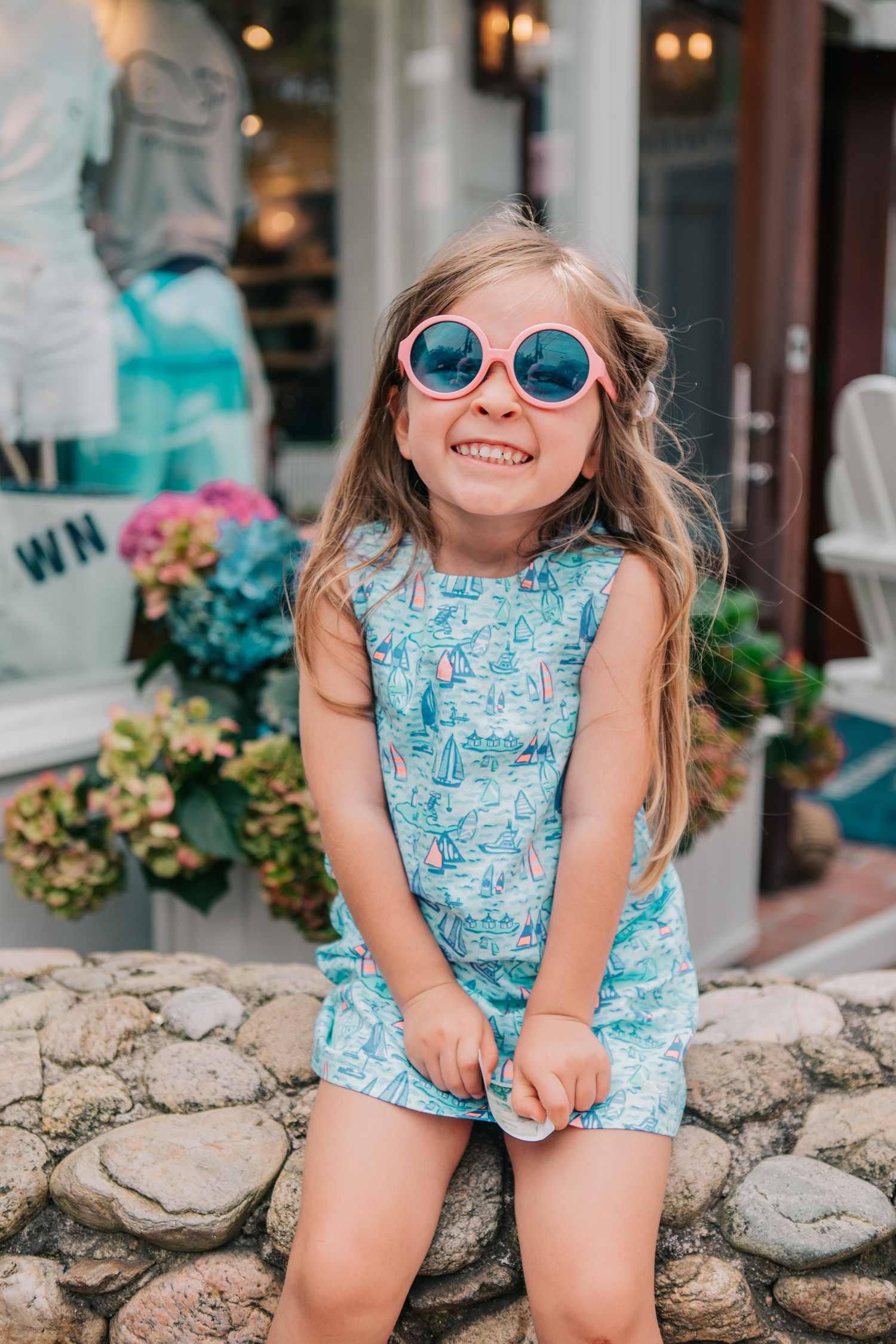 Next Stop? The Vineyard Vines Shop in Edgartown. This is where it all started. When Shep and Ian were plotting a way to leave their day jobs, they knew that the result had to be something that allowed them to spend as many days in this relaxed island town as possible. It's finely edited shops that line the hilly streets are a favorite among everyone from celebrities to presidents and with good reason. A fudge shop feels nostalgic and draws you in with smells of hot cacao while Salte, a home décor store, reminds you that the relics you bring home from vacation are the best way to remember a place. And the Vineyard Vines shop? It just as closely resembles a community center as it does a thriving retail store. Among the endless collection of men's shirts and shorts and the breezy women's pieces whose blue and white palette instantly invoke a sense of the sea, breakfast pastries can be found atop a built in boat-turned-tee-shirt-bar while neighborhood kids (and our own) sit somewhat contentedly coloring at small tables. Their parents nearby inspect, potential new purchases, often times pulling at the fabric as both the warp and weft direction reveal stretch, a telltale sign of comfort and quality. New customers introduce themselves. Locals make conversation with the Vineyard Vines employees about the intimate details of their summer like the old friends that they are and the parents of Ben Martin, a PGA golfer who can be found dawning the brand at any given moment, come in for a chat and leave with a souvenir stuffed whale for their granddaughter. Without any warning, in walks a larger-than-life costume representation of of this stuffed whale and the kids go wild. While at first hesitant to the foam sea creature, Parker now deems this encounter with the whale her favorite part of the trip. We chat with Shep and Ian about the brand that they created twenty years ago (!!!) as an overflow of their love for this mystical and magical place and I peruse even more pieces for the girls. After all, there is a clambake tonight and I worry that Parker needs a sweater for this cool and breezy weather. Then again, it's just as likely that the clambake is an excuse for this tonal blue chain-knit sweater to hang in her closet for months to come before it lives a second life some day when Ever inherits it.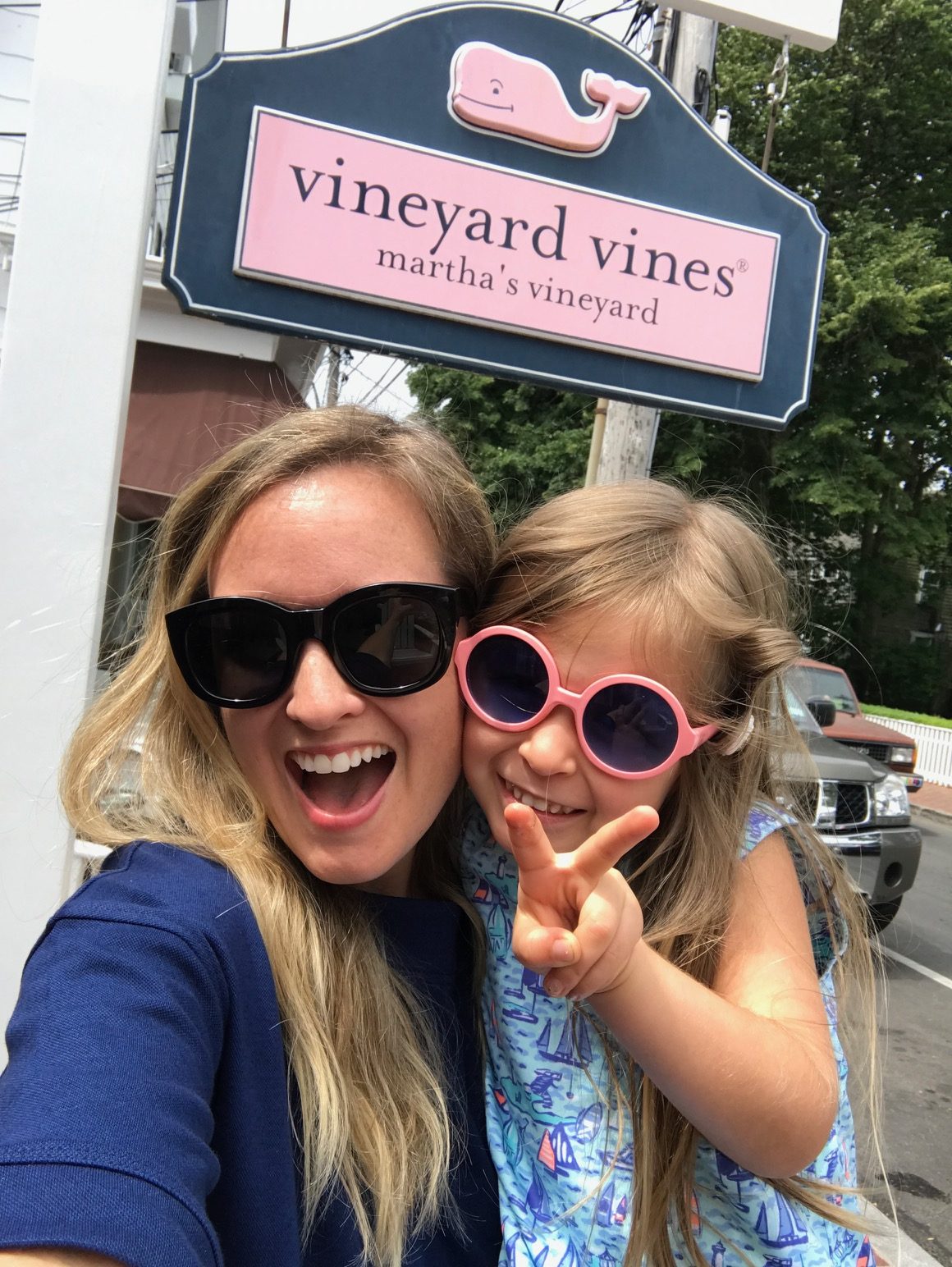 After a lunch of lobster rolls and rosé at The Seafood Shanty, we hop aboard a boat and make our way back from Edgartown back towards Katama Bay. We pass houses that evoke ideas of family reunions and a gaggle of children that could run through the sea grass and go swimming at their leisure in the warm water. A quick redfin search quickly reveals that one of these homes is very unlikely to ever become our vacation property, but they do set the scene for an idyllic boat ride back across the water. When we arrive to shore, a different mode of transportation greets us. This time an antique fire truck from the Winnetu. The kids again go wild.
Once back at the hotel where we change into beach attire, which today includes long pants for most of us, something that I love and embrace whole-heartedly after too many days spent recently in the Texas heat. The path to the beach is almost as picturesque as the reveal of the ocean at the path's end. I want to move in. I want to walk this path every day. I think back to my redfin search. Perhaps every summer will have to do.
We pry ourselves from the beach eventually as visions of whole lobsters and a clambake begin to dance in our heads. Back in the room, I tie up my beach hair and trade in my jeans for this cotton poplin Vineyard Vines frock and red beaded earrings. The Vineyard Vines way fully epitomizes effortless chic. It's pulled together, but casual. Elevated, but not fussy. The same dress can be worn to both the beach and dinner. We manage to score a rare family photo before more lobster and more rosé follow. (Not to mention the heaps of other offerings that line the clambake buffet tables.) The lobsters are plucked straight from a pot, their shells cracked for you on the spot making the juicy, lump pieces of meat easy to access, even as a baby sleeps on my chest in her carrier. The sun sinks lower. An acapella group on the island serenades us with familiar tunes as we dip bites into drawn butter. When in Rome. The older kids rotate between making s'mores over the nearby fire pit and chasing each other at top speed before tumbling into a pile of giggles and happily hued cotton dresses on the lush green lawn. Summer epitomized.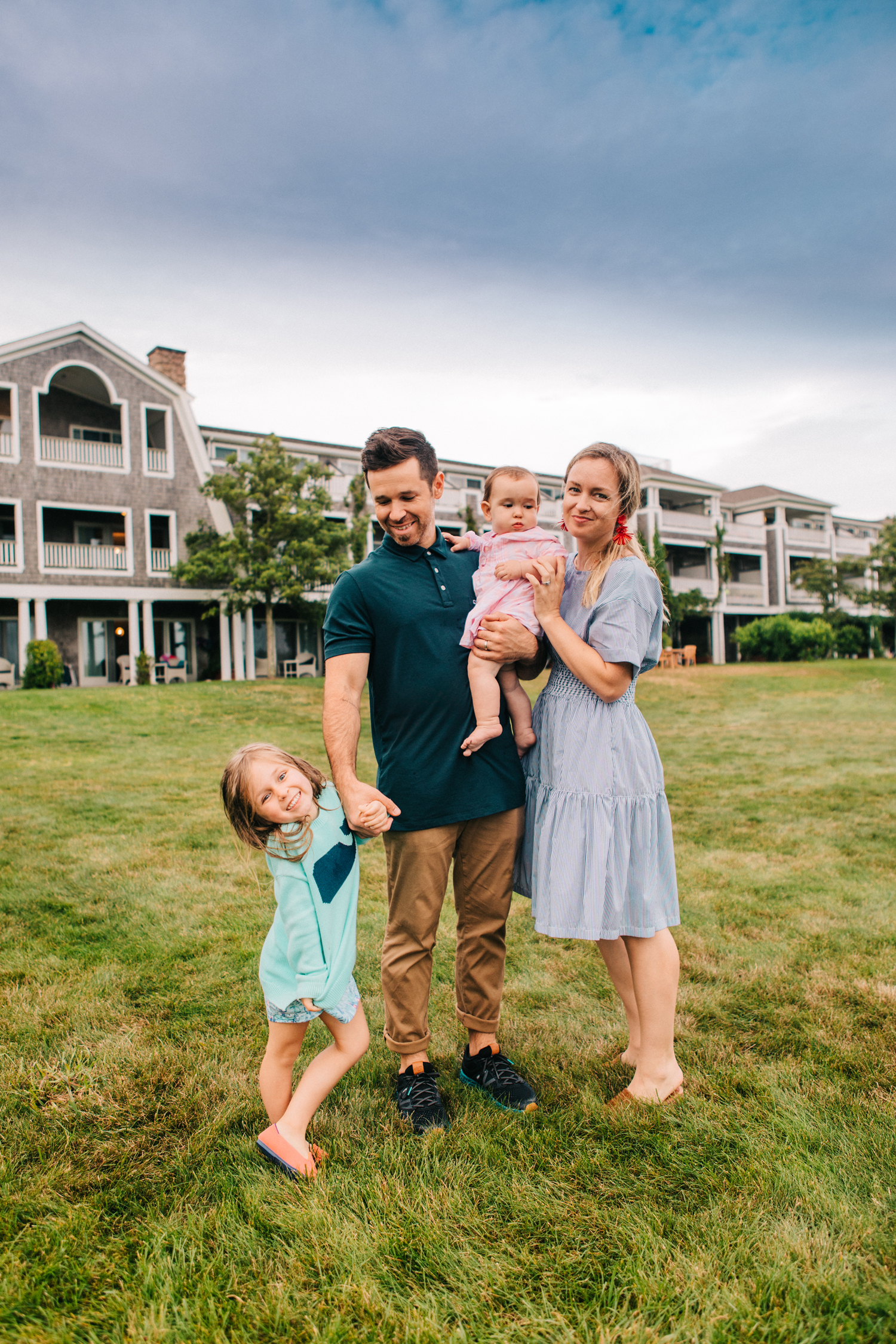 As we push our way through the bedroom door that night, we save our packing for the morning. Our hearts (and stomachs) are full to the brim and for the now we collapse into our plush bed and down pillows, taking it all in while dreams of our next trip to this magical place dance in our heads.
Shop the Post:

Photography by Aaron Pinkston, Vineyard Vines, and my iPhone
(If you like this post, check out our other travel posts here.)