Heading to Santa Fe? Keep reading for our favorite things to do in this enchanted city! From restaurants to hotels, hiking trails to shops, all of my favorite recommendations for this New Mexico city are below...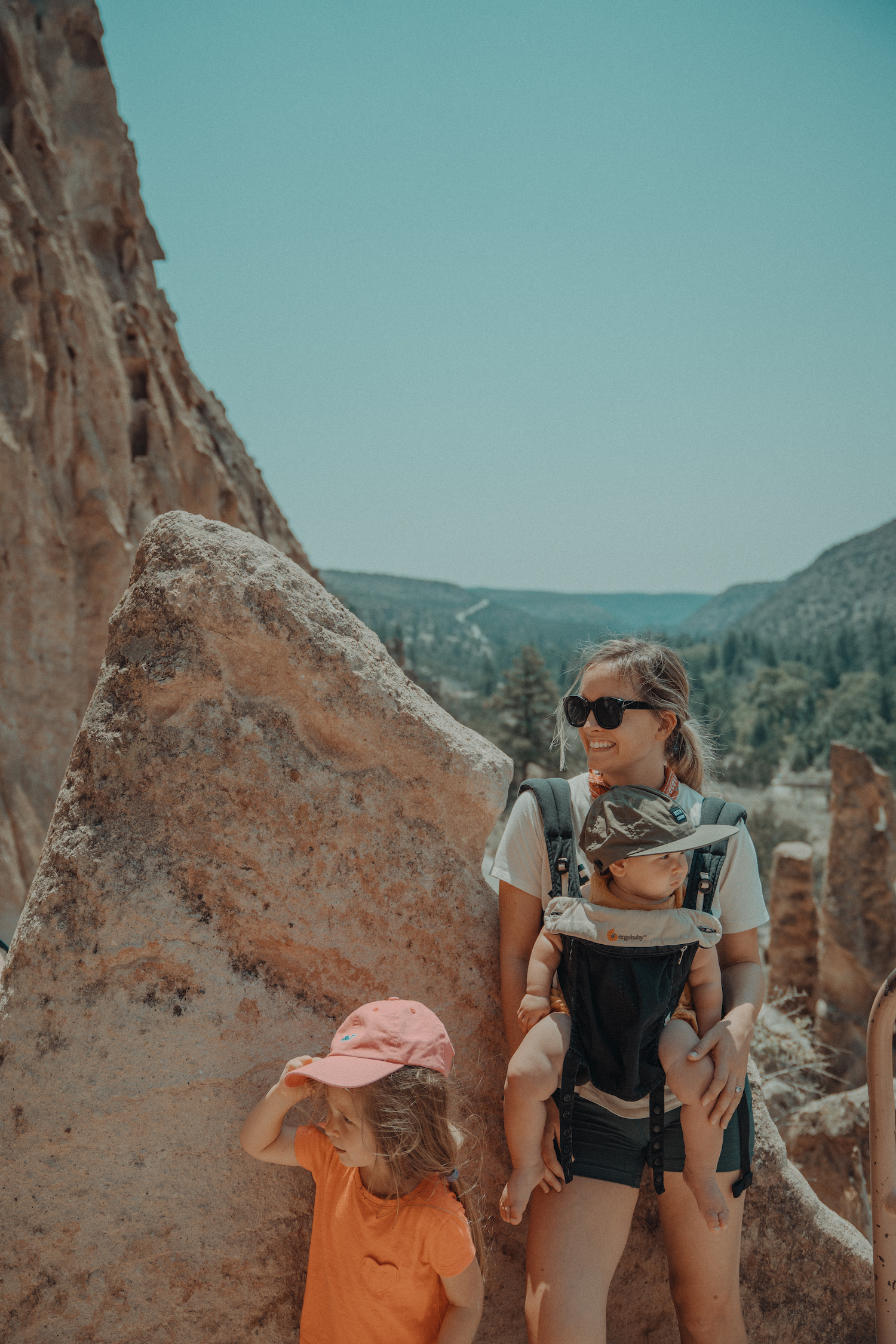 (This post was originally published in 2018. I've been dying to get back there this fall, so thought it was time revisit this one!)
My past experience with New Mexico included driving through it in the middle of the night twelve years ago when I was making a cross country move from Austin to Los Angeles. I also think it was my first (and only) time eating at a Denny's. In recent years, though, I had been hearing whispers of the cool, almost mysticalness of Santa Fe and this town in the desert began making its way up the ranks of my must visit list.
When my friend Lauren asked if we wanted to join their family there for a few days in the foothills of the town, the thought of a new city, with twenty degree cooler temperatures and a short non-stop flight away was very enticing. We booked tickets on the spot.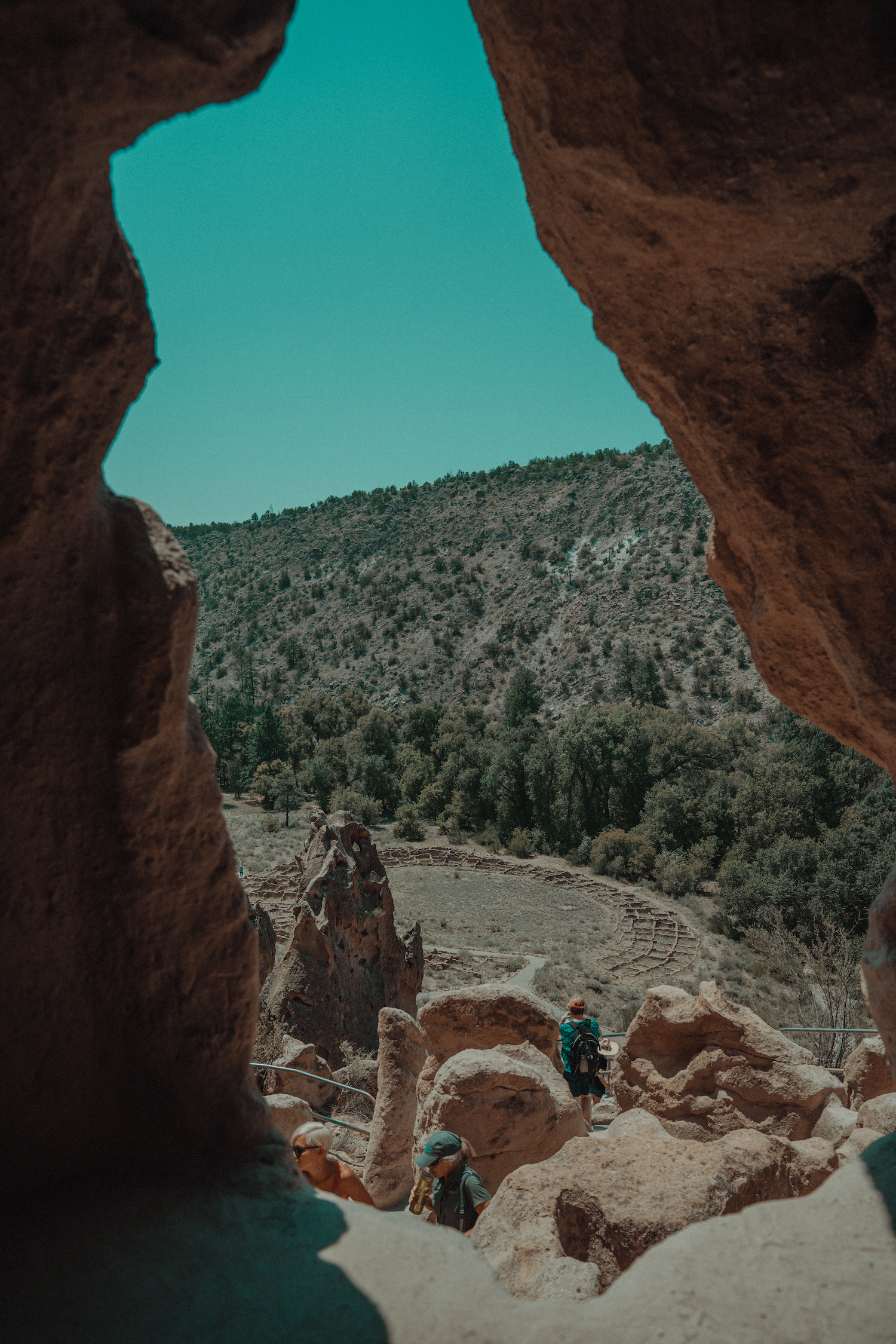 Arriving In Santa Fe
The flight from Austin to Albuquerque is less than two hours. We landed by late morning, picked up the rental car, and used all of the tools at our disposal-- Instagram + Yelp-- to find the best coffee before heading north to Santa Fe. (The coffee shop is Humble Coffee and not only was the almond milk latte delish, but if you ever make your way there be sure to try the lavender blueberry cornmeal muffin, too.)
An hour later we pulled up to Casa Chimayo for lunch. Its authentic New Mexican cuisine did not disappoint. It's also a little ways off of the main square, so it wasn't overrun with people, either.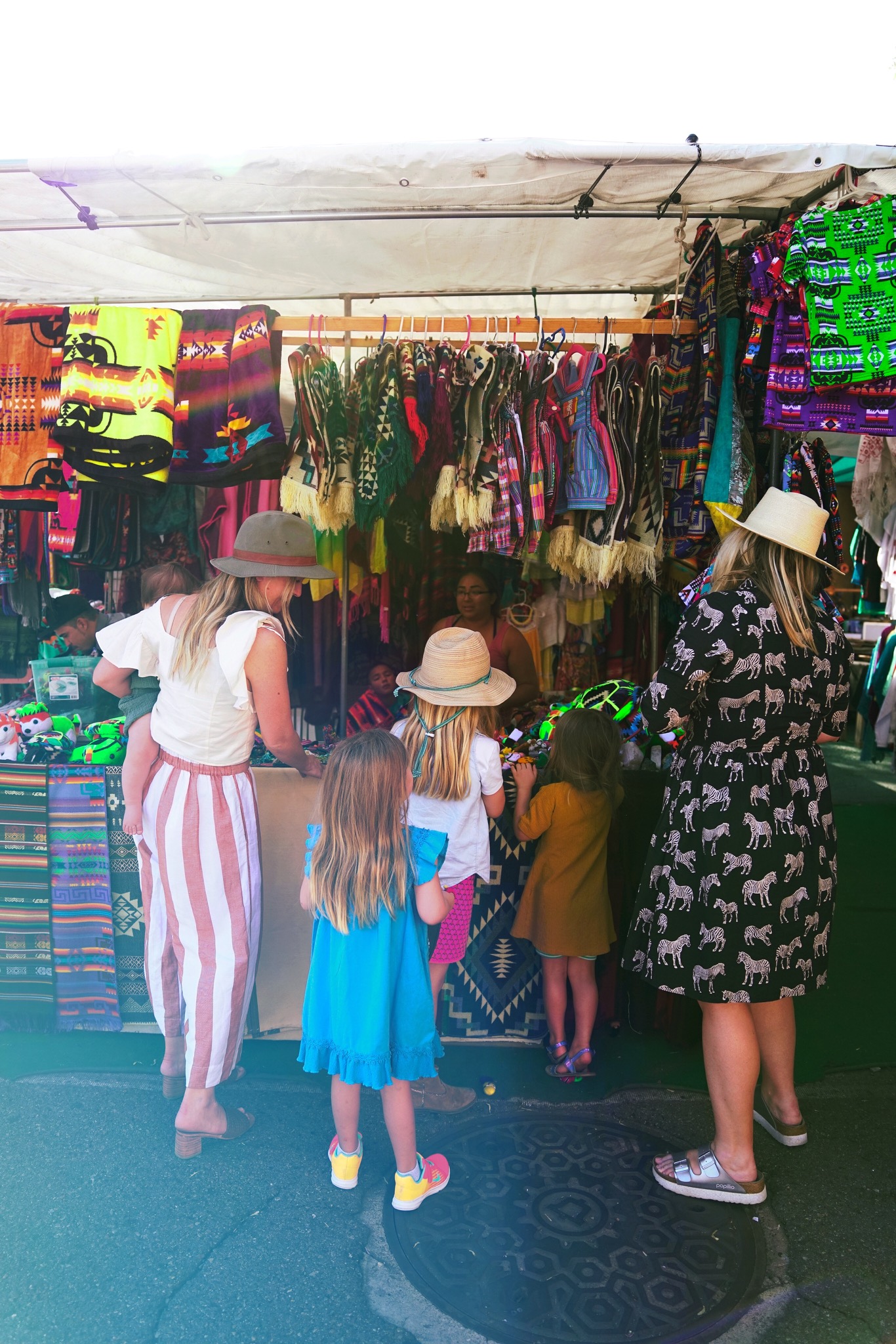 Visit The Local Santa Fe Markets
We dropped off our luggage at the house, changed clothes, and headed for the Sunday Artisan Market on the Square. There's so much to see here and it's best to just wander without any real purpose. I loved taking in the colors and we left with a giant crystal that I still haven't found a place for (but will!), a new dress for Parker's friend, Greta, some finger puppets and a dream catcher for the girls' puppet show that they were already plotting.
We came very close to leaving with a piece of art for the playroom. The artist splits his time between western Africa, France, and Santa Fe and his work is really beautiful. It had a very Basquiat quality to it, but in the end the colors just weren't quite right for our space.
The Farmer's Market is on Saturdays and Tuesdays at the railyard and totally worth checking out for the blueberry cornmeal donuts from Whoo's Donuts alone! I also picked up some really tasty black garlic spices from Avery's Farm, made a few friends and scored a vintage embroidered dress that is now a favorite in my closet!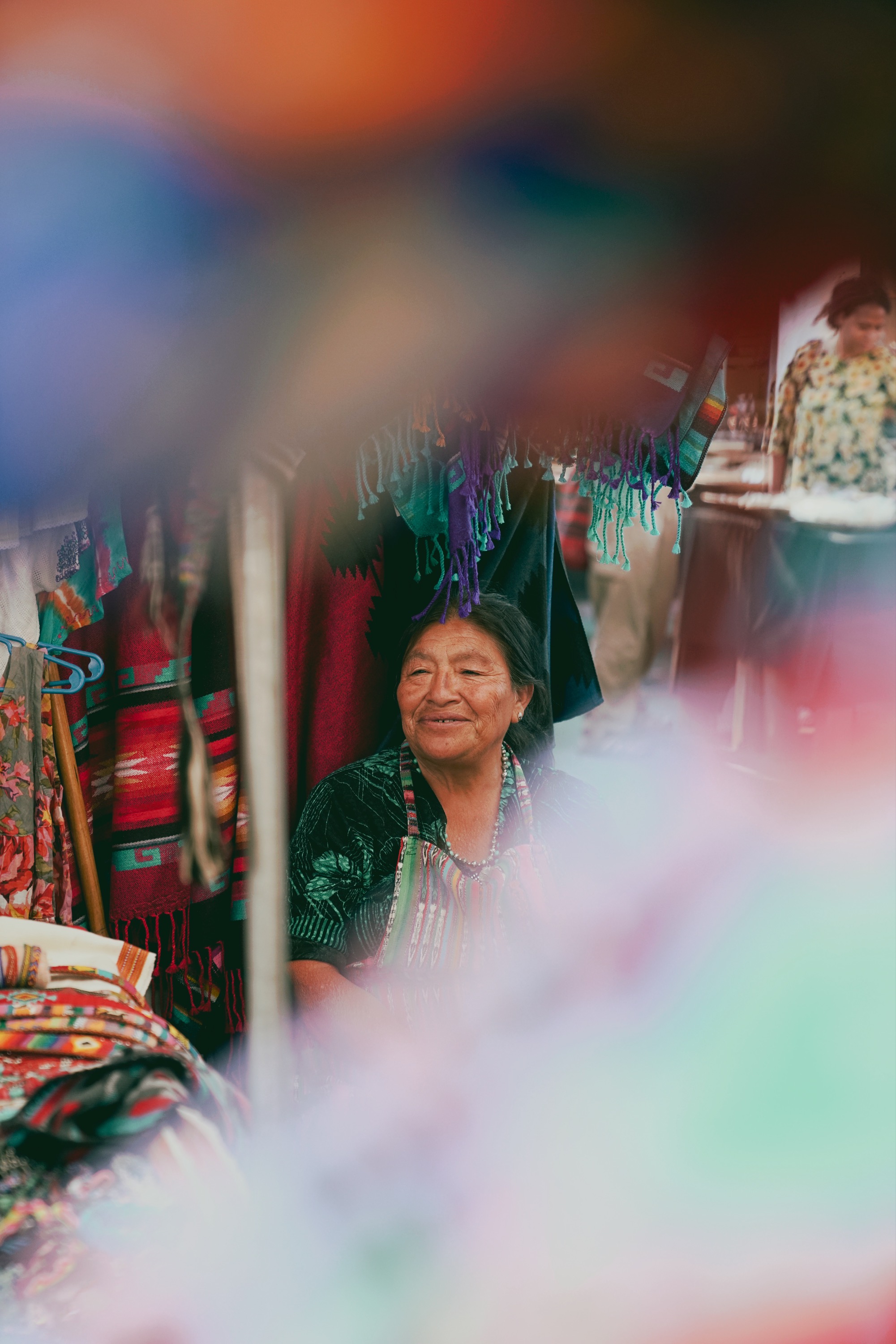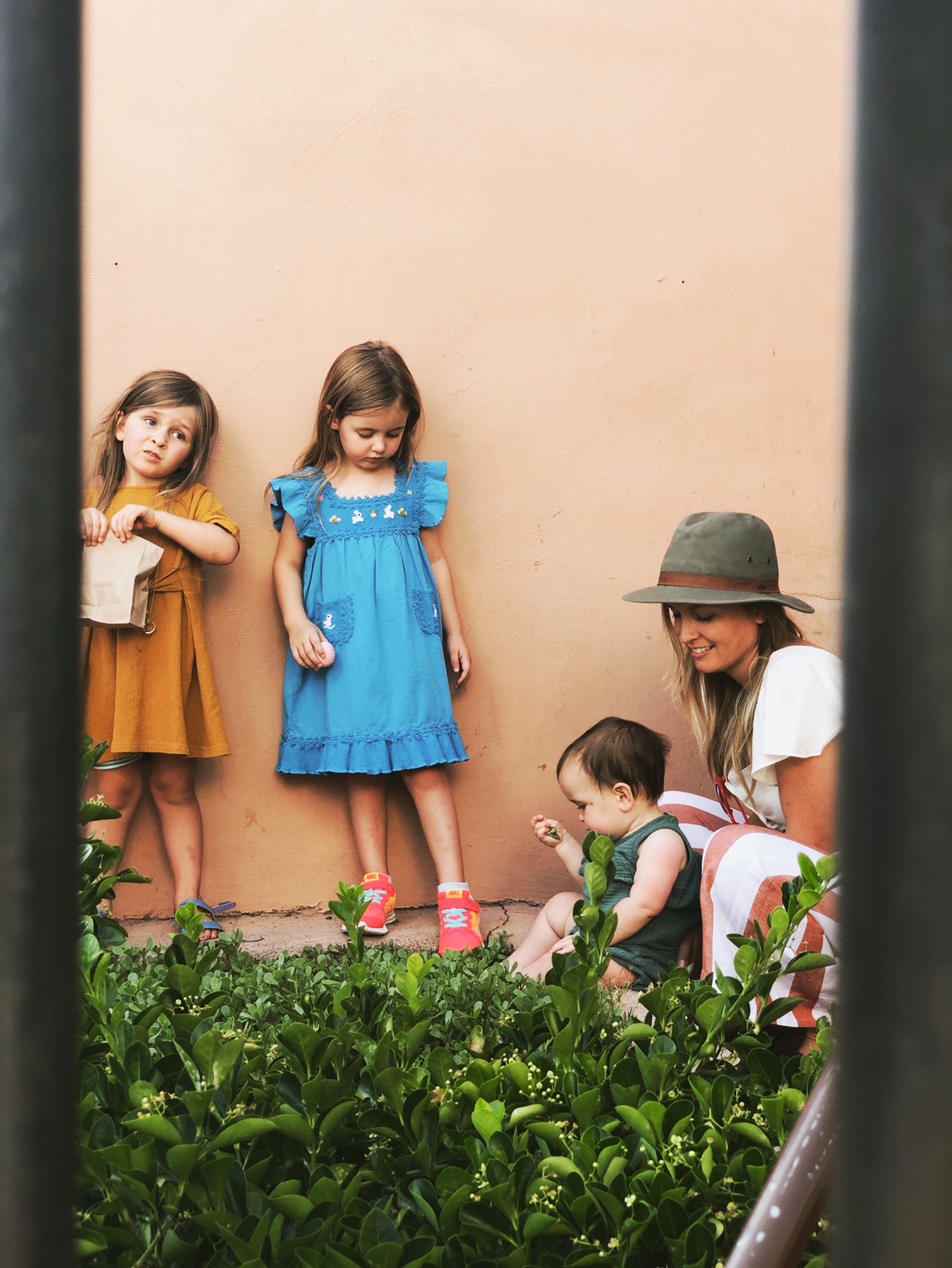 Kid-friendly Restaurants
By the time the market was shutting down we were ready for dinner. We popped our heads into some of the restaurants that had been recommended time and time again-- Cafe Pasqual's, The Shed-- but all had long waits and we actually ended up having pizza in this kind of odd but awesome-for-the-kids game room situation. There was a lesson to be learned about the joy that could be had while eating pizza in a room where your shoes squeaked on the sticky floors while the kids pretended to know how to play foosball. (Plus, the pizza was super delicious!)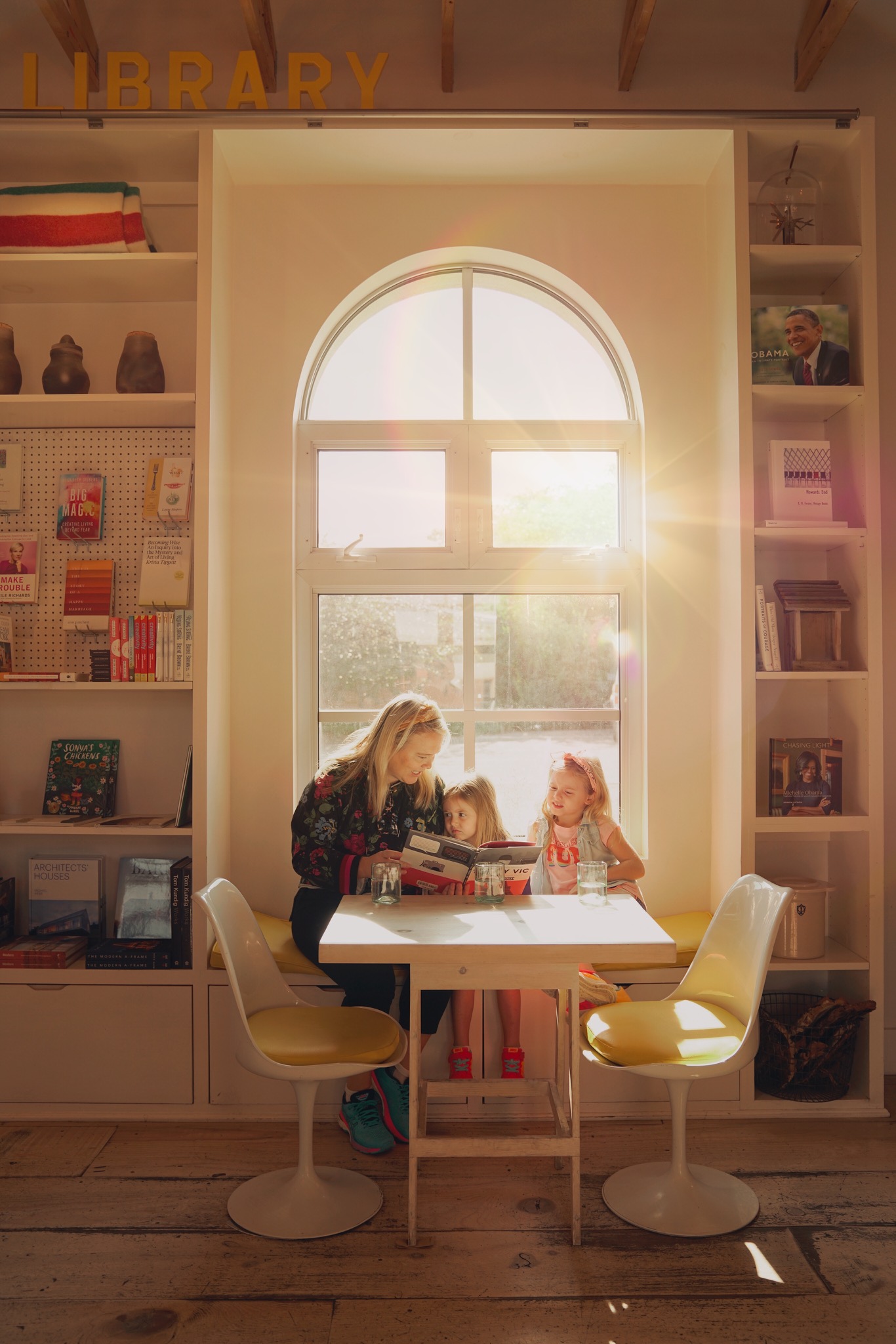 Best Restaurants in Sante Fe
Speaking of highly recommended restaurants, Modern General was our favorite spot in town. We ate there an embarrassing amount of times. You HAVE to try the green chile cilantro corncakes, but the breakfast biscuit and avocado toast are also so good. (My only complaint is they don't have high chairs, so we just brought Ever's stroller inside for her to sit in.) We ate there on our second day for breakfast before heading out to do the tent rocks / slot canyon hike with all of the kiddos.
(For our top 5 favorite places to eat in Santa Fe, see this post!)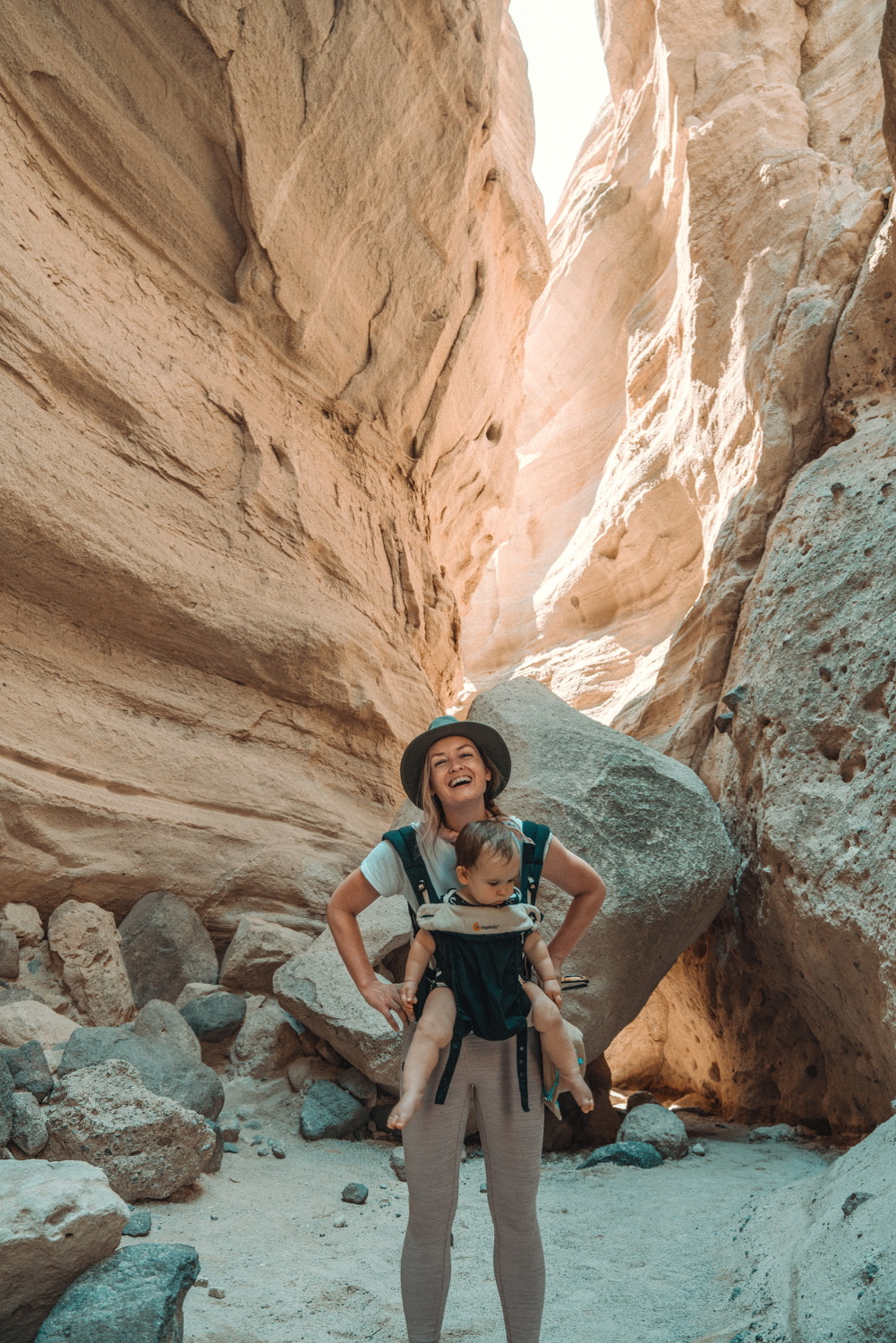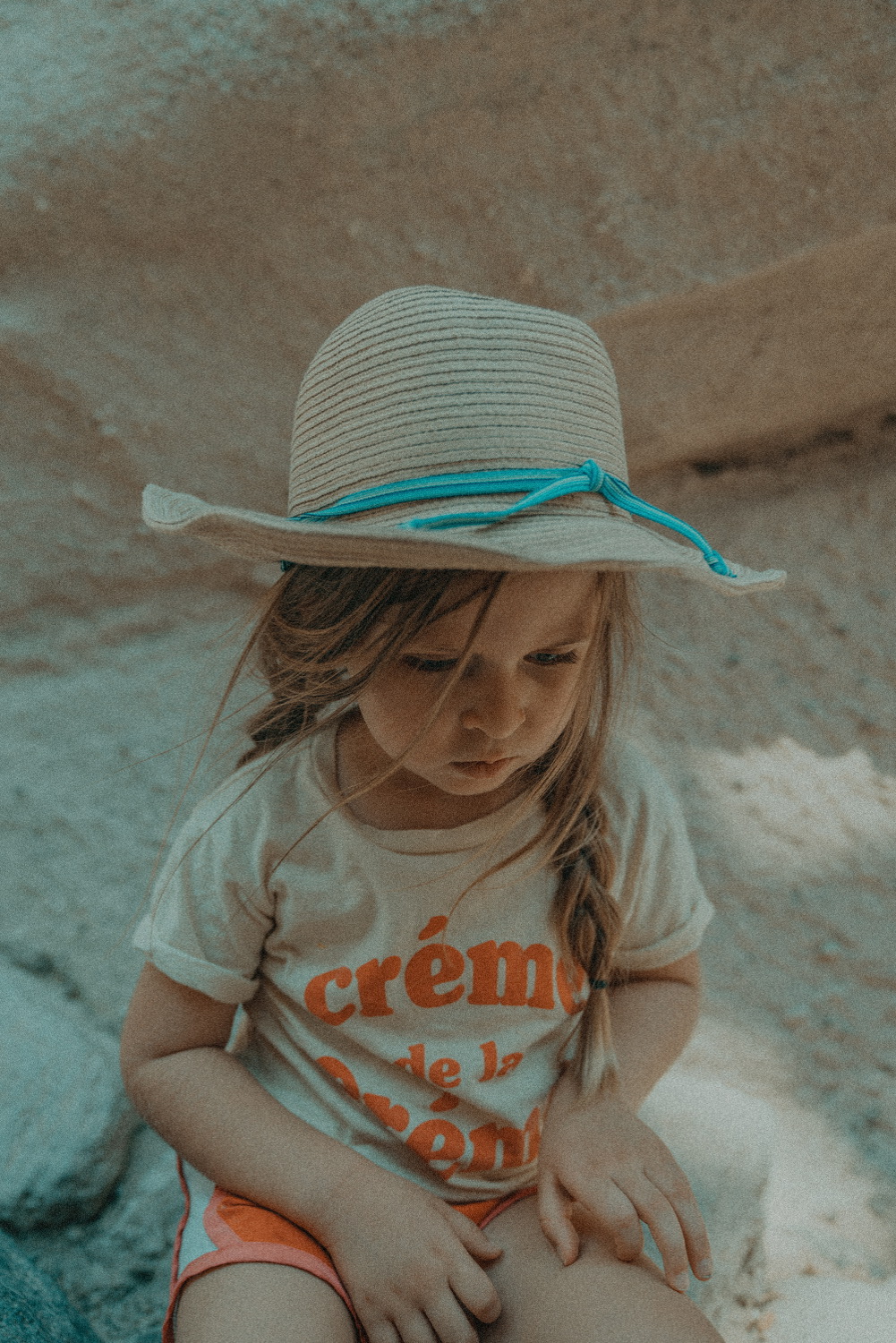 Family Friendly Hiking
The hike was perfect for families, not too long or strenuous. I did the whole thing with Ever in the Ergo carrier. Wear hats and sunscreen and bring lots of water in the summer months. There isn't a lot of shade on the hike. (This slot canyon hike is currently closed due to Covid. Many of the trails on reservation land are still closed, so be sure to check before you go!)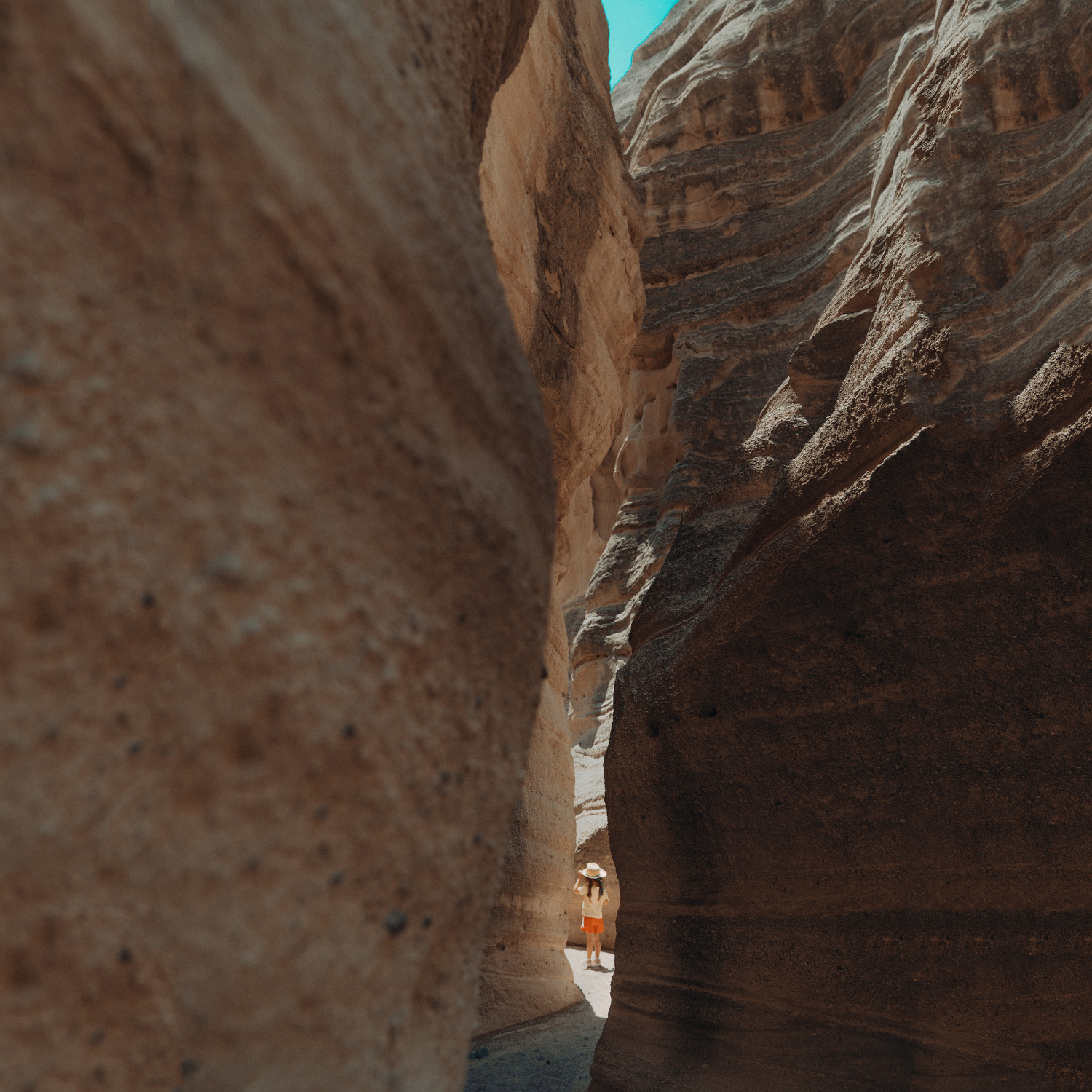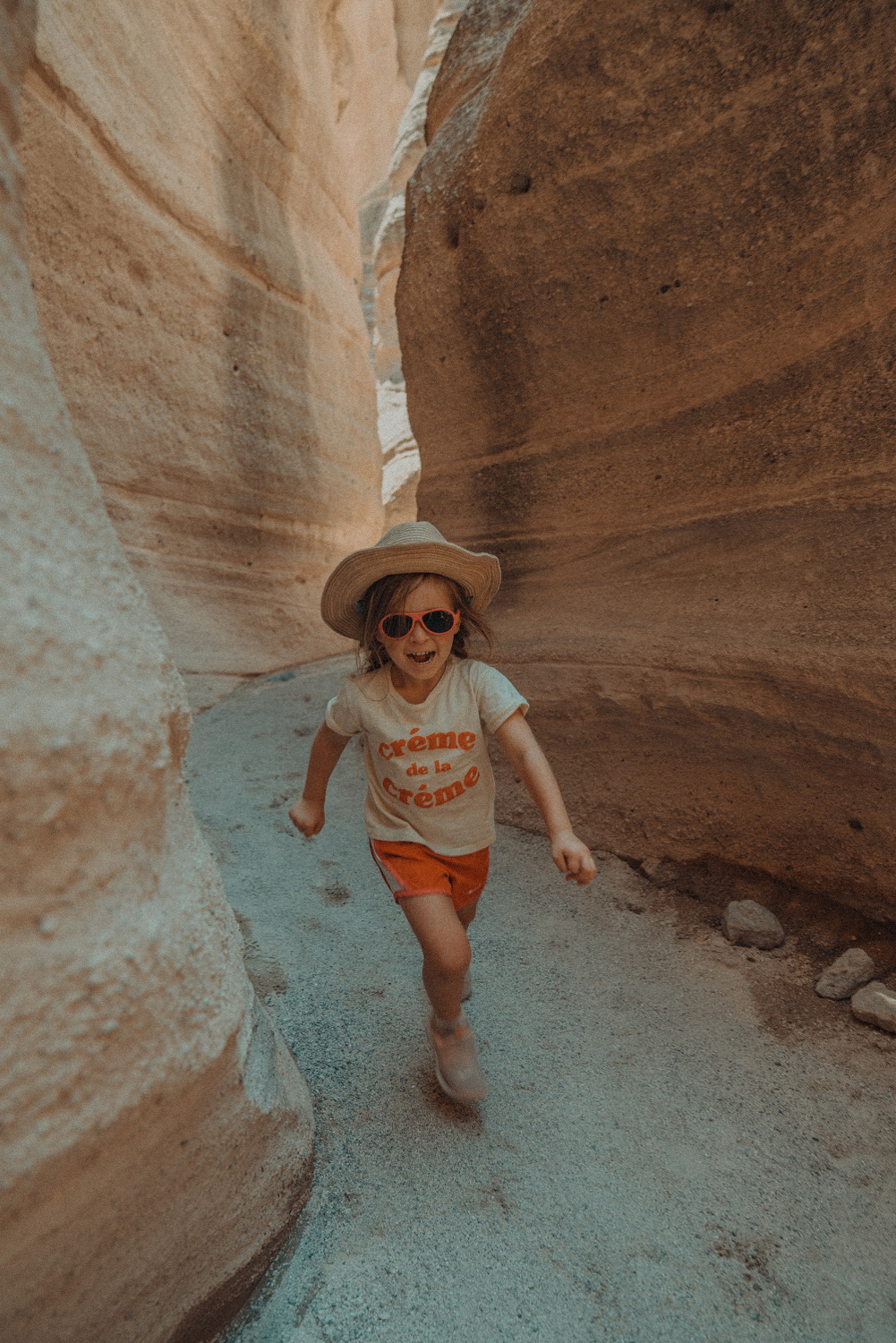 Santa Fe with Children
After the hike, we had burgers at the Shake Foundation. It was the perfect casual spot for refueling and enjoying the cooler air outdoors. (Again, though, no high chairs!)
We spent that afternoon at the pool at The El Rey Court. It is such a cool, design hotel with endless vignettes to catch your interest. I probably wouldn't stay there with kids, I need more amenities when we are traveling with the whole family, but would totally stay there if it was just Aaron and I and would highly recommend at least stopping in and having a drink there at the bar.
That afternoon we took the kids to Meow Wolf. You almost can't not go see this place. It's totally trippy and bizarre and not like any other place I have ever been. I don't think I'm cool enough to fully understand it, but the kids all really loved it and there was no shortage of adults who were loving it, too.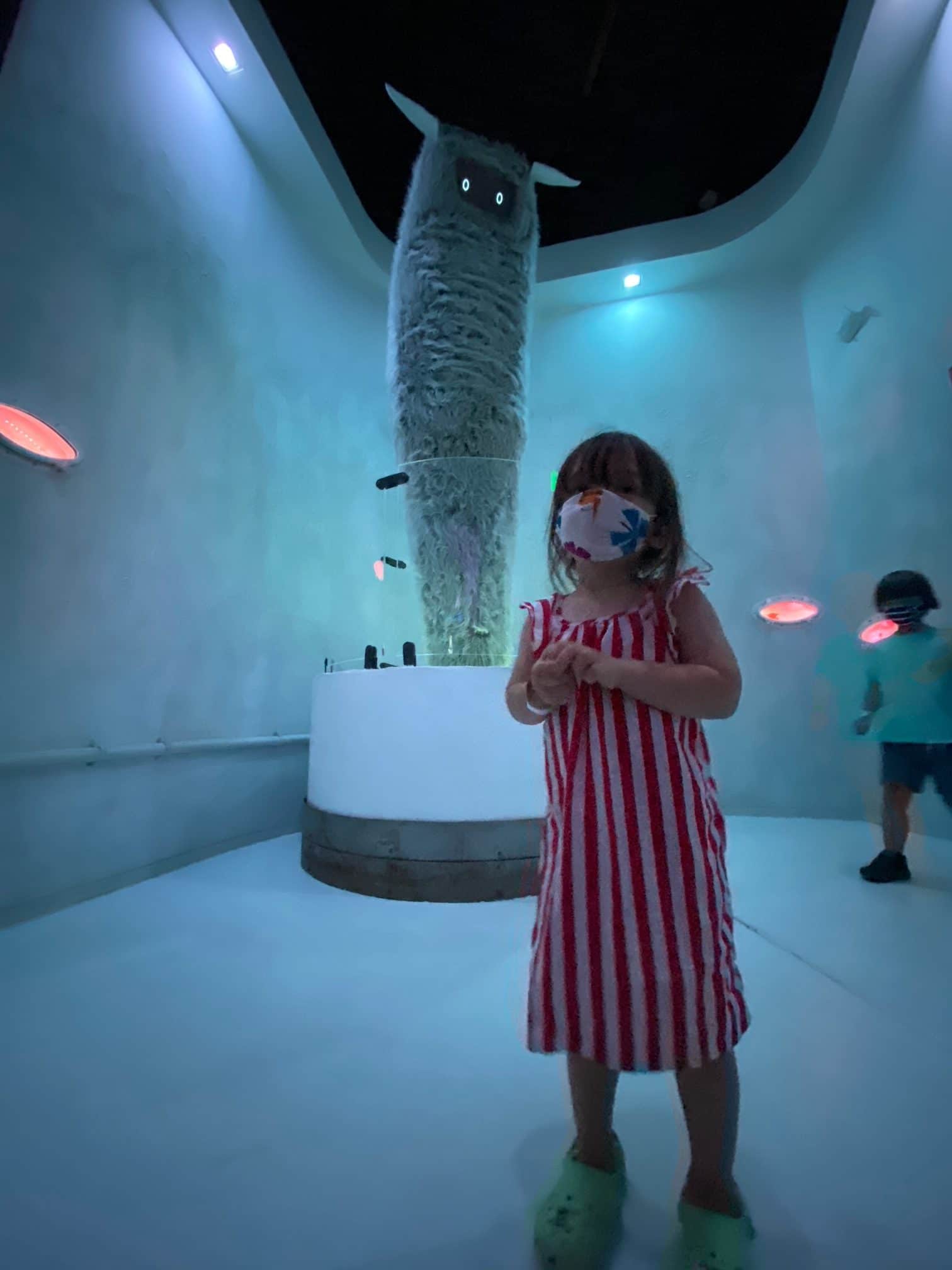 The next day we were trading off with the kids. The guys left the house super early in the dark and hiked to Lake Katherine, it was 13 miles each way so definitely not something we were doing with the kids, but if you're into hiking you'll want to look this one up!
The Best Shopping in Santa Fe
Lauren and I took the girls to breakfast and then to Early Street Antiques because kids love antique shopping right?! Lol. We strapped them with iPhones in a corner and found a few gems. I would highly recommend stopping in for their paintings and ceramics. They also have clothing, jewelry, and furniture items, too. We rewarded our mostly patient children by letting them each pick out a Christmas ornament at The Christmas Store in the square later that day while we waited for a table at The Shed, probably the most recommended restaurant. The food there was good. The margaritas were great. We walked to Gloriana's Beads afterwards and let the girls pick out things for jewelry making afterwards.
Spa Experience
About that time the guys returned from their hike and Lauren and I ventured by car two miles up into the mountains to 10,000 Waves Spa. It was incredible. There was something so magical about this place and I'm pretty sure I told my massage therapist that she was gift when it was all over. It really was the most incredible spa experience I've ever had. Don't skip this place if you're heading to Santa Fe and arrive early so you can enjoy the warm soaking pools.
We checked out of the AirBNB the next day, wondering if we should have extended our trip. We had done New York, Martha's Vineyard, and now Santa Fe in a two week span of time and were feeling a little ready for our own beds.
Hotels in Santa Fe
We checked into the Four Seasons Rancho Encantado that afternoon, though, and immediately knew we were where we needed to be. The property is like a giant exhale. Our pace immediately slowed and we felt everyone relax. It's very possible that this is my favorite hotel room we have ever stayed in. It feels so warm like a home and so spacious. The hotel provided a full size crib that we actually rolled into the enormous master bathroom and made that Ever's room. Parker had her own room with a (very comfortable) pull out sofa bed and the cutest pop up tent that she and Ever played with endlessly. The property feels a million miles away, but is really just a 15 minute drive from downtown Santa Fe.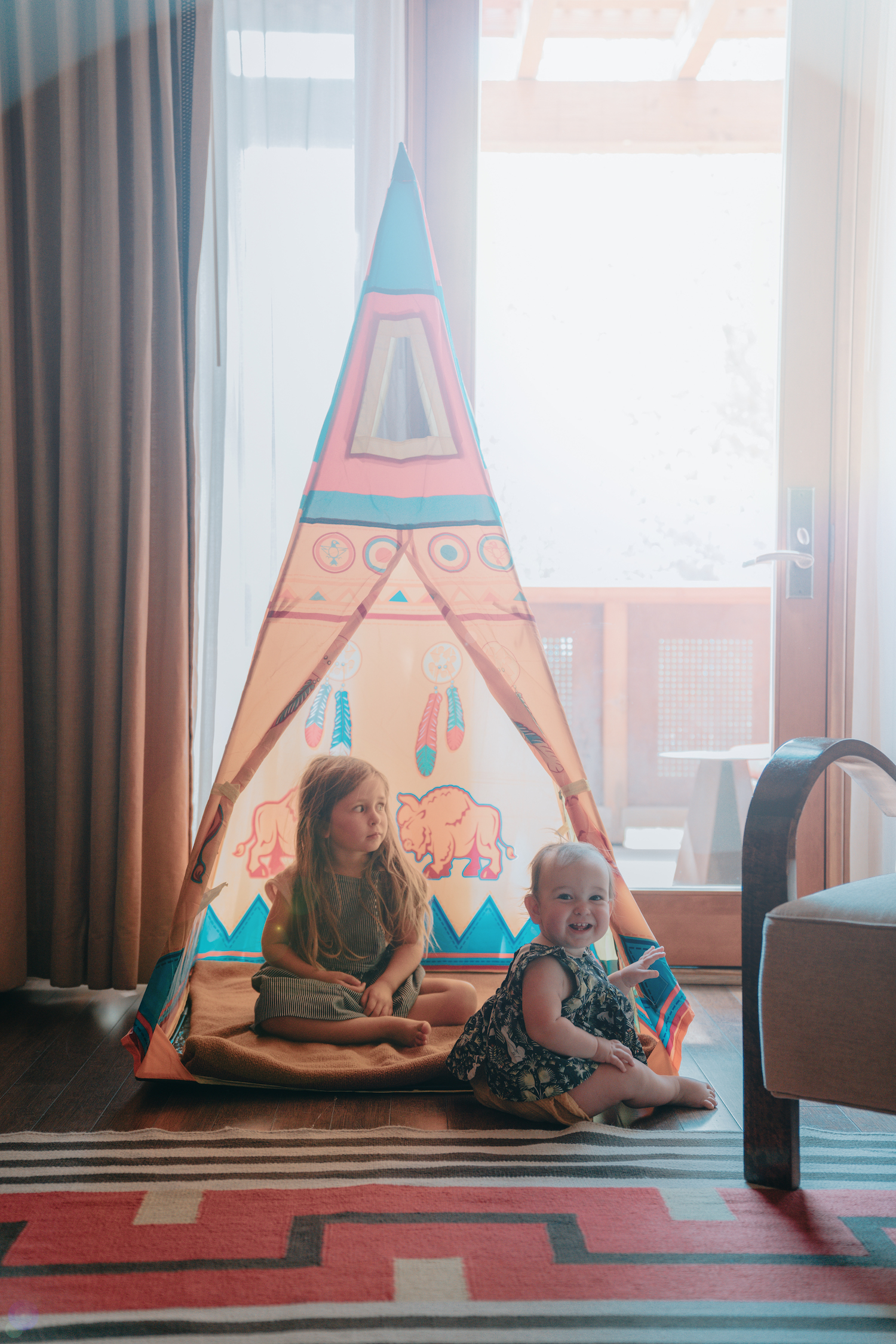 Also, this incredible patio can be accessed from the master bedroom or the living room area, so Aaron and I would come sit out here every night after the girls went to sleep.
Parker decorated cookies that afternoon with the Four Seasons pastry chef and that night we dined al fresco, watching storms come down in the mountains while the sun shone through the clouds nearby. It was seriously the best day.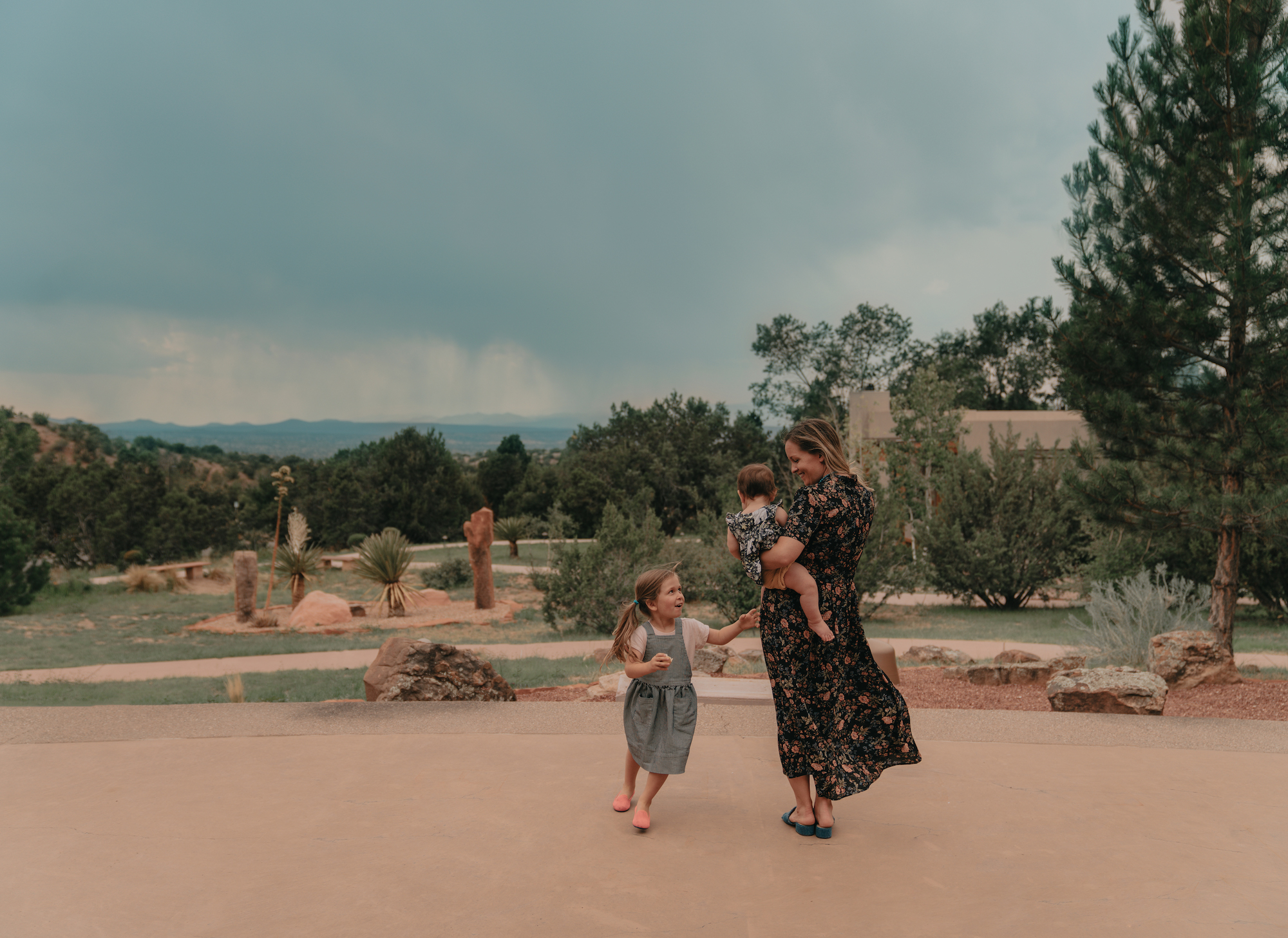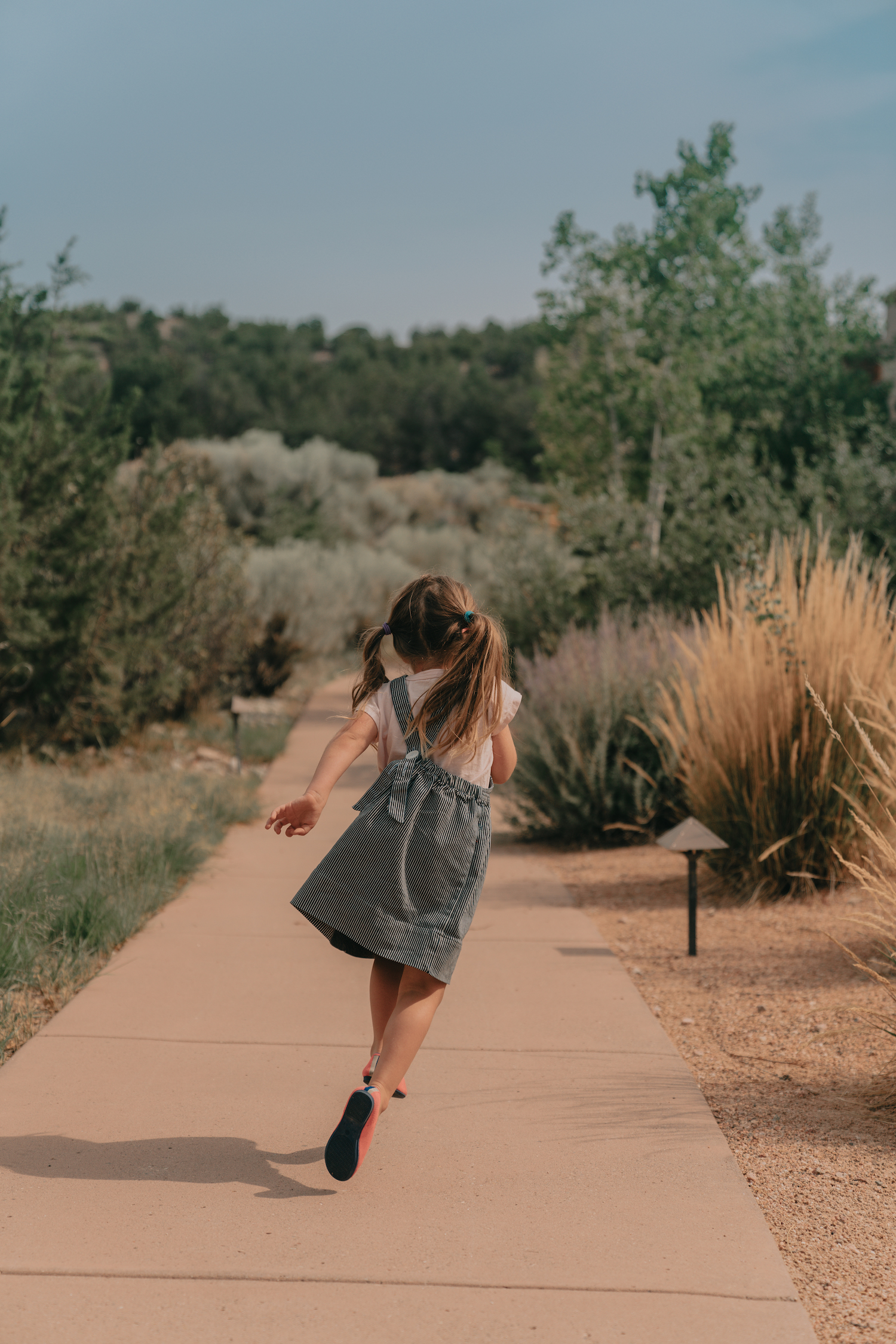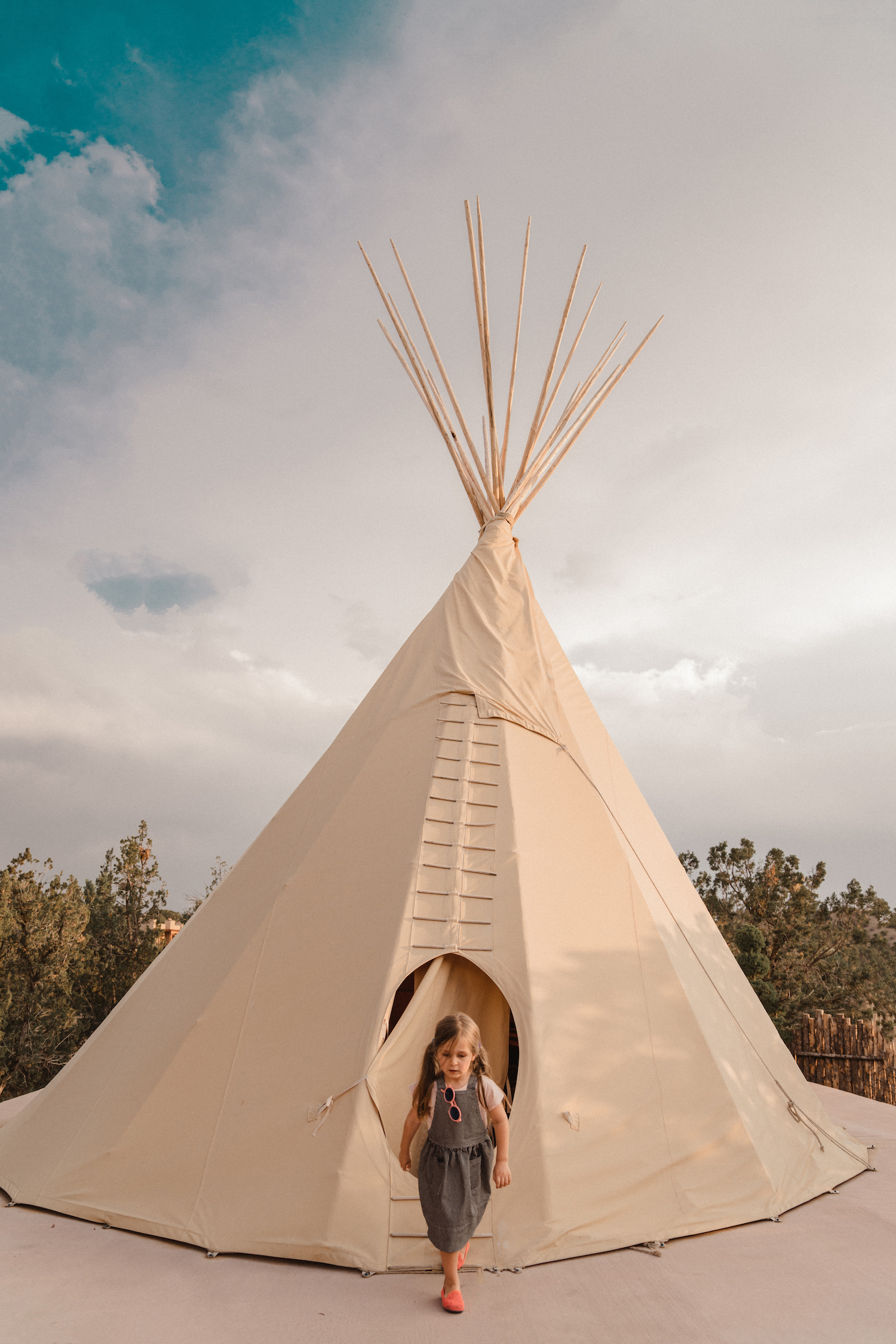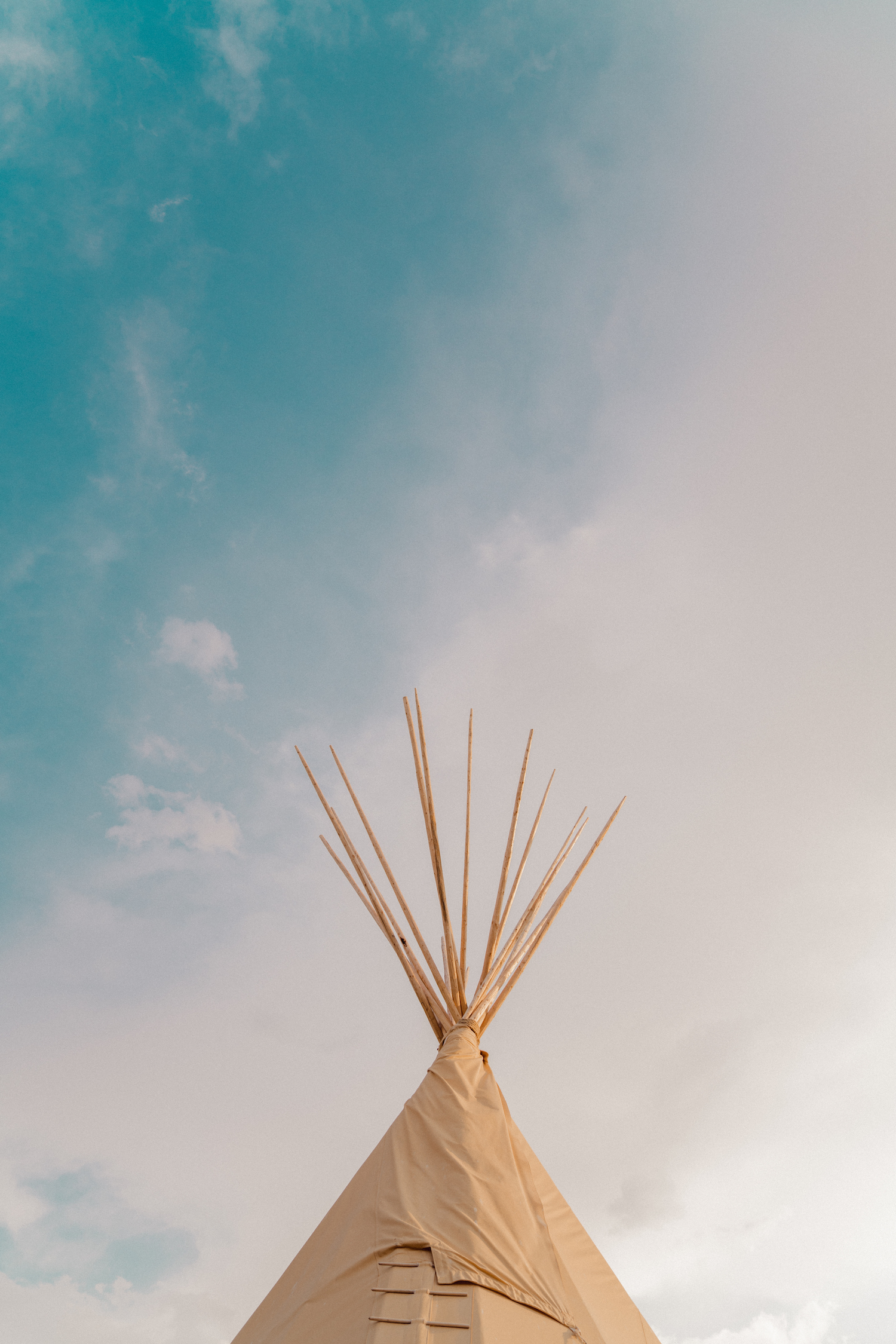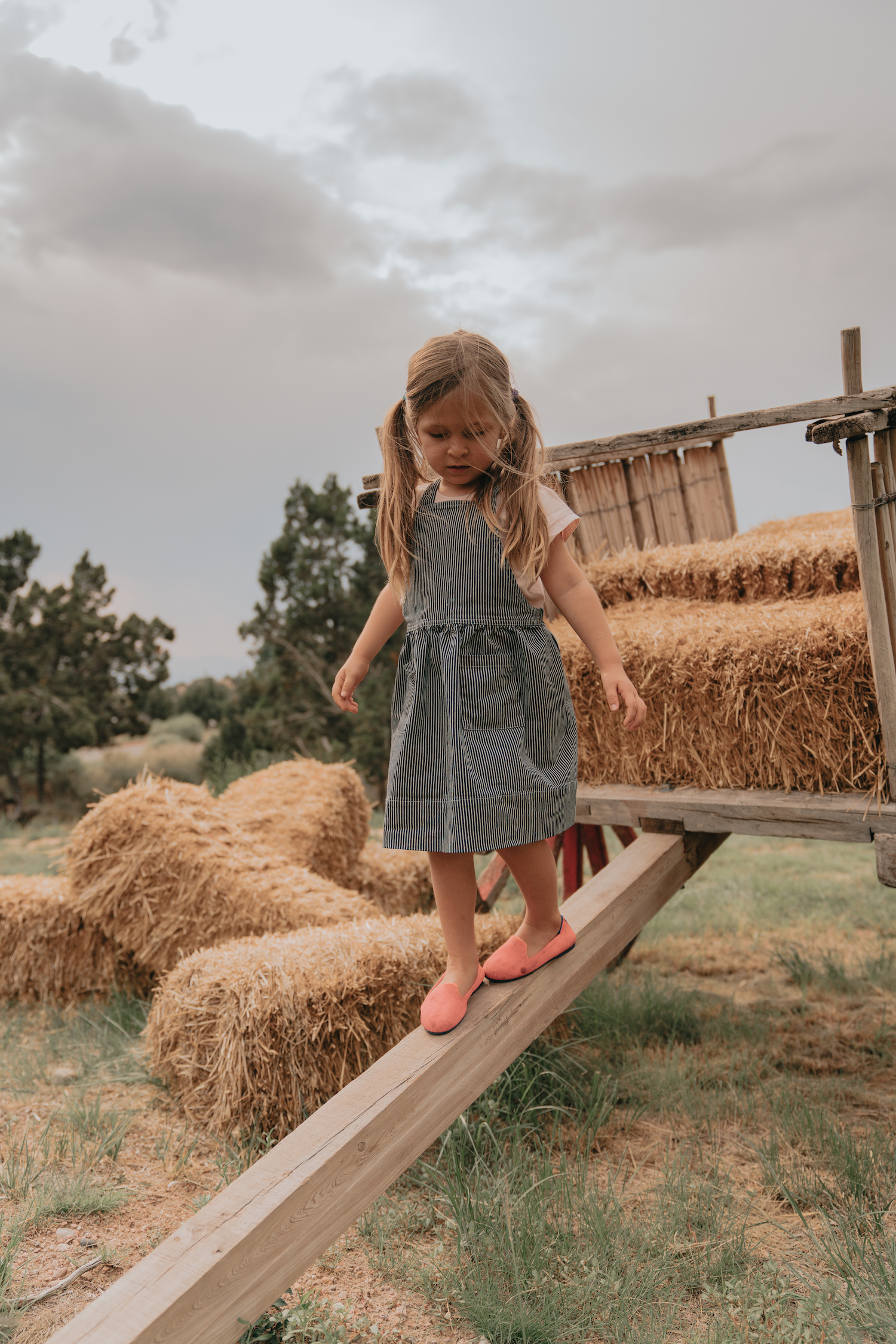 Historical Santa Fe
The next morning we woke up, had a delicious breakfast in the restaurant, and then met up with our adventure guide, Janet, to head to Bandolier National Monument, just 45 minutes outside of Santa Fe. Janet, an archeologist, knew so much about the history of the area and the significance of the landscape. It really would not have been the same experience without her. We climbed in and out of caves that the Pueblo Indians called home for centuries. The caves had been formed by gas bubbles and volcanic eruptions and were both so beautiful and so interesting in their uniqueness. It was also incredible to think about these people living in such close proximity with each other, that our history as humans is to live in community and tight knit villages and how much sense that actually makes, especially for little human raising.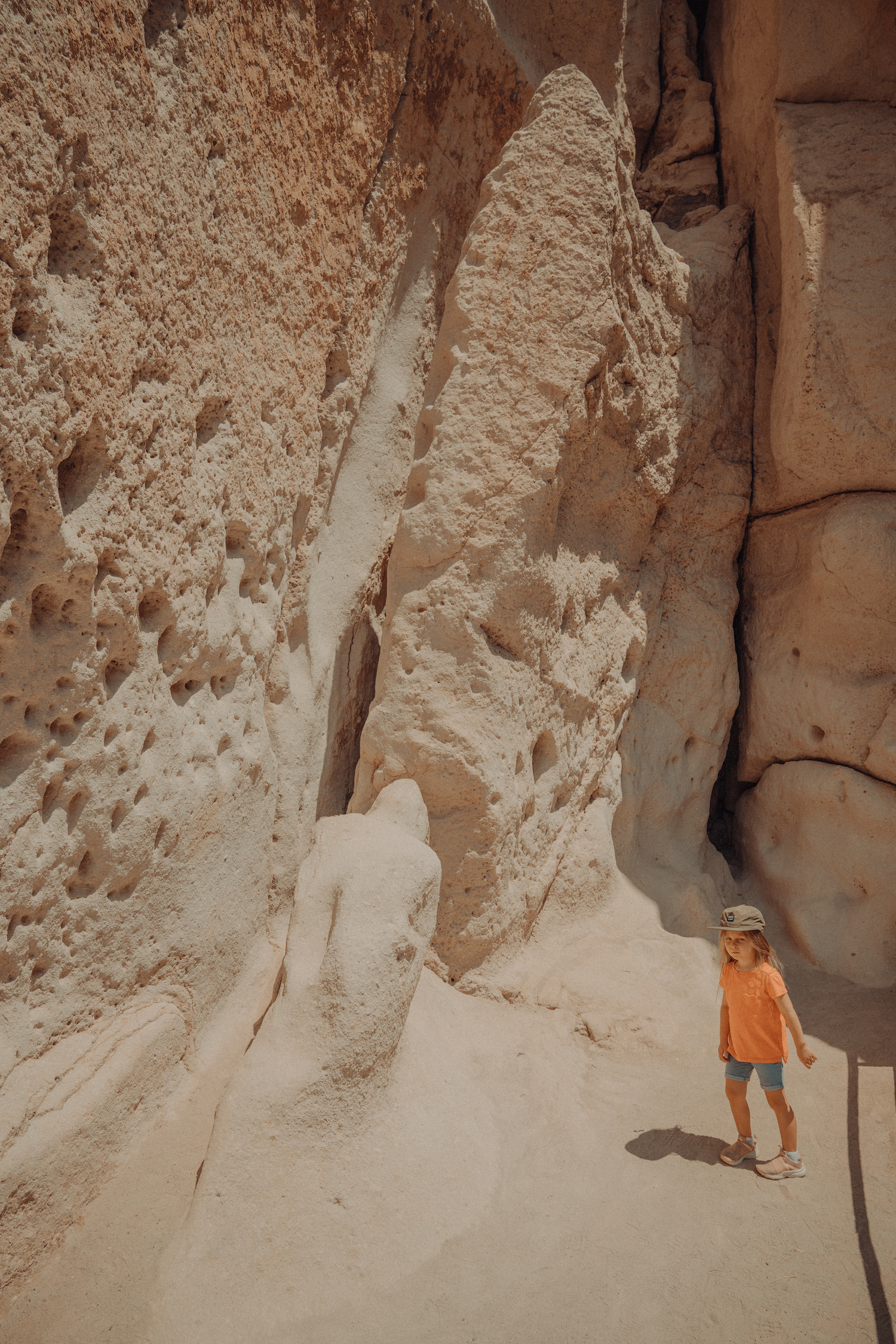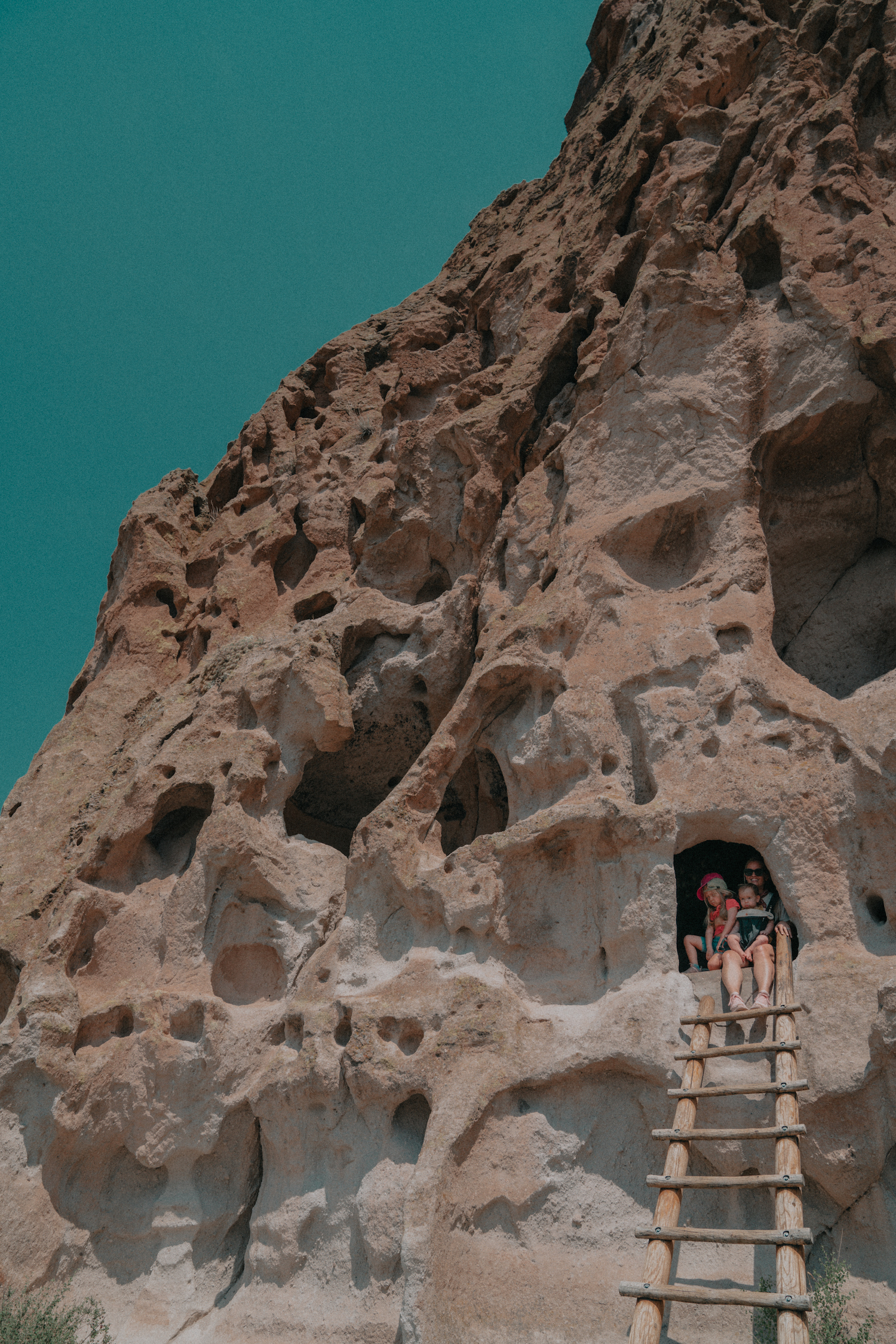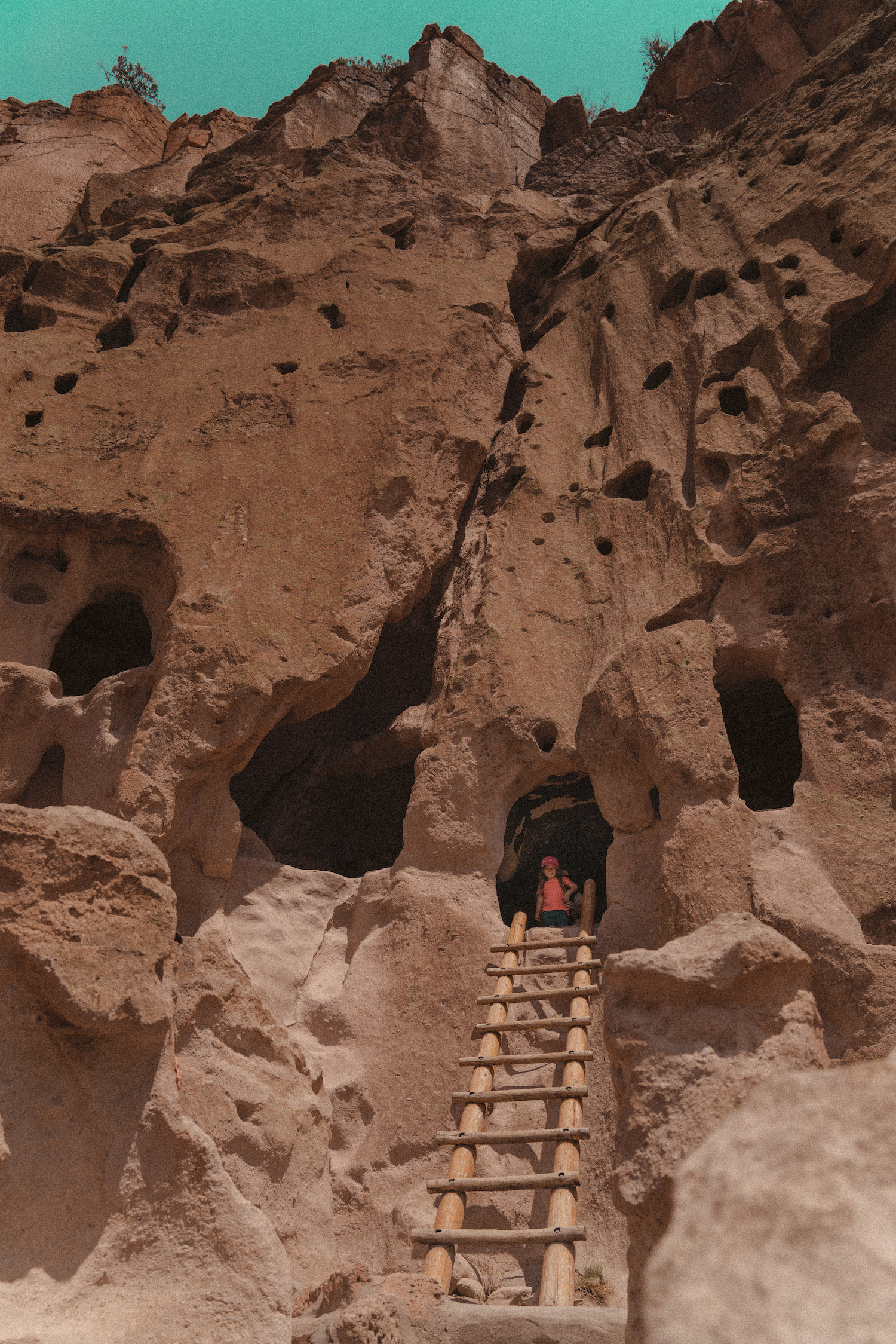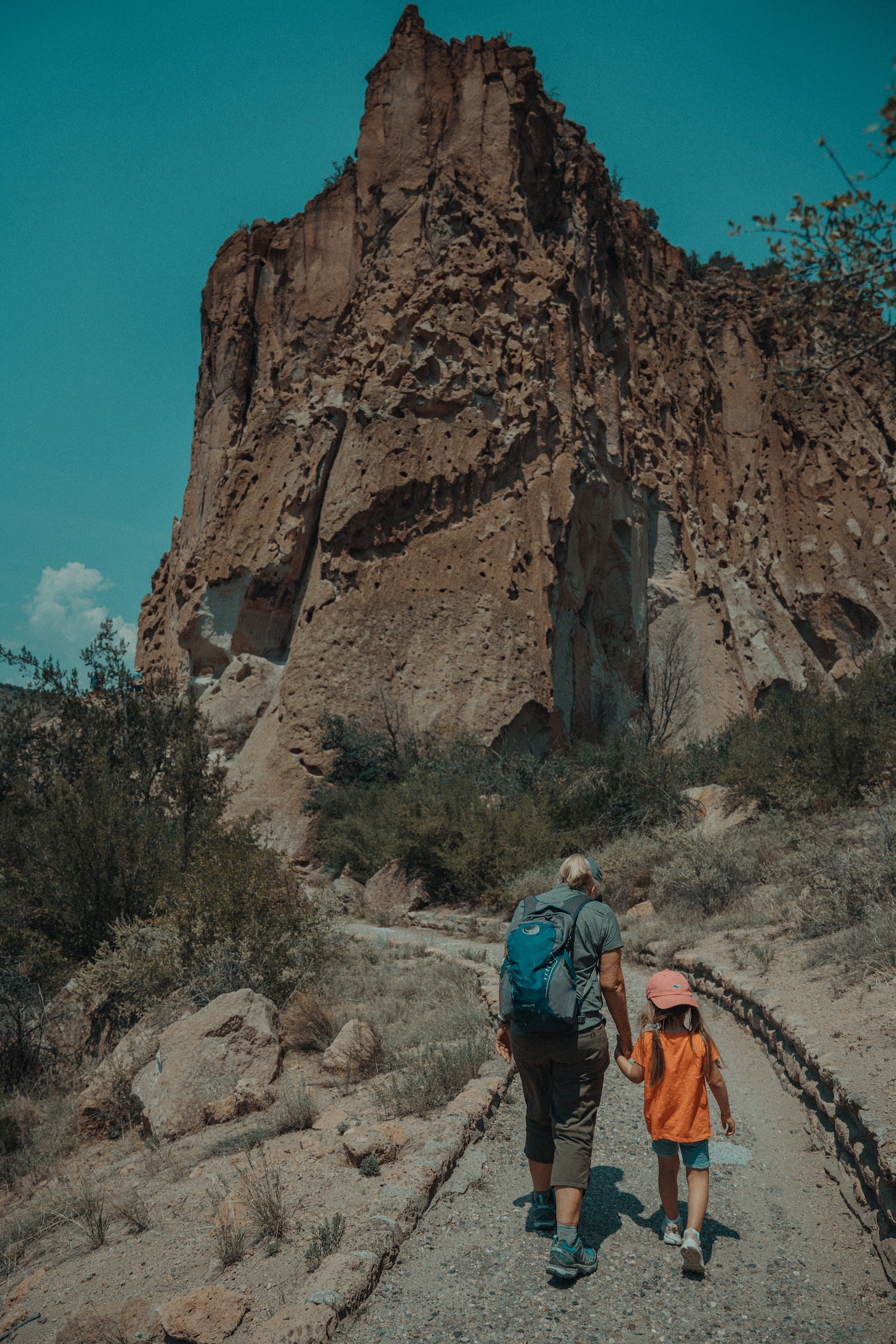 (That's Parker and Miss Janet above!) The Four Seasons had packed us lunch which we enjoyed after our hiking adventure through Bandolier on some picnic tables near the entrance.
We went back that afternoon and enjoyed the pool. There was a bench full of floats and noodles that Parker enjoyed playing with and fun games in the grassy area. That night we had dinner at the restaurant, followed by s'mores around the fire pit. We met another family there who was on vacation from China and Parker and their son, Tiger, played so well together. Sugar, always bringing people together!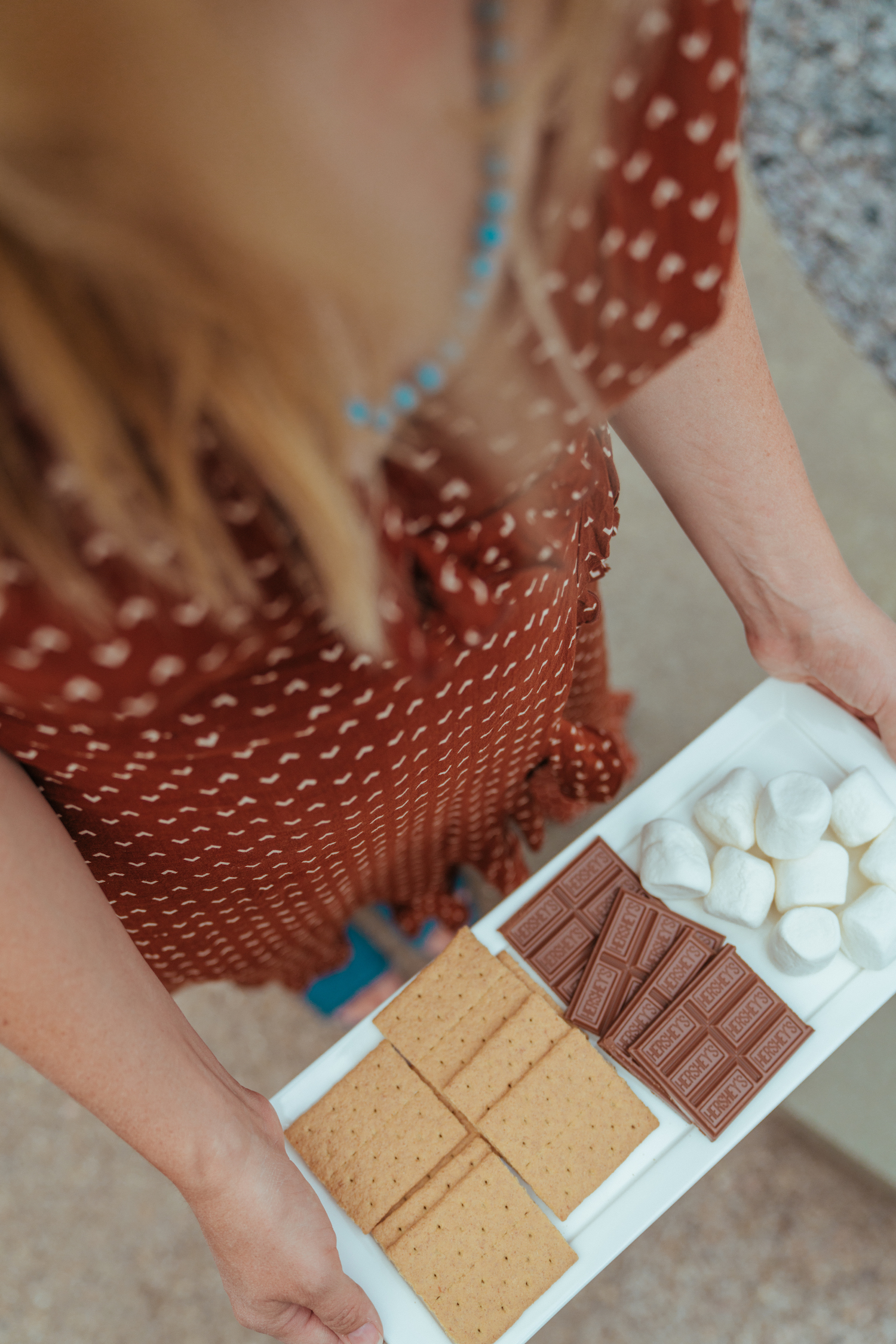 The clouds opened up and we got poured on that night, but Santa Fe thunderstorms are worth it. The lightning in the mountains and streams of rain are really idyllic and peaceful.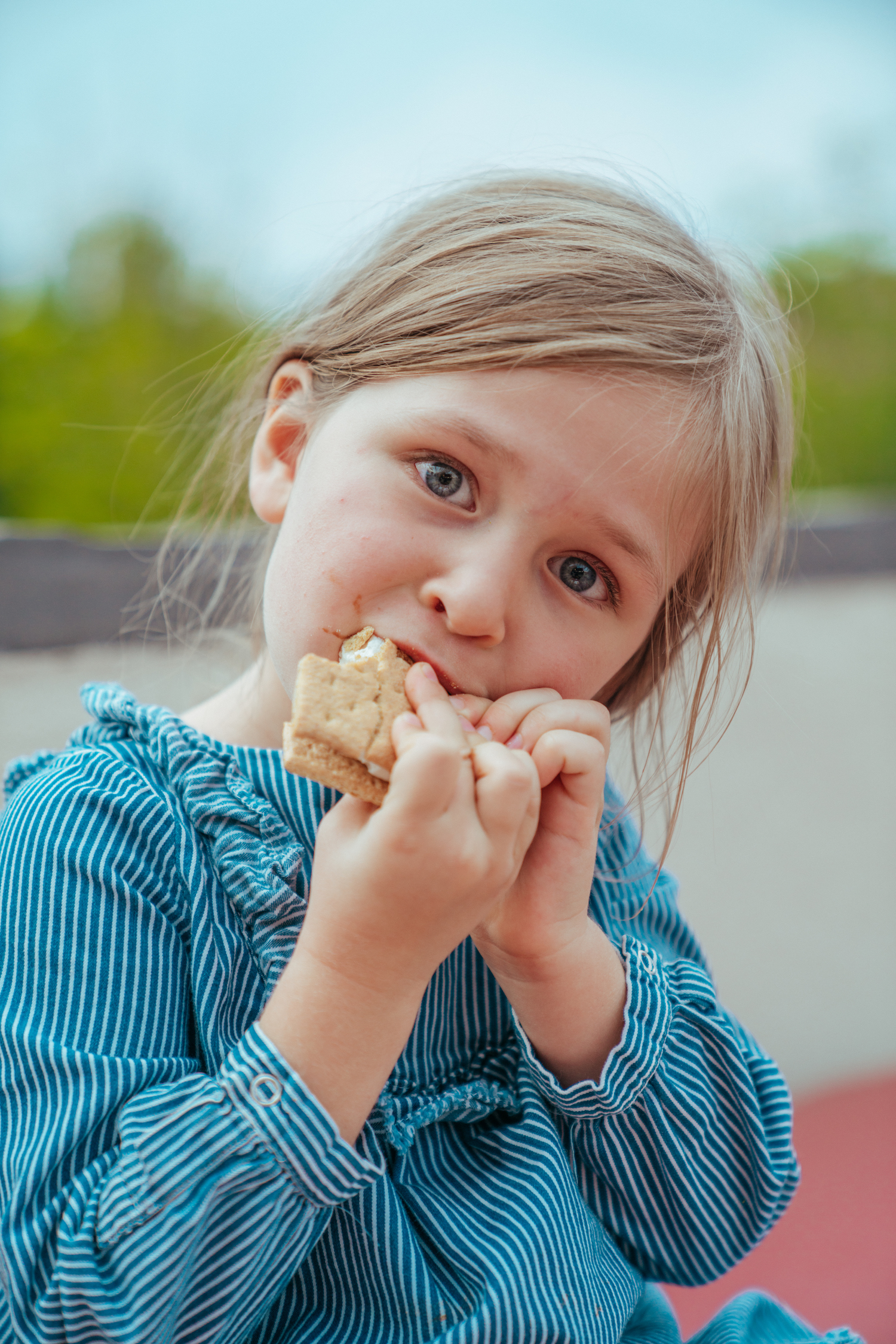 The next morning we awoke to our last day of vacation for the summer. We enjoyed another yummy breakfast and then I snuck out to yoga class on the property while Ever took a nap and Parker and Aaron played on the patio. It was the perfect end to what has seriously been the #BestSummerEver.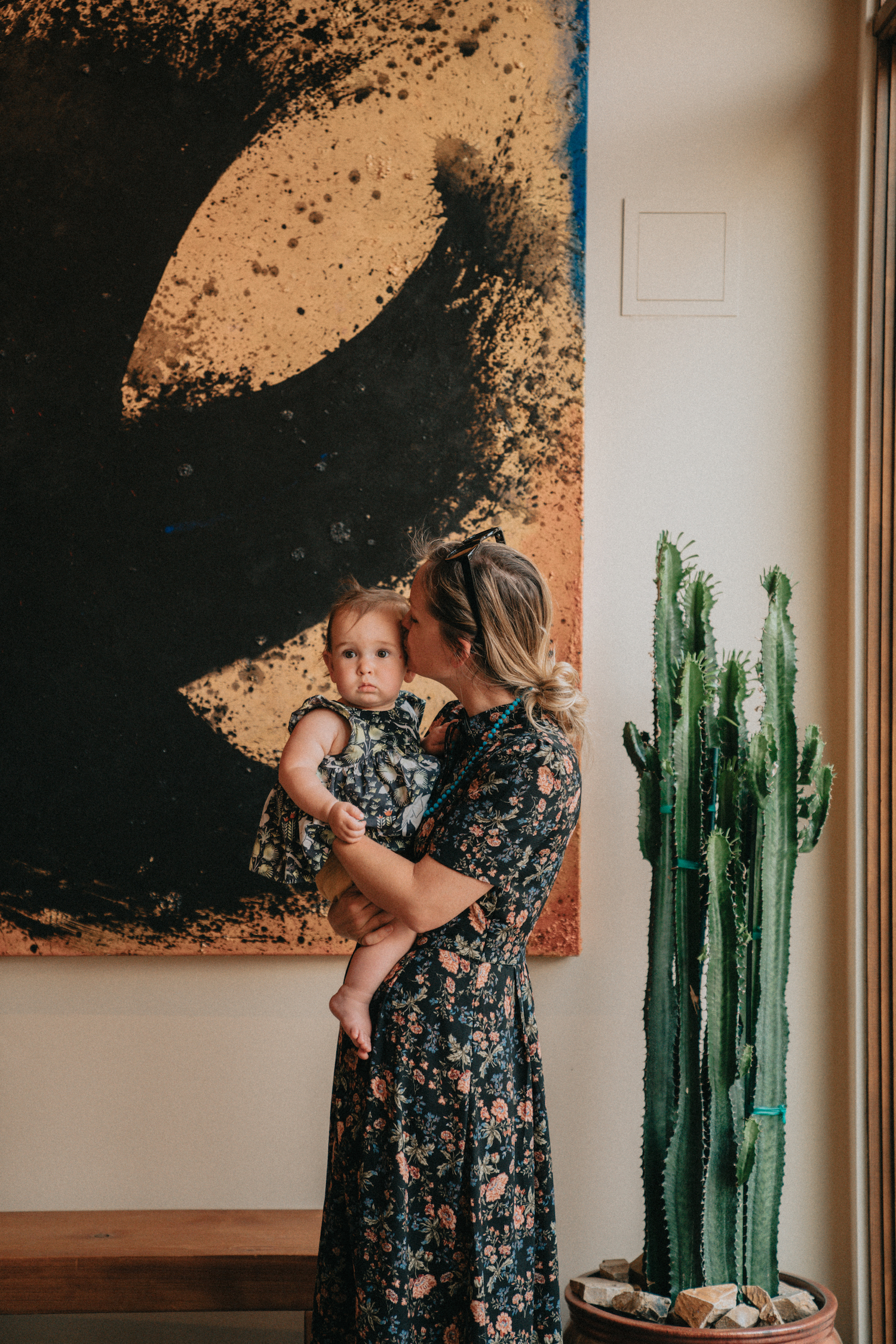 My Top Tips On Santa Fe:
Where to Stay
Best service and accommodations: The Four Seasons Rancho Encantado
Cool design and hip vibe: El Rey Court
Where to Eat
Humble Coffee (in Albuquerque)
Modern General (Our fave!)
35 North (for coffee)
Sage Bakehouse (for bread, sweet treats, and breakfast)
What to do:
tent rocks / slot canyon hike
Saturday Farmer's Market and Sunday Artisan Market
All Santa Fe photos by Aaron Pinkston
Be sure to check out some of my other travel posts!
Have you been to Santa Fe? Be sure to share any of your top tips and must sees in the comments below!