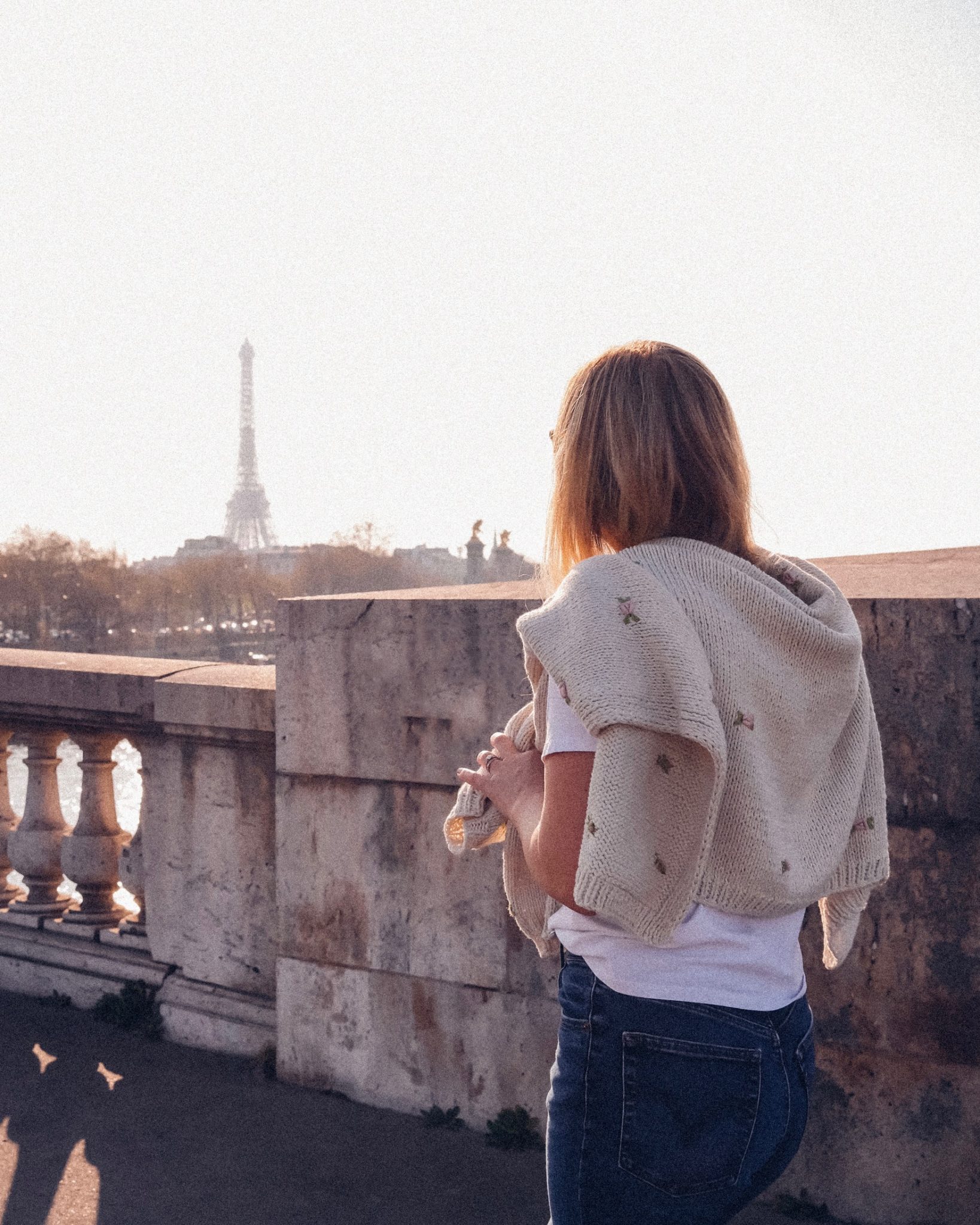 There has been a lot of philosophizing about the past two years. What did we learn? What changed? Did anything actually change? I can feel the last two years more than I can put them into words. Here's what has stuck with me, though: life can change in an instant. Do the things that make you feel alive and spend time with the people that make you feel like the best version of yourself. So when my friend Kelly asked if we would want to travel to Paris for her birthday, I said "Oui!" without a second thought.
We spent six days in the city and barely scratched the surface. I won't pretend to be an expert, but I will share the shops, neighborhoods and restaurants we loved! I hope you'll drop your favorites in the comments, too, because this definitely won't be our last trip to this city on the Seine. (True story: I spent the better part of our time waiting for our departing flight out of Charles de Gaulle saving Paris AirBNBs for our next trip, whenever that may be.)
Our flights from Austin to Paris:
We left Austin on a Saturday, connected in Dallas and landed in Paris at 9:25a on Sunday morning. We left our hotel in Paris for the airport on Saturday at 9a so we had almost exactly 6 full days in the city.
Where we stayed in Paris:
We stayed in Saint-Germain, the 6th arrondissement located on the left bank of the Seine. We chose it because of its proximity to so many cute cafes and restaurants as well as the Seine and Luxembourg gardens. Outside of Saint-Germain, we could walk anywhere in the city in 45 minutes or less and most places in 10-20 minutes.
We stayed at Hotel Fougere on Rue Bonaparte and really enjoyed it. It has been recently re-done so everything felt very fresh and clean. All of the staff were so friendly and helpful. They arranged for airport transfers both ways for an additional fee and had a lovely lounge where you could mix a drink or pour a glass of wine on the honor system, simply noting your name and room number. Two things to note: we stayed in a superior room which is one level up from their least expensive room and it was still very small. This is pretty typical in Europe, but just be aware if you're someone who likes to have space or will be spending a lot of time in the room you might want to upgrade or opt for an AirBNB. If we came back with our kids we would absolutely without a doubt rent a flat over booking a hotel. The hotel also does not have a restaurant, but that didn't bother us. I would rather be dining out anyways! A few other hotels in Saint Germain that were highly recommended by friends are Esprit St Germain, Hotel Lutetia, L'Hotel and Relais Christine.
Where to Stay in Paris outside of Saint-Germain:
We crowdsourced a lot of recommendations for accommodations in Paris and did a deep dive into the locations and rooms. There are so many beautiful hotels! A lot of them are très expensive! Also, if you're trying to get your bearings in terms of neighborhoods, I thought this guide was really interesting and informative!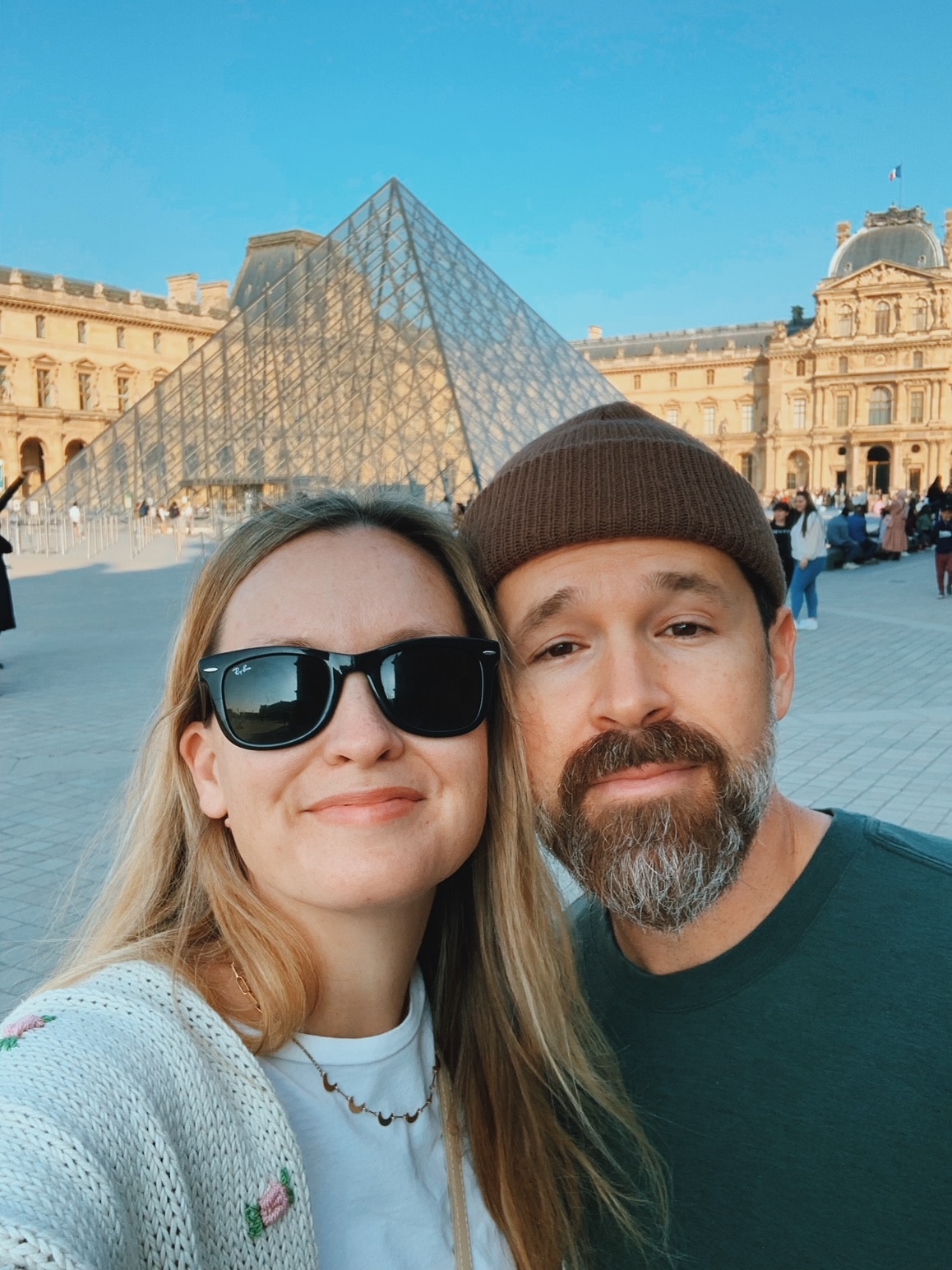 What to Do in Paris:
Because we had so many days in the city, we were excited to be more leisurely. We didn't have detailed itineraries or a huge list of must-dos. We had also been here a couple of other times, but hadn't been back since 2009. Instead we would have a couple things we wanted to see or do that day and set out on our way. Every day something would catch our eye and we would detour or we would get a text from a friend and change directions to meet up. We were there with a big group of friends but spread across three neighborhoods and mostly couples. We did big group stuff about 20-30% of the time and were just the two of us the rest of the time. It was a really nice balance!
Marché Monge: In the 5th, Marché Monge is just a few blocks away from the Jardin de Plantes and has everything you could ever desire in a french market. From prawns to cheese, fresh flowers to strawberries this is a perfect stop for taste testing or packing a picnic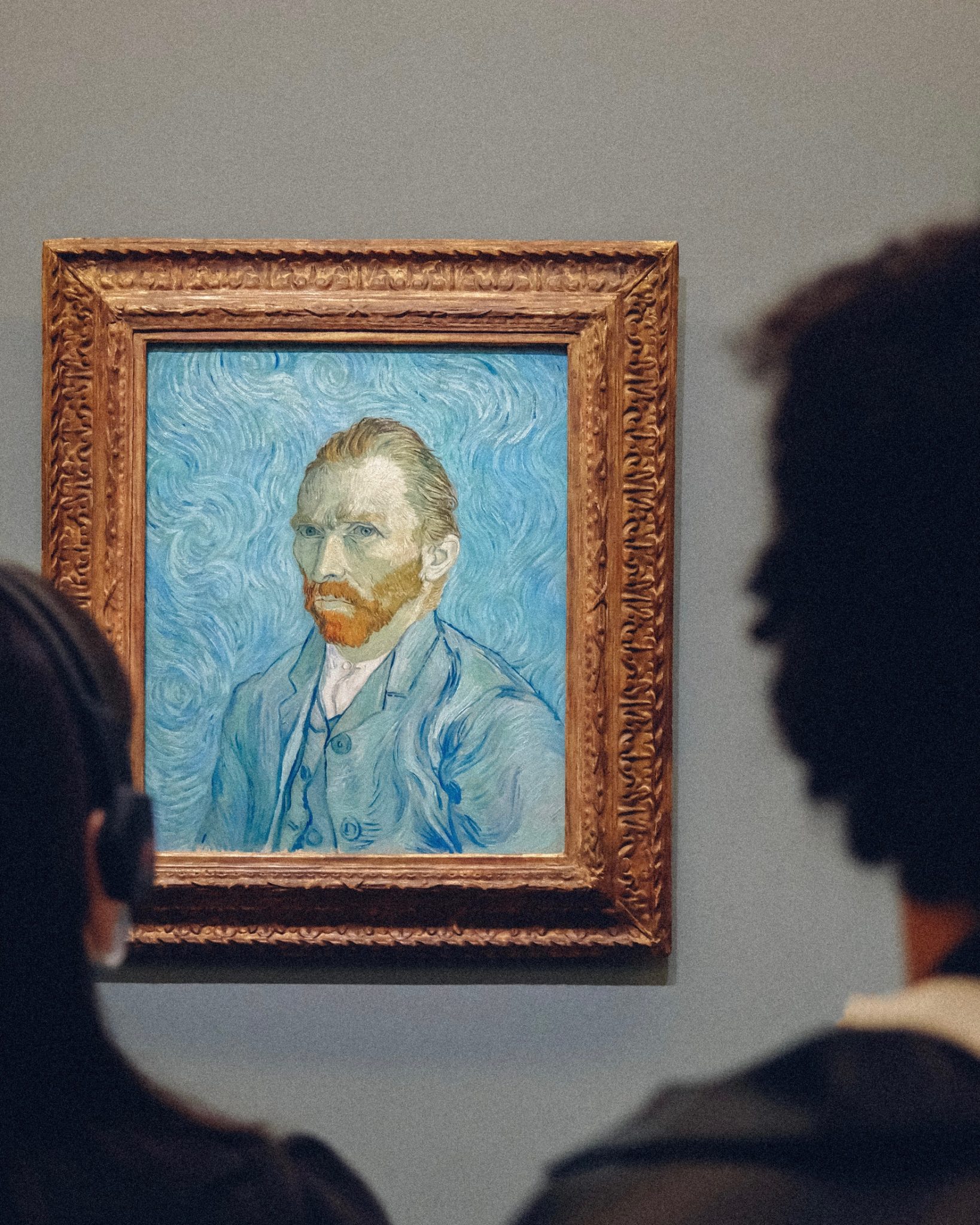 Musee d'Orsay: I had high hopes of buying a museum pass when we arrived in Paris and stopping into every museum from Rodin and Picasso to the Louvre and l'Orangerie. In fact, the only museum we made time for was the d'Orsay and it did not disappoint. The 5th floor was my personal favorite featuring some of my favorite impressionists and post-impressionists alongside the current Yves Saint Laurent exhibit and the striking views of the city as seen through the clocks. The building is a converted train station which is museum-worthy in itself.
Les Puces de Saint-Ouen: or Les Puces for short is the largest antique market in the world welcoming well over 100,000 visitors each weekend. We went on a Monday and it wasn't very busy at all. There is incredible vintage furniture, art, jewlery, t-shirts and Levi's, and anything else you can imagine. I left with just a gold ring and a desire to own a cargo ship with which to bring back a sofa.
The bridges in Paris are incredible! Each one is so unique. On one overcast morning we slowly walked across the Pont des Arts while listening to Moon River and those 10 minutes are one of my favorite memories!
Bar Hemingway: Bar Hemingway is located on the ground floor of the Ritz Hotel and it's worth the visit. They open at 6p and a line begins to form around 5:30p. The bar seats 25 and is first come/first serve. The $34 cocktails are works of art that don't skimp on the alcohol content and are often adorned with a rose. We entered through the front entrance of the Ritz and thoroughly enjoyed the walk through the orante hotel, stopping in the cutest tea shop en route to the bar and spontaneously picking up some loose leaf vanilla tea as a souvenir. (Also, it randomly started hailing at that same moment we were in the tea shop!)
Notre Dame: While the cathedral is still closed after sustaining significant fire damage in 2019, you can walk around the walled-off structure and read about the damage and the reconstruction which was really interesting. (There's a sister cathedral in Reims that you can visit… more on that below!)
Jardin de Tuileries: The expansive Jardin des Tuileries separate the Louvre from the Place de la Concorde. It was first created in 1564 and opened to the public in 1667. It's a wonderful place to stroll, picnic or take a ferris wheel ride.
Eiffel Tower: Visit this iconic monument at night to see it sparkle every hour on the hour for 5 minutes! It's cheesy and touristy and still so fun!
Montmartre: This was my third trip to Paris and my first to Montmartre! Visit the beautiful Sacre Coure and the neighborhood's cobblestoned streets and idyllic cafes and shops. There's an APC Surplus store in the neighborhood if you want to do a little shopping and no shortage of cute shops! Grab a bottle of wine and a baguette and enjoy the sun set. See if you can spot the "sinking house" while you're there, too. (Pro tip: plan your walk to pass by Moulin Rouge just so you can say you did.)
We walked so much! We averaged 25,000 steps a day in Paris and loved almost every one. The high gloss lacquered doorways. The boats driving up and down the Seine. The woven cafe chairs in their contrasting colors. The street style. The shops. The architecture. The patisseries and boulangeries. The journey in Paris is truly the destination.
Where to Eat in Paris:
Contrary to popular opinion, it is in fact possible to have a mediocre meal in Paris! We made the mistake a couple of times of just stopping somewhere randomly and quickly learned to do a little research instead. Ahead of the trip, I made dinner reservations at two places, but ended up canceling both as our plans firmed up. We were able to eat at both places on a whim, though, and didn't find that reservations were extremely necessary, especially if you're willing to get there right when they open and it's just two of you. I would say rather than having strict reservations it's a good idea to have a few recommendations in each neighborhood so that if you find yourself hungry in the 9th on your way to Montmartre you can navigate yourself to a great spot with ease.
Cafe Louise was the best burger and fries we had in Paris!
L'as du Falafel is the best falafel.
Chez Julien is a classic french spot with wonderful service, lobster ravioli and roast chicken.
Frenchie is so fun! Wine bar with delicious small plates!
Bonhomie was so good we ate there twice! The oeuf mimosa, hangar steak, pasta with shaved octopus, fish croquettes and every other bite was delicious! Shout out to Armani from Miami that was our server on the first day.
Homer Lobster is a classic lobster roll shop that looks like it belongs in Cape Cod! Not at all french, but quick and so delicious!
Hotel Costes has a restaurant that opens up reservations just 24 hours in advance, unless you are a guest. The food is great and the scene is worth the stop.
Cafe Malongo was Aaron's favorite coffee shop. The croissants and pain au chocolate were delicious.
Saint Pearl has the best oat milk latte in Paris. There I said it. Stop by the shop next door for an almond croissant.
Pizza Chic is so good. We have great pizza in Austin, but this was truly worth the stop. The ingredients are so fresh and the crust so thin and full of texture.
La Palette is a classic french cafe serving up delicious fare in a cozy and fun atmosphere.
Pain Pain might have the best bread in Paris? It's a highly competitive market but gosh was it delicious!
Rosa Bonheur Buttes Chaumont is a bar set in a former guinguette in the heart of the Buttes Chaumont park. Go for tapas and wine.
Le Consulat is a photo-worthy french cafe in Montmartre.
Juice Lab is the perfect morning antidote, so we discovered, to late nights. The Kale King does not disappoint.
Cafe de Flore is an iconic cafe perfect for a morning croissant and jam or a late night ice cream sundae.
Carette might have the best croissant in Paris. Just saying…
Shops We Loved in Paris:
Poudre Organics for beautiful children's clothes in organic fabrics and some great pieces for men and women, too.
Milk on the Rocks is a children's shop owned by a former New York who moved to the city 30 years ago. I bought Parker a skirt here that has positive affirmations designed into the pattern detail. It's so cute!
Galleries Lafayette and Le Bon Marche are both jaw-dropping gorgeous department stores! They reminded me of Barneys in New York (rip) and were so fun to explore.
Bellerose is a women's boutique with private label line and a few other brands. It feels a little Steven Alan meets Sezane and I left with my new favorite pair of pants.
American Vintage is such a cool store for men and women. Think classic, utilitarian pieces in solid colors that can be mixed and matched with ease. #ParisianTuxedo
Merci has delightful homewares and textiles and at least a dozen things you'll want to take home with you.
We stopped into countless stores during our many walks around the city! SO many good ones that I don't remember the names of! The Metro is great and Uber is convenient but walking is the best way to see all of the small shops the city has to offer. I was truly amazed (and envious) at the number of small businesses that these city dwellers have access to. There are just so many incredible, unique brick and mortar stores. That doesn't seem to exist anywhere else anymore.
Day Trip from Paris:
On our 4th day in Paris we took a 45 minute train to Reims in the Champagne region of France! You can walk from the train station pretty much everywhere. There's a quaint downtown area that's much more modern that I imagined, complete with a Zara and H&M, but also more small shops and cafes. There is a Notre Dame cathedral in the square which is truly stunning and features modern stained glass works by Marc Chagall and other artists.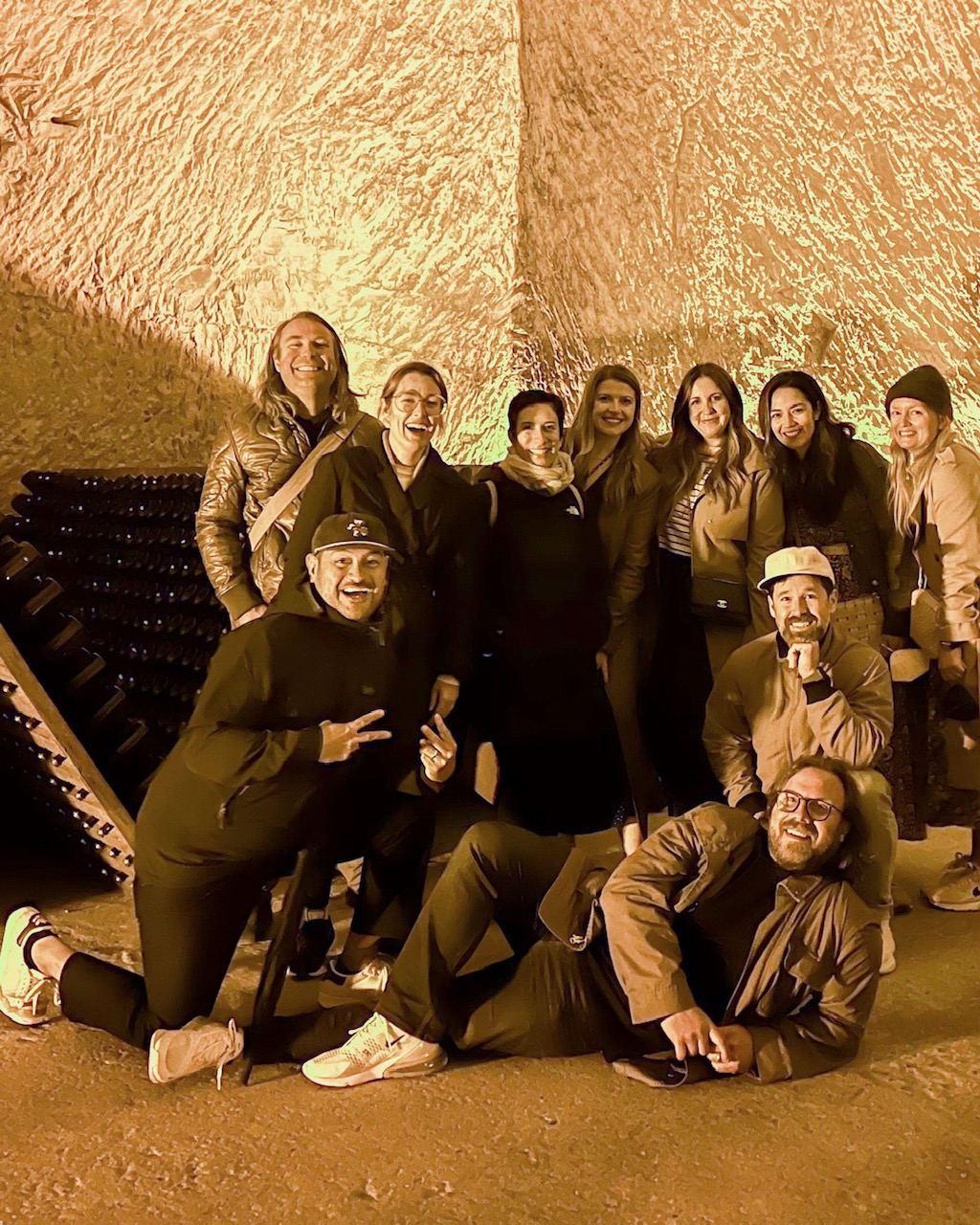 We took a tour of caves dating back to the 3rd century at Tattinger and finished the adventure off with a tasting before hopping back on the train to Paris. Highly recommend this day trip and the Tattinger tour and tasting!
It's worth noting that all of the Parisians we met during our trip were so warm and kind and gracious. We did not have a single rude encounter. The french people were part of what made our trip so incredibly special! 10/10 recommend hopping a plane with your besties (or new friends!) and exploring a new country. Au revoir!
My Paris Diary: a few more snapshots from our trip.