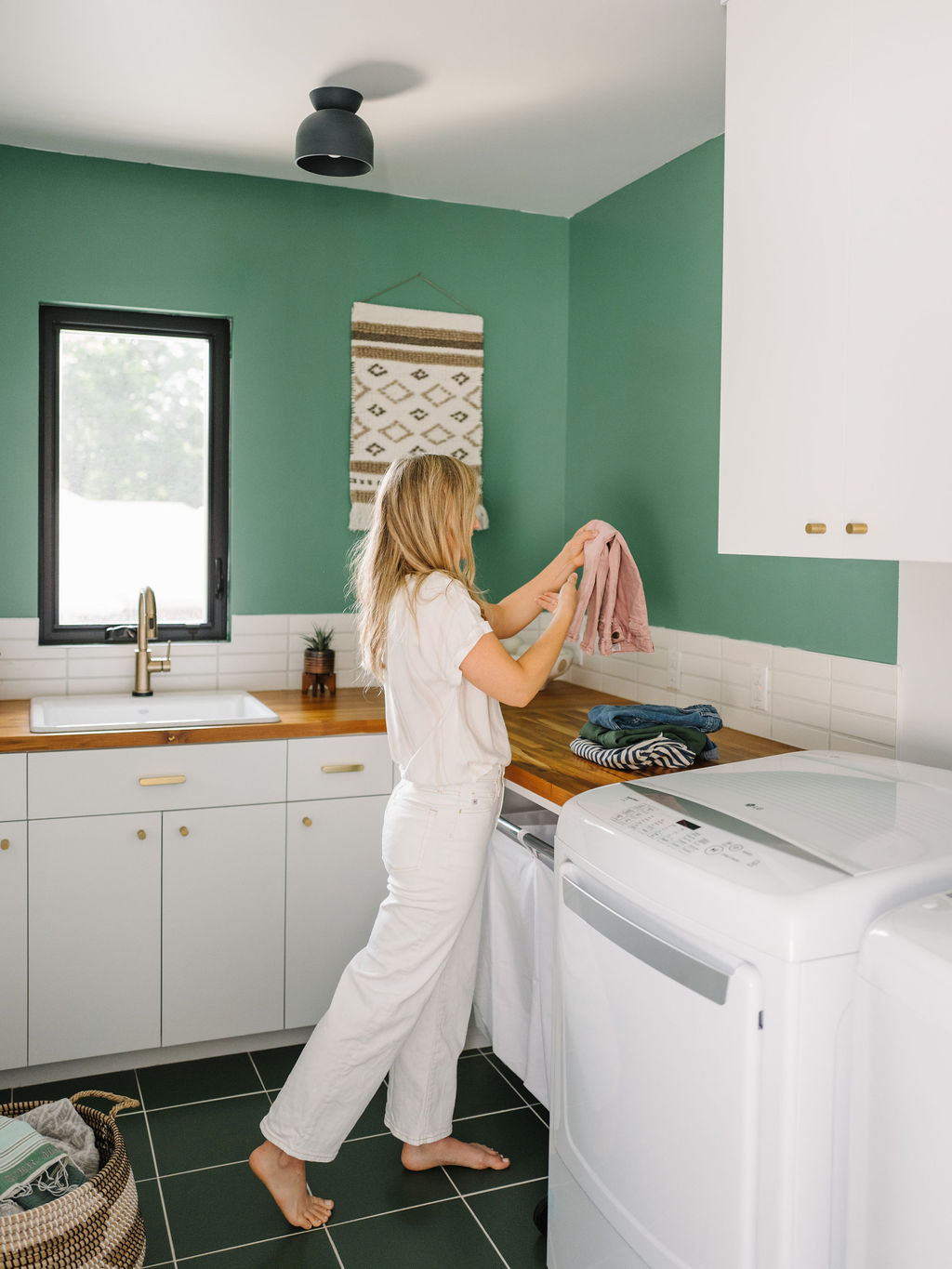 After making it through the bulk of our home projects for Our Austin Casa, I took a much needed break. Everything felt like it was in a good place and I was excited to let something else fill that headspace. As time went on, though, I realized that one room that I was in day in and day out needed some design love. We partnered with EasyCare Ultra Premium Paint and added more color and warmth to our laundry room, which makes it feel like the rest of our home. Plus, EasyCare Paint has superior stain resistance and durability, which is perfect in a busy laundry room. Here's what it looked like when we moved in:
Here's Britt painting:
For starters, our laundry room is upstairs next to Ever's room. There are definite pros and cons to having it upstairs. It's out of sight which we love, but also out of mind which means that I have to be extra vigilant to go upstairs and make time to fold clothes otherwise it's easy to forget there's laundry up there. In the past when our laundry rooms have been closer to our living spaces, it was easy to throw in clothes while you're doing other things and to grab them and fold them whenever you have a free five minutes. The upside is that it's close to the girls' rooms who produce the most laundry so that makes putting it away easy.
I loved working with EasyCare Paint on this project because their paint is certified by the Asthma & Allergy Foundation of America (AAFA) because it minimizes irritants in the air from the paint, making it healthier for your home. I pay careful attention to the ingredients in the kids' bath products and in the food that they eat, so it only makes sense to care about the paint going on the walls so near to their rooms. I can also attest that while we were painting this somewhat small room, there was almost no odor. Some paints have such a strong chemical smell and this one didn't at all.
I thought about doing a lot of different shades in this space, but ultimately went with EasyCare Paint Grass in their satin sheen. I love having everything in this room a different shade of green, from the light fixture to the floors and walls. I think the green and brass combo is particularly pretty, too. It's crazy how different the space looks with just a simple paint update!
EasyCare Ultra Premium Paint is available at True Value stores nationwide and many independent paint and hardware retailers. Visit the Store Locator on EasyCarePaint.com to find a retailer near you.
Photography by Katie Jameson
(This post is sponsored by EasyCare Ultra Premium Paint. All thoughts and opinions are my own. We had a great experience with this brand and know you will, too!)