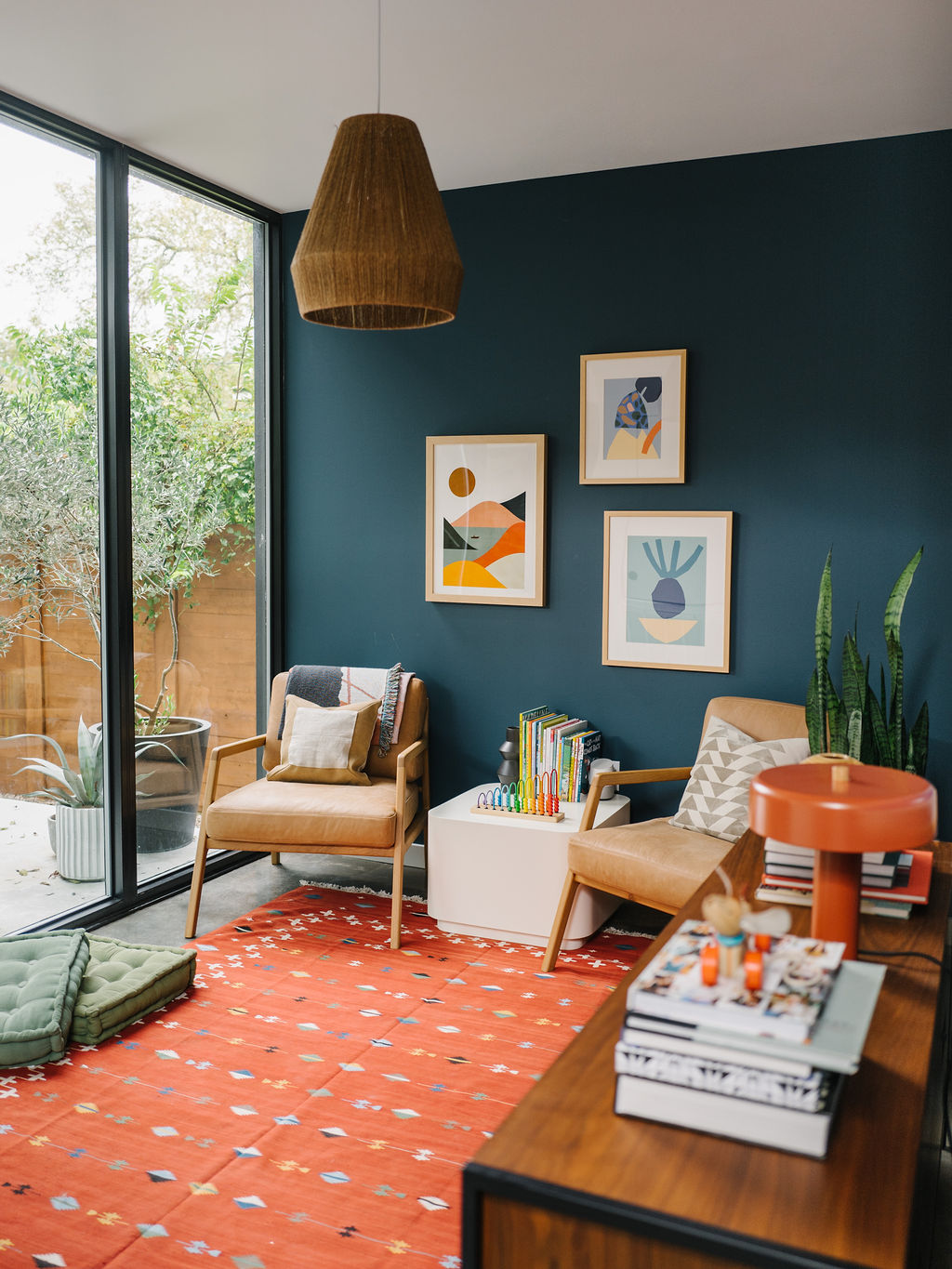 (This Mid Century Modern Playroom reveal is the latest in our series of room reveals from Our Austin Casa. It was originally published in 2018.)
This room has been a long time coming. The long and meandering journey to this room goes back to sitting at our dining room table in Los Angeles circa 2015 with our initial architect and hearing myself explain my idea for a playroom. "I want it to be a space downstairs, that's close to the kitchen and living areas, but also not like right in your face," I said. The kids' bedrooms were going to be upstairs, and I knew that I needed a space for all of their downstairs toys and things to live, a place for them to play and I knew I didn't want that place to be our living room. We worked with him on a couple of iterations of floor plans, pulled out of developing on the property we were currently under contract on, and didn't end up buying our current lot until six months later. During that time we hired another architect (Sam Burch), this time based in Austin and I recounted the same detailed request for a playroom. In my mind, the playroom was a closed off room, perhaps because those were the playrooms with which I was familiar, but when Sam showed us this version of a playroom I immediately fell in love with this open concept. I can see the space from the kitchen (about half of it if I'm standing at the sink) but you don't see it immediately upon entering the house, so if the kids pull out toys throughout the day it's not like you walk right into them.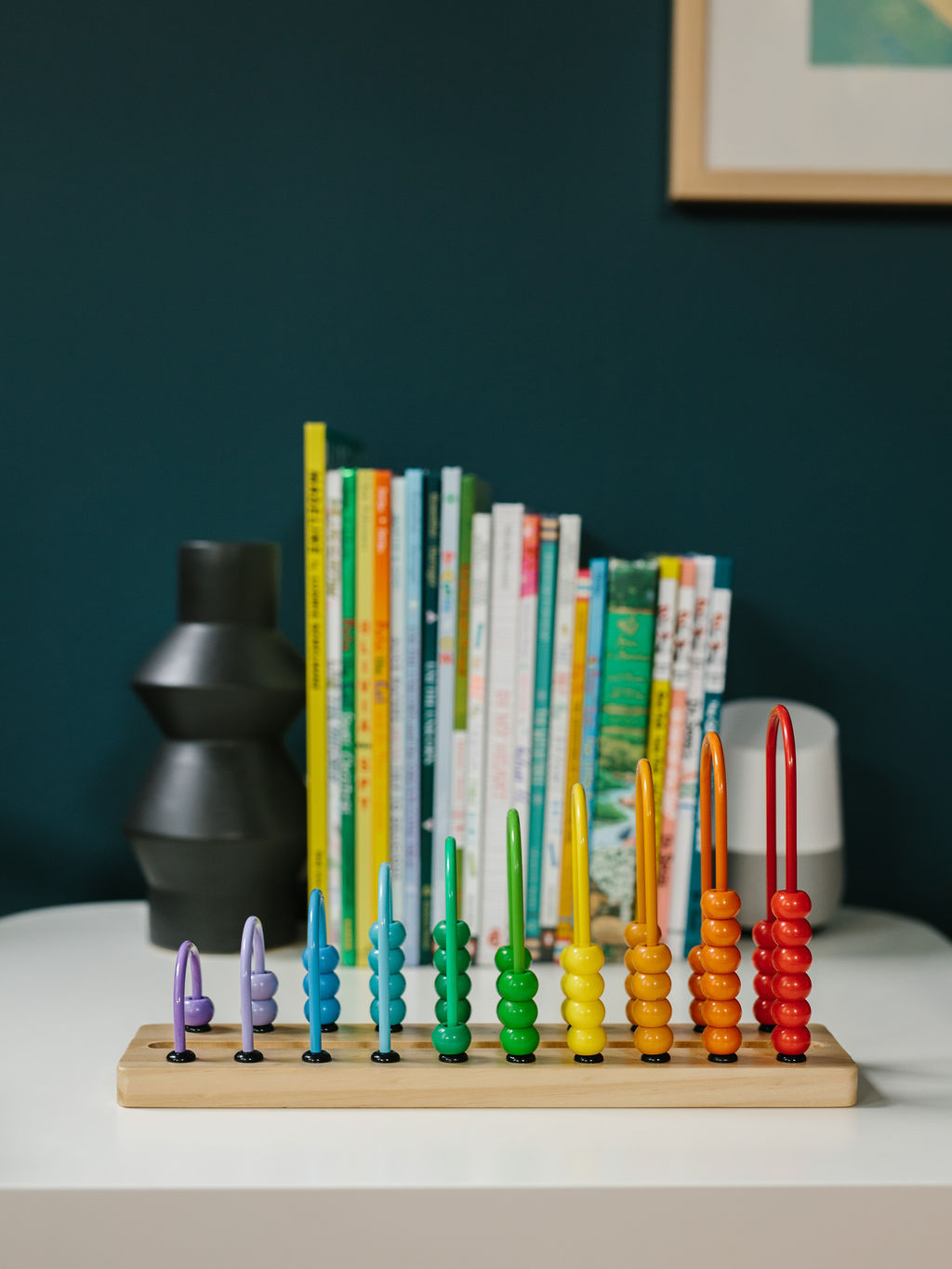 That's the upside. The downside that comes with it is that it is an extension of our common living areas, so it does need to flow design-wise with everything else that's happening in the kitchen and living room, yet still feel like a playroom, just a kid chic mid-century modern version of a playroom. (Click here to see my first post about our playroom plans-- almost two years ago!) I can tell you this about this space: Every piece you see here was carefully thought about, agonized over, and considered over months and months and months. I went through five different rugs, taped off multiple chair options and must have stared at hundreds of different art pieces for the walls, scrolling Etsy and Chairish for hours.
Here are actually a few early iterations from my iPhone:
I love the bones of this room: the concrete floors with the floor to ceiling windows and the deep dark teal paint color (Behr Observatory). The blue and cream rug that we started with in there is from Room & Board and was the rug that we had in our dining room at our rental. It was too busy for this dining room so we put it in the playroom, but always felt like it wasn't quite right there. (It's a 5x8 and the room really needs a 6x9... really the room needs like a 7x9.) Similar story for Parker's gray glider (which we are actually selling now if anyone local is in the market!). She didn't have room for it in her room and our downstairs was lacking seating in a major way, so it lived here until we figured out what we were going to do long term here. The yellow rug is from our office, and was a hail mary when I was at the end of my rope trying to find a rug that went in this room. We tried this one, but it was too small (it only came in 5 x 8) and also that large patch of solid white made me pretty nervous in a play room. We tried this one (bottom left) that I obsessed over for months and was so in love with, but ultimately it was too dark and made the room feel dark. Then we tried this one because I tried to do whatever was the opposite of that last one but it didn't go at all which is when I got the bright idea to swap that one with our office rug which is the yellow one in the bottom right which seemed like the best fit we had so far, but I still wasn't loving it. Then, with no intention of rug shopping, my mom and my sisters and I stopped by a shop that caught my mom's eye while we were in Santa Fe and behold the most epic rug store ever. I found this beauty and it was love at first site and was really the final piece the room was missing.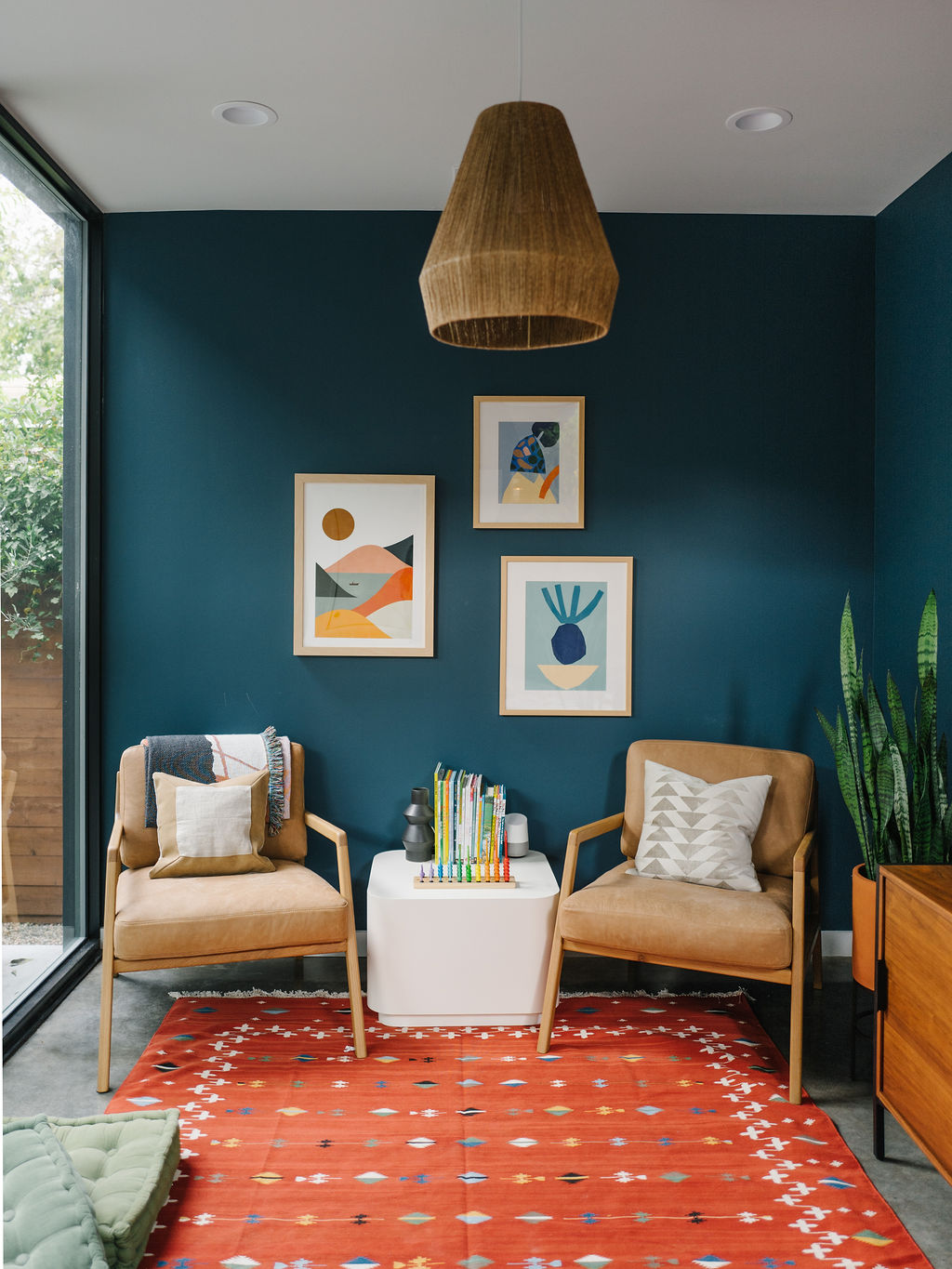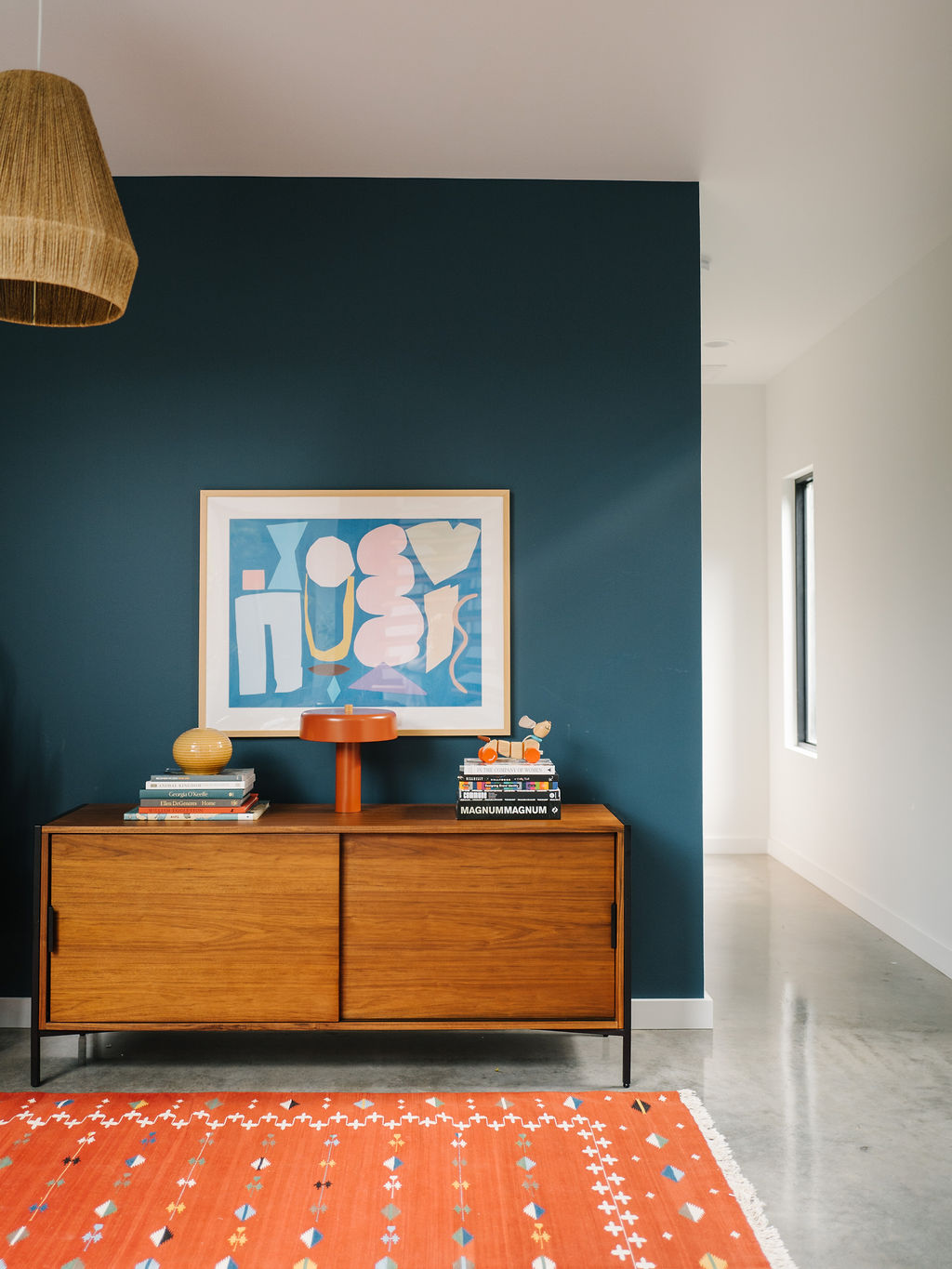 The Rejuvenation console was the first major piece we chose from the room and really gave this Mid Century Modern Playroom it's mid century vibes. We were desperate for toy storage, a place where we could pack everything into at the end of the night and this piece that we have had for a few months now has proved to be perfect for just that! It's sturdy and I like that doors slide instead of opening out-- less chance of pinched fingers or bonked heads. It's literally the perfect size for this room.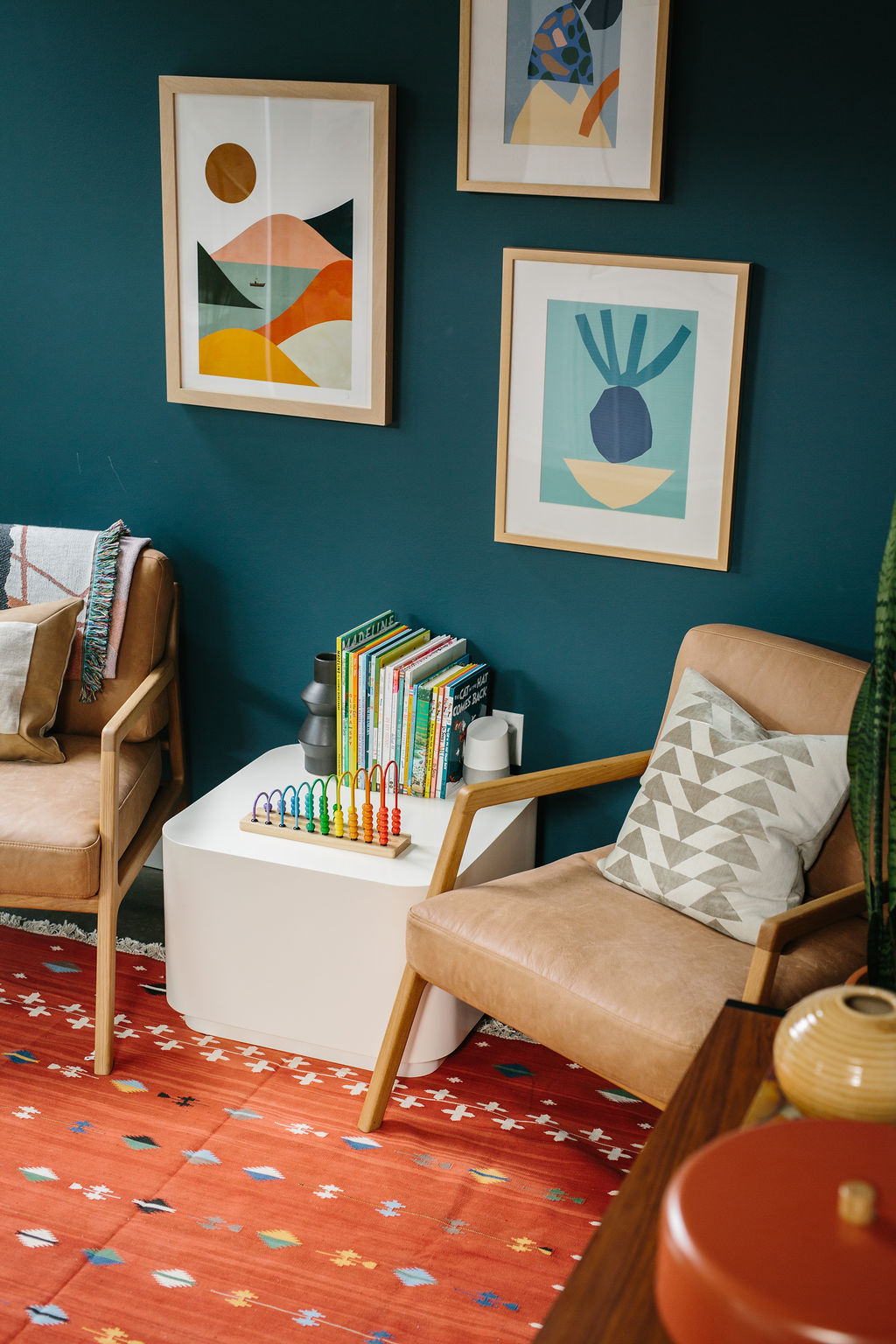 I always imagined having some kind of play table or coffee table for the kids to do projects on in here so I tried out our living room coffee table in the room to see how it would feel. It felt really cramped. At first the newness made it novel and Parker used it a lot, but ultimately she started going back to our office and coloring at the desk like she always does. I found that I really missed that open space to just play on the floor with the kids and pull out toys, so that sealed the deal to keep it open and airy. In lieu of a coffee table, though, I searched high and low for a small sized coffee table that could function as a side table between the two chairs so that if we did need a table for something-- puzzle, art project, etc-- we could just pull it to the center of the room. It's actually not at all easy to find a low table that's larger than 22" but smaller than 28" but I'm really happy with this one. I was on the fence with the white, but then my friend Shannon came over and gave me the affirmation I needed.
We were able to do a larger side table without it looking odd because these Denman Canyon Article chairs are so deep. I'm always a little hesitant to shop online for things like sofas, mattresses, and chairs (although, ironically every single one of those things in our house has been an online purchase without trying it out first.), but these are incredibly comfortable. The leather is luxe and super durable. They're the perfect height for Ever to pinch, squeeze and scratch and they have held up really well so far. They feel perfect for our Mid Century Modern Playroom.
Once the furniture layout was done, it was really about adding color and interest and life to the space. Again, I wanted all of the details to eye pleasing to me, but to also have a juvenile-ness to them that would help it to retain it's playroom feel for the kids. The first piece on the left of the art collage is by Blancucha via Etsy. It was the first piece I bought. I follow Anna Kovecses on Instagram and really love her work. I was considering including something here and found her work on Artfully Walls and discovered that Artfully Walls actually has a ton of art that I love. The Sana Kulic piece above the console is my new fave and plays into this idea of a Mid Century Modern Playroom.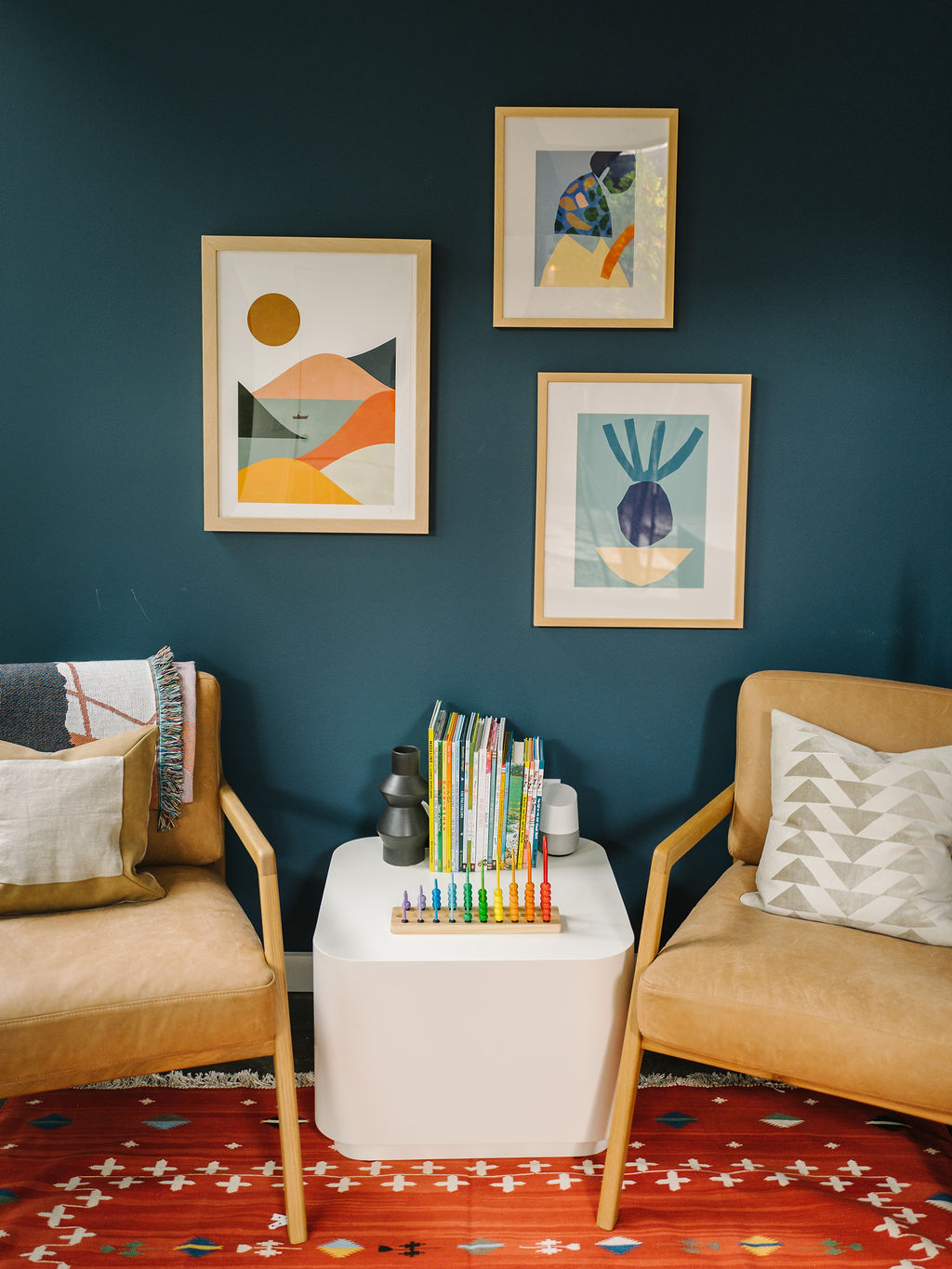 Shop This Mid Century Modern Playroom: Console, Rejuvenation || Rug, Seret & Sons || Denman Canyon Chair, Article || || Planter, Rejuvenation || Art above Console, Sana Kulic via Artfully Walls || Art Between Chairs: left most, Blancucha via Etsy || bottom collage art, Anna Kovecses via Artfully Walls || top collage art, Anna Kovecses via Artfully Walls || Floor Cushions, Urban Outfitters || Lamp, Bludot || Light Fixture, Anthropologie || Object on Table, West Elm || Google Home || Throw Blanket, Slowdown Studio|| Left Pillow, Zara || Triangles Pillow, Room & Board || Snake Plant, Flourish || Rainbow Abacus, Melissa & Doug || Wooden Puppy, Plan Toys || Light Fixture, Anthropologie || Side Table, Urban Outfitters || Paint Color is Behr Observatory
Photography for this Mid Century Modern Playroom reveal by Katie Jameson