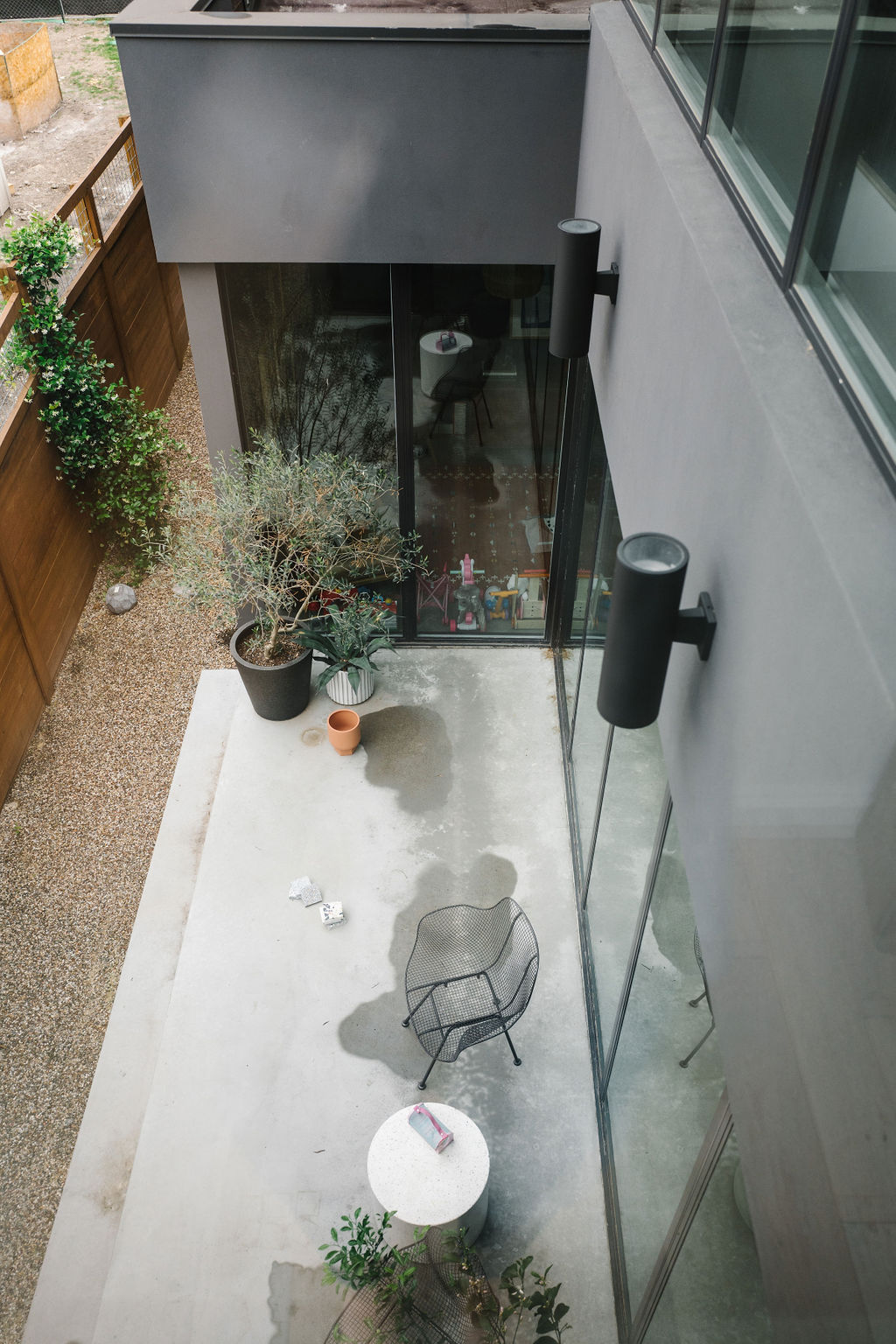 I'm not sure if everyone feels this way, but the outdoor space surrounding our home has always felt just as important to me as the indoor space. We designed the kitchen specifically so that I could see the girls playing in the backyard as I was cooking. One wall of our living room opens completely to the yard so that we can swing it open when the weather is nice. However, as we were rounding the corner to move-in day-- probably about two months out-- I realized that I needed to start prioritizing an actual plan for our outdoor space or we were going to be moving into a home surrounded by a giant dust bowl. See below pictures for reference- ha! Also, just a note that these are by no means reveal photos, just wanted to give you guys a quick update!
(These are the Ferguson sconces in the photo above that we used all around the exterior of our home.)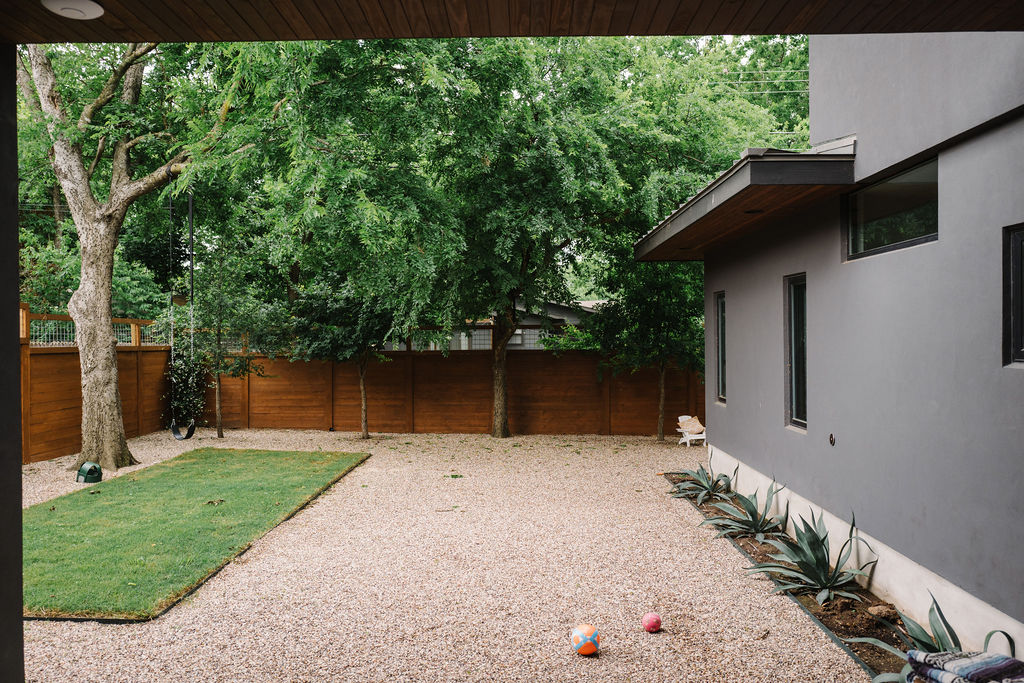 What we were starting with was a bit like an open-ended writing prompt. It was a blank space and needed sooooo much work and I didn't really know where to begin. Here's a before towards the middle of construction: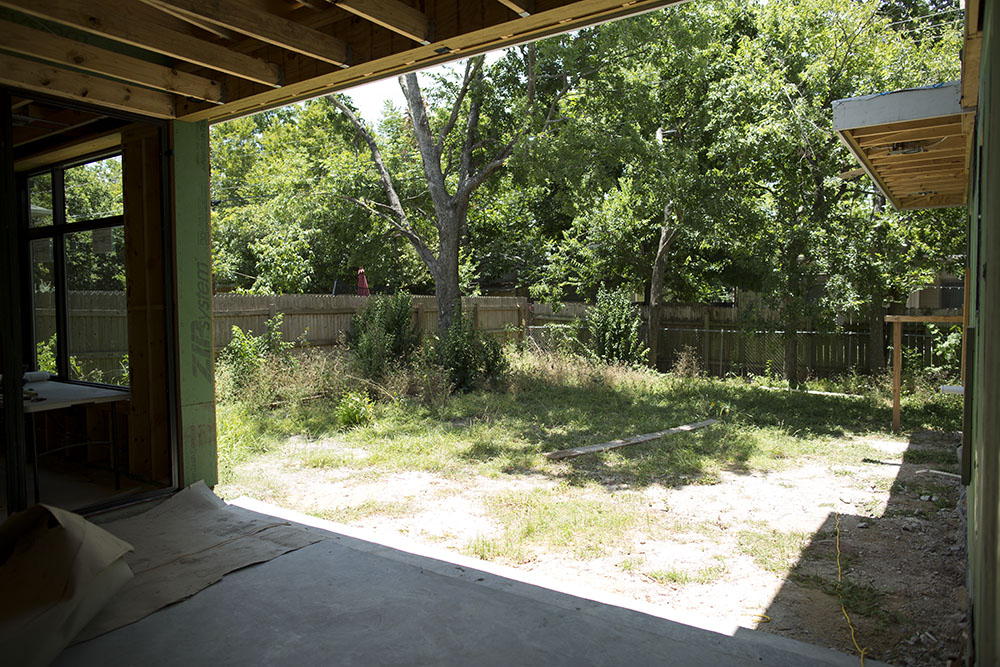 In terms of budget, there was not an allotment for this in our construction budget-- I think every builder is different, but we didn't have anything set aside for grass or irrigation or anything so we made the decision to take out a separate loan for landscaping. The first thing we did, which I really had to petition Aaron for, was hire a landscape architect here in Austin, Cameron Campbell. I didn't want to spend money to do things one way and then need to move things because they actually didn't work with something else. I really wanted a master plan for our yard, even if it included things that we wouldn't be able to do right away. At least we would have a road map for where we were going. I really cannot recommend Cameron enough! He is so good at what he does and really nailed our design in the first go around. (I sent him a link to this post which gave him an idea of what we were hoping to do.) Here are just a few of the images and drawings that he put together for us: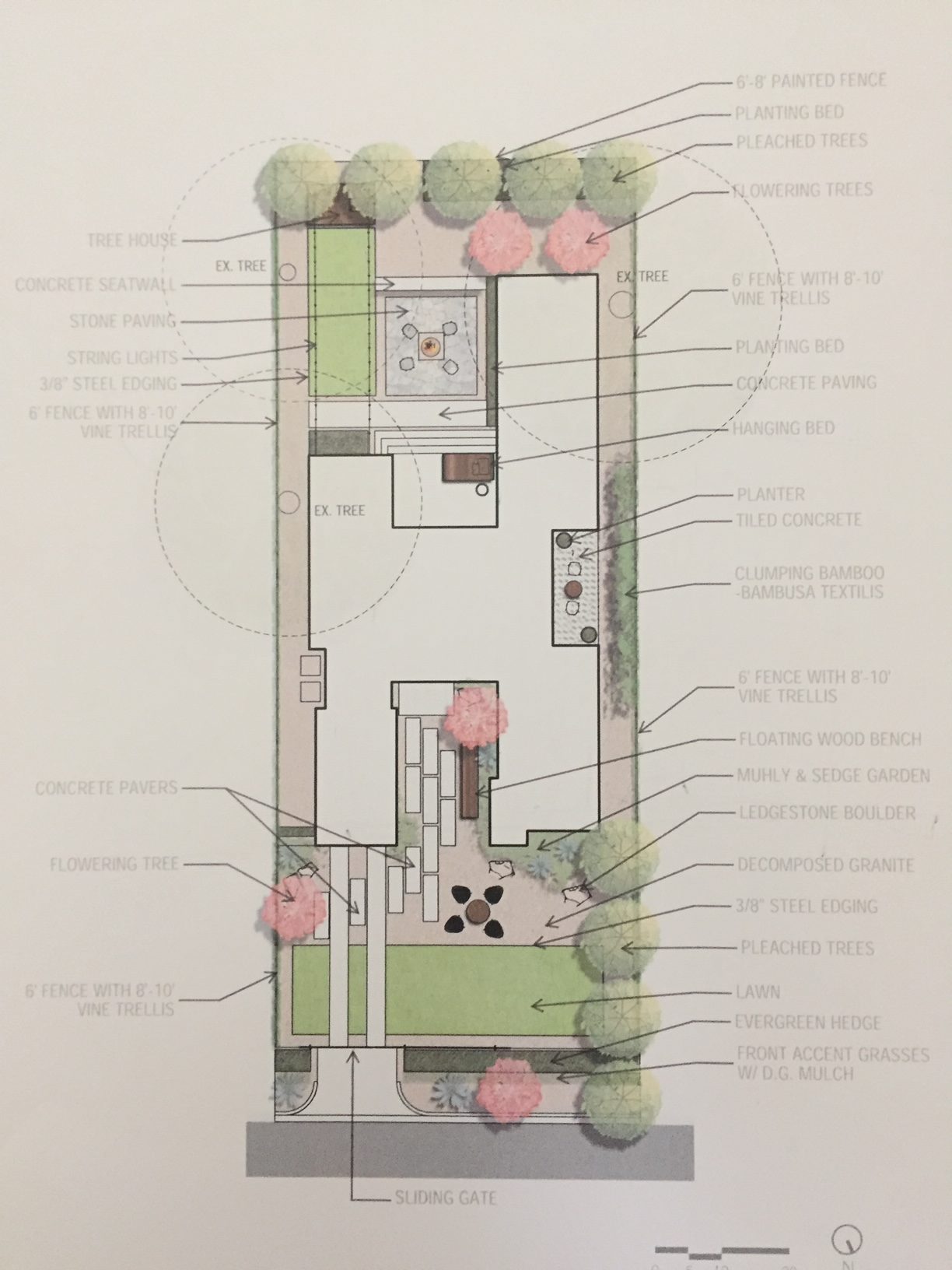 The first thing we did was to put up a new fence which made an instant difference and gave us a lot more privacy. The plan is to eventually have vines crawling all over that top metal portion. Also we took the fence all the way down the side in the front yard too and added a bush hedge in the front which gives us a lot of privacy and useable yard space in the front. Because of the set back of the front entry way, we have just as much space in the front as we do in the back and really wanted to be able to use that as well.
Next we hired someone to lay 6" of compacted crushed granite and topped it with gravel, plus install the grass areas and mark out the back bed. We have loved having a mostly gravel yard! The kids play with it endlessly. It's like a much cleaner sandbox. Parker looks for crystals in it and Ever takes a spoon and scoops rocks into a bowl. They love to wash the rocks. The gravel has been such a hit and it drains really quickly when we have had a lot of rain so they can go out and play almost immediately without getting muddy.
We planted four new trees in the back (plus a recent impulse peach tree addition!) and kept two existing trees in the back. They're both old hackberry trees and not very pretty, but they give us so much shade! We planted five new trees in the front. The yard is already so much better and so much more useable.
Here's the before and after of the atrium / side yard area: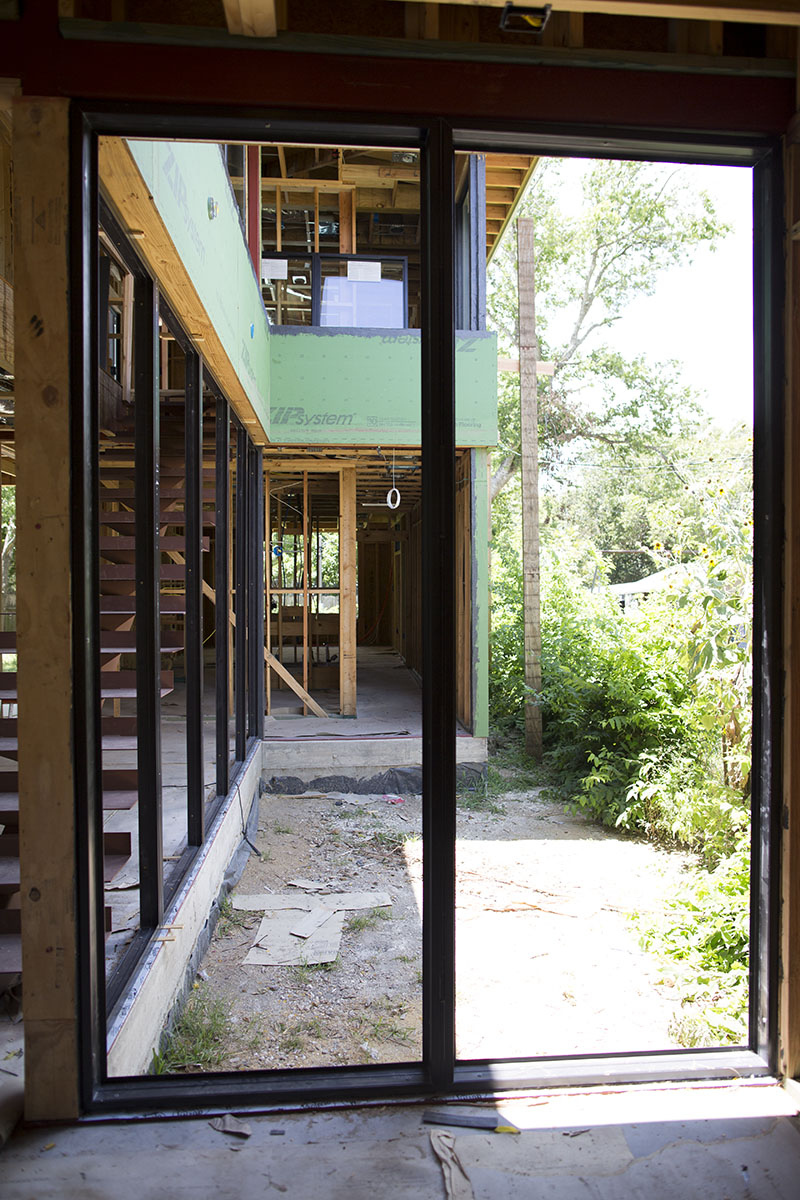 Our next priorities that we are currently working on are tiling that side patio, getting pillows for the outdoor sofas (and possibly recovering the cushions) and adding a playhouse for the girls. Since these photos were taken, I am almost finished planting out those back beds and am really pondering what to do with that back little nook behind our master. We have held off on doing the fire pit in the center of the yard as it's shown in the design because the girls really use that space. We have contemplated doing the fire pit with a sitting area behind our master, but I also think it's a pretty space for just a garden area. Thoughts? Another option would be to swap out that little grill for a pretty built in situation with a pizza oven. I have even thought of doing an outdoor table there, but don't really want to look out our master at a dining table.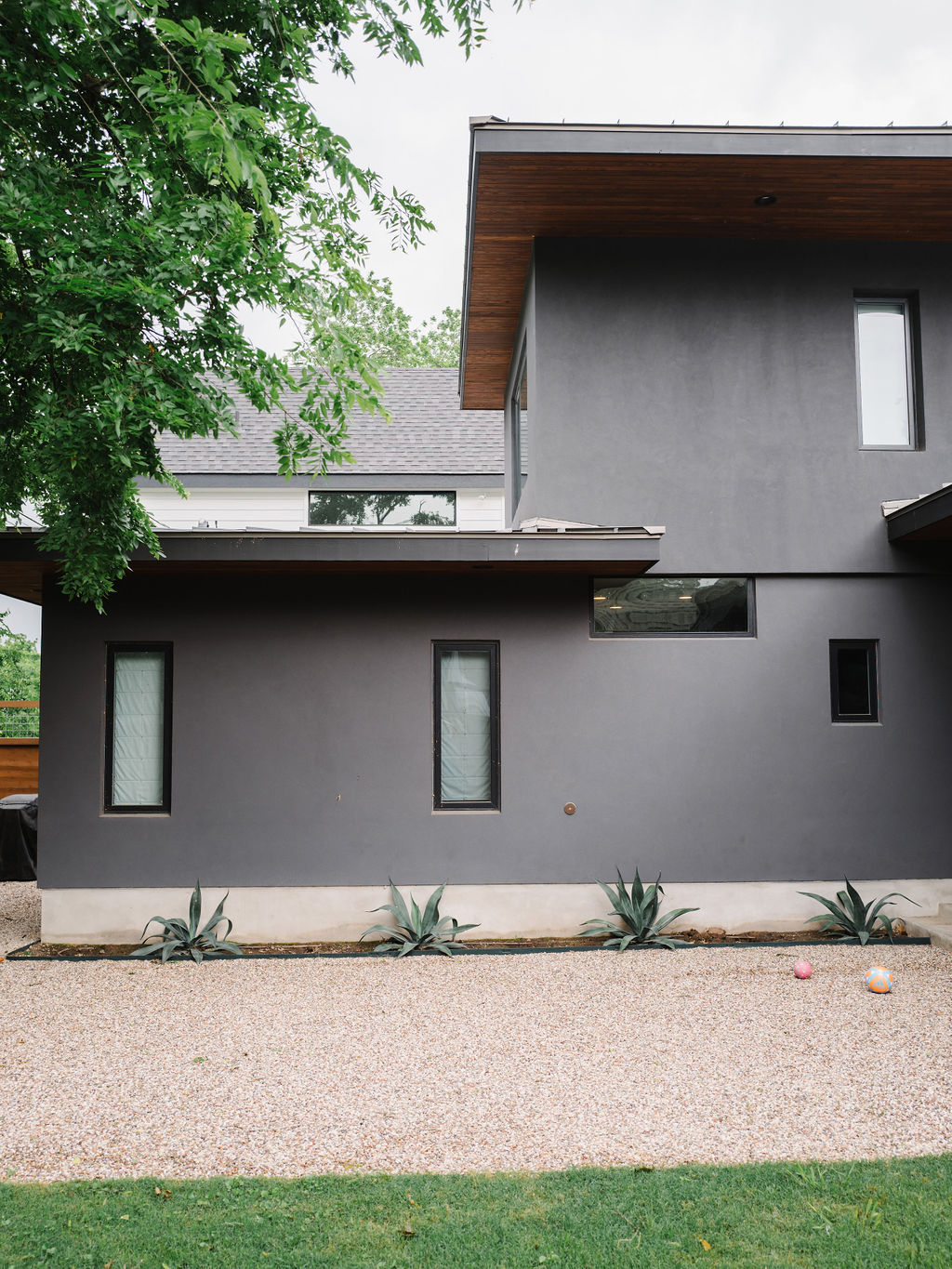 Updated Photography by Katie Jameson