A simple white shirt is a wardrobe staple and should be part of everyone's capsule closet. Check out my favorite ways to wear a white shirt, whether it's for work, the beach or just a busy weekday.
My personality can often times feel at odds with itself. There's the one side that is all ideation, creation, and delighting in fanciful things. On the other side is someone who is decidedly pragmatic, always in search of an optimal strategy. The way the two sides manifest themselves in my wardrobe, though, is actually ideal. The result is a very wearable yet not boring collection of pieces that can mostly all work together.
Chose clothing that can be worn with several outfits
My biggest rule of shopping that I seldom break is that I must be able to imagine wearing a piece three different ways before purchasing. (I talked about it more here.) Today's piece, the Hero shirt by Grayson, is a piece I found myself wearing all summer. In fact, when I spent four days in Sonoma recently I wore it over a black high-waist bikini by the pool, with my favorite jeans for dinner, and front tucked into black denim on the flight home. It's SO versatile.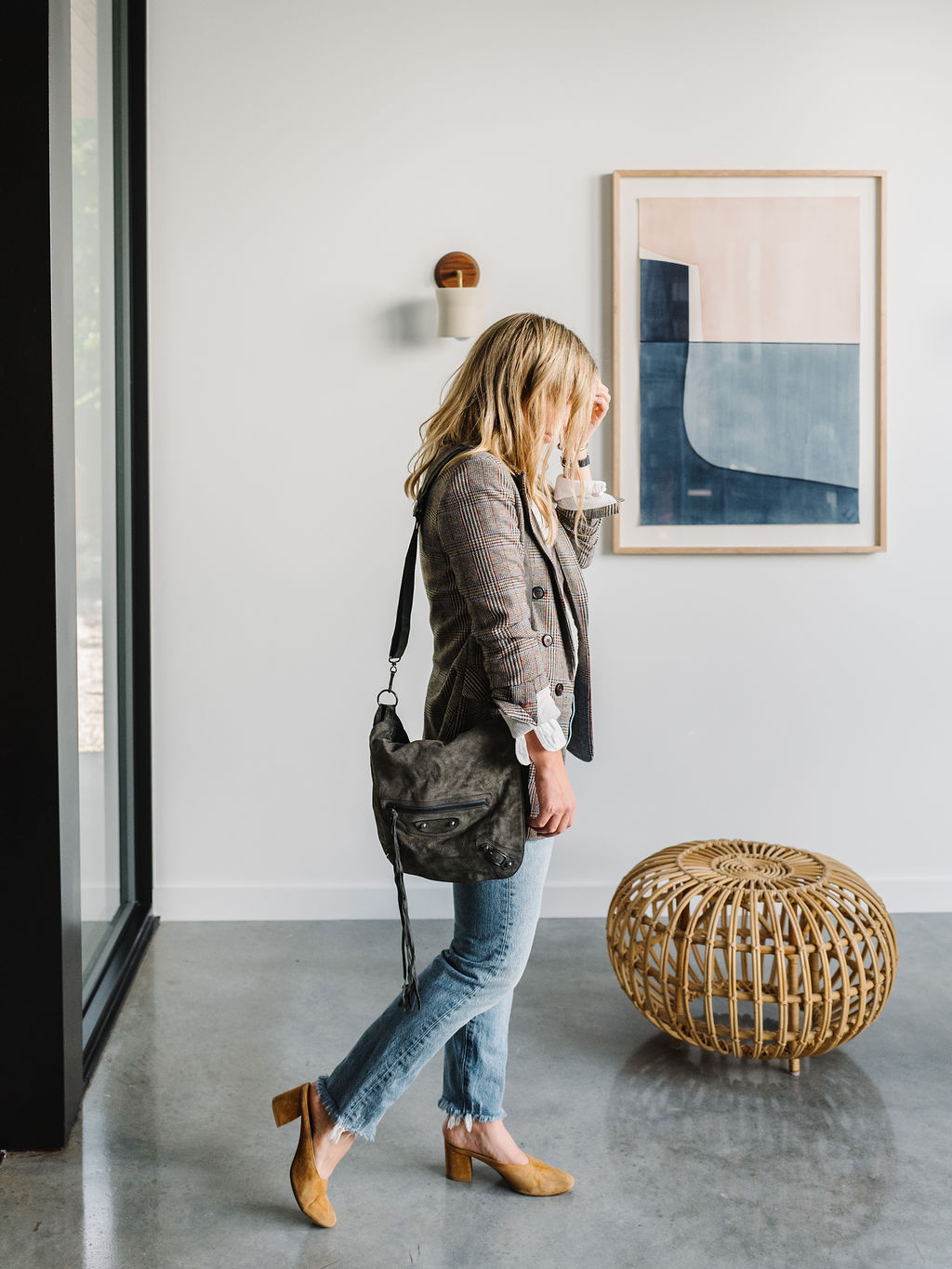 How to Wear A White Shirt To Work
Depending on your workplace, this look could be 'Casual Friday', 'Creative Breakfast Meeting', or 'Badass Boss Mom Means Business'. You choose.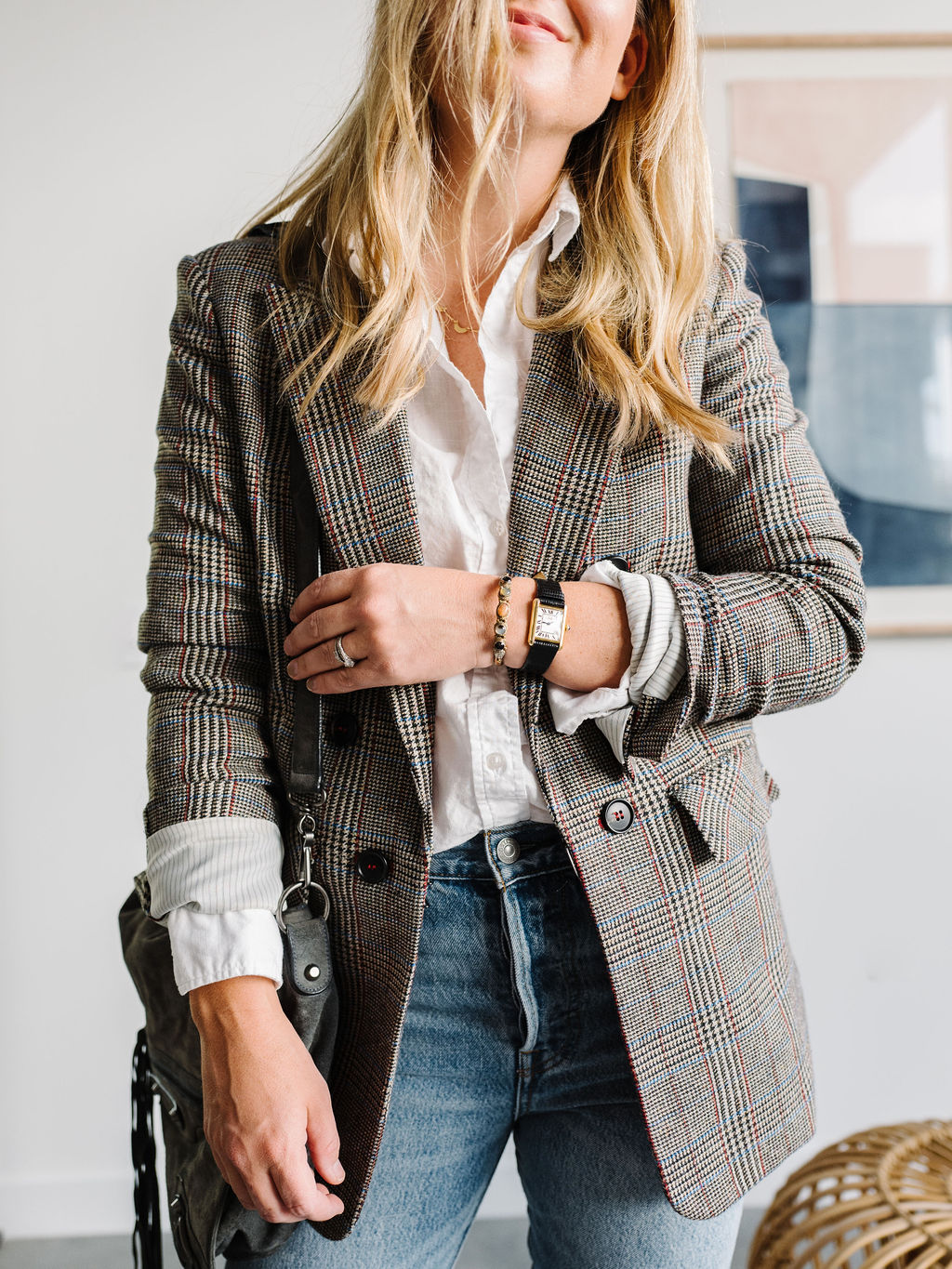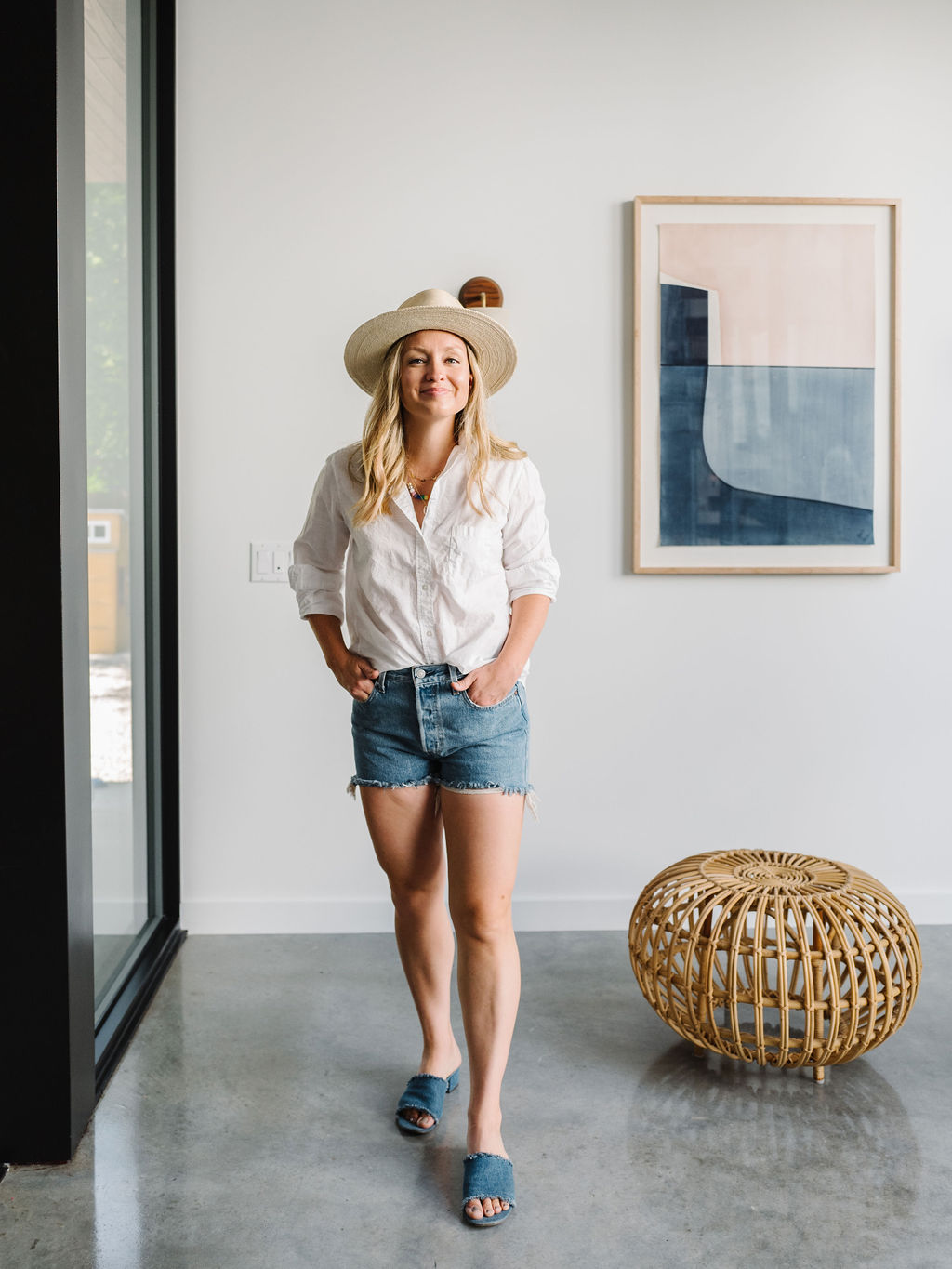 How to Wear A White Shirt In The Summer
Welcome to my most worn look of the summer. At least three days a week I wore this shirt and a lot of times with cut-off jean shorts, slide sandals and my favorite hat. One of the best things about this shirt is how washable it is. I throw it in with almost everything, dry it, and it's ready to go. No steaming or ironing required.
PS. Parker made my bead necklace. Her favorite hobby of the summer.
A White Shirt for Everyday Effortless Style
I call this look cool art teacher. It's pretty casual for day, lose the shirt and add shoes like these and your ready for happy hour.
Look 1: Shirt, Grayson || Blazer, Veronica Beard (Similar! Also you can see all of our favorite blazers here!) || Jeans, Levi's Wedgie Jeans || Bag, Balenciaga Men's Bag || Shoes, Maryam Nassar Zadeh (Similar!) || Necklace, Madison McKinley
Look 2: Shirt, Grayson || Shorts, Levi's || Hat, Sunbody from Sunroom || Denim Mules, J.Crew (Similar) || Necklace, Madison McKinley
Look 3: Shirt, Grayson || Slip Dress, Everlane || Mules, Madewell || Necklace, Madison McKinley
Photography by Katie Jameson
One Piece Of Clothing - 3 Styles
I love how, with some basic styling, you can totally change up the look of a piece of really basic clothing. It's a great way to make the most out of your wardrobe and create a whole different look. A simple white shirt will easily take you through the seasons - it's a wardrobe must have!
Build Your Capsule Wardrobe
When it comes to creating a capsule wardrobe, plain pieces like a white shirt are essential! I've shown you my three styles here, but there are so many other ways to wear and style this piece of clothing and mix and match your accessories and layers.
Be sure to check out these other how to wear style guides!
I love hearing from you! Be sure to leave me a comment below and let me know what you think of these looks!