It's impossible for me to get through the month of June without a major case of wanderlust.  For awhile, Aaron and I were trying to plan a big trip this summer, but work and my hesitation to leave Parker for more than a few days got in the way.  Instead, we booked our annual Palm Springs trip with some of our LA besties and began the countdown!  It's a tradition we started childless five years ago and have maintained-- even 5 kids in.  It ends up being really affordable and a great way to connect with some of our closest friends that we don't get to spend nearly enough time with.  If you're in SoCal (or anywhere) and looking for a hot desert getaway, this is the place!  Here's how we do it on the cheap and keep our sanity, even with all of these young kids running around!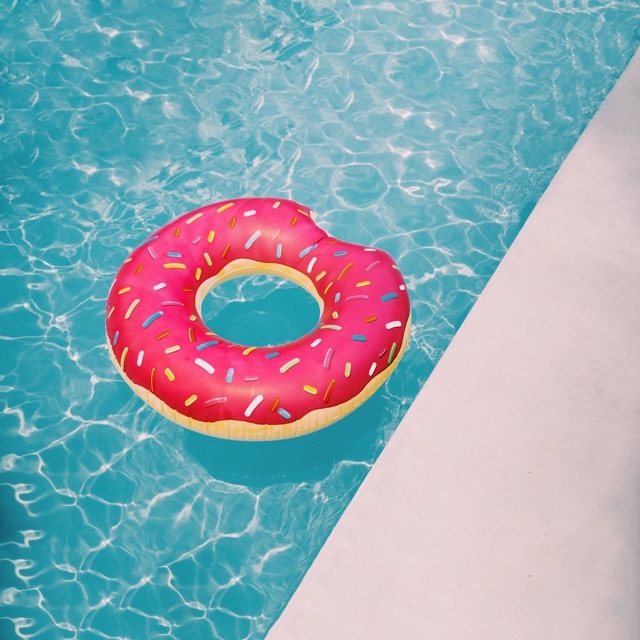 First of all, I highly recommend renting a house as opposed to staying at a hotel for a couple of reasons.  For starters, it's more cost effective.  We rented this 4 bedroom place and each couple owed $322 for the whole weekend.  We added early check in at 11am and late check out at 4 pm, which brought the total to $347 per couple, but ultimately gave us three whole days to enjoy the desert sun and pool fun.  It's also a great way to get to chat and live life together for the weekend.  Everyone wakes up in the morning and has coffee together.  When the kids go down at night, all of the adults hang on the patio with a baby monitor or glass of wine in hand.  (Um, or both.) Lastly, having a full kitchen definitely helps keep costs of meals down.
We do venture out for a little Palm Springs exploration, though.  This is Parker and her friend Nash who is 6 months older at The Parker.  We started Friday night with dinner at Norma's and some running around The Parker.  It's not a cheap place to eat, but the food and cocktails were really good and the ambience and design is too good to miss!  Can we just all agree that this is their future Save The Date?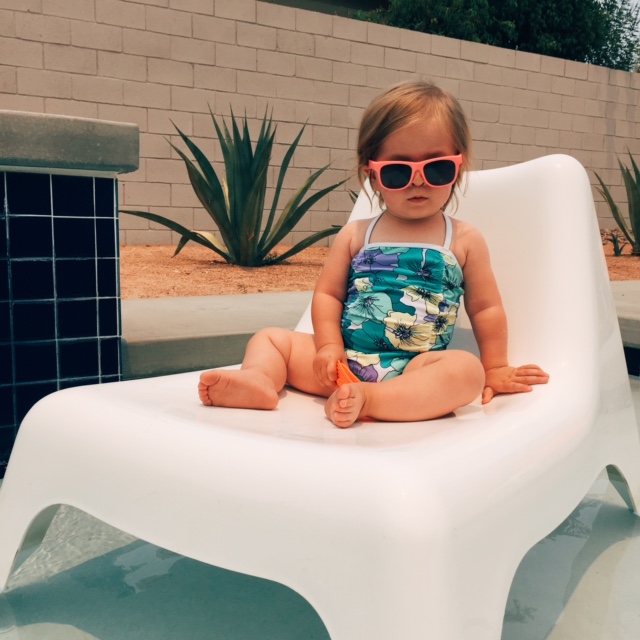 This house had this great shallow landing pad that the kids could play on.  I don't think we could ever rent another house after this one.  It was just too perfect for the kids!  (I promise this post isn't sponsored, either!)
It was a crazy hot weekend in PS-- 115!-- so this picture was taken around 10am.  By 1pm, we took an air conditioned field trip to Palm Desert because I had been dying to check out The Body Deli in person.  I've been using a few products that I got through their website and picked up a few more at the shop on Saturday.  I highly recommend any of their products in the Eucalyptus Rosemary scent (I've been using all of them!) and their Palm Springs body lotion.  My friend swears by the creme de la rose facial moisturizer, but I've only been using it for a couple of days so I can't attest to it yet.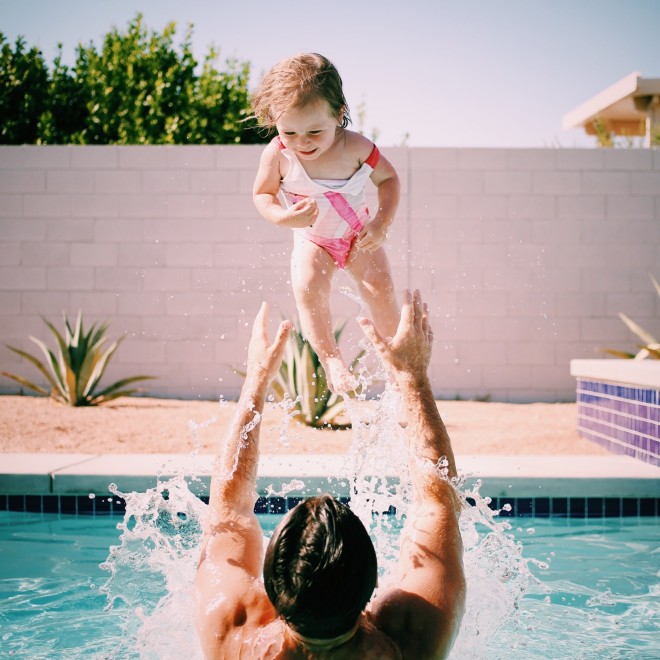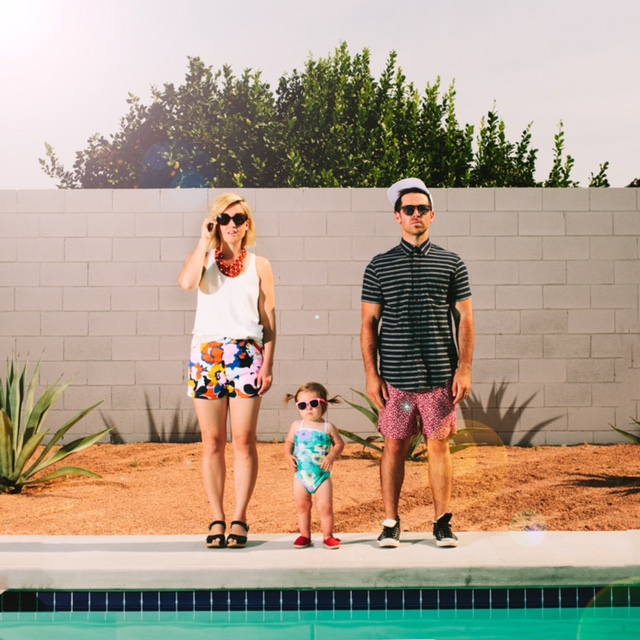 There was a lot more pool time later in the afternoon on Saturday and a family photo sesh for all of the families in honor of Father's Day before we left on Sunday.  Parker needs a haircut so bad right now, but I die for her pigtails!  I picked up those shorts from the WHIT Two for Anthropologie collection.  I seriously love the whole collection and it's perfect for someone that's only 5'4" like me.  On our way out of town we stopped at The Sandwich Shop.  Homemade breads and delicious subs abound for super cheap!  Until next year, Palm Springs!
Photos 1, 2, 3, 4, 9, and 10 by Aaron Pinkston