New York City.  Where to I even begin?  I was 18 and a freshman in college when I first stepped put into The Big Apple, but it was love at first sight.  I loved the energy of the city.  The diversity.  The endless things to do.  The food.  Oh my gosh, the food.  I went back twice a year throughout college to work at fashion week, but when it came time to relocate after graduation I headed west instead with my sights set on Los Angeles.  I may never call NYC home, but I do take advantage of every excuse I get to pay her a visit-- which is exactly what I did last week.  Aaron was there working for two weeks, so my mom came out to watch Parker and I hopped a plane to the city for a couple days of meetings, shoots, shopping, and plenty of very delicious calories!  Here are some of my favorite things to do and places to eat and stay should you find yourself there in the near future...
We stayed at the JW Marriott Essex House hotel right on Central Park South.  The rooms are large and how great is this view?!  It's also really close to the NQR train, so when traffic is bad (read: always) it's easy to hop on the subway.  I also love the Soho Grand for it's great room decor, downtown location, and the sweetest little terrace cafe and the Ace Hotel for it's fun bar scene and great Stumptown Coffee in the morning.  I thought this view would be great for working on my computer and getting posts written, but it turns out it's just one big reminder that a great big fun city is outside and awaiting!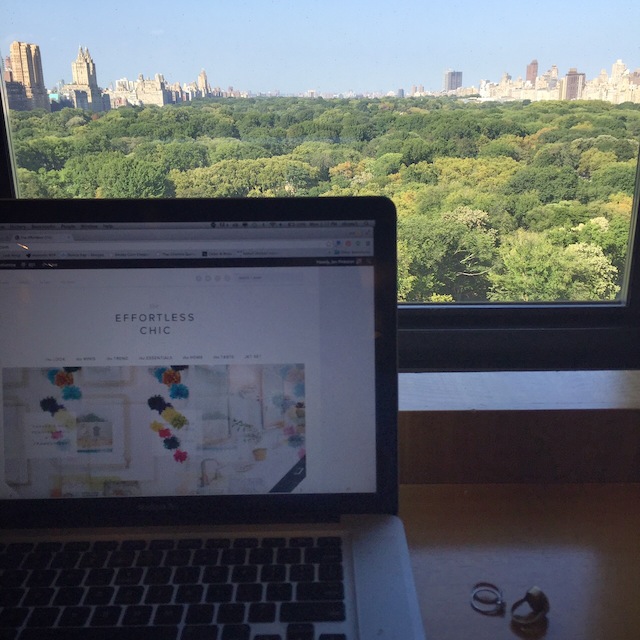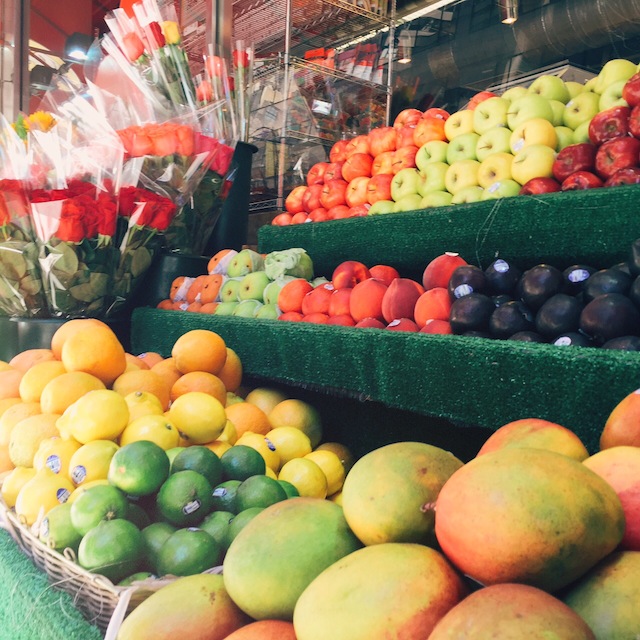 The Food.  I could write a whole blog post on this one alone.  NYC is my favorite city to eat.  Cafe Gitane is a MUST.  Did you know they go through 200 avocados a day?! (Their avocado toast is the best and has been around long before the dish became such a trendy staple.)  Other favorites include Rosemary's, Rubirosa, Dough (for doughnuts!), Rosie's (for mexican), Minetta Tavern for the most amazing burger (or Shake Shack!), ABC Cocina (everything on the menu is amazing!), Jack's Wife Freda, and my latest discoveries from this trip Oiji (for Korean comfort food) and momofuku má pêche for some seriously delicious fare and a great wine list.
Aaron was working pretty long hours while I was there-- he produced 11 tape pieces in less than two weeks!  I did steal him away for a quick adventure to the top of 30 Rock at golden hour, though.  The view did not disappoint!  Then it was back to work for both of us...
I met up with my good friend Kat to shoot some upcoming restaurant features for TEC, since I'm clearly obsessed with the food in this city.  How gorgeous is she?!  I also ventured to Brooklyn for a little exploring, shopping and to check out what's happening over at West Elm HQ!  I coudn't take photos, but let's just say you're going to want to save your pennies for their spring collection!
Fashion week didn't officially start until Thursday-- the same day I was on my way back home to Parker-- but I did manage to catch the Whit presentation which was just as full of covetable clothes as I had imagined it would be!
It was a whirlwind four day trip, full of the perfect mix of business and pleasure, but the highlight was this moment below.  I worked on The Ellen Show for 4 years and have been married to someone who works there for the last 5 years, yet this was my first time sitting in an audience.  I can't imagine a more perfect show.  It was a great reminder that women are so many things all at the same time-- funny, strong, entertaining, powerful, smart, loving, and kind.  And with that, another NYC trip comes to a close.  Until next time!