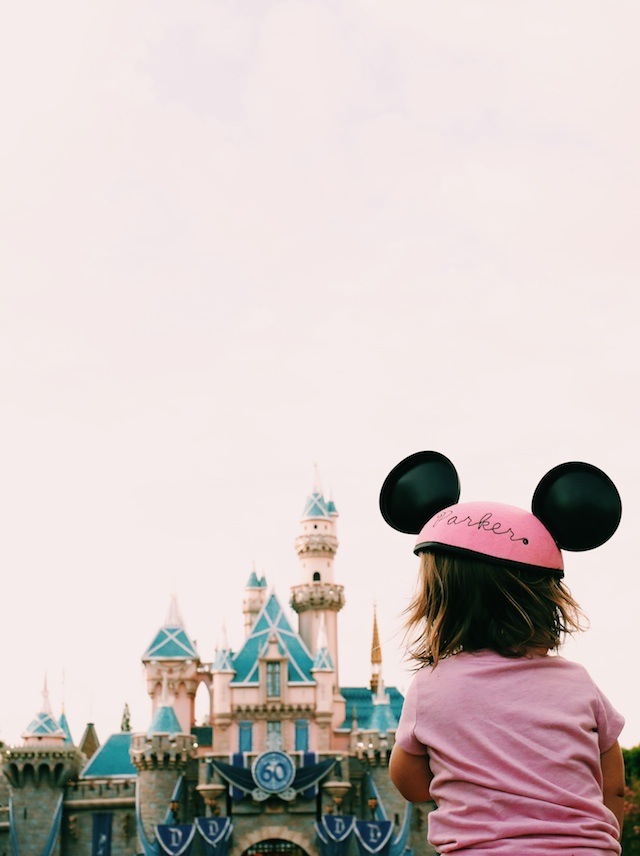 When Aaron told me that he wanted to take Parker to Disneyland before his summer hiatus was over and he was back to work, I was definitely not 100% on board right away.  I've never been one for big crowds or waiting in lines and the tickets aren't exactly cheap.  That being said, Aaron travels a lot the other 10 months of the year when he isn't on hiatus, so if this was on his summer bucket list then I was down to make it happen.  You guys!  I can't believe I didn't jump at this trip from the beginning!  Disneyland really is the happiest place on Earth!  We read up, plotted and planned our two day adventure and it surpassed all of my expectations.  It was such a good trip that I thought I would share some of the tips we learned along the way. (This is not even a sponsored post, I swear!  We just really had the most amazing time!)
The best thing we did was a book a room at the Grand Californian for one night.  We only live an hour away, so it would have been so easy to drive down for the day and come back that evening.  Instead, though, we drove down in the morning and checked into the hotel so we could drop off our bags.  She's doing just one nap now, but she did sleep in the car so she was ready to explore as soon as we got there!  We rode the monorail from Downtown Disney into the park (pictured above!).  Honestly, there was a little bit of line and we probably could have just walked into the park faster, but she enjoyed the ride and it was pretty magical watching her face as we sped over the park below us.  We started our day at It's a Small World-- the perfect ride for a hot summer day since it's all indoors and air conditioned and amazing!  They did a renovation to this one recently and it's really beautiful.
After It's a Small World, we rode Dumbo (probably my favorite ride for her age!) and the carousel and then we bumped into Parker's favorite pup-pup, Pluto!  It's so funny how she gets so excited to see them from afar, but she's not totally comfortable with them up close.  By the end of the day we worked our way up to high fives, but this was still in the very-quizzical-back-arching phase.  Nonetheless, she was psyched to see Pluto Pup Pup!  We stopped somewhere around the Dumbo ride for a quick bite of barbecue cheeseburgers for mom and dad and a kids hamburger for P--  when at Disneyland, right?!-- then headed for California Adventure.  Speaking of favorite things...
We are in a major Doc McStuffins phase right now, so this moment was pure magic. Maybe it's worth mentioning that I teared up on no less than 6 occasions this day.  I teared up watching other people's children meet Mickey, I teared up watching Parker meet Mickey, I teared up on the monorail out of gratitude that we could even take her to a place like Disneyland and I definitely teared up when the characters took the stage at the Disney Jr. Live event.  (I also teared up when she woke at 4:45am in the hotel after just 6 hours of sleep, but for obvious other reasons.)  This alone is worth the park hopper pass, you guys!  It is seriously magical-- an adjective that I am sure to overuse in this post!
After Disney Jr. we were all pretty beat from the heat so we headed back around 4pm for a late afternoon siesta to refuel for the night.  Turns out room service and 45 minute siestas were just what we needed!  A couple of things I loved about staying at the Grand Californian:  There are healthy options everywhere.  Whether you're at the park or the hotel or downtown Disney, you never feel like you're just eating cheap theme park food. (There is this great fruit stand in Cartoonland where Parker ate a slice of watermelon the size of her face and was covered in watermelon juice, but happy as can be!)   Also, each room has pack and play already in it, so know need to travel with one.  Score!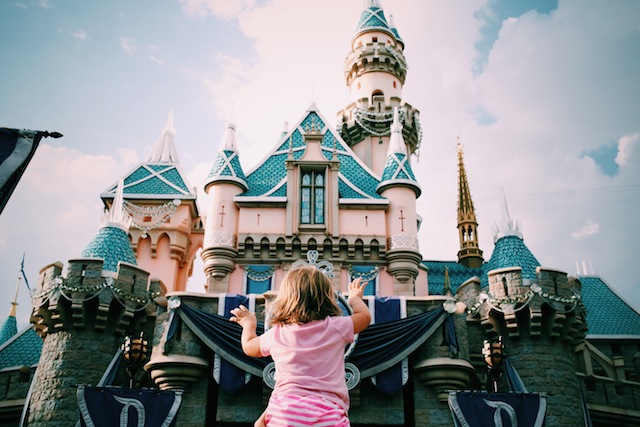 We walked around a bit more, met a few more characters (Minnie!), and tried to go to Tom Sawyer Island but it was closed already.  I've heard this is amazing for toddlers, so I would definitely hit that up in the morning next time.  We ate the obligatory hand dipped corn dog (so good!) and churro and ice cream cone and yes I did log them all into my Fitness Pal.  Then we started looking for spots for the parade around 8:30.  Yes, I had noticed the people lining the streets in preparation for the parade hours in advance, but there was no way I was going to keep a toddler in one spot for hours before the parade started, so I figured we would wing it.  It turns out it was completely full everywhere by 8:30 and we were told we would have to come back for the 11pm parade.  That was also definitely not happening with a toddler, so I did what any mom would do and talked my way into the best viewing spot ever.  It was a roped off area for Founder members, but Parker and I flashed our best puppy dog eyes and the guy made our night by offering us an empty bench!  It was seriously a once in a lifetime memory to watch the parade go right by us followed by the best fireworks I have ever seen in my entire life!  How great is this shot that Aaron got of the fireworks show?  It doesn't even look real!
We made it back to the hotel around 10 and didn't get Parker down for bed until 10:45-- a good 3 hours after her bedtime, but sometimes you just have to have an off night for the sake of Disneyland.  It was well worth it, even when she woke up at 4:45 in the morning.  We made reservations in advance to have breakfast with the character at the Paradise Pier Hotel which I would totally recommend doing.  We chose to do it there over the other hotels because they have the best characters.  It was so fun and well worth the price of the breakfast buffet which I totally needed to eat after my Disneyland eat-a-thon.  Ha!  What do you do after eating a breakfast buffet?  Put on your swimsuit, of course!  We snuck in a quick swim in one of the hotel's three pools before packing up and heading back to LA.  It was such an amazing getaway-- even being so close to home and for such a short amount of time.  It's going down in the books as one of my favorite memories with these two:
Have you been to Disneyland with littles?  Any tips?
Photography by Aaron Pinkston
(PS. My romper is from Splendid)