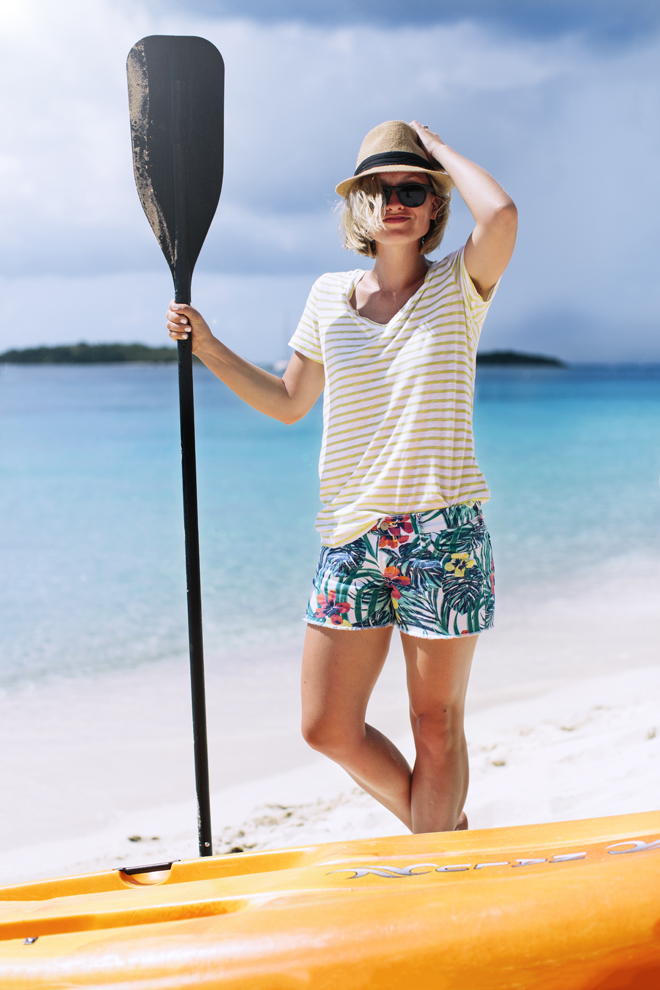 Last week, with over half of a very busy 2013 already in our rear view, Aaron and I jetted off to the Caribbean with four of our closest friends.  Not a moment too soon, I might add!  I have been eyeing this trip on my calendar ever since we booked it in early spring.  It has been such a fun year thus far with incredible styling opportunities and so many fun projects here on the blog, but sometimes you just need to get away, you know?  Since the goal of this trip was to spend as much time as possible swimming in the clearest blue water I have ever laid eyes on and as little time worrying about what to wear, packing was kept to a minimum.  One small carry-on suitcase with 4 swimsuits, and a myriad of mix and match separates-- like this tee and pair of floral shorts from Old Navy. (PS. You guys, these shorts are on sale right now for $5!)
To me summertime is all about simplicity-- effortless combinations that are fun and carefree.  It's not about being over-accessorized or perfectly put together.  I think I survived the last three weeks on lipgloss and mascara alone!  I fell in love with these tropical shorts the second I walked into Old Navy.  The print reminds me of Andy Warhol and screams, "Take me on vacation!"  How could I say no?
One of my goals for this summer was to learn how to stand up paddle board and not only did I check that box off of my list, but I may become a little addicted to the sport.  It just might be one of the most relaxing and enjoyable things I have ever done!  Not to mention, incredibly easy to learn!  If you're just starting out, these wider plastic boards are the way to go.
I first professed my love of the Old Navy $8 tee in this post and let me just tell you, that love has not faded!  Their perfect v-necks are made out of the softest cotton.  I actually wore this tee yesterday with a pencil skirt to a lunch meeting.  From the sandy shores to La Scala just like that!
Here is to making the most out of the next few weeks of summer!
Sandals, Club Monaco / Shorts, Old Navy / Hat, Rag & Bone / Tee, Old Navy / Bag, L.L. Bean / Sunglasses, Michael Kors
This post is sponsored by Old Navy. Check out Old Navy's latest fashion lineup in store or online at oldnavy.com.