12/21/2018
I took my cocktail research seriously as I was planning our menu for our first annual Austin holiday dinner party and wanted to share some of my favorite New Year's Eve Cocktails that were unearthed in the process!
Mixing up a cocktail is the beverage equivalent of putting on your favorite Ganni slingbacks. It signifies that it's not just going to be any old night. (If it were, you would have opened a bottle of wine and slipped your feet into some your trusty slip on mules.)
As we head into this next holiday-filled week, the thing I find myself most looking forward to is having more fringe time to do things that usually feel too indulgent for your average Thursday. Cooking more elaborate recipes that lie on dog-eared pages of my favorite cookbooks, inviting friends and family over for dinner via impulsive text message without worrying what time the kids will go to bed, and of course ringing in the New Year in a way that we recall with a grin this time next year.
Preferably with one of these New Year's Eve Cocktails!
New Year's Eve Cocktails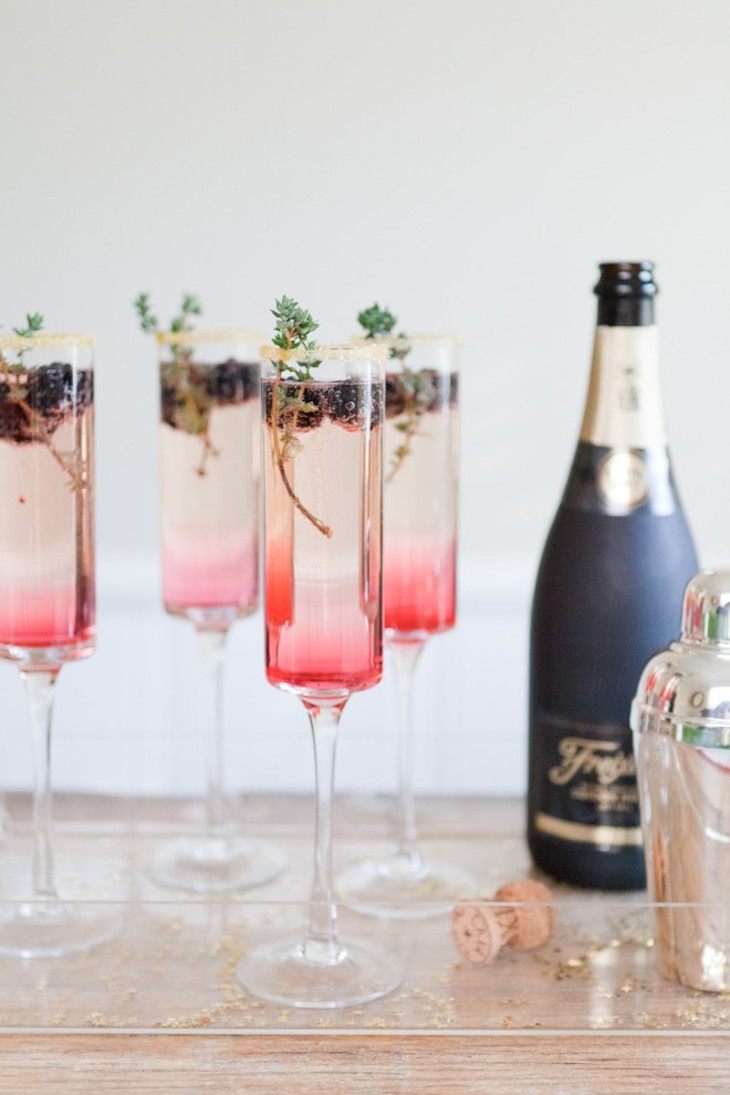 Blackberry Thyme Sparkler
When it comes to New Year's Eve celebrations, you can't go wrong with a champagne cocktail. This easy Blackberry Thyme Sparkler is made with a simple homemade blackberry simple syrup and garnished with a gold sugar rim.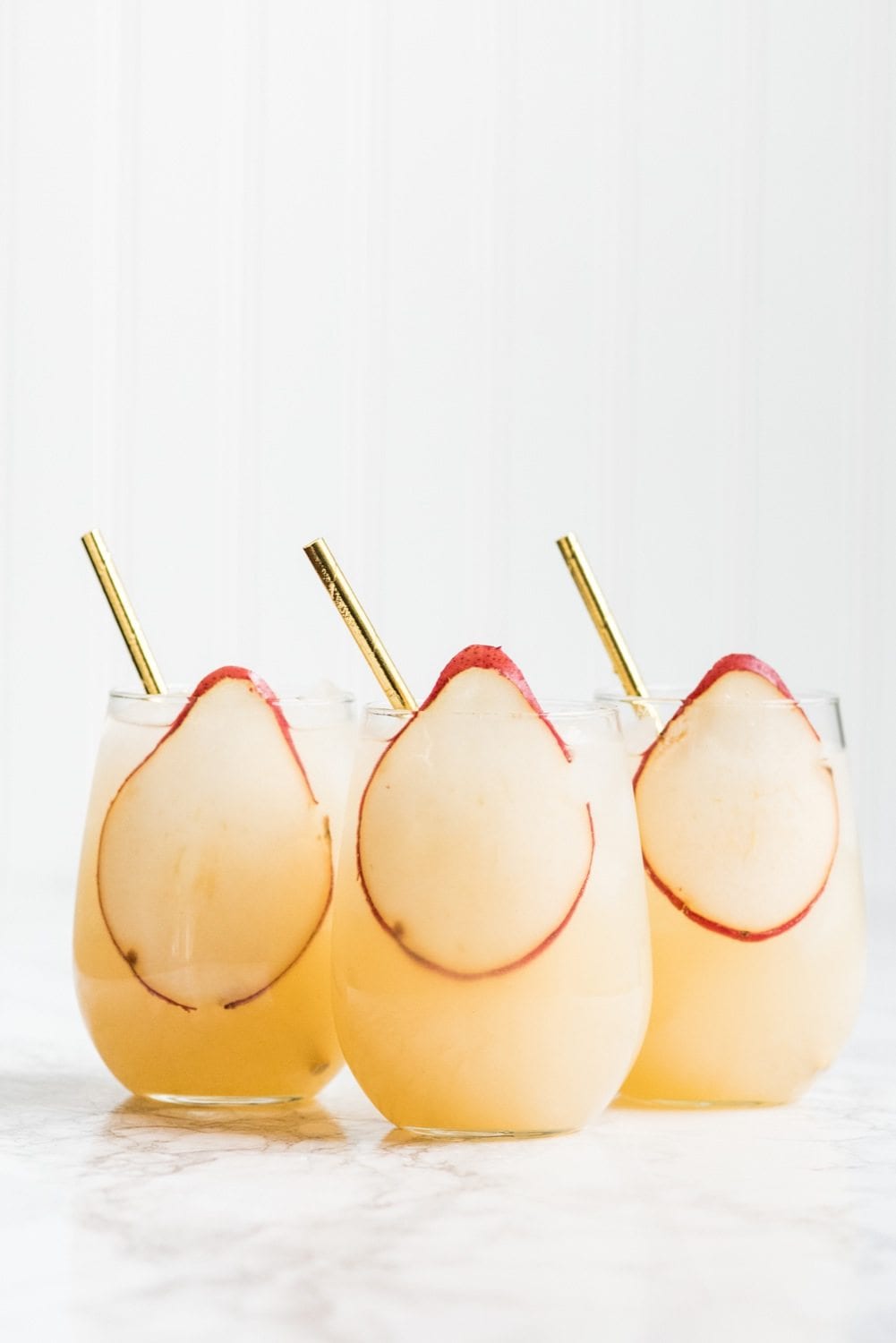 Fizzy Spiked Pear Punch
Made with pear juice, prosecco and vanilla vodka so it tastes a bit like fall, if fall were melted into a glass and served over ice. The pear flavor? Completely irresistible
Tangerine Bourbon Sidecar
A delicious and refreshing bourbon cocktail!
via The Lifestyled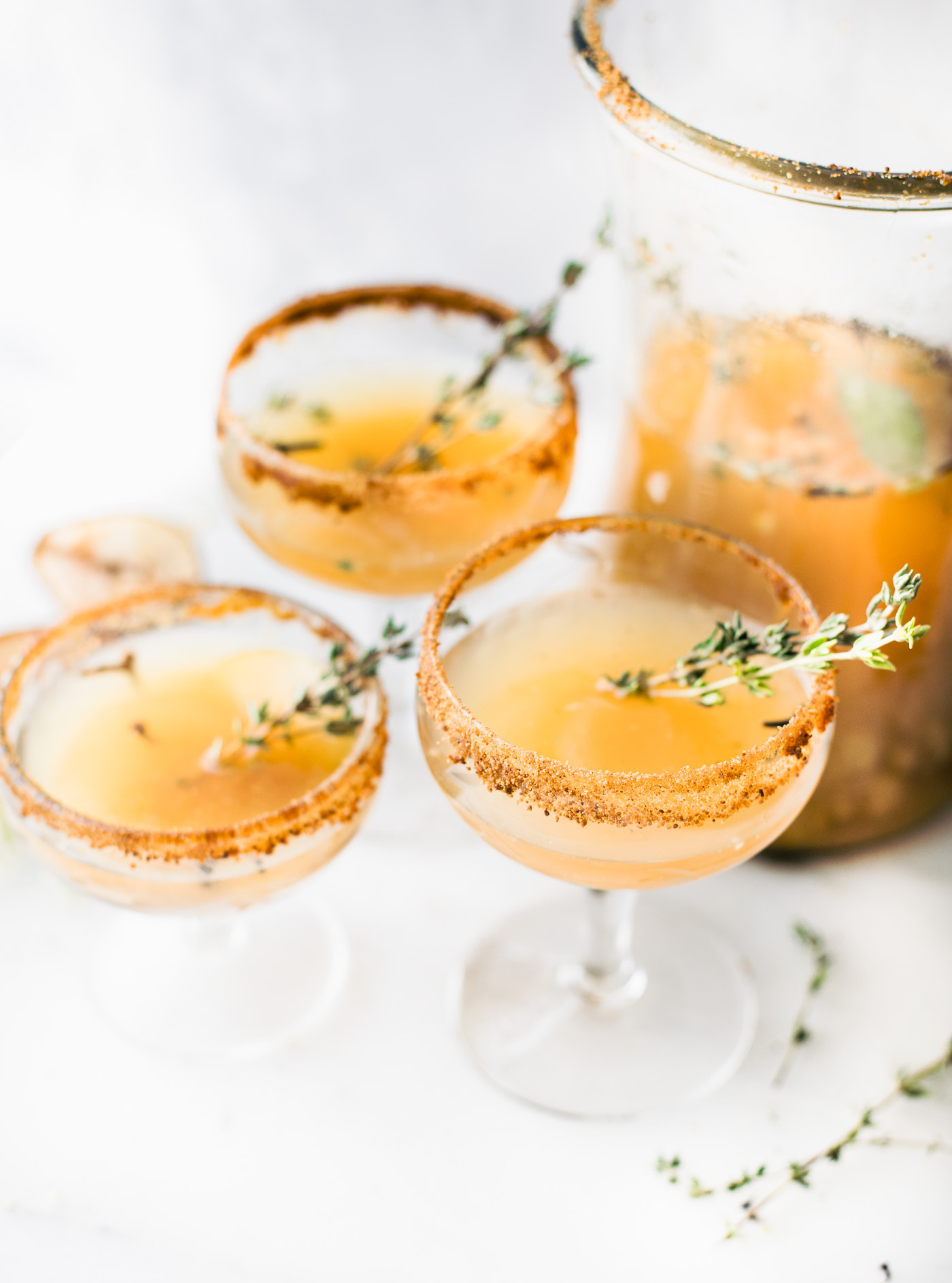 Honey Roasted Sparkling Pear Cocktails
The easiest festive cocktails made with sparkling wine, champagne, or grapefruit juice, then blended with a honey roasted pear puree, honey, cinnamon and nutmeg, and a touch of vanilla! Simple, light, delicious.
via Cotter Crunch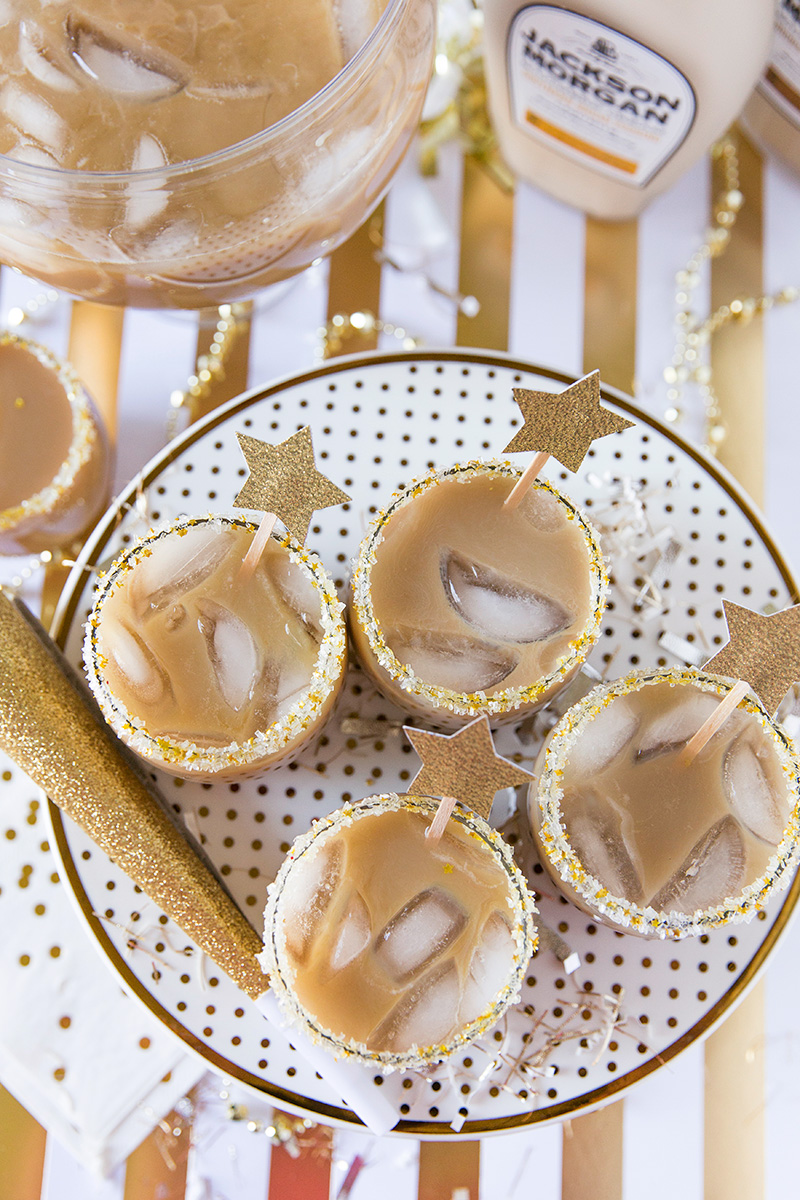 Salted Caramel Iced Coffee Recipe
Serve up this flavorful  festive cocktail for New Year's Eve, it's perfect!
via Pizzazzerie
St. Germain & Cassis Gin and Soda
A fizzy, blush-hued gin cocktail with floral St. Germain and rich cassis.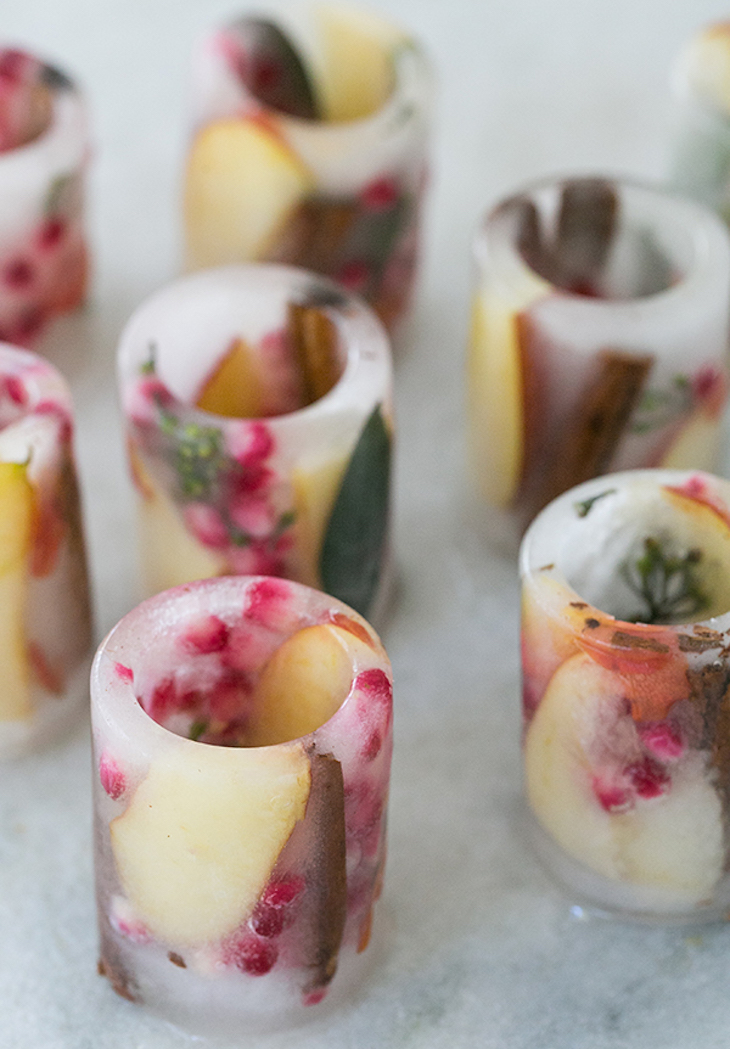 The most charming ice shot glasses
These fruity and floral ice shot glasses are a perfectly charming addition to any party and create an easy and entertaining treat for your guests.
via Sugar and Charm
Blood Orange and Ginger Boston Sour
A version of the East coast cocktail is gorgeously hued, incredibly easy to make, and flavored with blood orange juice and ginger liqueur. This Blood Orange Boston Sour is one celebratory drink worth shaking up.
via Zestful Kitchen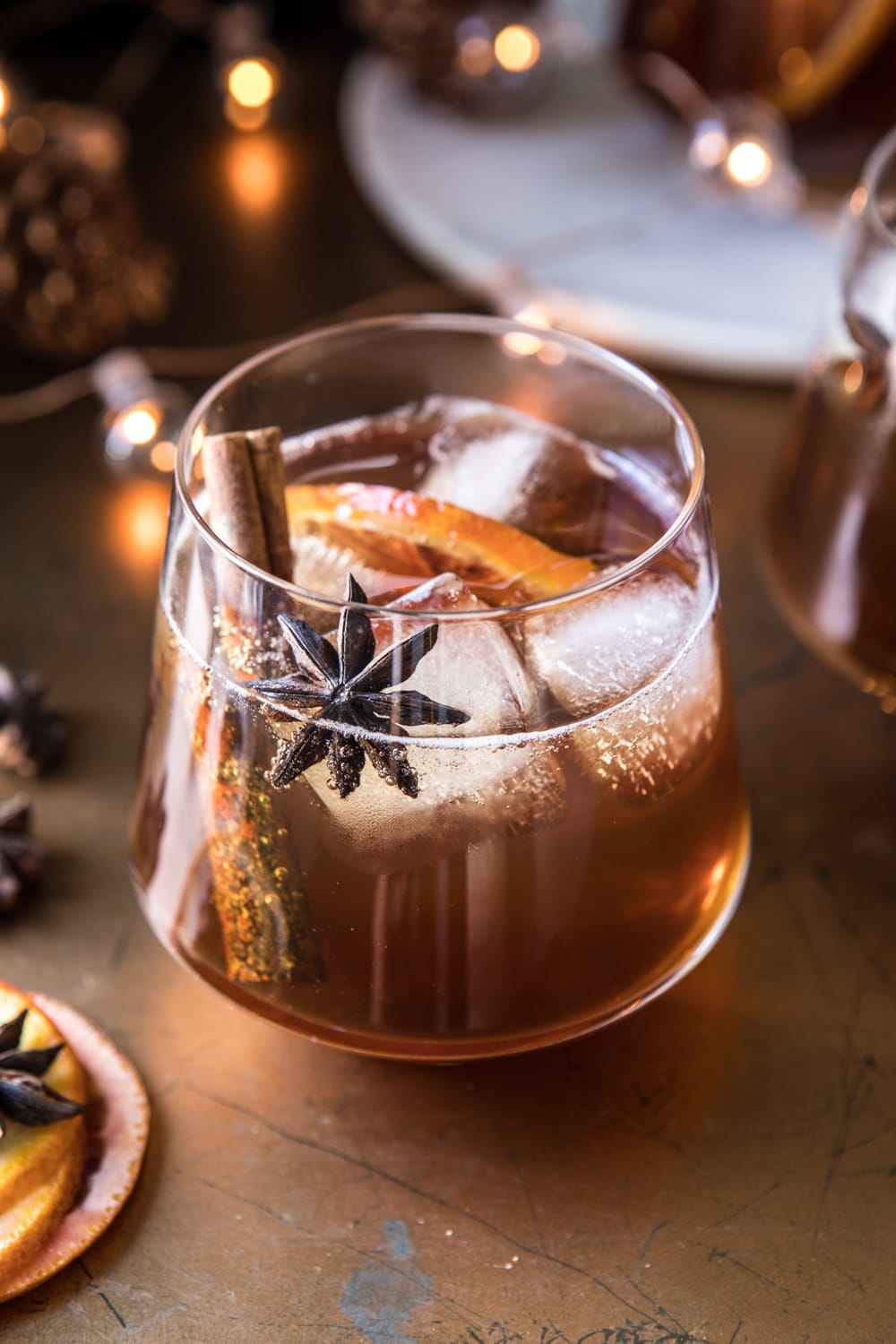 Vanilla Chai Old Fashioned
Cozying up with this Vanilla Chai Old Fashioned. Homemade spiced chai simple syrup, mixed with warming bourbon, winter citrus, a touch of vanilla, and fizzy sparkling water. This old fashioned makes for the most perfect cozy fall and winter cocktail that everyone will love. Make the syrup ahead of time and keep in the fridge to mix up a quick drink in a moment's notice.
Pear & Ginger Champagne New Year's Eve Cocktails
An easy drink, that's refreshing and perfect for New Year's
Which champagne is good for New Year's?
New Year's Eve cocktails are awesome, but you may want some straight up bubbly too! Here are some ideas:
Besserat de Bellefon Cuvee des Moines
Laurent Perrier Brut
Taittinger Brut La Francaise
Le Mesnil Blanc de Blancs Grand Cru Brut
Marie-Noelle Ledru Grand Cru Extra Brut
Charles Heidsieck Brut Reserve
Deutz Blanc de Blancs 2009
Ruinart Blanc de Blanc
What's good to mix with champagne?
If you want to make cocktails, but would like to keep things super simple. Here's a list of good mixers for champagne:
Any fruit juice: cranberry, grape, orange, and more!
Chambord
Cointreau
Bitters
Drinks for a kid friendly new year's Party
If the little ones are going to involved, you can still add some fancy to their night! Why not try some of these non alcoholic drinks.
Top Tips For New Year's Cocktails
Don't use the ice in the cocktail shaker more than once. If not, when shaking, you'll dilute the cocktail.
Ensure that the glass is big enough to contain the cocktail you've prepared.
 Never shake fizzy drinks, if you do, you'll have a bomb with a delayed fuse on your hands.
If you have space in your freezer, you'll be able to store your cocktail glasses there (don't do this if they're made of very fine crystal, they can break), this way, when serving, your glasses will already be chilled.
Check Out These Other Great Cocktail Recipes
Do you have a favorite new year's eve cocktail recipe? What indulgences would you enjoy with more free time? Let us know in the comments, friends.