Negronis are a great at-home cocktail! They require just three ingredients, are easy to make and can be slowly sipped and enjoyed at your leisure.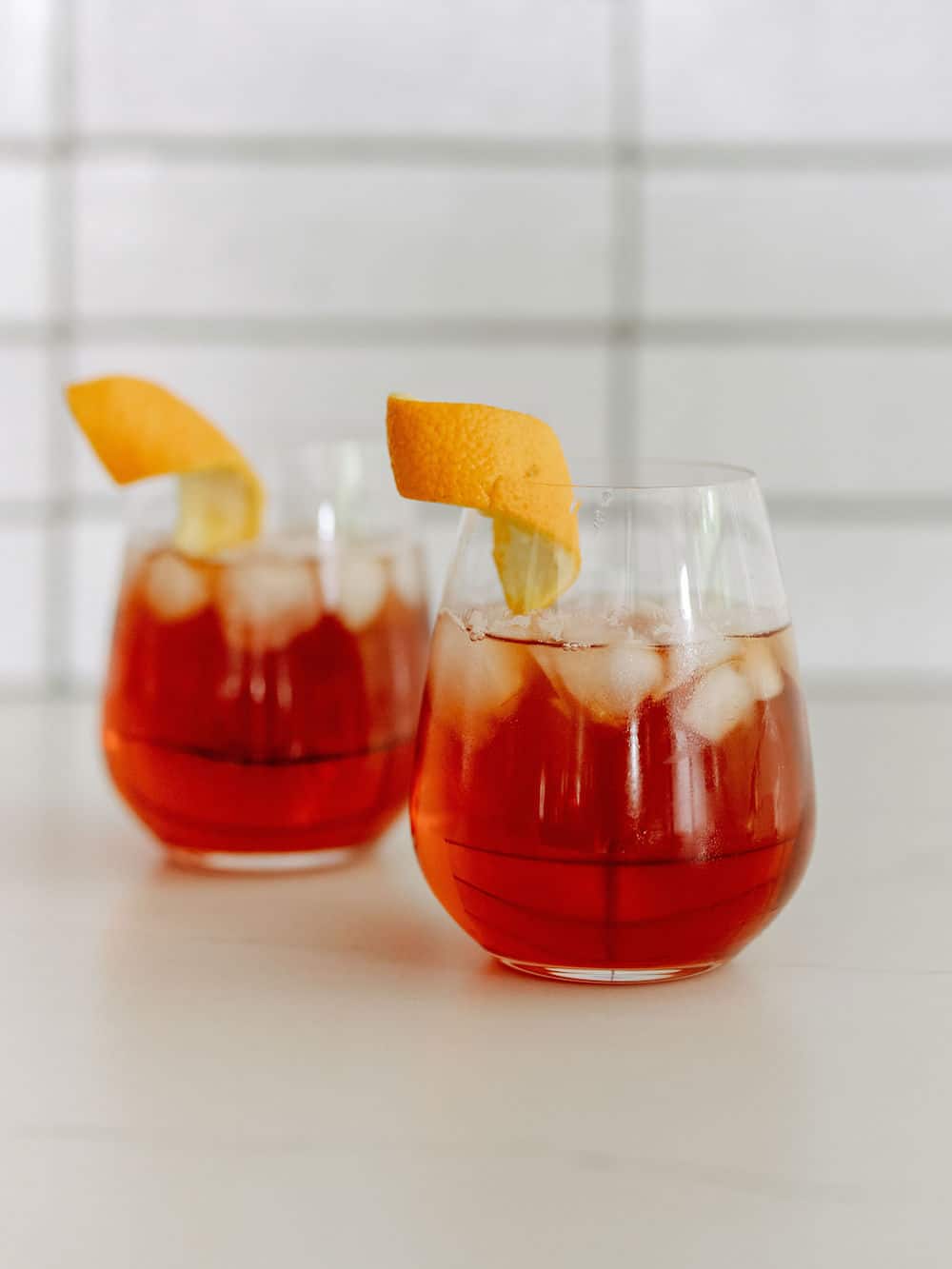 The first time I ordered a Negroni, it was at an Italian restaurant here in Austin with friends. (Shout out to Il Brutto!) We happened to be dining during Negroni week so we had many variations on the classic Negroni from which to choose. There was the white Negroni, the mezcal Negroni and so many more. By the end of the night, I was sold on this cocktail. Negronis are simple to make at home, but high quality ingredients are key! Keep reading for the full step by step...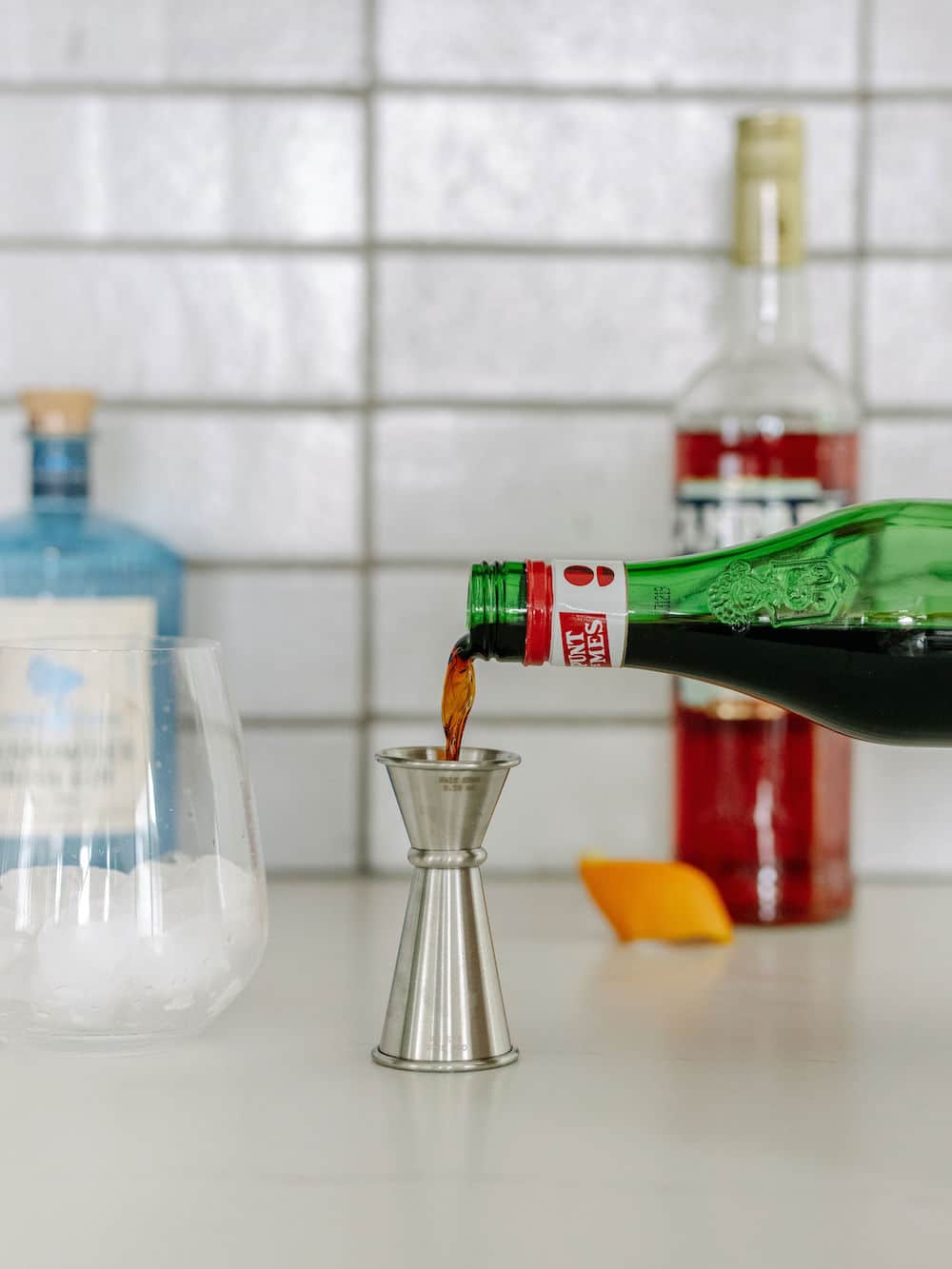 How to Make a Negroni:
Step 1: Combine the gin, vermouth and Campari in a cocktail shaker with ice. Shake vigorously for 20 seconds.
Step 2: Prepare your glass. Fill a cocktail class with ice, preferably just one cube. (Our large cubes weren't completely frozen when we tried to remove them! Oops!)
Step 3: Strain the cocktail from the cocktail shaker into your prepared glass.
Step 4: Garnish your cocktail. An orange peel is a traditional Negroni garnish, but you could also use an orange slice for added citrus flavor.
Step 5: Enjoy immediately!
Pro-tip: For added flavor, rub your orange peel garnish around the rim when preparing your glass.
What's in a Negroni?
The Negroni is a classic Italian cocktail, made with just three simple ingredients in equal parts– gin, sweet vermouth and Campari. It was popularized in America during Prohibition. It is bitter, sweet and dry all at once making it a crowd pleaser for your next social hour.
What is Campari?
Campari is a blend of equal parts of alcohol, sugar syrup, distilled water, and an infusion flavored with oranges, rhubarb, ginseng, and a (proprietary) mixture of herbs. Campari has a bitter flavor, but with notes of citrus and earthiness.
These cocktails, are great alternatives to the Negroni...
If you enjoy gin, you will likely love a Negroni. If you're looking for a sweeter drink, try the Gin Gin Mule which has the added sweetness of lime juice and simple syrup. For something bubbly and festive, try a French 75. For something with less of a punch, but still the taste of a Negroni, swap in club soda for the gin. For another similar summer option, try the Negroni's cousin, the Aperol Spritz. (Aperol is lighter and less bitter than Campari, but with equal sweetness.)
Our favorite tools and accessories for making a Negroni:

Classic Negroni Recipe
With equal amounts of just three ingredients, this classic cocktail is easy to make at home.
Ingredients
1

ounce

Campari

1

ounce

gin

(I prefer Drumshanbo Gunpowder Irish Gin)

1

ounce

sweet vermouth

(like Carpano Antica or Martini Rosso)
Instructions
Combine Campari, gin and vermouth in a cocktail shaker with ice. Shake vigorously for 20 seconds.

Prepare your glass by filling with ice, just a single large ice cube for best results. Take your orange peel garnish and rub around the rim of the glass for added flavor.

Strain the cocktail from the shaker into the glass.

Garnish with an orange peel!
Nutrition
Nutrition Facts
Classic Negroni Recipe
Amount per Serving
% Daily Value*
* Percent Daily Values are based on a 2000 calorie diet.
Dress by LoveShackFancy
Photography by Katie Jameson