Let me begin by saying that I do love the perks of my job.  Somewhere beyond the gifted clothes and party invites, though, my love for styling is rooted in the moment someone looks in the mirror and truly loves what they see in the reflection.  Knowing that I had some small part in the confidence they feel is so uniquely gratifying and makes all of the sweaty schlepping of garments bags (glamorous, right?) and frantic tracking of Fedex boxes worth it.
The good news is, you don't need a stylist to achieve that same feeling at home.  Start with a piece that makes you feel good and build from there.  For me it's a great pair of jeans.  I'm so particular that I usually just have two or three that are in constant rotation.  I really gravitate towards classic pieces with a bit of twist.  I have two versions of this simple white tank that I can pair with a blazer and jeans and know that I will feel confident no matter what the situation.  I like to finish off a look with a few thoughtfully selected accessories.  A great watch, a few delicate rings, a simple bracelet or two and I'm set.
Less is more.  Don't keep ill-fitting pieces that you don't love hanging around in your closet and don't feel the need to jump on board with every trend.  If you're 4'10" the midi skirt may not be for you.  If you have an hourglass figure then you'll probably want to accentuate your natural waist.  Wearing color is an instant skin brightener, but black is naturally the most forgiving.  Next time you're shopping, try on a fitting rooms worth of clothes, but don't pull out your Amex until you feel head-over-heels in love with your look.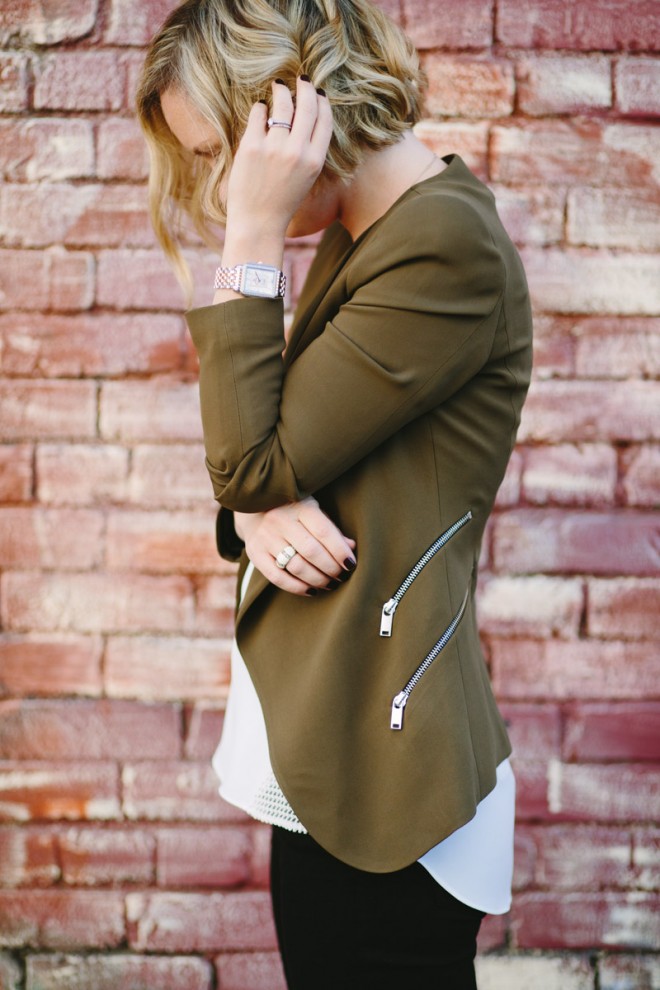 Two Tone Watch, Michele Watches / Blazer, Zara / White Tank, Rag & Bone (Similar)/ Black High-Rise Jean,  Citizens of Humanity / Pumps, Madewell (Similar)
Photography by Mary Costa
This post was sponsored by Michele Watches and originally appeared on Style.com