Do you ever feel like time is both flying by and creeping at a snail's pace all at the same time? There are some moments when it feels like just yesterday that I was counting down the days until the end of my first trimester and now I can hardly fathom that she will actually be here with us in just six weeks! (That is if she is a prompt little one-- here's hoping!) Other days it feels like I have been carrying this big belly around for what seems like forever and I feel like shouting, "Are we there yet?!"
You may have already caught this style post last week on Camille Styles.  It's not the first time this year that I've waxed poetic about pastels... and probably wont be the last!  I picked up these two Isabella Oliver pieces recently and am totally obsessed.  The best part about most of their pieces is that you can wear them while pregnant, but then after as well.  Plus, they're really chic silhouettes, not at all like most maternity-wear.  This pouf is from Maven Collection.  I drug it outside for this shoot since it goes so nicely with the succulents, but it's permanent home will probably be in my office where I can stare at it all the live long day!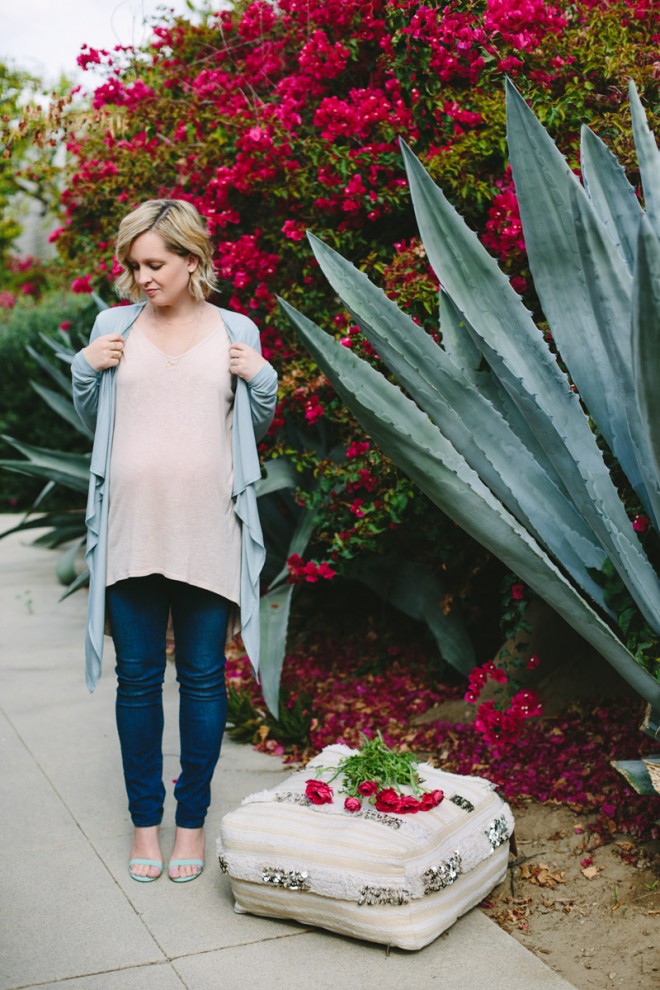 Any trends you've noticed out there lately that you're loving?  What are you most excited to wear this spring?
Top, Isabella Oliver / Cardigan, Isabella Oliver / Shoes, Similar (save) + Similar (splurge) / Jeans, J Brand (from Belly Dance maternity) / Short Necklace, Tiffany & Co / Long Necklace, By Boe / Earrings, Viv and Ingrid / Pouf, Maven
Photography by Mary Costa