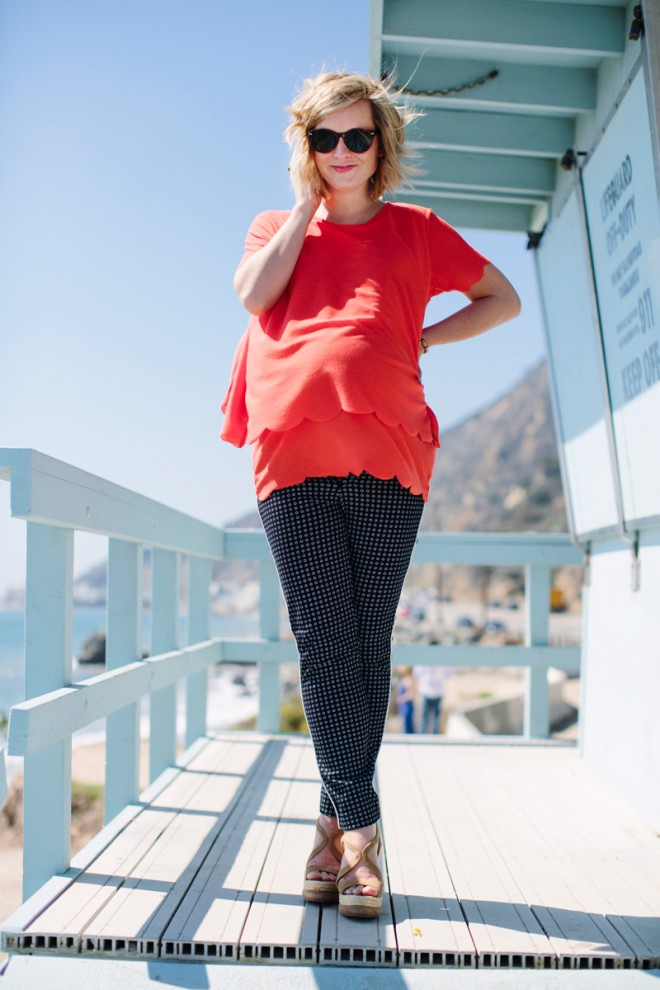 I promise I'm not at all trying to rub it in, east coasters, but this "winter" we've been having here in LA has had me dreaming of spring things since January, so I'm glad that the months are finally starting to catch up with my warm weather wardrobe mentality.  One carry-over trend that's not going anywhere this season?  Printed pants! Whether its a tighter, tribal graphic print or something with lobsters or anchors that feels decidedly preppy, either will do.  They're easy to pair with a simple tee or tank for the weekend or work them at work with a collared shirt and blazer.  Ranging from just $25-$35, the Old Navy Pixie pant is right on the money!
Since the weekend weather was so wonderfully sunny, Aaron and I spent the entirety of it in Malibu.  It's weekends like these spent eating fish tacos on the beach and hanging out on empty lifeguard stands that make me think we could never live anywhere else! (Then cue Monday's 6am earthquake-- yikes!)
For those of you wondering, these aren't maternity.  Since I'm just two weeks away from d-day I can't bring myself to buy any more maternity clothes, so I'm picking up a few spring pieces and making them work with one of these genius little inventions!
See you tomorrow, officially, spring! In the meantime, shop these pixie pants right here!
Photography by Aaron Pinkston Pixie Pants,
Old Navy
Shoes, Paloma Barcello (
Similar
) Sunnies,
Old Navy
Top,
Asos
Necklace, Kendra Scott (
Similar
) Ring and Bracelet,
Jenny Bird
This post was sponsored by Old Navy.
Check out Old Navy's latest fashion lineup in store or online at oldnavy.com.