How were your weekends, friends? I spent all of last week and most of this weekend in Georgia making over a home for a very deserving family for JC Penney and The Ellen Show.  (It airs on Ellen on Thursday, so be sure to tune in!)  Aaron and I did enjoy some fun in the sun back in LA yesterday, though.  Our night ended with pizzas on the grill which is the best way to end any summer night!  I tried a new pizza crust recipe from Bon Appetit which included flour that I ordered from Naples.  I was definitely skeptical, but I have to admit that it was by far the best pizza crust I have ever made!  Since summer is now upon us, I figured it was time to post the full outfit post of this pencil skirt look-- a summer staple in my personal wardrobe.
I have been in the market for some new tees, so I was ecstatic when Meg sent this one over from her line, Manifesto.  Having spent my fair share of time in other people's closets, I have found that tee shirts definitely hang around in people's closets long past their expiration date.  I am guilty of it too!  It's so hard to get rid of those favorite tees, but once they start to pill, stretch out, get too short, or discolor, it's time to send them off into permanent retirement.
 A pencil skirt is one of my favorite wardrobe staples: classic, feminine, and you can wear it a dozen ways!  (Here's the proof!)  I picked up this red pencil skirt here.  This sort of orangy-red is one of my favorite colors right now.  It's such a nice pop of color against other neutrals and metallics.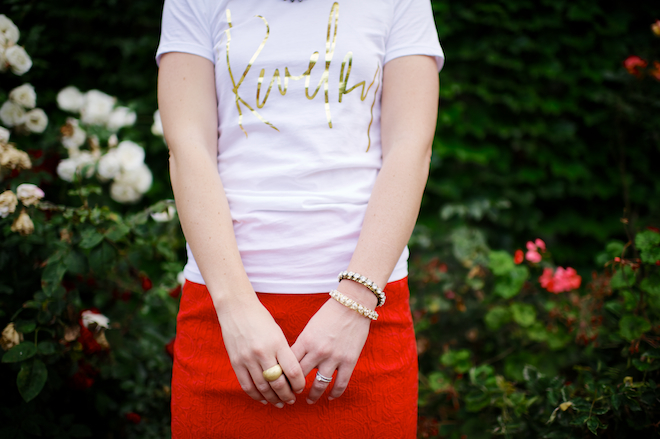 All of my jewelry is Realia by Jen... love these simple but sparkly pieces!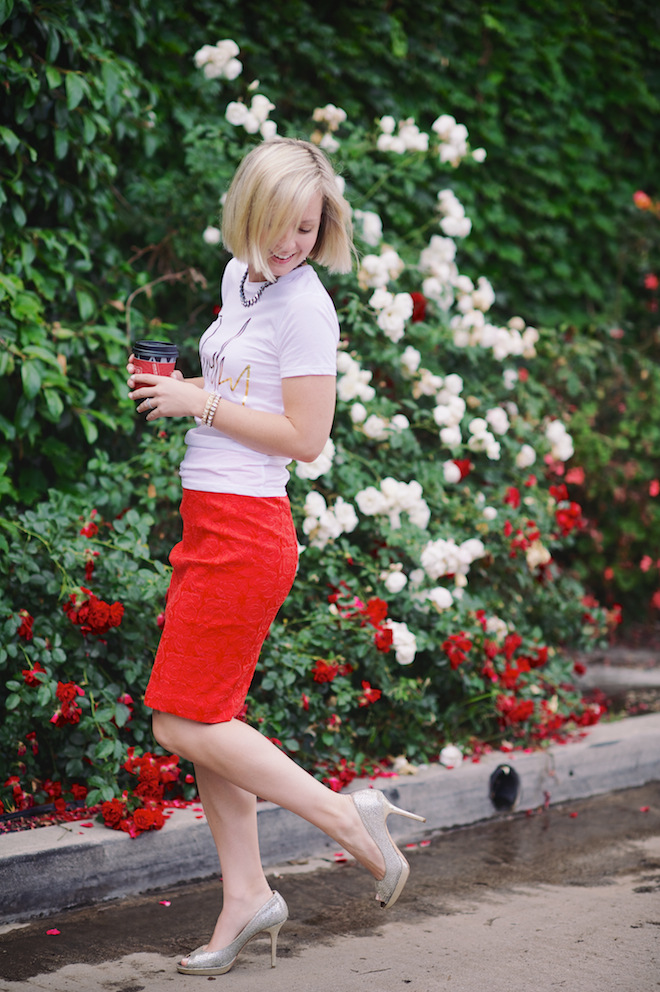 I am styling a big catalogue shoot this week, so it's back to the grind!  What are your go-to summer looks for working in these spicy temperatures?
Photos by Kat Harris