There are some dramatic similarities and differences from this year's new year's eve style post and last year's.  The locations are the same and my affinity for black evening looks is apparently still going strong, but what was a 6 month baby bump last year is now a 9 month old baby girl that babbles and stands and is going through quite the sleep regression.  The biggest misconception I had about babyhood was that it was always forward progress. They start out these little blobs and you take 45 second videos of them cooing and turning their head from side to side because it seems so remarkable.  And then they roll over which blows your mind and you think you could never be more proud.  Physical milestone after milestone points in the direction of forward progress, so when you're good sleeping babe is napping like a champ and down to just one quick little feeding in the middle of her 12 hour stretch of sleep you just assume she will drop it on her own.  And then one feeding becomes two and two becomes three... and that is where we are as we round the corner into the new year, folks.
Like all things in babyland, though, I'm confident that this, too, shall pass and so we will celebrate this Wednesday night having a healthy baby girl and another great year.  In need of some wardrobe inspiration?  In lieu of the little black dress-- or little dress of any color-- I'm a big fan of the opaque black tight with a pair of silk shorts.  This look is my homage to the tuxedo-- it's a little Annie Hall meets Chanel for a cocktail at a bar in downtown LA.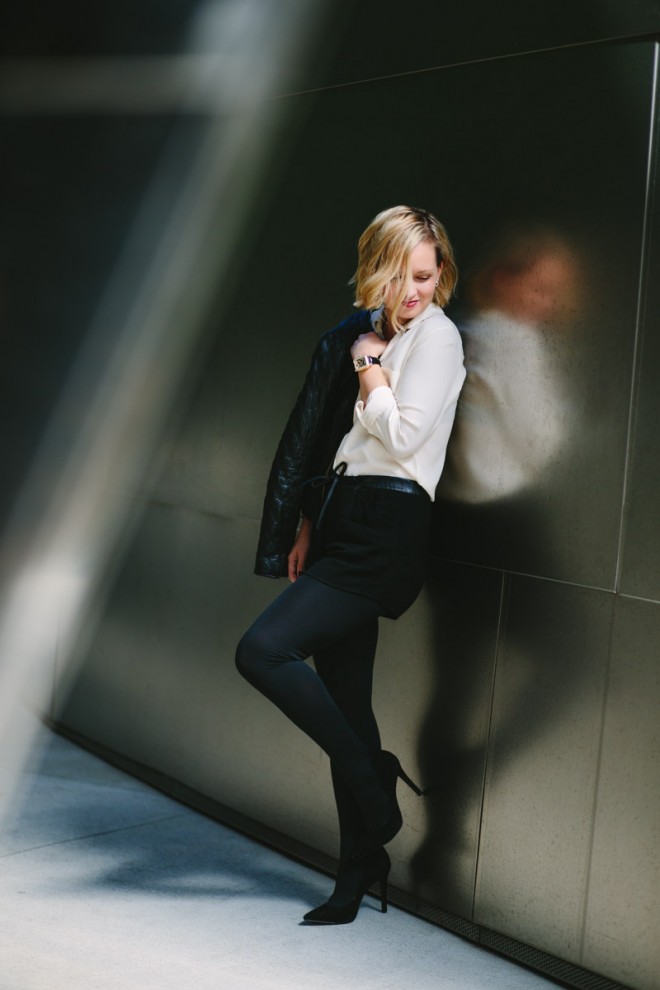 What are you celebrating this year?
Photography by Mary Costa
watch, Michele / tights, Wolford / shoes, Madewell / top, The Row (similar) / jacket, Zara (similar) / earrings, Anthropologie (similar)