So, I have a confession to make.  I have been experimenting with the idea of a capsule wardrobe and I haven't even told you guys!  I stumbled upon these posts of Erin's and then my hair stylist, Addie, mentioned that she had read a similar post here.  I was so intrigued that I went home immediately and put everything from my closet onto wardrobe racks in my office and only brought back about 30 things.  It hasn't been a total success because I admittedly did it in a rush and didn't think through certain situations.  I also didn't clean out my drawer of sweaters, so when I want something extremely cozy I go rifling through it and end up in something not in the original count of 30 things.  However, it has been eye opening in the best way.  Getting dressed in the morning has become exponentially easier. It's like someone has narrowed down that vague, open-ended writing prompt and given you a dozen options and you love them all.  There is also something about walking into a closet where none of my clothes touch that feels like a dream and makes the whole world feel a little more in place, at least my whole world...
A few things I have learned so far, is that I can't get enough of black and white.  Over-dyed black jeans and great white tees are such staples for me.  They're like a blank canvas for which you can layer sweaters, jackets, button down shirts, heels, boots or sneakers and come up with a dozen different looks.  This jacket from Asos is kind of the perfect weight for the cool evenings that have been following our very warm days here in sunny LA.  (I always refer to LA as sunny, always.  I can't type LA without preceding it with the word sunny.  It's a total thing.)
These photos were taken outside of The Culver Hotel in downtown Culver City.  If you're ever in LA, the bar and restaurant are worth the stop, even if to just take in the design.  Then after re-fueling you can hit up HD Buttercup for a clever smattering of all kinds of furniture and Rolling Greens for plants and succulents that will knock your socks off.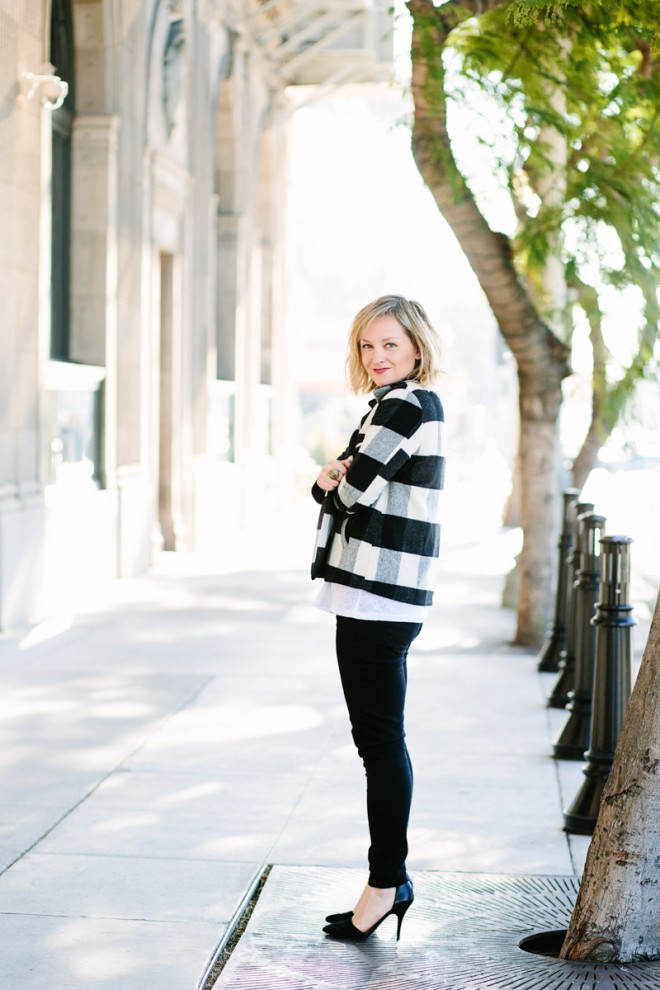 I'm still fine tuning what items work perfectly in my own capsule wardrobe.  I've thought about posting what my 30 pieces for March or April would be.  Is that something you would be interested in reading?  Would you ever consider a capsule wardrobe for yourself or does it sound a little mundane?  I have to say, I'm finding a little addicting and the pile of clothes I want to donate in my office is growing every day...
Jacket, Asos (Similar here and here) / Shoes, Madewell / Jeans, Citizens of Humanity / Tee, J.Crew / Necklace,  Stella & Dot / Bracelet, Jenny Bird / Birthstone Bar Necklace, Naomi Gray
Photos by Mary Costa