Happy Wednesday morning, friends!  Don't you wish we could start every day snuggled up in our favorite jammies, cozy bed linens and enjoying our coffee in bed?  We would never be running late and time would be something we had in surplus.  Sounds pretty dreamy, right?  It may not be a realistic every day routine, but it seems worthy of penciling in on a Sunday morning on occasion.  Lately I've been trying to soak up every moment of pre-baby life-- dinners at new restaurants, weekends spent leisurely strolling Abbot Kinney with the husband, and the occasional mornings spent sleeping in past 7am.  I have a feeling a lot is about to change in five weeks!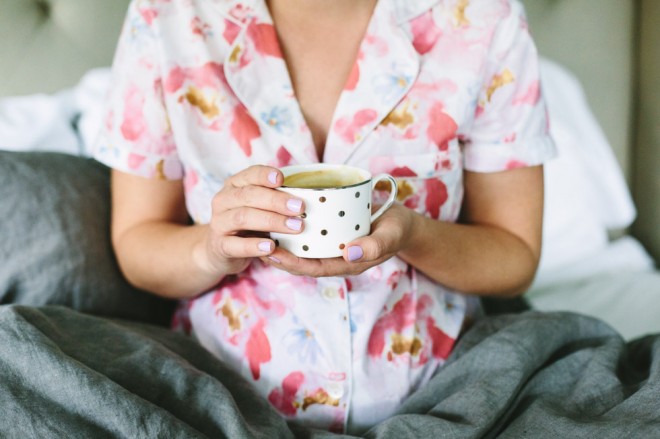 How sweet is this polka dot fine china from Kate Spade?  It's such a fresh take on something that can be ordinarily traditional.  I have this lovely California sunshine to thank for those garden roses from our backyard.  Everything is already in bloom!  These Plum Pretty Sugar for BHLDN pajamas have become a mainstay in my evening wardrobe.  The lovely pastels and soft cotton voile feel so much better over this bump-turned-basketball than an oversized t-shirt.  It's the little things right?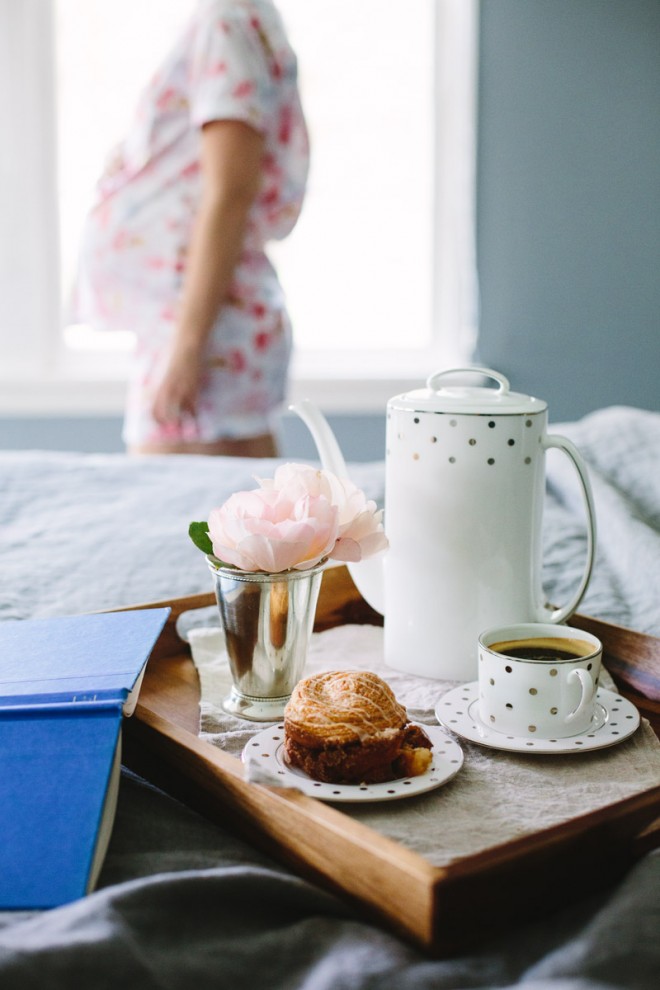 Alright mamas, with just five weeks left, any preparations I should be making?  Things I should be doing? Moments I should be relishing?  Also, what do you recommend packing for the hospital? Some of the lists out there seem a little over the top!  ANY advice you have would be much appreciated!
Photography by Mary Costa
Pajamas, Plum Pretty Sugar / Coffeepot, Kate Spade / Coffee Cup, Kate Spade / Saucer, Kate Spade / Nail Polish, Essie / Wooden Tray (Similar)