September can be such a tease.  She comes waltzing in around Labor Day weekend touting the end of summer and the beginning of fall, with all of her Fashion Week flair and back to school shopping sentimentality, but rarely does the temperature gage get the memo until October.  What's a girl to do?  Layer.  The California girl in me loves a simple jean and t-shirt scenario, but my inner stylist demands a little something more.  Enter the blazer.
It's an easy way to take your look from day to night or temperate to chilly.  You can't go wrong with a classic piece like this one from Jones New York.  In fact, their whole collection this season is full of classic pieces your closet shouldn't be without.  The pattern of this blazer is timeless, the fit isn't constricting and it's an easy add on to just about any look.
Last week, I met a couple girlfriends at The Ace Hotel for cocktails.  I figured it was high time I finally got around to checking out their new downtown digs.  The beverages didn't disappoint and the blazer came in handy when the sun finally set past the buildings and the temperatures dropped a bit.
So far this fall is off to a very good start.  Now if we could just order up some of those cool breezes…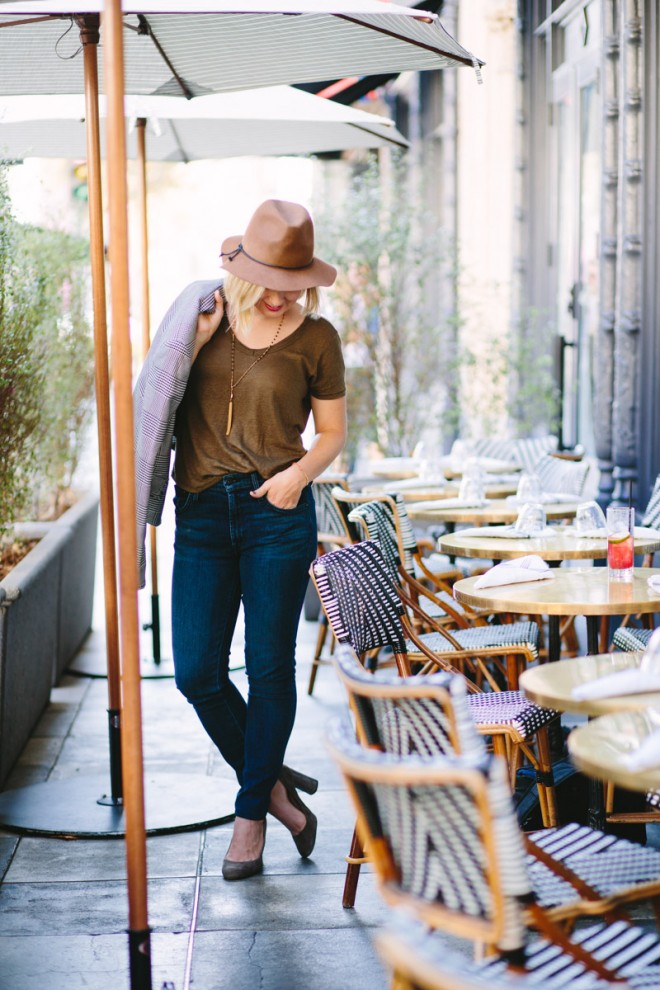 Blazer, Jones New York / Tee, Zara / Jeans, James Jeans / Shoes, Coach / Jewelry, Stella + Dot / Hat, Vintage
Photography by Mary Costa
Compensation for this post was provided by Jones New York via AOL Media. The opinions expressed herein are those of the author and are not indicative of the opinions or positions of Jones New York or AOL.